Casio PRW3500-1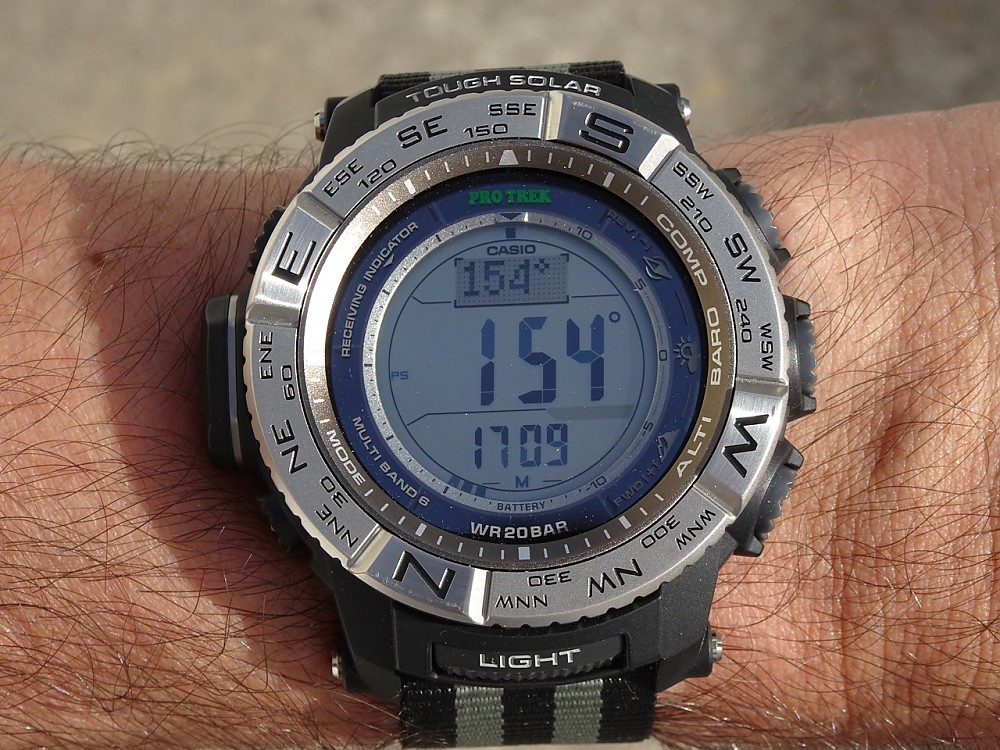 Solar-powered altimeter, barometer and compass (ABC) watch with radio time calibration, temperature sensor, world time, stopwatch, and timer.
Pros
Solar-powered—no need to recharge or change battery
Basic ABC functions accessible with a single button-press
Keeps accurate time with radio time calibration (if within range of transmitting stations)
Other functions including world time, stopwatch, timer, alarms etc
Glass is recessed below the bezel for protection
Cons
Interface not user-friendly: this limits use of advanced ABC functions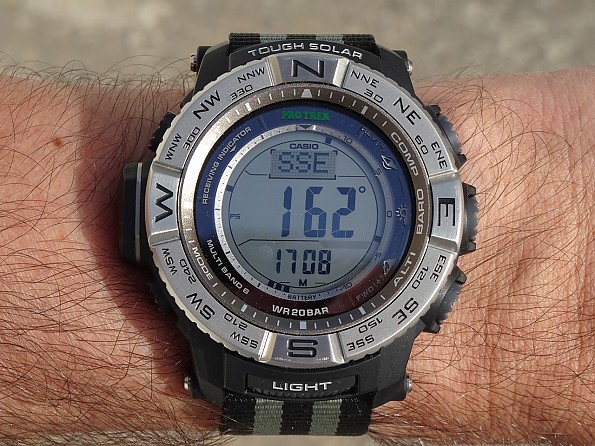 The Casio PRW3500 is one of the older models in Casio's Pro Trek series of hiking watches (previously known as the Pathfinder series). I believe it has been discontinued, but it is still available for sale.
This watch looks basic. It has no fancy graphics, just a digital display reminiscent of the 1980s. It is an altimeter–barometer–compass (ABC) watch with a temperature sensor and world time. It has various other functions, but it cannot connect to your smartphone, play music, count your steps, measure your heartbeat rate, or display your position on a map. If you want these features, this watch is not for you.
This watch is for you if you want a rugged ABC watch that does not need recharging. Being digital, it has few moving parts that can potentially break down. It is solar-powered and it has a huge power reserve since it does not need to drive moving hands or light up an all-colour screen. According to the official specs a full charge is enough for seven months of normal use or 23 months in storage with power-saving on. I cannot verify these figures, but I have owned another Casio solar ABC watch (a PRG270) for more than four years and in all this time it has never run low on power.
The downside of the PRW3500 is its user interface, which also feels straight out of the 1980s. Most of its advanced features are accessed through a non-intuitive sequence of button-presses that must be memorised. This makes the features hard to use. However, I knew this when I bought the watch because my PRG270 has a similar interface. I do not plan to make much use of the watch's advanced features because I have a handheld GPS unit that supplies me with much of the information I need on hiking expeditions.
The watch offers me a degree of device redundancy. My use of its ABC functions will normally be limited to those I can access with a single button-press (especially the compass) as an alternative to digging into the menu of my GPS. I have used the PRG270 in this way. It came into its own during a walking expedition in Wales last year, when I was crossing a stretch of boggy terrain with no clear path and no landmarks in filthy weather, and I used the watch to stay oriented in the right direction.
The PRW3500 is of similar vintage to the PRG270, which I have already reviewed on Trailspace. In addition to sharing the same user interface, both models use Casio's Version 3 triple sensor. Everything about charging, features and the user interface in the PRG270 review also applies to the PRW3500, so it is worth reading both reviews together. This review will concentrate on the unique points of the PRW3500.
The first thing I did when I received my PRW3500 was to remove the resin watch band and replace it with a one-piece nylon "NATO" strap. The resin band is by no means uncomfortable, but if you have skinny wrists like me you will be left with a lot of extra length to catch on your sleeve and irritate you. With a nylon strap you can tuck the extra length inside the metal retainers.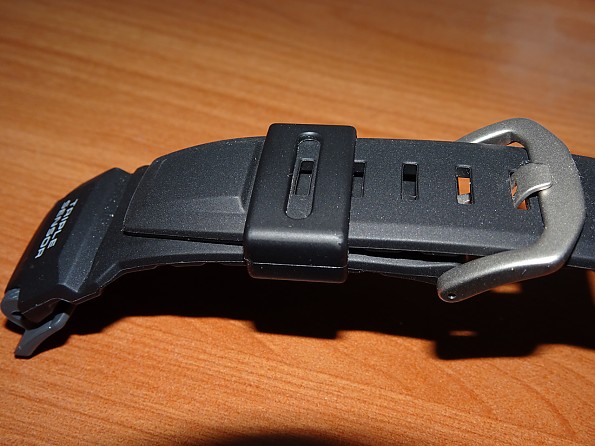 Removing the resin band is relatively easy thanks to the screws on the watch lugs. 22-millimetre nylon straps make a perfect fit as long as they are not the heavy-duty type, which is too thick to pass through the gap between the pins and the watch body. Heavy-duty straps are overkill, however. Thinner straps are still tough and I have never had one fail on me.
The PRW3500 measures 56.9 × 53.4 × 14.5 mm, which makes it a big watch—even bigger than the PRG270, which is 54.6 × 52.4 × 14.4 mm. However, the PRW3500 does not look as massive as these measurements would suggest. The watch face is dominated by its rotating bezel or ring, which is only 46 mm in diameter. As a result the watch does not overwhelm my wrist, although its height is noticeable when seen from the side.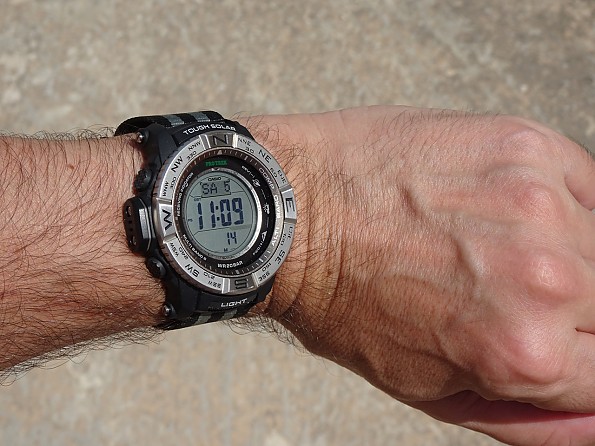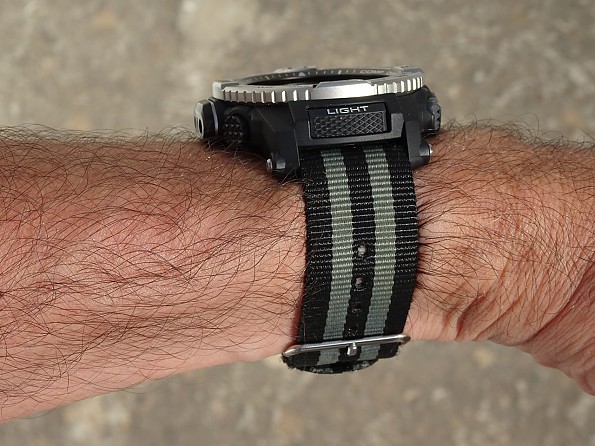 If you set the PRW3500 and the PRG-270 side by side, you can see that the digits in the middle of the PRW3500 display are taller, but this watch hardly looks any bigger overall.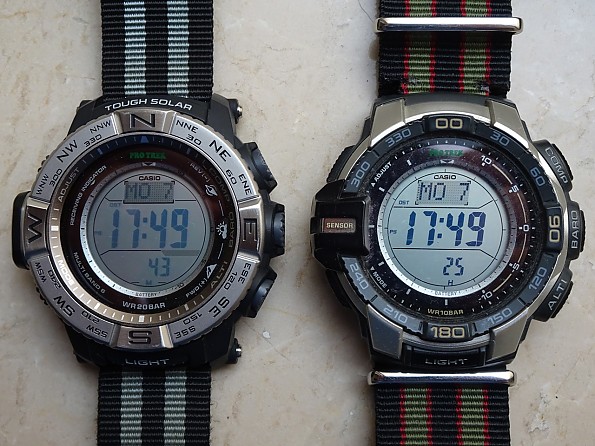 The basic altimeter, barometer and compass functions of the PRW3500, like those of the PRG270, are activated by dedicated buttons on the right side of the watch case. The resin case of the PRW3500 is moulded to form a rim around the lower half of each button. This is intended to prevent you pressing the buttons inadvertently when you flex your wrist. I have never had such a problem with the PRG270, but perhaps this is an issue for people with chunkier hands.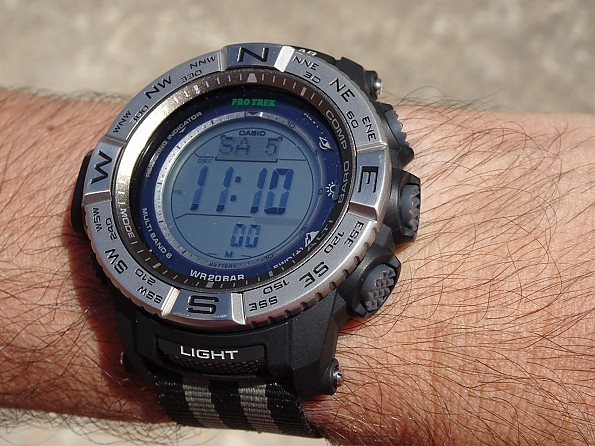 There have been PRW3500 variants in different colours, but most of them are no longer available. On the PRW3500-1 the rotating stainless steel bezel is unpainted and in a matt finish, except for the raised segments which are shiny. The bezel gives the 3500-1 a touch of class and makes it look less plasticky. This model is the best looking digital watch in the Pro Trek range, and the most presentable in an indoor setting (well, in my opinion at least).
The bezel has a practical use as a means to remember the bearing you have to follow if you are navigating by the watch compass. Aim the watch so the 12 o'clock position points in the direction you want to go, then rotate the bezel to align north on the bezel with north on the display. The bezel has just the right amount of resistance: it turns easily, but not so easily that it will turn on its own from contact with your sleeve. The raised segments on the bezel give you added grip when turning it with gloves on.
Strictly speaking, the bezel is redundant because the watch compass has a bearing memory function that displays both your desired and actual bearing (the PRG270 also has this function). However, I find the bezel simpler and easier to use.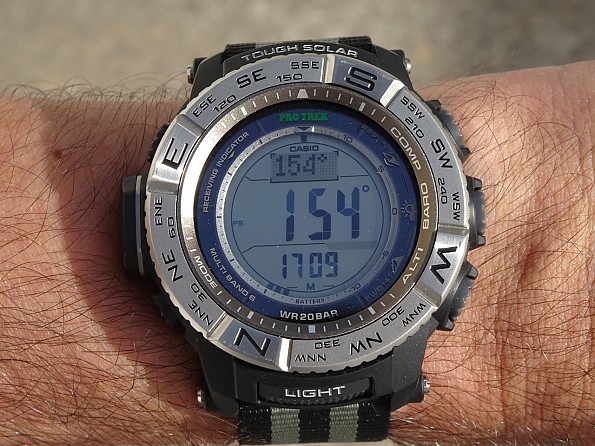 The watch compass sensor is accurate to within ten degrees, so you may need a more accurate compass if you need to follow a precise bearing. Often, however, an approximate bearing is enough. It has been so on all occasions when I needed a compass bearing, including my Welsh bog-hopping episode.
The PRW3500 can calibrate its time-keeping to the second using radio signals transmitted from stations in England, Germany, China, Japan and the US, if they are in range. The US station is at Fort Collins, Colorado. This feature is often called atomic time since the transmitting stations keep time using atomic clocks. However, Malta where I live is just beyond the transmitting range of the nearest station, which is the one in Germany. Out of curiosity I have tried the radio calibration function anyway, but with no success.
The PRW3500 should keep time accurately even without radio calibration if the PRG270 is anything to go by. I last set the time on my PRG270 years ago (both models have a DST on-off feature and world time, so you don't need to reset the time for summer or winter or if you travel), yet it has gone off track by no more than twenty seconds over all this period.
The PRW3500 is water-resistant to 200 metres compared to 100 for the PRG270, but this is not important to me because I do not intend to use the PRW3500 for swimming or other water sports. On a couple of occasions I kept my PRG270 on while taking a shower, and this is as far as my PRW3500 is ever likely to be in contact with water.
Casio seems to be gradually phasing out the digital watches in its Pro Trek range in favour of analogue models. Its most recent models are battery-powered because they come with smart features that are too energy-hungry for solar power. This might make solar-powered digital hiking watches like the PRW3500 a thing of the past, which would be a pity. Such watches display ABC information much more clearly than analogue models and they thrive on neglect, unlike smart watches. I have had my eye on the PRW3500 as an eventual replacement for my PRG270, so I decided to get it now while it is still available.
Update, November 2020
My PRW3500 was delivered with a medium power reading (that's the little "M" at the bottom of the display, as shown in the photos above). I did not bother leaving it out in the sun to get a full charge as I had done with my PRG270. Instead I simply wore it on a few long walks. Swinging a walking pole in my watch hand as I normally do helped keep the watch exposed to the sky, and this was enough to bring the charge indicator up to high. There it has stayed ever since, even with regular indoor use. 
I have forced myself to use some of the harder-to-access features of the watch, such as the stopwatch and timer—something I never really did with the PRG270. As a result the user interface started to make sense and I can now access these features through a mixture of recall and trial and error.
I continue to be very pleased with this watch. Here's hoping for the defeat of COVID and a return to something like normality so I can put this watch to use on fresh adventures abroad. In the meantime, here are some extra photos. The first and third photos show the watch in its proper element, while the second illustrates what I meant when I said it is presentable even in an indoor setting.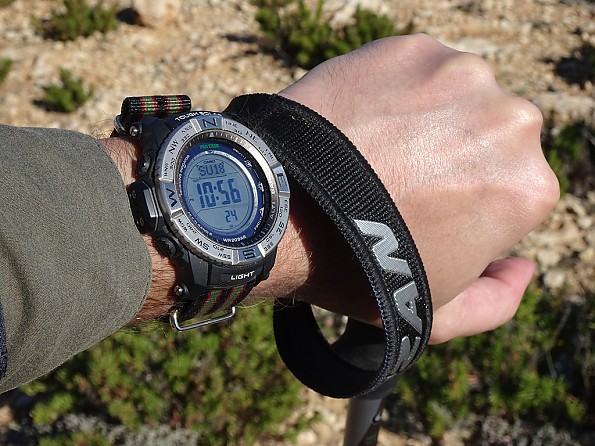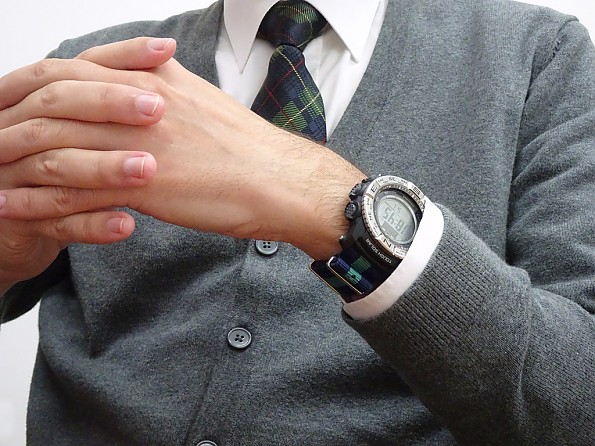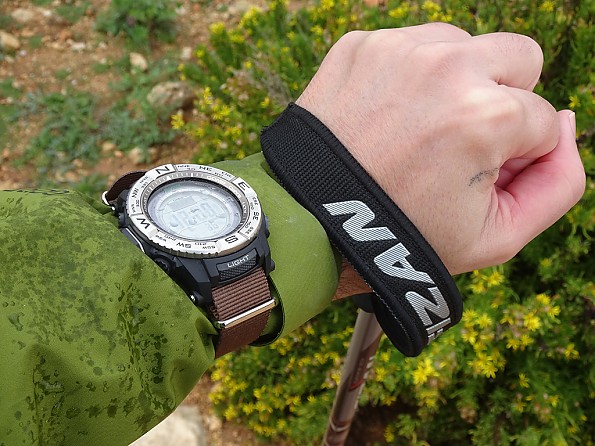 Background
I have acquired this watch only recently, but I have used a different model with similar features for four and a half years.
Source: bought it new
Price Paid: $224

Your Review
Where to Buy
Help support this site by making your next gear purchase through one of the links above. Click a link, buy what you need, and the seller will contribute a portion of the purchase price to support Trailspace's independent gear reviews.
You May Like
Specs
Price
MSRP: $330.00
Current Retail: $199.00
Reviewers Paid: $224.00

Recently on Trailspace