Chaco Z/2 Unaweep

The Z/2 Unaweep has been discontinued. It was replaced by the Chaco Z/2 Classic.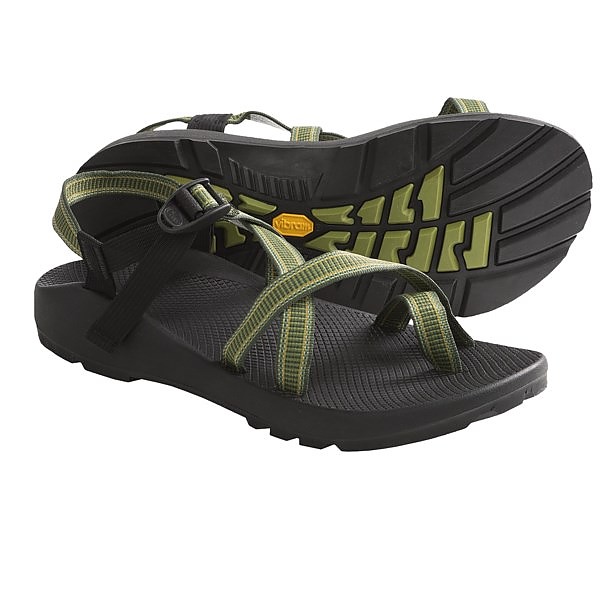 These are my favorite shoes that I have ever owned. Period. Think freedom for your feet! These fully adjustable sandals are great for just about anything. They are comfortable all day long and have great support for your feet!
Pros
Great support
Very Comfortable
Great traction
clean easily
can get wet
fully adjustable
I have tested these more than any other piece of outdoor gear that I have ever owned. I bought a pair of Z/2's in 2005 and I just retired them last month - February 2014. I actually still wear them, but I bought a new pair as well. 
These sandals are fully adjustable to customize the perfect fit for your individual foot size. They have a very durable Vibram outsole and durable webbing straps that dry quick and are super comfortable. The support in the sandals is unbelievable until you wear them for a day. I prefer to wear them over any other shoe, anywhere I am. It doesn't matter if I'm on a trail, swimming in a creek, at a theme park, boating, white-water rafting, or anything else, I want my Chacos. 
Wearing these sandals feels like you've set your foot free without hindering you from any outdoor activities. These sandals stay secure on your foot and give you great traction on just about any surface, wet or dry. I even like to wear them in cold weather. I'll just slip some socks on and put my big toe over the toe loop. 
Most people that I recommend these to are hesitant to buy them at first because they do not like spending the (typically) $100 on a pair of sandals. Believe me, they are WELL worth the money. And you can actually find them for a lot cheaper if you do a little searching. I had my first pair for 8 years and they are still being worn to this day.
In these pics, you'll see two pair of Chacos. The blue pair are my old ones and the green pair are my new ones. The blue ones I bought new in 2005 at a local outdoor store and the green I bought new in 2014 on Sierra Trading Post.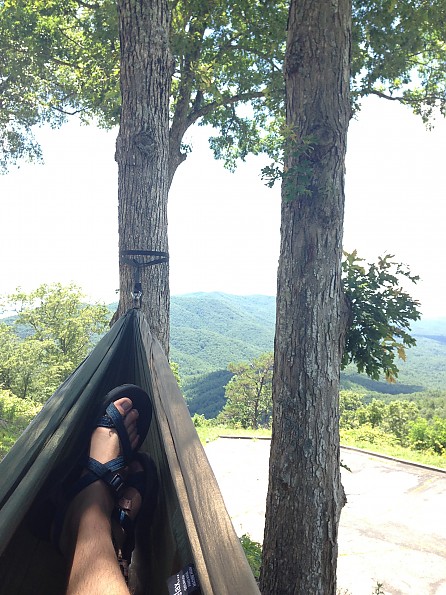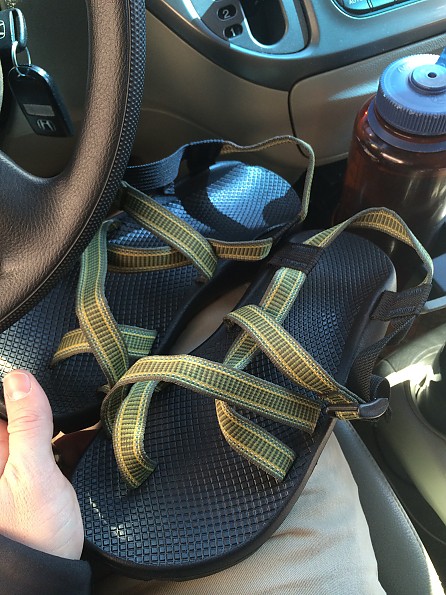 Chacos are super easy to clean. Typically you just spray them with a water hose or take a shower in them. If they get too gunky though, just wash them on the top rack in the dish washer!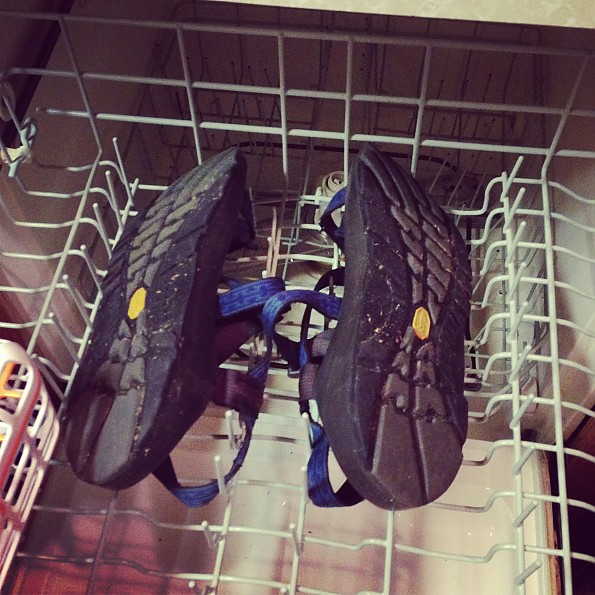 the after shot of dishwasher cleaning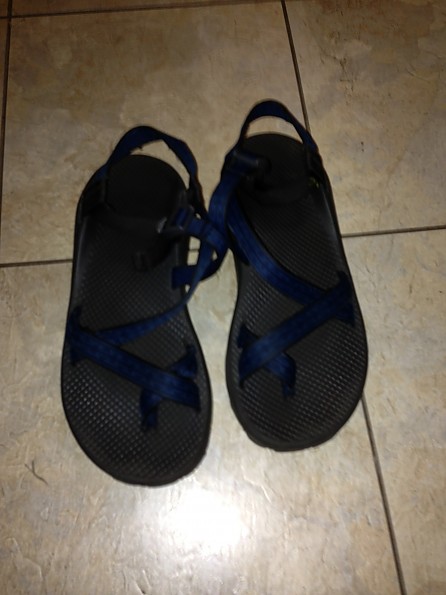 Source: bought it new
Price Paid: $45

Chaco is unsurpassed in the sandal world, but beware the toe strap.
Pros
Vibram rubber
Comfortable
Durable
Great Fit
I bought the Z/2's based on a recommendation from a friend, they were my first experience with Chaco. I immediately loved them! They felt comfy, they performed well, and I could wear them for hours without my feet getting tired, achy, or having any sort of pain. After about a year though I could not shake the toe strangulation!
I met a person who told me to try the size down (since I wear an 8.5 usually and I had bought a 9) since I had so much extra webbing. I sold my 9's to a friend with slightly bigger feet (creating another fan instantly) and bought myself the 8's. Again it was a whole new world experience! Same fit for the most part, but less webbing hanging out at the end of my tightening strap and a bit tighter fit which I enjoyed.
Still though I could not shed the toe strangulation!!! I would get it set perfectly and it would slowly tighten over a few day period to the point where it would strangle me again. I did not want to sacrifice the big toe strap though because of the added stability it gave when I went off-road or around the lake, but it was really starting to kill me. I tried holding it in place with some clear nail polish (as read on a Chaco blog) to no avail, I also tried just having it super huge and only tightening it sslightly when I went off-road, but again no avail.
Finally I gave up on the Z/2 and went to the Z/1 and it has been a dramatic change. I don't feel any loss as far as sturdiness off-road and the fit is still just as great. Now I have met people that cinch their toe strap all the way down while around town and then open it up when off-road, but I found I got a blister doing that. So beware the toe strangle! But don't let that persuade you away from Chacos.
Overall, they are the most durable and versatile sandal I have ever owned. Since buying the Z/2 originally, switching to the Z/1 I have also branched out to some of the shoes and boots with the same great comfort and fit. There is nothing quite like a Chaco. They also just let you move and wiggle your toes! Which to my surprise is not a common occurrence in some sandals, some go right over your toes instead of where your toes meet your feet like Chacos and it constricts them.
I will probably die with a pair of Chacos on my feet! And with any luck, it will probably be this original pair haha. 
Source: bought it new
Price Paid: $95

Chacos are the best things you can put on your feet. Whether you are spending a day on the trails, walking around, whitewater rafting, or simply trying to get a chaco tan, these sandals are the best for the outdoors. This is the only shoes I wear during the summer and sunny days during the winter. They are good to wear for any activities that involve just simply being outdoors, except running in. Good for any avid adventurous outdoorsman.
Pros
Good in any whether.
Don't have to worry about getting wet.
Extremely Comfortable.
Durable.
Last a long time.
Cons
Sometimes bad traction on slick hiking trails.
This is honestly the best sandal/ shoe to wear. I love Chaco's and it is all I wear during the summer. They are good for almost anything and everything. I have had one pair for 5 years and another for 2 years, and still are in great shape, so they a long time. It takes a little while to break them in, but they are very true to there size and fit pretty comfortable. I would say that the double strapped, you made need to up your shoe size. Normally, I am a size 8, but I moved to a size 9 in my double straps. For my thick straps, they stayed true to my shoe size. It just all depends. Plus you can adjust the straps, to loosen them or tighten them. It has never happened to me, but I have heard that if you wear them for countless hours, it can rub a little bit of blisters, but you can wear socks with them, and still look good. Definitely don't wear these sandals in snow, as they are open and not weather resistance. They are waterproof, so they are all around good shoes. There is good traction, but sometimes if hiking on wet surface, sometimes you may slip. Chaco's are just an all around good shoe to wear in the outdoors. Hiking, camping, walking, water parks, beach, rafting, casual, and everything in between. Plus, you can customize your own pair of Chaco's and make them how you like. These are totally worth the price!!!!  
Source: bought it new
Price Paid: $100

If you don't mind a thick and somewhat weighty sole, then strap on the most comfortable sandal you've ever worn. I wish I had bought these years before I actually did. Durable like a rhinoceros and guaranteed to give you a sexy tan line... I don't know why you're still sitting and reading this review, you're wasting time.
About 4 years ago I took off for a 5-night trip through some of the most gorgeous and breathtaking wilderness God has ever created. Yep, you guessed it, Glacier National Park. It was a seemingly stupid choice to take the Chacos I had bought just that month with me on this trip. However, I couldn't have been more impressed.
Through the years I have worn my Chacos more and more on a daily routine and less and less when I'm pursuing my outdoor hobbies. In either occasion they perform great. Once you figure out the strap pattern and get the sandals to snug properly to your feet, you'll never want to take them off (at least I don't).
The form fitting sole is perfect for supporting you and whatever you may be packing or carrying in a ergonomic way. The team that created these must have done their homework. Additionally, I have taken these sandals through harsh conditions and beat them up, and they still are in tip top shape.
The one concern I do have is the bulkiness and weight of the Chaco, however the newer versions have shed a significant amount of weight. And although you can wear these in the water, I have found that if you tromp though a creek and continue on your hike that the wet straps will rub uncomfortably (but then again you should expect something like this to happen).
Overall, an excellent sandal.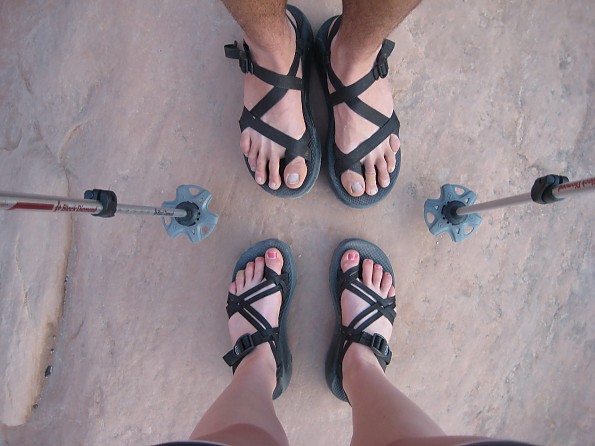 Source: bought it new
Price Paid: $95

I have had my Chacos since I was 16. Now I am 22. I literally wear them everywhere with everything. They have been used in most extreme activities such as long hikes in the rain. Also, I use them on a regular basis for casual outings just like tennis shoes.
Pros
Send them to get resoled and re strapped as needed
Easy to slip on
Easy to clean
Cons
Heavy sole
Slippery on the bottoms when wet
My Chacos have fit very comfortably since the day I bought them. These are undoubtedly the best pair of products I have ever bought for my feet.
I naturally have extremely flat feet. Normal shoes that I buy that have low support hurt when I walk in them. Chaco provides a very comfortable arch that allows my feet to be relaxed when I wear them. There is almost no break-in time needed. The only re adjusting that happens is when they are first being worn and adjusting them to fit your feet just right.
When they are wet on the bottoms they are extremely slippery on surfaces. Adjusting Chacos to fit your foot just right is extremely easy to do with pulling the straps and tightening them around your feet as much as necessary.
Instead of buying a whole new Chaco when these wear down I send mine to get resoled and re strapped. My first sole lasted about four years before it wore pretty flat in places. I shipped them out to be re soled and strapped and they were returned to my door within two weeks.
They are extremely durable. The only parts that are now wearing down are the soles naturally, the straps rub against the other overlapped one. Now six years later the foot bed is wearing smoothly in different spots. I was worried that the new sole might not stay on as well. They have been doing great for the past two to three years.
Source: bought it new
Price Paid: $100

I don't think you could make a more durable sandal.
Pros
Durable
Versatile
Fully adjustable/nice fit
Stability in water
Cons
Weight
Price
Putting them on (always have to re-adjust straps)
I love these shoes. I live next to a decent sized creek and spend a considerable amount of time swimming, tubing, and hiking all along it. These shoes are perfect for this environment. I also use them when canoeing and love how stable I feel when i have to "skate" my canoe through shallow spots.
I got the heavy duty soles, not the ones recommended for water, and slipping is never an issue. However I don't recommend getting them wet, then hiking a few miles afterwards because you will develop blisters. Moisture and friction do that.
Also a lot of moisture tends to puddle under the foot, creating wrinkles, and if you walk on these wrinkles that continue to sit in this moisture, you'll develop a sort of "trench foot" and it will hurt. My girlfriend experienced this when her shoes were new and we were testing their limits.
Also, the canvas straps that secure your foot to the shoe can give you blisters in spots until you get them broke in (I never wear sandals. my foot skin is soft), but afterwards they feel great.
Overall, if you're looking for a bada$$ water shoe, or a durable sandal to hike in that will not break on you in the wilderness, I would highly recommend this product. Just be warned that you should either use them wet, or use them dry, not both in the same day.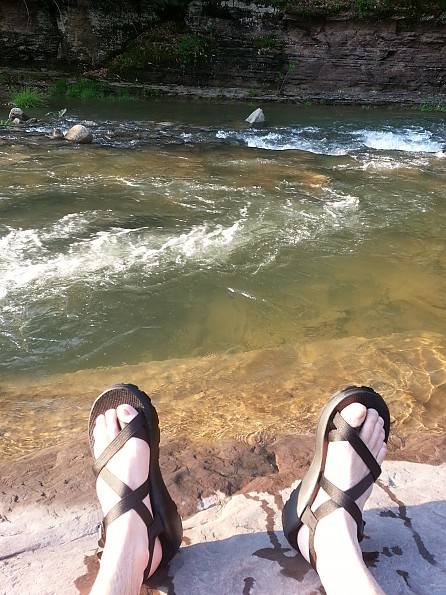 Source: bought it new
Price Paid: $99

These are the shoes I wear everyday, all day, as soon as the weather warms up enough to wear sandals. I've used them for light hikes, wading a river while fishing, trips to the beach and just regular daily wear.

For anyone who is looking for sport sandals, these are what I always recommend.
Pros
Comfort
Adjustability
Durability
Cons
Can be a little heavy
Takes a little while to lock in the strap adjustments
My favorite shoes ever, hands down.
Fit:  Excellent fit. The straps are infinitely adjustable to get just the right fit for your feet. I have flat feet and the footbed offers great support.
Comfort: There is no break-in period required for these sandals. The only thing that will take some time is getting enough dirt and grit caught in the strap holes inside the footbed to lock the straps in place. Until this happens the straps can move a little bit. Just wear them to the beach or on a dusty trail and they will be locked in no time.
Support:  Arch support is excellent for sandals. I wear them everyday with no issues.
Traction:  I have never had a problem with traction in these sandals. The soles have lugs that provide traction in almost any circumstance.
Ease of Use:  Very easy to adjust. Pull on the outside of the straps to loosen, pull the inside to tighten.
Features:  The one thing that will take some getting used to is the toe loop. However once you are accustomed to it, this will become a favorite feature as it prevents your foot from moving around on the footbed.
Source: bought it new
Price Paid: $90

I have been searching for the perfect water shoe for a long time. I'm still looking but like these Chacos as much as any other shoe I have worn.
The plus side, they are virtually indestructable. After three years, the sole hasn't peeled or separated, and the webbing is in great shape. The webbing is also very adjustable and snugs with virtually no hardware. The strap over the big toe takes some getting used to but provides tremendous stability in wet conditions.
They don't use neoprene or other padding that could tear away or degrade. The open design of the strapping sheds water and debris better than any other water sandal I have worn. And, despite using them in the rankest of stagnant water, they don't pick up any odors. In terms of overall comfort, I love the strapping system (but see below re: the big toe strap).
some design and style choices that may not compare well with other water shoes:
-the footbed is well-contoured but on the stiff side, particularly the high edges near the arch. for me, a person with flat feet, these high arches can cause blisters on a very long or overly rugged walk. they are available in "wide," which i may check out if these ever wear out.
-the vibram "unaweep" sole is fine for regular walking; Chaco sells the sandal with a sticky rubber for hard core river rats. i would go with the sticky rubber next time around.
-unlike Keens and a few other brands, your toes are exposed.
-the big toe strap that makes these so secure can tighten over time. this is adjustable but can be uncomfortable. the Chaco Z/1 avoids this by omitting the big toe strap.
This, along with the Keen Newport H2, has become my mainstay water shoe.
Use: short hikes, river walking, canoing
Break-in Period: none
Weight: ?
Price Paid: $50

Chaco makes great sandals. I picked these guys up a year ago after buying their Chaco Flip the year before, and I've been fairly happy with them.
They're machine washable, strap adjustable (cool, one continuous looping strap), and they sport a Vibram sole on them. Furthermore, the arch support in them in fantastic...ish. While the arch is unmatched in size and feel, it doesn't fit me, as an individual, perfectly, causing a slightly awkward fit, but no pain or discomfort. (Buyers please take note that as a seller of shoes, not all shoes fit everyone perfectly. Deal with it.)
The sandals themselves have held up beautifully, suffering all kinds of outdoor abuse in 3 different countries. They stay close to your feet and protect your toes surprisingly well by limiting movement outside the sandal's base.
The reason I give these sandals only 4/5 stars may be biased and unfair, so this lost star might not apply to you. I sell this sandal in an outdoors store, and I am always propped up on my feet in a weird way. These sandals, while great for standing/walking/hiking, aren't really meant for this, and they hurt if I position myself like that for too long, so I take a half star off.
The other half star comes from fit. I've got very wide toes and since the normal version didn't fit, I got the wides. This caused a few things, including strap movement where my feet are not wide, and thus constricting/loosening here and there, but it was nothing that could not be fixed by adjustment once every 20-30 minutes of tromping around.
Use: Everywhere where my Chaco flip wasn't applicable
Price Paid: $40

The Unaweep is an attractive sandal that can be worn literally anywhere. The rigid sole protects feet, while the adjustability of the straps keeps feet firmly in place.
Pros
These sandals are highly protective of feet, with adjustable straps that keep them securely in place.
They can be worn in water and dry quickly.
Whether you wear them in outdoor sports or around town, they look great.
Cons
The sandals are heavy, but this is because the men's soles are thicker and more rigid than the women's version.
I am a woman, but I deliberately bought the men's sandals. I have arthritis in my big toes, and I wanted to try an adjustable thong sandal with a rigid sole. The women's sandals were  exactly the same, but the sole was too flexible, hence my choosing the men's version.
I subbed these for my surf shoes while kayaking, swimming in Lake Michigan (rocky bottom), exploring tidal pools in Cali, outside everyday use, and trail running. They dry quickly, and are attractive (no one knew they were 'men's' sandals), and still look new.
I like that I can quickly tighten or loosen them with one hand.

Source: bought it new
Price Paid: $105

While heavy, these are incredibly durable and protective—at least of the bottoms of your feet. The strap system is a bit difficult to get used to; but—alone among all of the sandals I've owned—these are comfortable and do not cause my Achilles and plantar fascists to act up. I can finally give my Salomon trail shoes a rest in between runs!
Cons
Strap system somewhat clunky
Heavy
As someone with over-pronation, Achilles, and plantar fascia problems, I've searched in vain for a sandal that I could wear in between trail runs. My faithful Salomon XA Pro 3D Ultras needed a break or I'd wear them out from daily use. In the Chaco Z2 Unaweep, I think I've finally found that sandal.
The downsides so far:
 The strap system is difficult to get used to. Once you're used to it, though, this problem ceases to exist.

They're heavy. This isn't really that much of a problem if you aren't going on extended backpacking trips in them; in fact, the extra weight is good for building leg strength...
The upsides:  
These are incredibly durable. The Vibram sole is going to outlast my Sollys' soles by several years.  

Once broken in, these are incredibly comfortable.  (3) The footbed and arch support, so far, has prevented recurrence of my plantar fascitis and Achilles tendon issues that normally result from wearing sandals.
Source: bought it new
Price Paid: $60-ish

Just back from a "hikers special" rafting trip to Grand Canyon and these sandals were perfect! I hiked 22 difficult trails that varied from dry to wet- exposure to actual rope climbing and they were spot on.
The arch gave superior support and the soles great traction in a very difficult area. Also nice to wear in rafts and around camp. This is truly a great product and far exceeds expectations. Durable- fit well- straps worked well- and my favorite is that they seldom need adjustment.
Very nicely designed and thought out. Kudos on a great product!
Use: rough hikes /rafting
Break-in Period: short- a few days
Weight: 220 pounds
Price Paid: $60

Admit it. If you don't already have a pair of sport sandals, you wish you did. You find yourself walking through some outfitter and there they are...these curious looking sandals. They aren't anything like the sandals all the Abercrombie kids are wearing, and they don't really look like anything special. Then you look at the employees in the store and realize that they ALL are wearing these things.
And rightfully so. Sport sandals are a perfect fit for those who are into water adventure sports, or those who require ultra-breathable footwear on their day hikes. However, some stand out far above the rest. This is the case with the Chaco Z/2 Unaweep sandal.
To start things off, I have to start with the Vibram sole. The same brand you have probably trusted to provide the sole for your hiking boots have created an equally impressive version for sandals. The pull through strap system really makes this sandal a piece of your foot, which comes in handy when crossing creeks or hiking in rocky areas. The combination of the Vibram sole and the pull through straps make this sandal one you will never walk out the door without.
To top things off, the sole can be replaced and the nice folks at Chaco are environmentally friendly in their production of these great adventure sport necessities. Go out, strap on a pair, and head for the hills. Your trekking will never be the same.
Use: around town, long dayhikes
Break-in Period: none
Price Paid: $90

Comfortable, secure shoes. I feel like I can walk on anything.
Pros
Adjustable
Secure
Comfortable
I found a pair of Chacos in the consignment section for $45. I am a women, but these were men's Chacos. They were my size, were in excellent condition and fit really comfortably, so I bought them.
I've had them for about 2 months now and have been wearing them regularly on short (15-20 minutes) as well as long (2+ hours) walks. I have slight bunions and walking without orthotics for long periods of time can be uncomfortable, but unlike other sandals, Chacos have great arch support and toe separation. I can wear them for extended periods of time without any discomfort. The Chacos' thickness allows walking on a multitude of terrain. I was able to swiftly and easily walk over rocks and thorns, which I could not do with a previous pair of regular sandals.  
In terms of aesthetics, Chacos look great. I have the plain black ones, and of course would have preferred a more colorful version were it available in the consignment section at that time. But I'm very satisfied with the ones I have.  
Source: bought it used
Price Paid: $45

If you are on the fence between these and the Keens, forget the Keens and go with the Chacos. I have had the Z2s for about a month and haven't taken them off.
Materials: nylon webbing
Use: everything
Break-in Period: none
Weight: lighter than the old Z2s
Price Paid: $90

This sandal will last you a good 10 years, and even then you can get it replaced for free. A great, must have product if you are one to wear sandals/ walk around in the summer OR winter. I strongly recommend this sandal for anyone looking for a new pair of shoes, useful for any kind of outdoor hobbies.
Pros
Strong build
Endurance
Stylish
This sandal has a great fit, and will eventually transform to your foot for top of the line comfort.
It will take you anywhere and everywhere, through any kind of climate.
When it gets dirty? Wash it off or throw it in the washer. A great must have product for anyone.
Source: bought it new
Price Paid: 85$

I have had these Chacos for 5 years now, wear them every summer, and they still look and feel new.
Pros
Fit
Durability
Ease of use
Cons
Takes a few days to break in the strong arch
I have had these Chacos for 5 years now, wear them every summer, and they still look and feel new. They have good arch support which I need (but take a few days to break in), can be worn tightly or loosely, have good traction (except on slippery slime), and are easy and quick to get on and off.
They are way better than my ex Tevas, Keens and Merrells.
After some above reviews, I cant't wait to try them on my June Colorado River Whitewater Rafting Trip...5 Stars!
Source: bought it new
Price Paid: $89/REI Boise

They are comfy, tough, stylish, and oh so versatile. I've had two pairs rewebbed (after several years of amazing use) and they did an outstanding job. I also have the pedsheds for colder weather and would give those the same compliments.
Cons
Sand and dirt hard to remove from webbing
As long as Chaco keeps making them I will keep wearing them. <3 I also own the ENO Double which fits two people with Chacos nicely.
Source: bought it new
Price Paid: retail, about $90

I love these! I have had them for a year and they work great for trails or just hanging outside!
Pros
Last a long time
Washable
Great for outdoors
Cons
For some people they can smell
I love them! I wear them all the time and would refer them to anyone! They are the best shoes any girl could ever ask for!
Source: bought it new
Price Paid: $35

I have owned several pairs of this shoe. I really like the fit and durability.
My complaint is the webbing tends to fray as sand gets into the sole where the webbing enters the rubber. I have many user days with these sandals, and if I clean the area after each use it prolongs the life. Alas, I tend to get lazy and then the sandal lasts about two summers.
Still, a very good sandal.
Price Paid: $95

Most comfortable shoes I've worn. Ever.
Pros
comfortable as all get out
offers my feet freedom
I wear these literally everyday. Rain or shine or snow or weddings, everything. I love them. They are so comfortable. If they get dirty they just rinse off it's awesome. Best shoes ever.
Source: bought it new

These sandals are amazing. Chances are if it's warm outside I am wearing them. They are versatile enough that you can do almost anything in them with extreme comfort. Also they are great for rafting and going in and out of water while protecting your feet. Some of the best sandals money can buy.
I love my Chacos. They are very comfortable and there is not much you can't do while wearing them. I have tan lines from wearing mine so much. Another one of those great investments. You can actually get them resoled and restrapped so one pair can last a very long time.
These have been the standard for a water sandal for years. I noticed a lot of people are trying to copy them, Merrell, Keen, etc. Just stick with the originals.
Price Paid: $75

Your Review
You May Like
Specs
Men's
Price
MSRP: $100.00
Historic Range: $14.83-$105.00
Reviewers Paid: $40.00-$105.00

Outsole
Vibram Unaweep

Women's
Price
MSRP: $100.00
Historic Range: $25.99-$105.00
Reviewers Paid: $35.00-$90.00

Outsole
Vibram® Unaweep