Chaco Z/1 Unaweep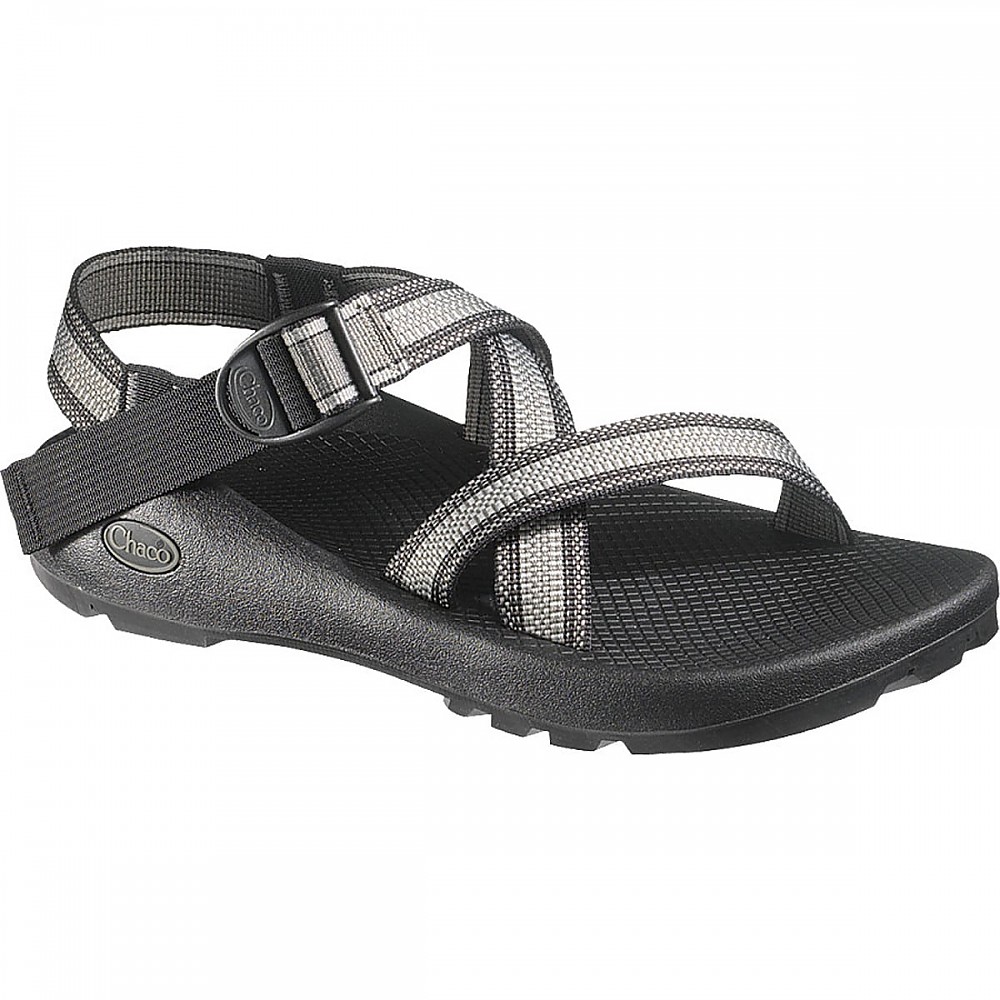 Chaco's Z/1 Unaweep is a great canoeing sandal. While I do list out a number of cons, I would recommend these for anyone searching for a durable sandal.
Pros
Comfortable
Fit well
Waterproof
Can wear socks with them
Fast/instant drying
Good grip
Cons
Rubbing/raw spot
Heavy
Straps a bit too long
I purchased the Z/1 specifically for my first trip to the Boundary Waters in 2014. I wanted footwear that would allow me to wade in and out of a canoe and move straight into portaging. I choose the Z/1 over the more popular Z/2 so that I would be able to slip on a warm pair of wool socks if the night turned cool. I felt the toe strap of the Z/2 might prevent this. 
Having used these for two BW trips, as well as every day hiking, I really love these sandals.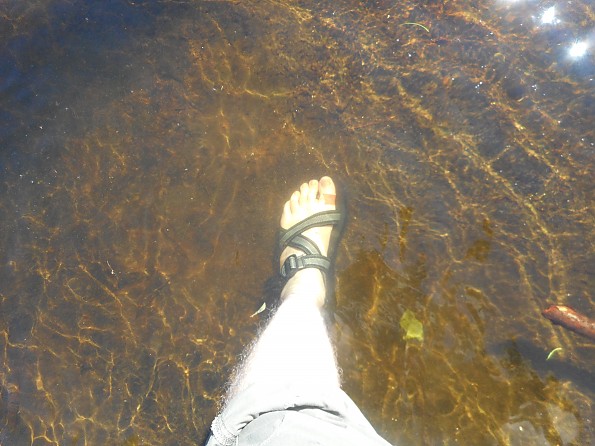 The fit of the Z/2 is sturdy and comfortable. They offer plenty of support for my flat feet, and the traction is superb. I walked confidently over submerged/slimy rocks. 
The most significant con is the strap tends to rub a sore spot across my big toe when hiking for a long distance. This has happened on both BW trips. I quickly found the solution was to don a pair of thin liner socks on days with significant portaging.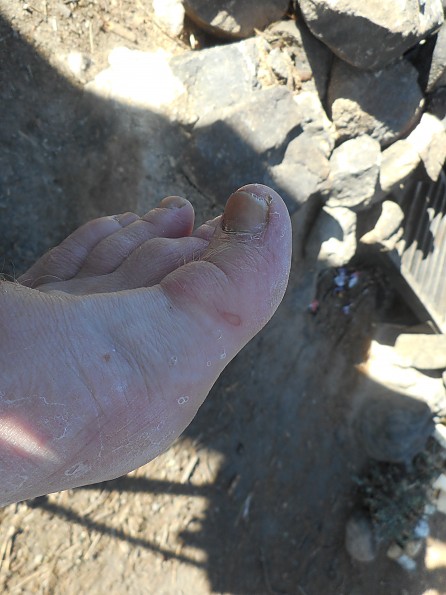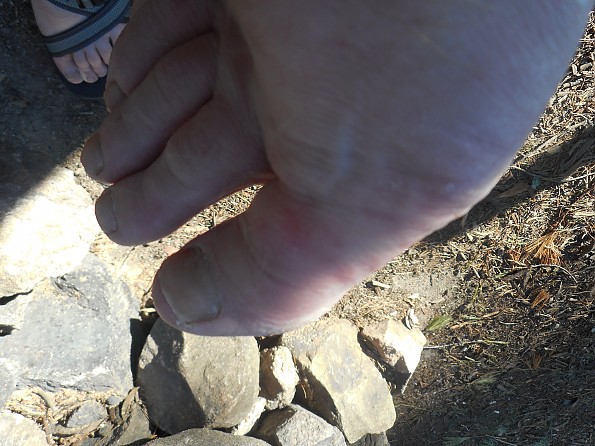 As others have mentioned, the straps are a bit too long. I've considered modifying them, but it hasn't been enough of a nusiance to act on. 
For casual use, I'm more of a Birkenstock man, but the great thing about Chaco is I don't have to worry about rain, streams, or puddles.
At one pound per shoe, these are heavy sandals. I do not carry them in my hiking pack as camp shoes, but for canoe trips and day hikes, they are definitely a great sandal to have. 
I highly recommend these sandals. 
Source: bought it new
Price Paid: $60 in 2014

A great option as a versatile sandal. With a sturdy Vibram sole, a great footbed and an easy to use one-strap adjustment system, these can be worn daily for many years.
Pros
Comfortable and supportive footbed
Sturdy, long-lasting Vibram sole
Multi-functional
Cons
Heavy (nearly a pound each)
Needs a good cleaning from time to time. The smell will let you know when it's time for a cleaning.
Conditions:
I first owned a pair of Chaco Z/2 Unaweep, but later replaced them with a pair of Z/1 Unaweep, the difference being the former has a toe strap feature that I never cared for. I've owned my current pair of Z/1 Unaweep for two years and have used them in a variety of ways, from everyday summer sandals, to creek sandals, and even did a 4-mile hike in them once when my shoes were soaked. There probably isn't a day that goes by that I don't wear them between the months of April and October. 
Fit/Support: 
These are pretty true to fit for me, although the regular width is borderline wider than other regular width sandals I've owned. I do have slightly skinnier feet than regular width, so I am especially aware when shoes/sandals are too wide for me. Although these are a hair wider than I'd like, they still do a great job at supporting my foot.
The great support comes mostly from the contoured footbed that mimics the shape of my foot rather nicely. Of course, the strap that encases the foot also plays a role in overall support and the durable, polyester strap is adjustable and never stretches out.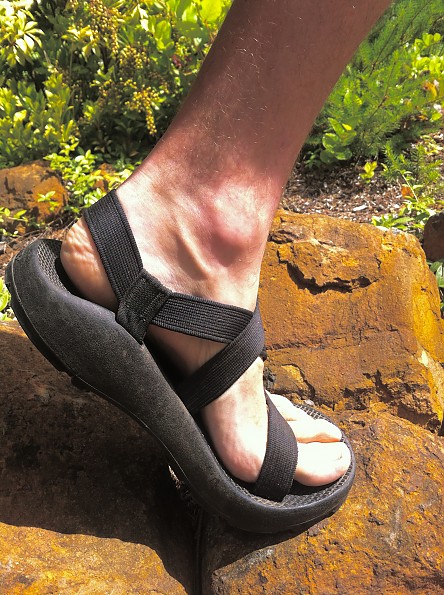 Comfort: 
As mentioned, I wear these sandals nearly everyday for 7 months of the year, so needless to say, I find them comfortable. However, they become very uncomfortable when a wee little pebble finds its way between my foot and the sandal's footbed. This isn't a common occurrence, but when it happens, I immediately have to stop, loosen the sandal, shake out the pebble and retighten.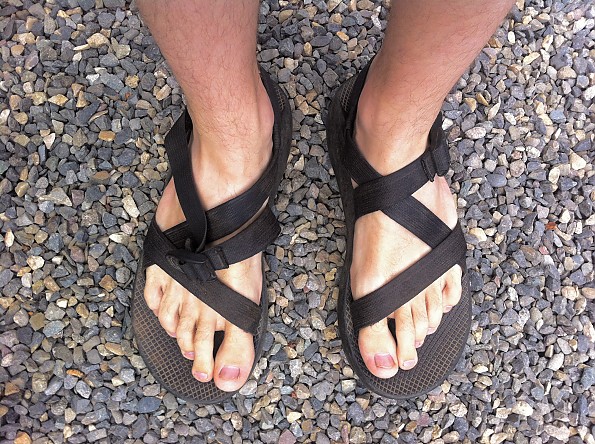 The Chaco Z/1 Unaweep can be worn with the strap tightened (ie: left foot) or loosened (ie: right foot). Either way is comfortable and the adjustment process is very simple.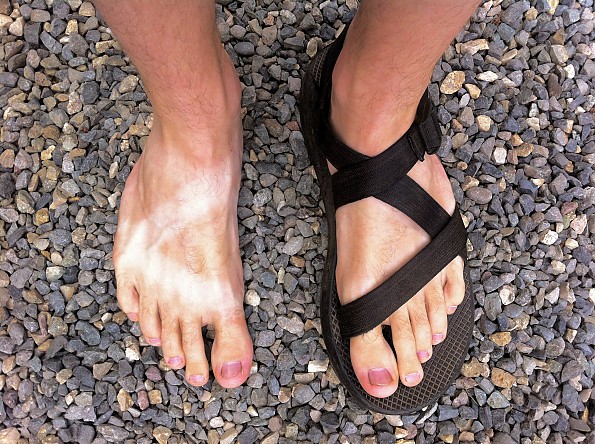 The "Chaco Tan." At first it's weird, but then you just embrace it. Some go as far as bragging about it, but I choose not to. Oh wait, I just uploaded a photo of my Chaco Tan for the whole world to see, never mind. 
Traction: 
Although my experiences with Vibram soles, in general, have been hit-or-miss, this is a piece of footwear that is a no-doubt big time hit with its Vibram sole. The traction has been excellent for me on muddy trails, slippery creek beds, etc. The outsole holds up very well over time. My wife owns a pair with the same sole and is just now starting to give out and she's had her pair for 8 years, wearing them almost daily for 6-7 months per year. 
Construction/Durability: 
Many sandals are made to be replaced within a year or two, but Chacos are an exception. With the durable outsole, the comfortable and reliable footbed and the study polyester strap, I fully expect to get 7-10 years out of this pair of sandals. For a fee ($40 for sole replacements, $36 for full strap replacements), Chaco will replace the areas which are worn out. While it's not exactly a lifetime warranty, it is nice to know they can bring the sandals back to life when needed.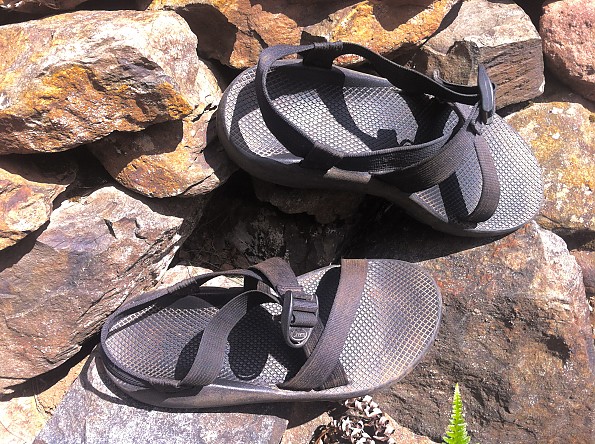 Weight: 
With the sturdy Vibram sole and long-lasting footbed, these sandals weigh a considerable amount for "sport sandals." Each sandal weighs just south of a pound, so they may not be something you'd want to throw in your pack on a multi-day trip when carrying weight is an issue. I've seen and know many people who hike in these exclusively, but I'm not quite there. I still enjoy hiking with closed toe trail shoes/boots. 
Price:
While $100 for a pair of sandals may seem like a lot, it is easy to find them on sale during the winter months or if you don't mind an odd strap color. The longevity of these sandals is where you begin realizing the price isn't too bad considering the many years of use. 
Recommendation: I would strongly recommend the Chaco Z/1 Unaweep. And as with all footwear, I would strongly recommend trying them on before purchasing. 
Source: bought it new
Price Paid: $75 USD after 25% off sale

While heavier than expected, the comfortable footbed makes for a great fit. Recommend for daily use, water activities, but may be too much for a several mile hike.
Pros
Contoured footbed
High quality sole
One strap design (pro and con)
Durable
Cons
Heavy (>1lb each)
One strap design (pro and con)
Lengthy buckle strap
Pricey
Had these for a few weeks now (winter) and I enjoy these sandals. I think I'm well rounded in that I currently have Crocs, Teva (Toachi 2, also reviewed) and these Chacos...and there's a perfect situation for each.
Size and Design
The sizing is accurate, though if you decide to purchase online as I did, trying them on in the store would be wise. I wear size 9D, regular width, in trail runners and my Tevas. The same holds true for these, a 9 worked perfect. My arch is regular to flat and I have not encountered any problems. Any flatter of a foot and I would need their wide design. 
Footbed
The footbed reminds me of Birkenstock sandals that I had a few years ago. These contour to the bottom of my foot even more than my Crocs or Tevas. The heel is slightly elevated when compared to the level of the foot and may take some break in time to get used to it. This is true of the footbed in the middle of the sandal. It is elevated so that instead of being flat-footed, it cradles the middle of the arch on the bottom of my foot. It may feel odd at first, but it does keep your foot in more of a natural position; another reason I began to like them more and more. 
"Sole" Purpose in Life
The sole of the sandal is Vibram rubber. When it comes to soles, they are the cream of the crop. While the sandal may appear to be made of one solid rubber, the sole composes about 1/4 to 3/8 of an inch and the remainder is what the footbed is made off. While the footbed contours, the sole is flatter than expected. My Tevas have more of a curved bottom like a sneaker and running or jogging while wearing those is more of an option. For these Z/1's, that may take getting used to as you may be "flopping" the sandal as it is flatter. For me, not a con as I don't use it for anything other than walking pace.
They will make you look "strapping"
The strap design is very interesting as the straps which go across the top of the foot are actually just ONE strap and they each tighten off one another and loops around through the unseen "belly" of the sandal. Slip your foot in, tighten the front portion of the strap and move backwards to your heel.  This is where a common con is with these sandals. Excess strap length on the heel buckle strap. It is long so that it can be loosened and your foot can go in easily. Once tightened and pulled back, the strap is extra long and for me touched the ground.  Imagine someone with a 40 inch waist suddenly lost 10 inches, poof, their belt would have extra slack once tightened. THAT is the issue.
For me the solution was simple: just sew the strap shorter! I sewed it shorter, yet long enough that when I loosened the strap, my foot could still slip in. I folded the strap about an inch and sewed it up.  See the pictures below. I decided against cutting and using a flame to singe, just because it's easy to undo my stitching if needed and then I would still have the solid factory end piece.
I have been wearing these with some socks (yeah, I'm that guy) and the Z/1 were the right option as the Z/2 design has a toe loop and socks wouldn't be possible. Even with wool socks my size 9's still fit fine, not too snug; again, keep in mind you can control how tight or loose you want the ENTIRE sandal to be through the single strap design (loose front, tight back, not a problem). 
When to wear?
Coming back to my original thoughts of Crocs, Tevas, and Chacos. My Crocs are a great option for everyday wear be it after a sporting event or relaxing at a campsite, they are the best lightweight option. My Tevas are fantastic all around. If I want to run or walk, stay dry or wet, my Teva Toachi 2 are a good fit and they are in the middle ground of weight (more than Crocs, less than Chacos).
These Chacos I know will be around longer than my Crocs and Tevas as long as I take care of the straps, making sure they don't fray. Since they are heavier I won't be running or taking on long hikes (over 2lbs for both), but dry or wet conditions they will serve you well.
Full price these are $100, but deals can be found elsewhere.  They may be heavy, but the excellent construction, durability and comfort are apparent.  I'd recommend.
Folded back and sewed, no additional cost!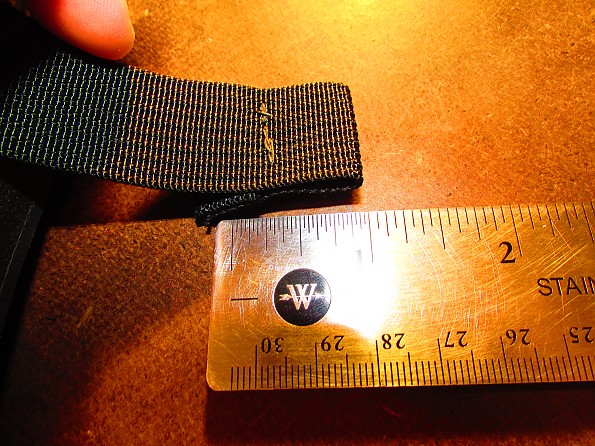 Side view of amount I sewed back (the double fold is the original, untouched strap end)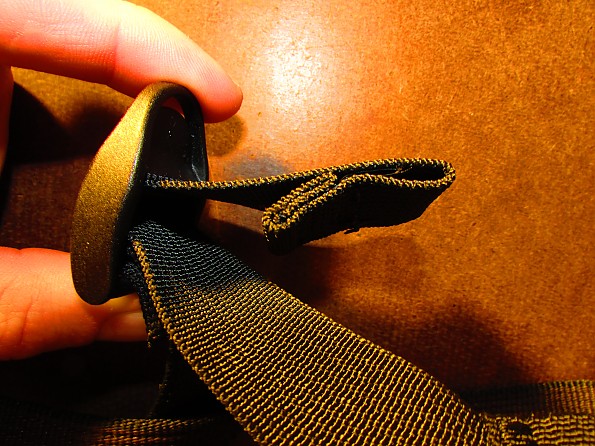 Source: bought it new
Price Paid: From wife, $60 Sierra Trading Post deal

10/10 for comfort. Fit my feet wonderfully. Safe and wearable in almost any environment.
Pros
Comfortable
Flexible sole
Stylish
Convenient
Built well
I have had two pairs. The first pair had a toe strap. This pair was more solid and I didn't feel like my foot was sliding around when in water/mud. The toe strap made it difficult to remove rocks/dirt when hiking without taking shoes off entirely.
Second pair does not have toe strap (as pictured above). I LOVE THIS PAIR. My toes don't get swollen or feel restricted when hiking in heat or moist areas, I can easily remove a rock from underneath my foot without taking the shoe off, and the comfort level is a 10/10.
The first pair also had the hard sole vs. the rubber sole. I prefer my second pair (above). Also,very comfortable with socks on a cool morning in the mountains! 
Source: received it as a personal gift

Durable sole. Easy to use strap. Holds well. Heavy. Sandal tread on the topside wears smooth.
Cons
Heavy
Topside wears smooth
The shoes fit pretty well, although the sole is a bit stiffer than I think it needs to be.
Breaks in well.
Pretty comfortable.
Support is decent.
Water resistance: I love the old school minimal strap sandal. It dries faster than all the others. It's easy to shake out gravel, sand, and rocks. When straps get wet, they tend to rub and cause blisters. 
Traction: Holds pretty well on wet rock
Temp control: N/A
Ease of use: Easy
Features: Not many
Construction and durability: Good. I hear that if you get sand in the straps it wears them out and they break. I try to blow out any debris from the straps after trips and have not had any problems. I use these in water and sand often. The tread on the topside of the sandal wears somewhat smooth after a while and tends to allow my foot to slip a bit.
Conditions: Bought slightly used. I've used them for two seasons now and they are still going strong. I beat these things.

Source: bought it used
Price Paid: $20

Comfortable, durable, great for hiking and water sports, as well as casual wear. They last forever! Great for anyone looking for a sporty everyday sandal and/or outdoor activity sandal.
Pros
Durability
Comfort
Great traction
Attractive
Cons
Rough footbed
Pricey—look for them on sale or clearance
I was given my first pair of Chaco Z! Unaweep sandals over 15 years ago. I have had them re-soled once, and one strap replaced, and still wear them for hiking and gardening all summer. I bought my second pair about 10 years ago.  They are now my "water shoes" for rafting, kayaking and playing in river with the dog.  I bought 2 new pairs in the last year in different colors to wear for work and casual wear.  
I love that they are comfortable, have great traction on uneven terrain and in water, and last forever.  I have a high arch and find Chacos fit much better than Tevas in that regard. The straps are endlessly adjustable so you always have a good fit.  To clean them I just throw them in the wash with towels and such-of course if they're muddy I hose them off first!  
My only complaint is the footbed is a little rough.  This probably keeps your foot from sliding when they're wet, but does tend to roughen the bottom of my feet. My boyfriend got his first pair of Chacos this year in the new "Updraft" style and they seem to be a little easier on the bottom of the feet.
The only problem is  I already have 4 pair and they'll never wear out, so it's hard to justify new ones! They are a bit pricey, but if you shop around you'll find them on clearance (that's why I have so many...). A great looking, great wearing outdoor activity and casual wear sandal.
Source: bought it new
Price Paid: $60

From Z/2 to Z/1 and a lot happier!
Pros
No toe strangulation
Same Chaco feel
General everythingness
Let me preface this review by saying, I am super biased, I love Chacos and no other sandals can even compare in the least bit.
I switched from a Z/2 to a Z/1 recently, because I kept getting toe strangulation no matter how I adjusted the toe loop strap. I finally yanked it all the way down, resolving only to bring it up on hikes. However that soon started to cause to problems beneath my big toe. Affectionately I sold them on Ebay, and picked up the same size (8) in the Z/1.
Best decision of my life! Chacos are really the only shoe that I can honestly wear all day, everyday, in every situation. With the LUVseat platform strapped on me I feel supported and invincible! I thought that without my beloved toe strap my hiking would be impacted, but that has certainly not been the case in the least. The only real difference is that the straps are a bit thicker than the Z/2 which is something they don't tell you really on the website.
Now let me tell you about the performance. Chacos are the only sandal, THE ONLY SANDAL, that can stand up to all day abuse, in town, on the trail, the river, or any other situation you can think of. I wear them as much as weather permits here in Utah, and without fail year round when I visit my family in Vegas. I also use and abuse them at Lake Mead and around the local trails. They are the only sandal to never give me any wear problems as far as fit, and function. They also do not wear down at all! They still look as fresh as they day I bought them.
I have worn sandals my whole life, growing up in Vegas and going to Lake Mead almost weekly (especially in the summer) and I used to wear another brand of sandal before I heard about Chacos. Lets just call them 'Steva's'. With the hiking, and boating and abuse I put them through, I was lucky to get a summer's use out of them. Straps would rip out at the eyelets, toe pieces ripped entirely off, velcro that would degrade from the sand. It was hopeless at times. And honestly I don't know if I could ever go back to 'Stevas' now that my eyes have been opened.
Bottom line, I will be buried in my Chacos and if luck has it the way that these ones are holding up, it might even be my original pair.
Source: bought it new
Price Paid: $70 amazon

Good, supportive sandal that has been with me for a long time. I recommend this sandal to anyone who spends at least one weekend a year out of doors.
I bought this shoe 7 years ago when all of my buddies had already got them. Following the crowd is recommended at times, and these sandals are a great shoe. The single strap system is what I would call "neat."  Does it make these shoes? Not by itself. Everything about these shoes makes them what they are.  
The strap is great to evenly distribute support to your foot. The supportive sole is protection from the ground, and the soft, strong straps will never abrade your ankles with sand or water even with extended use. I have taken these shoes through caves, on mountain blitzes (not real mountaineering, but in UT they'll call anything a mountain), as my sole pair of shoes for my honeymoon backpacking trip where I packed way too much.
These shoes are the most stable sandals there are, and have in some respects done better than tennis shoes on bouldering and climbing ladders in the Oil city to LaPush hike, and slogging through knee-deep mud in the Dugualla Bay of Whidbey Island.  They won't fall off your feet even if the mud is sucking at your shoes. Great traction, and how can you beat them for stream crossing?  
The only time they don't work is when you know that all sides of your feet will be getting constant abuse. Read: I did not take them on the Zion Narrows through-hike, because I knew that slippery river rocks would eventually get the best of my ankles. I wore well-vented tennis shoes.  
The cons? Simple. Everybody knows that Chaco foot smell. And for what it's worth, after 7 years the soles have delaminated a bit. I'm ok with that.  
Source: bought it new
Price Paid: $95

Very rugged outdoor sandal; heavy and possibly too supportive.
Pros
Simple, functional strap design
Possibility to fix without replacing the whole shoe
Rugged sole
Good-looking
Cons
Very heavy for a sandal
Non-foam footbed with high arches can be uncomfortable
I've owned my Chaco Z/1 Unaweep sandals with Terreno soles for 10 years now. The beauty of Chacos lies in their simplicity and functional, no-frills design. In this case, form and function melded into one beautiful, clean sandal with no crazy bungees or doodads.  
The strap system is all integrated in the sole, beneath the footbed; when you pull one piece, it shifts the fit of all the other pieces. This allows you to adjust the fit to your own foot, and to add socks and still feel comfortable. This also makes the sandal easy to fix; you send it in to get re-webbed and get to keep your nice, worn-in sole and footbed.
The sole/footbed is a bit of a point of conflict for me.  It is very heavy; I imagine if I added straps to my Asolo boot soles, they would weigh about the same as the Chaco soles. However, they are also incredibly durable.  Furthermore, the once-piece construction prevents any sort of delaminating or general falling-apart issues of more "complicated" soles.
The footbed, which they call LUVSEAT, is accepted by the American Podiatric Medical Association. They purportedly align your foot and body and force you to walk how you're supposed to walk, without overpronating, etc.  They feature very high arches; as someone who has very high arches, I find them almost uncomfortable.  
Every summer, it takes me some time to get used to wearing the Chacos.  It's not so much that you break them in; they break you in.  Until then, if you wear them for too long a stretch, your feet will be sore.  They are not padded, there is no foam, supposedly your body heat helps the rubber conform to your foot but I think this effect is imperceptible if it exists at all.  In short, the fit is specific, and while they come in multiple widths, they are definitely not for everyone.  
They are pretty much as far from being barefoot as it gets, despite them being sandals.  If you're a fan of FiveFingers, or Merrell Gloves, or other "barefoot" shoes (I am!), these are definitely a "try before you buy" item.  
Source: bought via a "pro deal"

A retail employee and outdoor enthusiast's best friend, the Chaco Z/1 is a great performance and casual sandal for everyday or active use.
Pros
Comfortable
Supportive
Great tread/traction
Good looking
Resoleable
Cons
Unaweep poor for water/slickrock
Webbing sticks at times
I've had my Z/1s for one year. I always heard of people having Chacos and loving them, so I figured I had to try them. I found these on sale at the Whole Earth Provision Co. near the UT campus in Austin. After one year and many other shoes coming and going, they are my shoe of choice for 3 out of 4 occasions both work and play.
Chacos are definitely an acquired taste. If you're not used to a hefty, supportive sport sandal, then they require some adjustment the first several times you wear them, both in your foot muscles and in the actual securing of your foot to the foot bed. The arch is very pronounced and supports your foot very well.
For someone who wore Chuck Taylors for three years straight, the arch was uncomfortable at first, but soon help my feet regain their more natural shape (my foot even shrunk a half size). I usually wear a 10.5, but Chacos come in whole sizes only. Chaco sizing is long, so a 10 is perfect for me with stub-room to spare.
The foot bed is PU, so it is firm (and heavy when compared to EVA) but has some cushioning for all-day comfort. The ports where the heel strap risers exit the foot bed are raised and were a different feeling for my foot, but they do serve to anchor your foot laterally.
I never had any blistering or much rubbing, but it did take two weeks before my feet and the foot bed were best friends. The foot bed has a cross-hatch of channels that run the entire surface and act as conduits for sweat to evaporate. These can get pretty funky, but a paper clip or toothpick with water in the tub are enough to clean them up nicely.
The webbing adjustment system is so unique and ingenious. It is secure, and, when properly tightened, keeps my foot very stable. The webbing runs through molded channels between the foot bed and the outsole, so dirt and grit can get in there, making the straps hard to move. With some elbow grease, one can "floss" the webbing back and forth and clean out the channels and free the webbing. The webbing is soft and feels nice on my feet, but is also rugged and stands up to plenty of indoor and outdoor abuse.
The Unaweep tread is deep and luggy giving great traction on gravel, dirt, dry rock face, and most anything else. I noticed when walking in lakes or rivers with slimy rocks that my foot did slip quite a bit. I bought the Unaweep because I wanted them more for hiking/general use; the Yampa sole is better for water activities for those so inclined.
I'm stoked because ReChaco will replace the outsoles when they wear out ($40), so it's cheaper than a new pair, I can use my Chacos for many more years, and it keeps them out of the landfill!
I also own a pair of Z/2s. I mostly reserve those for hiking, whereas the Z/1s I use for work (8+ hours on my feet in a retail job) and grocery shopping, hanging out with friends, walking the dog, etc. The lack of toe loop on the Z/1 offers more comfort but less stability in uneven terrain, but if you hate the toe loop and still want to hike in a Chaco, the Z/1 will still get the job done.
After a hike, I use my Z/1s as a recovery shoe with a pair of SmartWool socks, and my feet rejoice everytime! With a pair of socks (Sockos), they even gain the coveted 4-season distinction in my arsenal (Texas is probably better suited for Sockos than Duluth or Juneau).
I can't rave enough about Chacos. They are my favorite shoe. My partner probably wishes I wouldn't wear them out to dinner, but what can I say, I love them too much!
*I am an employee at Whole Earth Provision Co. in Dallas. My views do not necessarily represent the views of Whole Earth Provision Co. or its employees. I pride myself in providing unbiased reviews of products I purchase for my personal use.
Source: bought it new
Price Paid: $40

Chacos are boot on the bottom and sandal on top! These things grip in the water and on the land, desert and mountain! I recommend these to thru hikers and day hikers, paddlers and cyclists, and they are great for travel too!
Pros
simple design
durable as hell
excellent arch support
multi-sport appropriate
Cons
a little heavy
no toe protection
The strap design combined with the super-supportive footbed combined with the Vibram sole make these sandals second to none.
All day comfort from the hostel to the trail to the put-in to the take-out to the pub and then on to the fine dining.
More support than most orthotics. These sandals actually become the last resort for folks desperate for sandals but bound by doctor's orders to their orthotics. Chaco offers so much arch in their footbed that orthotics can often be replaced entirely.
These sandals are wonderful for rafting, kayaking, canoeing, and standup paddle boards. When negotiating slippery rocks and roots at put ins and take outs these sandals offer good traction. When moving around the boat these sandals are not bulky so negotiating thwarts and gear is easy.
The Z/1, as opposed to the Z/2 model, can be worn with socks in the cold and without in the warm.
(Disclosure: I own The Badass Outdoors Gear Shop and do sell these sandals in my store. The reason I sell these sandals is because I USE these sandals for almost every adventure and they keep on working for me.)
Source: received it as a personal gift

Great sandals. A bit bulky. Super heavy.
Pros
Very comfortable
Supportive footbed
Easily adjustable straps
Durable Vibram sole
Great for hiking
The Chaco Z/1 Unaweep sandals are great. They have a lifetime warranty, so you basically never have to buy a pair ever again. The sturdy footbed and heavy tread on the sole make these sandals great for hiking.
Unfortunately, I find these sandals to be too thick and heavy. If you're looking for sandals for water sports, or just to relax, I suggest the Chaco Updraft 2.
Source: bought it new
Price Paid: $100

Have these plus the flip flops.
I have these plus the flip flops and and they're the only footwear that provides the arch support I need. I just wish I could have them in an ultralight trail runner shoe.
Source: bought it used
Price Paid: $50

I have 2 pairs of Z/1s with the Unaweep sole and 1 pair with the Colorado sole. I find the Unaweep soles keep up better. Colorado sole starts to bubble up. 
Cannot live without my Chacos. Putting any other sandal on my feet is extremely uncomfortable. Chaco has been praised by the podiatry association for the construction of their sandals/shoes.
My only gripe: I have been wearing Chacos for years. In 2009 they started to outsource to China. I took great pride in the fact that I was buying an American made product. Apparently NOTHING is accomplished in Colorado anymore.
I needed a pair re-soled and instead they sent me a "like pair." Unfortunately the newest models have become more of a fashion statement. I would not purchase. Best bet is to find older models on eBay.
Price Paid: $50

Your Review
You May Like
Specs
Men's
Price
MSRP: $100.00
Historic Range: $9.95-$110.00
Reviewers Paid: $20.00-$100.00

Outsole
Vibram® Unaweep

Women's
Price
MSRP: $100.00
Historic Range: $28.49-$115.00
Reviewers Paid: $60.00

Outsole
Vibram® Unaweep

Kids'
Price
Historic Range: $49.99

Boys'
Price
Historic Range: $22.45-$39.95

Girls'
Price
Historic Range: $39.95

Recently on Trailspace