Merrell Barefoot Trail Glove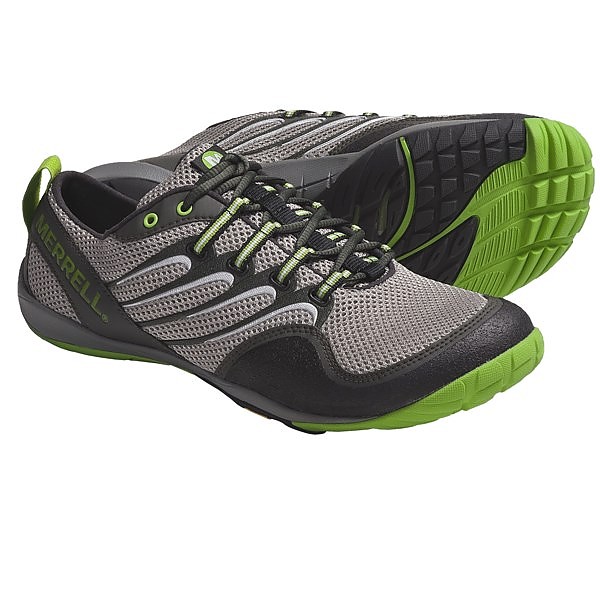 A true 'barefoot' shoe with a tough sole that is good for trails, provided they're not too muddy. The very 'precise' fit makes them a good shoe for technical trails.
Pros
Precise fit
Tough sole protects the foot well
Wide toe box
Cons
Tread is too shallow for muddy trails
Thin, fiddly tongue
***See bottom of review for my most recent experience, using TGs for a 100 mile ultra!***
The Merrell Trail Glove (TG) is one of the new generation of 'barefoot' running shoes. The TG's cushioning is very minimal, but what makes it a true 'barefoot' shoe is that it has no heel-forefoot differential, that is the shoe does not lift the heel relative to the forefoot at all. Standard running shoes have 8-12mm (1/3-1/2 inch) differential, with 'minimal' shoes around 4mm.
I bought them in May 2011. I'm a UK-based ultra runner who is used to minimal (but not 'barefoot') shoes, ie Brooks Mach Spikeless, Inov8 F-Lite 230, and even I have found the Trail Gloves a huge change! The TGs engage all the leg and core muscles, not just the more limited range normal shoes do, making for a very intense running workout!
The fit, not just the sole is 'barefoot'. The wide, ergonomic forefoot allows the toes to splay: this is key to getting your feet working fully. The fit is very glove-like, although the upper has no stretch so they can take a bit of putting on, but this is a small price to pay for the very precise feel of the shoe, which makes them good for 'technical' trails.
The TG has a shallow tread for a trail shoe, so it makes a pretty good all-rounder, but not suited for muddy conditions.
In August 2011, I did half of the 85-mile Ridgeway Challenge in the TGs, at which point I was happy to change into a more traditional (although still light'n'low) shoe, largely because it was very wet and slippery, so the shallow tread made it hard to stay stable, and my feet and lower legs had got very tired as a result.
I continue to use them very regularly and in May 2012 ran another ultra trail event on the Ridgeway, the Ridgeway 40 in mostly hard conditions and my feet felt tired at the end, but only in the normal way you would expect for that distance!
The process of getting used to a barefoot shoe like the TG is a pleasure and the reward is simply a more natural running experience. I'm now pretty used to them and enjoy using them as my 'default', day-to-day running shoe.
Disclosure: Merrell UK recently gave me a new pair of Trail Gloves because I post very regularly on their Facebook page. I am a fan of the brand, but I say what I think and I do post some constructive criticism. This review was recently updated, but most of it was written before they gave me the shoes!
Update, written from experience since getting the free Merrell Trail Gloves:
I've been building up to using my TGs on a big ultra, and this weekend I finally did, wearing them for all of the South Downs Way 100!
 The first half of the course, east across southern England, was muddier than the second, with more wooded sections. We also had some rain and it had been very wet in that part of the UK recently. The TG's lack of grip in mud was an issue, as I would have expected from my previous experience.
The TGs were pretty much faultless on the grassier second half of the course. There were even a couple of steep, technical descents though woods which they handled with aplomb. That's when a 'precise' shoe really shines.
The precise fit was a real boon. Every other runner I spoke to or whose feet I saw afterwards had blisters. My feet didn't have a mark on them! However the down side of the fit is that they're not very forgiving if you tighten them up even a little too much. I noticed pain across the top of my left foot after 85 miles, because I'd fastened them just a little too tight at the start, and hadn't needed to take them off to tend my feet, so they'd stayed that way. It would be unfair to call this a disadvantage, just something to be aware of. Apart from this, my feet only got as sore as they 'normally' would from covering 100 miles in 22:47:43!
Something I've become aware of recently, not just related to my '100' experience, is the thin tongue, which can very easily be folded over at the edge, causing soreness if you don't catch it when you're putting TGs on. A thin gusset tongue, made entirely out of elasticated fabric could be better: it would still give the same (minimal) protection from lace pressure, but wouldn't need positioning. The lace anchors going through the tongue don't do anything apart keep it in position, which of course wouldn't be an issue with a gusset. The anchors are also fairly complex and I assume are one of the reasons why TGs are quite expensive.
Source: received it as a sample, freebie, or prize (Merrell UK)

A very expensive water shoe that takes a long time to dry. Covers your bare feet enough to protect from the elements. The ankle material/fit allows for a lot of trail debris to get into the shoes. Breathable material on the sides keeps your feet well ventilated.

I would recommend this product to those who have seasoned feet, this is truly a minimalist shoe and allows you to do more than you would with a bare foot. But the fit, minimal sole material and support is not for the weak of foot.
I would NOT recommend this shoe for anyone who require a lot of ankle support or who has sensitive feet.
Pros
Lightweight
breathable
Better than bare foot
Cons
Takes forever to dry
Debris easily enters shoe even when fully laced
Becomes odiferous quickly
Wide toe area allows for too much movement
Terrible wet surface traction
I love being bare foot, and I spend a lot of time outdoors. I was considering a pair of hiking sandals but was drawn in by the allure of the "minimalist barefoot trail shoe" for some extra protection on the trails and in wet conditions.
Initial fit: At the store, the trail glove felt comfortable, cushiony and snug. Note: Go small when sizing. I generally wear a 10, will go 10.5 sometimes if I know I will be wearing thick socks. I wore a 9.5 in this shoe.
The ankle supports (or lack there of) are very low, there are lace eyes at the highest point of the ankle material but they only apply downward pressure to the tops of your feet, they do not really tighten the back area of the ankle. The toe area is surprisingly wide.
On the trail:
The shoe material stretches a fair amount once you get going, causing more movement within the shoe that I would have liked. Once I started sweating there was serious chaffing going on and I endured a couple blisters from that. Nothing too serious.
I could not get the back part of the ankle material to hug my ankles. This allowed debris; sticks rocks, etc. to get into the shoes. Unless you run on the cleanest "trails" i.e.: the road, this WILL be an issue.
The soles really protect your feet well, as you would hope. You can "feel" the trail beneath your feet without the pain of things poking your soles. The Vibram inserts are comfortable when walking, jogging and running.
I have issues with my arches, some shoes will cause them to hurt, sting. But I did not experience that in these shoes.
If you get these shoes wet, they will take a long time to dry. I had run through some creeks and puddles (one of the reasons I wanted a "no-sock" shoe or sandal) and even sitting in the sun the entire afternoon wide open they took till the next day to dry. And now they are quite smelly. But what do you expect from a barefoot shoe?
The side and upper material is very light and breathable. On the same note they do not protect from thorns and whatnot.
The soles are great on dry terrain, they grip well, flex when you need flex like a climbing shoe. Under wet conditions these shoes Fail! I almost face-planted on a wet patch of terrain a couple times. I expect a wet rock or root to be slippery, but I would hope a trail shoe would combat that somewhat. Not here. Possibly the worst feature of this shoe in my mind.
So far I have run these shoes through the ringer over the last three months. They have seen rocky trails and some climbing, light backpacking, wooded trails and creeks to straight up jumping into a lake. I will admit they are growing on me and I will continue to use them.
Although I was not as impressed with the $80 purchase as I was hoping I would be, I do actually like the shoes. They allowed me to do way more than I could barefoot and maintain a reasonable amount of comfort and protection. But constantly stopping to empty the junk out of my shoe is a pain.
Source: bought it new
Price Paid: $80

After months of research and reading reviews, this was my first high end "barefoot" shoe and I could not be more pleased. I ran barefoot and with water shoes for a while but needed something that protected better against thorns/sticks while still remaining flexible. The Trail Glove has proven outstanding, it's the most comfortable shoe I own and is tough enough that if I step on a thorny vine while running I don't even notice and pressure from pokey sticks is distributed enough to not be a problem at all.
Pros
Excellent comfort and wear
Excellent protection from gravel / thorns
Flexible and zero drop
Drains fast
Cons
Definitely not waterproof
Can easily get sand inside
Fit:
The "glove" in the name is not a misnomer, it really does feel like a glove on my foot. It's not tight per se, but it's snug. The sold feels molded to the bottom of my foot and around the sides. There is zero lateral movement in this shoe, when I tie it the sides conform to the sides of my feet and prevent any slippage. One important consideration is that how you tie it makes a huge difference in fit. By tightening some laces and loosening others I can completely change how the shoe feels. When changing back and forth between barefoot and socks (very thin athletic ones) I have to fiddle with the laces awhile before it fits perfect.
Comfort:
I'm not sure about a break-in period, however at first I did notice some slight chafing on the upper right on my right foot that has since disappeared. The sides of this shoe are basically mesh, allowing it to breath very well, however that means my foot is chilly in winter and wet if I step in a puddle deeper than 1". The only real downside sand, I can't recommend this shoe if you are mostly in sand deeper than about an inch as the sand will work it's way inside and you have to stop and empty it. 
Support:
My foot feels wrapped in awesome. The shoe does not reach my ankle, so meaningful support there. However the lack of any slippage inside the show seems to help me with responsiveness and recovering from spills, though this may just be wishful thinking. 
Water Resistance:
None, though dries faster than my old running shoes, I usually just keep going and let them dry out as I walk / run.
Traction:
Overall, very good, however I have can imagine some situations where you might want deeper tread, such as mud on top of hard clay or snow. 
Temp Control:
Great.
Ease of use:
They can be a little tight to put on, I often end up loosening the laces significantly then re-tightening, however this is not a big deal.  
Features:
I love the lasers that vaporize really sharp gravel. But seriously, these fit me well, drain well and provide a very versatile fit depending on how you tie them. 
Construction & Durability:
I run on my family's farm, there are no trails and I tend to follow my dogs, so puddles/marsh/ditches/ it are often part of that days run. I consider myself to be hard on shoes (and electronics, my poor phone...) and so far I have no complaint except that a magic fairy does not clean them for me. 
Conditions:
I'm not a "real" runner, I've been doing C25K, then stopping, then starting, then stopping, etc, etc.. 
I do run/walk/hike in bad conditions, I followed my dogs through a marsh last weekend, had blast, got soaked and muddy, then went crashing through a lot of woods and ending with a walk across a large field, we never saw a trail. I don't have any experience with them on inclines however. 
Overall:
I am very pleased with my Trail Gloves, they work great on the flatland running / hiking / walking I do and provide enough protection for me. If you wanted to run gnarly mountain trails, then I might recommend the Mix Master 2 instead, based on the barefoot running university review.
Source: received it as a personal gift

A great alternative to Vibram 5-Fingers for people looking for a barefoot shoe.
Finding the Merrell trail gloves was the result of a 2-year search for a barefoot shoe that felt perfect. During this search I originally tried the Vibram FiveFingers but learned that like many people my feet were slightly different sizes. This would mean in order to get the correct fit with one foot, the other shoe would either be to snug or too loose. Neither situation would be ideal.
Luckily Merrell came out with the trail glove. Its design allows for my differently sized feet to fit without having one shoe be too large or too small.
Merrell was also able to include all the features I was looking for in a barefoot shoe. They are extremely breathable, lightweight, and flex to form to the surface of the trail.
My only concern is regarding the traction. During the past few hikes I have slipped a few times on sand/gravel. I think it is likely that I need to get used to the grip of the shoe but it happened enough times that it is worth noting.
Overall I am very pleased with the trail glove and would recommend it to anyone looking for a barefoot shoe.
Source: bought it new
Price Paid: $100

This is definitely a minimalist shoe. Not too great for walking on asphalt roads or concrete sidewalks, as it hurt my feet after a few miles, but great for a day trip up to about 12 miles. Very comfortable once worn in!
Pros
Foot conforming design
Possible bouldering shoe
Widened toe for breathability and mobility
Cons
Not good for everyday use
Very long shoe strings
Needs lots of break-in time
The fit of the show is very nice, especially if you tried it on in-store or know your particular size. The shoe fits the heel quite snugly and fits the toes nicely as well. The toe region of the shoe widens a bit to give the toes room to breathe and move around. This shoe feels like part of my foot when it is on.
Getting the shoe on can be a hassle sometimes, especially when tying the shoes up. The sole is Vibram but it's more of a foam sole than the rubber Vibram sole we are used to. The shoe needs requires a bit of break-in; I had to wear mine at least 30 miles or so before I didn't get blisters from them.
If tied right, the shoe keeps out just about all forms of dirt, sand, water, twigs, etc. Traction wise, the shoe works quite well as long as the surface isn't too slippery, which is a drawback for me because I live in a region where it rains sometimes intensely and unpredictably. The support is very nice, as it adequately supports those with a foot arch.
Overall, I would recommend this shoe for short day hikes/ trail runs but not for much after that. I have used it for three two-day, 18 mile hike on trails/rocks, and numerous 2-3 mile dog walks on concrete/asphalt/grass.
Source: bought it new
Price Paid: $55.95, on sale

This shoe has a nice wide toe-box to strengthen your foot, a snug supportive fit, no heel raise or padding for a minimalist run, excellent durability and better than decent tread. I used these for training, racing and even 11 canyoneering trips. Great shoe for the minimalist seasoned trail or road runner!
Pros
Durable
Light
Flat but strong sole
Easily adjustable fit
This looks to be my go-to shoe ( on second pair) for trails, hikes and races.
Source: bought it new

Your Review
Where to Buy
Help support this site by making your next gear purchase through one of the links above. Click a link, buy what you need, and the seller will contribute a portion of the purchase price to support Trailspace's independent gear reviews.
You May Like
Specs
Men's
Price
MSRP: $110.00
Historic Range: $49.98-$110.00
Reviewers Paid: $55.95-$100.00

Weight
6.2 oz / 175.8 gm (Half Pair)

Sizes
7-12 (Half Sizes) 13, 14, 15

Materials
Microfiber and Breathable Air Mesh Upper

Kids'
Kids
Youth
Price
MSRP: $60.00
Historic Range: $14.83-$60.00

Weight
4.3 oz
4.3 oz
Sizes
3.5 - 7 (Half Sizes)
10 - 3 (Half Sizes)
Materials
Synthetic and Mesh Upper
Synthetic and Mesh Upper