Chaco Z/Cloud 2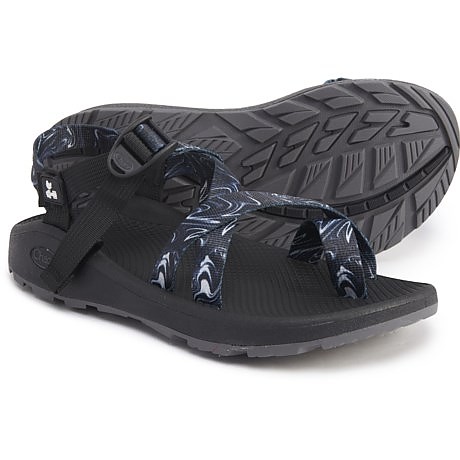 A meaningful upgrade over Chaco's Z/2 classic sandal. The Z/Cloud 2's topsole and midsole are softer and more forgiving than previous versions. Chaco's new-ish proprietary sole is grippy on wet boat surfaces and rocks. The straps and adjustability are about the same as previous versions, but don't undersell the ability to adjust them and not worry about river grime fouling the closure.
Pros
Comfort
Stability for your feet in wet conditions
Closure defeats wear and dirt
Cons
Some might not like the weight
Cleaning grime from sliding straps underfoot
Blisters until your feet adjust
I have been wearing Chacos for about ten years, but I will try to start from zero and explain what these water sandals are about. 
CHACO STRAPPING
Take a look at the black slide clip on the outside of my ankle in the photos below. The strap slides through it, loosens to let your feet out, tightens to keep them in. It's a pretty simple and very effective way to make a water sandal, and it is a hallmark of what Chaco does. No hook/loop closure to get fouled with sand or mud, no rubberized straps or bands to pull tight (or break or wear out). It is also extremely difficult to break or damage, and it takes years—many years—for wear on the straps to be remotely relevant. If you wear a pair of these out, it will almost certainly be the soles.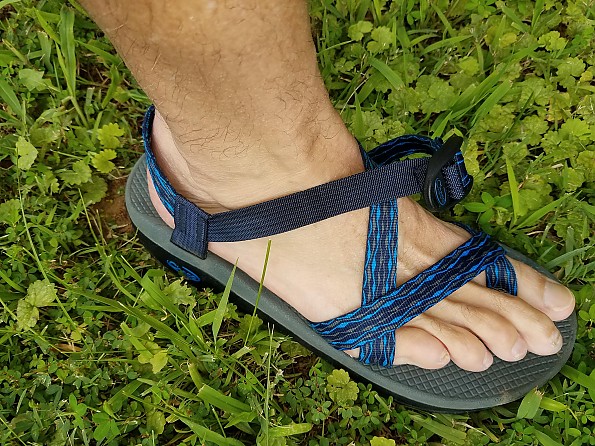 The photo above shows the strap loosened.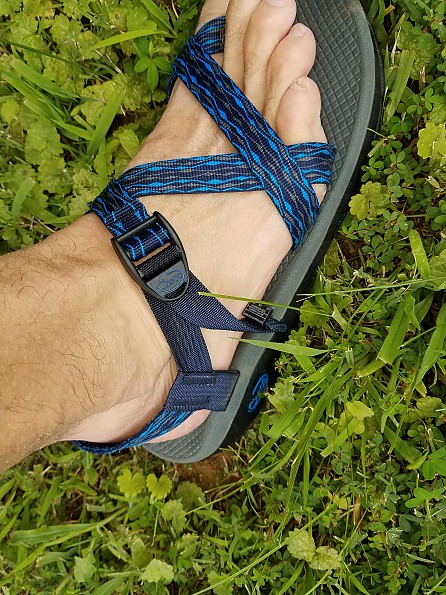 Here, the strap is tightened.
Now look at the rest of the straps on the front of my foot. That is one continuous loop of polyester strapping. It runs under the footbed, and to adjust the fit, you slide the straps around under that footbed to customize the fit for your feet. When they arrive new, expect to spend some time figuring out how the straps slide and how moving one length will affect the fit of the others. They are reasonably straightforward to adjust initially.
The straps are a relatively soft polyester webbing that feels great. If you own a ten-year-old pair, it's worth a look, because the webbing has improved a lot over the years. This webbing is lighter-weight and less likely to abrade your feet than older versions. When they get soaked and dry out, the strap material can tighten a little bit; you can either fiddle with them or wear them for a few minutes and let the straps ease up.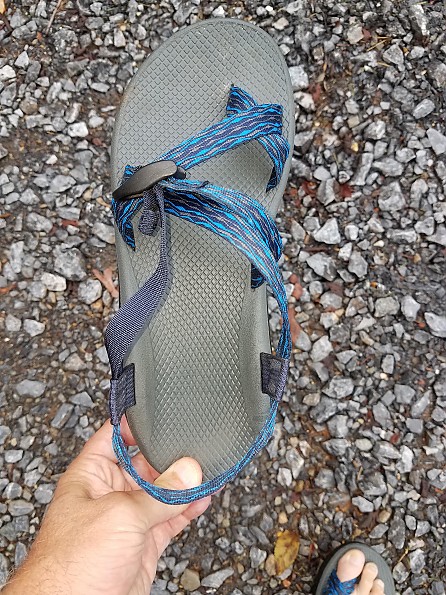 When the sandals are new, adjusting the fit is pretty easy; as they age, and especially if you spend a lot of time in lakes, on beaches, or in rivers, sand and grit can work its way into those very tight spaces under the footbed and make it harder to slide the straps.
Once again, it is a great adjustment system that isn't prone to failure; if you want them to remain adjustable, dunk the shoes in a pail of water once a year, work the straps back and forth, and clean out the grit....then readjust them so they fit your feet. The fact you really should clean them sporadically is one reason I give them four rather than five stars.
The sandals are called the Z/Cloud 2: the "2" refers to that strap over your big toe. If you think that might be uncomfortable, or if you are wearing the sandals around town or on light hikes, go with Chaco's Z/Cloud. It doesn't have that strap.
The main value of that big toe strap is that it gives your foot a much better degree of stability in the shoe when you are in and around water. Your foot simply cannot and will not slide around as much in the sandal with that big toe strap. Plus, if you happen to be canoe-camping and feel like wearing a pair of socks with your sandals, you can just not use that little strap.
The "2" is a more versatile sandal and a bit more geared toward people who wear them wet and appreciate the added stability. Until your big toes get used to that strap, it can feel odd and can cause some blistering initially.
FOOTBED/MIDSOLE/SOLE
Chaco makes a solid sandal. This pair weighs close to a pound and a half. The midsole, that thicker black part under my feet, is a relatively thick and solid chunk of polyurethane. It is nicely contoured, incredibly durable, but not particularly soft and kind of heavy.
The narrower gray area next to my feet is the source of the "cloud" part of the name. Unlike previous versions of this sandal, the gray material is much softer and more forgiving than the polyurethane midsole. If you have worn Chacos before, it is a very big upgrade in out-of-the-box comfort. I have somewhat wide feet, E width, and Chacos fit my feet well. I also have very flat feet, so I really like the contoured midsole and moderate arch support these offer.
Chaco used to use Vibram soles but has been moving toward its own proprietary versions. My old Chacos started as classic Z/2s, but when the soles wore, I sent them out to get them re-strapped and re-soled with a sticky "pro" rubber sole that was much better on wet surfaces. I also have a pair of their Z/1 sandals, several years old, with a similar sticky 'pro' outsole. Over time,
Chaco has tried a number of different types of soles. Currently, new models either come with an 'ecogrip' sole intended for streets, walking and hiking, a "Colorado" outsole that is a Vibram sole (oriented toward walking and hiking on dry land but OK in the water too), and a 'chacogrip' sole that is better in wet conditions. (there are a lot of versions out there - i might not be correctly listing the types of soles.
My Chaco Z/1 sandals were custom-made and have a Vibram 'megagrip' sole that is great for wet conditions, lots of traction). The 'Chacogrip' sole on these, pictured above, has really good grip in our canoe, on wet docks, and on wet river rocks. If you walk quite a bit on hard surfaces, I think this sole will wear faster than the sole intended for harder surfaces, and you might be better off with the soles made for hard ground. In fact, if you mostly plan to use these for walking around and light hiking, but not in and around the water, the Z/1 might be a better choice, but it's really a personal decision.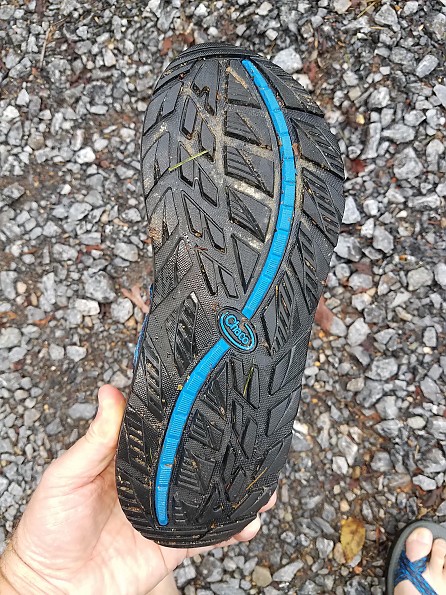 The photo above reflects wear as of the date of this review. Keep in mind that I used these on a series of 4-6 mile walks on pavement and the beach for a few months. The only noticeable wear is  slight and on the outside of the heel - a typical wear point for me. 
DURABILITY
As a brand, Chacos are a winner on durability. I haven't experienced a failure with them, ever, and I use and wear them a lot. See my reviews of their Z/1 (circa 2008) and the Zong, a slip-on. It's too early to tell about the proprietary sticky sole, but the previous 'pro' soles have proved to be a lot more durable than I expected. It's also too early to tell whether the softer cloud topsole will wear differently, but so far, no significant wear.
THE USER EXPERIENCE
I have had these sandals for a few months. I regularly wear them when I canoe in the Potomac River nearby, while hiking along the river, and around town. I took them to the beach for a couple of weeks this summer, and I used them regularly on long walks on rocks and pavement to see how they would feel for light hiking. The cloud footbed is a lot more comfortable for longer walks than the non-cloud version. Spend the extra money on the cloud version, in my opinion. 
I also immersed them in several inches of very gunky river mud when I did the annual canoe dive. I try to capsize at least once per summer so I can practice clearing the water and flipping the canoe back over. I ended up doing that relatively close to shore and sank into the mud. On the plus side, the secure fit means the mud can't suck them off your feet! Consistent with past experience, I had to drop them into a bucket of water afterward and work the mud out from the areas where the straps slide under the footbed. 
TAKEAWAYS
Personally, Chaco's Z/1 and Z/2 designs are five star sandals. I give these sandals four stars because fiddling with the straps might frustrate some people, they are on the heavy side, and they can cause a few blisters at first. I'm used to them, they don't blister me, and I love the durability, support underfoot, and stability of them. Adding a comfortable midsole is a big plus. Highly recommended.  
Source: bought it new
Price Paid: $100 (used a coupon)

Your Review
Where to Buy
Help support this site by making your next gear purchase through one of the links above. Click a link, buy what you need, and the seller will contribute a portion of the purchase price to support Trailspace's independent gear reviews.
You May Like
Specs
Men's
Price
MSRP: $95.00
Current Retail: $54.00-$109.95
Historic Range: $15.00-$139.95
Reviewers Paid: $100.00

Women's
Price
MSRP: $100.00
Current Retail: $74.73-$109.95
Historic Range: $35.83-$139.95

Recently on Trailspace