CiloGear 60L Worksack

#7 in unisex Weekend Packs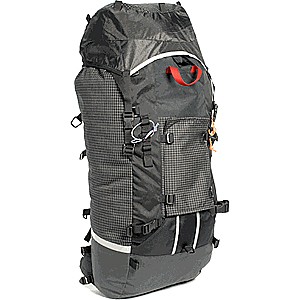 Specs
Price
MSRP: $260.00
Reviewers Paid: $200.00-$260.00

Pack Bag = 900g

Hipbelt = 125g

Lid = 170g

10 straps = 160g

Framesheet + Pad = 550g

Max Weight 1.9kg / 4.2 lbs

Small fits from 14.5 to 17.5 inches

Medium fits from 17 to 19 inches

Large fits from 19 to 22 inches

Reviews
4

reviews

5-star:

2

4-star:

2

3-star:

0

2-star:

0

1-star:

0
Great climbing pack for long climbing trips. Carries very well and its modular design allows it to be used for nearly all aspects of a big trip. Not the best for backpackers who don't climb.
Pros
Lightweight
Stripable/customizable design
Durable
Great no-frills suspension
Cons
If you only backpack (no climbing) then there are other packs that are better
My Cilogear Worksack
I got my own Cilogear Worksack 60L about four months ago and have done my best to test it out in all different situations. I have used it backpacking, ice cragging, rock cragging, on multi-pitch ice, and multi-pitch rock, alpine climbing, and even snowshoeing. I have carried anywhere from 10 to 65 pounds in it and have used it with and without the frame sheet.  
In every situation it has performed incredibly well.  The only downside is that the pack that I have is 60L. There are times that I wish I had a 40L or 30L. But, the 60L has been able to compress down quite small to carry well with small loads and not feel too big.
Here are some specs:
These weights are from my own scale, but they are almost identical to those found on Cilogear's website.  It's always refreshing to me when companies present their products accurately.  This pack is a medium torso. 
4lb 10oz - The whole pack, including an added wand pocket and all of the straps the pack comes with, and a rope catch.
4lb 2oz - The pack with no straps or wand pocket.  Does have top lid attached.
3lb 10oz - The pack with no straps or lid with connecting straps for lid also removed
2lb 11oz - Same as previous but with framesheet removed
2lb - no framesheet, hipbelt, bivy pad, straps, or lid.

Features:
Pack is made of some of the best materials available while keeping the pack affordable
Reinforced in high-abrasion areas
Can transform from expedition load hauler to stripped summit pack
reflective trim makes the pack very visible in the dark.
Two reinforced haul loops allow the pack to be hauled if necessary.
Long, 12" extension sleeve allows for extra large loads or for the pack to be used as a short bivy bag if necessary.  The pack from bottom to top of extension sleeve is 36" long.
Ice clipper slots on hipbelt
D-loop/Slider system allows for incredible versatility.  Straps can be configured however you want to carry pretty much anything.  Also, strap-attachment points can be used for compression without straps.
Crampon pouch and ice tool/ice axe attachments.  Tool attachments can easily carry two sets of tools or tools and an axe.
The Verdict
If it's not extremely obvious yet, let me say this in the clearest language I know how: This pack is the best climbing pack I have ever seen! I have used probably 15-20 different packs over the years for climbing, including Black Diamond, Arc'teryx, Wild Things, Osprey, Granite Gear, Dana Design, and others, and I have never  used a pack that carries so comfortably with heavy loads that can also strip down so light and simple for climbing and as a summit pack. 
There are some packs that are as simple and climb as well, and there are packs that carry loads as well, but there are no other packs that I know of that does everything as well, and for an affordable price.  My pack retails for $260.  Not bad for what you get. 
They do also offer a non-woven dyneema and a woven/non-woven dyneema 60L Worksack, but they are significantly more expensive ($750 and $775, respectively).  They are lighter and significantly more durable than mine, but I think mine is durable enough to last at least 3-4 years of heavy use.
I would give this pack 5 out of 5 stars.  The only thing I would add are dedicated gear loops on the hipbelt and maybe a couple retaining clips on the shoulder straps for the extra webbing from the load lifters so they don't hit me in the face in high winds.  It's not difficult to tuck this under other straps though. 
For any climber that wants a well-designed, extremely versatile climbing pack, Cilogear Worksacks are for you!  For a backpacker that climbs, worksacks are for you!  For a backpacker that doesn't climb, these would work fine, but there are probably better options out there for you.
Source: bought it new
Price Paid: $260

I just did my first trip with this pack - sadly the trip didn't work out due to weather but the pack did.
First off, Cilogear's service is excellent and very personal; they build a relationship with you and discuss your needs. My initial thoughts on receiving the pack were that it appeared to have everything laid out where it should be, the weight was very light and the pack compresses down very small.
Fabric is excellent - the right combination of lightness or scuff-resistance where you need it and no ridiculous thick cordura in places that do nothing but add weight. The D clip compression system is very clever, lightweight, and works beautifully.
Cilogear has an excellent manual on their website to guide you through the fit customization process (bending the internal framesheet, compression options, fitting the hipbelt, etc.). The suspension is very simple, and at first I was a little alarmed at what appeared to be rather spartan padding for the shoulder straps, given the volume and therefore load potential of the pack. Yet as I set about customizing it, and noticed how well it seemed to be hugging my back, I began to wonder, could it be that Cilogear actually pays more attention to fit rather than overstuffed padding and the marketing hype of "thermo-formed" everything?
Carrying the pack into the backcountry for 15km, which included some bushwacking and then some epic scree grovelling to reach a glacier/high camp, the pack fit like a glove. There was room for everything - the space for the framesheet has room for my folded thermarest, a great feature. My boney frame did wish for just a touch more padding (only on the shoulder straps) by the end of the second day, but I also recognized that I needed to tweak the fit a bit more.
Based on its design/shape (flaring upwards), I think the pack probably performs best with heavier loads close to the back at low to mid height, otherwise it can pull away. But that's more of a packing issue. The only thing I would add, except for a bit of padding for the shoulders, would be some sort of slot/pocket at the bottom of the sides, for slotting wands or tent poles (or skis). Cilogear does make an accessory pocket, however.
Great job overall, and I'm looking forward to using the pack more in the days to come!

Design: top-loading internal frame
Size: 60 liters
Max. Load Carried: 40-45 pounds
Height of Owner: 5'7"
Price Paid: $235

Version reviewed: V2
The CiloGear 60L WorkSack is the best pack I've ever owned or used. It carries anything I've loaded it with beautifully, I've never had a pack move WITH me instead of against me. Truly the best pack for off trail hiking or alpine climbing I've ever seen. I highly recommend it to anybody with a bit of patience to get them through the first ten minutes of setting up the pack.
This pack is surprisingly large, but unbelievably light -- I don't use many of the removable straps, and I've even forgotten the hipbelt on one occasion and it still carried pretty darn well.
I've been hiking and climbing for over 20 years, since my parents first took me to Yosemite and Sequoia when I was just a tyke. I've had this pack for about a year, and I've probably used it on half a dozen weekend trips, a one week hike along the AT, and even some day hikes. I'm a big guy, and this pack fits my gear without weighing a ton, provides a comfortable suspension and really lasts. It's almost as comfortable as my Bozeman vintage Astralplane, but it's about 1/3 of the weight of that pack. The Cilogear worksack beats my astralplane hands down on talus fields, uneven ground, and hiking off trail.
The compressiblity and versatility of this pack just aren't matched by anything else I've ever seen. It took me half an hour of fiddling to figure out how to work the strap system and fit the framesheet, but their manual made things pretty simple.
The shortcomings of my pack sound like they were addressed by CiloGear. According to the CiloGear blog, they're using zippers made in the USA and that was my biggest peeve with the pack, the zippers on the lid. The customer service that I've received from Cilogear is among the best I've had...I think they're basically a one guy shop, but he seems to really do a pretty good job keeping on top of things.
All in all, the Cilogear 60l WorkSack is the best pack I've ever used. I highly recommend it.
Design: top loading internal frame
Size: 60L
Number of Pockets: 2
Max. Load Carried: 85 pounds
Height of Owner: 6'4"
Price Paid: $200

Version reviewed: V2
Short Version:
This is a phenomenal, well-designed pack that fits beautifully and carries varying loads with ease. A fantastic technical bag with unparalleled versatility (once you spend all of 10-15 minutes learning how to dial the straps). It's lighter (and yet still more comfortable) than any other pack I've used.
Full Version:
I just received the new model of the CiloGear 60L WorkSack. I looked at the old model last spring, but decided to keep my Granite Gear Alpine Vapor (basically a beefier version of GG's popular Vapor Trail with tool loops and crampon straps). I broke down and ordered the 60L WorkSack because I was sick of not-really fitting my winter kit into the GG bag, which was a solid ice/rock crag pack and 3 season backpacking bag. I wanted something that could hold a ton of stuff but also compress for the day, which is just how CiloGear bills their WorkSacks. I'm glad I made the switch (though my non-climbing wife was confused about yet another seemingly-redundant purchase).
This pack is genuinely impressive in an age of impressive-looking gear. I was pleased with it while playing around at home and, after three winter days in the Catskills, can't believe the major manufacturers haven't yet copied the design or bought out CiloGear.
I don't want to repeat what you can read for yourselves at the CiloGear site, but let me give a rundown of what stood out during the first use.
1. Fit:
Excellent. I'm still young, but my first pack was an external frame Peak 1, so I know how packs shouldn't feel. The suspension doesn't look big enough for the loads you can carry, but it works. I bent the framesheet and stay as directed, but otherwise nothing else. Best anecdote: at a food stop (after breaking 5 miles of trail through sometimes waist deep snow with 40 pound bags), my buddy asks, "So how's the new pack?" I then realized that I hadn't even noticed/thought of it since putting it on after strapping on the snowshoes. So I said, "It seems to be a magic hole where gravity no longer functions." And that's not hyperbole.
2. Versatility:
You really can blow this up or shrink it down. On day two, we headed out just for the day, so I threw a bit of gear into the bag, strapped it down, didn't bother to take out the hipbelt, and we spent the day breaking more trail. Again, didn't even notice I was wearing it.
One caveat: you really do need to play around with the bag in order to get the strap system figured out. However, CiloGear has the manual online, in easy to understand language/directions. If you are the type of user who just wants to throw a bunch of stuff in your bag and expend zero thought, you probably shouldn't get this bag. But after about 15 minutes of fiddling with the bag and reading the manual online, I felt set.
3. Durability:
There are a bunch of different fabrics used here and they all seem perfectly suited to their respective jobs. I'm pretty sure the base of the pack is some kind of bullet-proof fabric. The crampon pouch/tool holsters both have very beefy (though pliable) fabric. I'm used to seeing Cordura and not-Cordura.
4. Nit Picks:
-The zippers on the lid should come with pulls. Plus, the lid zippers themselves didn't zip smoothly all the time and seem too low-grade for such a tough pack.
-External pockets (for wands, poles, etc) on the sides would be nice. My GG had some stretch pockets--that would be ideal here. But I did read that CiloGear is releasing a Wand Pocket for just this thing, but I think it should come with the pack--it's a pretty standard feature at this point.
-There's no logo on the outside of the pack, but I'd be proud to have one in this age of over-branding. There is a logo on the inside flap for the pad/frame/stay. On the other hand, there is the appeal of the mystery pack.
5. Overall:
I'm super satisfied with this pack and think the price ($200) is pretty cheap for what you get. Lots of stuff planned for the year so I'll update this as needed. If you're on the fence and think this bag might be too good to be true, it's not. Get it and you'll be happy, too.
TRIP UPDATE: You really can blow this thing up, carry a ton of stuff, and then strip it down for use after you've made camp. I just returned from 9 days of climbing and hiking in the Cirque of the Towers (in the Southern Wind River Range). This pack performed beautifully on hike in with ~65 lbs. Of course, no one will ever enjoy steep switchbacks and boulder fields with a big pack. However, my partner had a much cushier pack that weighed about twice as much and he was hating his load well before I did. When crossing the boulder fields, I could really snug the pack tight and it moved with me very well, which I think explains why my partner hated his much heavier and cushier pack so early--I noticed his load swinging wildly back and forth as we negotiated the talus/boulders. I never felt like the pack was going to pull me off balance. Once we made camp, we stripped out the hipbelt, framesheet, stay, and backpad and used the rucksack for climbing/scoping routes. Again, the pack performed beautifully--we just threw a bunch of gear in each day and took off. Hailstorms, t-storms, hauling through slots, and all around abuse had a barely noticeable effect on the pack. And on the hike out, sans 9 days of food (but still ~50 lbs), it felt like I wasn't carrying anything at all.
Nitpick: The fabric on the shoulder straps rotated around pulled the straps out of alignment. However, I contacted CiloGear and Graham (the owner) fixed it immediately and directed me to the blog. They've already fixed this issue on all of the packs going out. This is indicative of the excellent, thorough, and timely customer service I've received from CiloGear since purchasing this pack in February.
Design: Top-loading internal frame
Size: 60L (3600 in^3)
Number of Pockets: Internal bladder pocket
Max. Load Carried: ~65 lbs
Height of Owner: 6'0"
Price Paid: $200 US

You May Like
Recently on Trailspace