Clark North American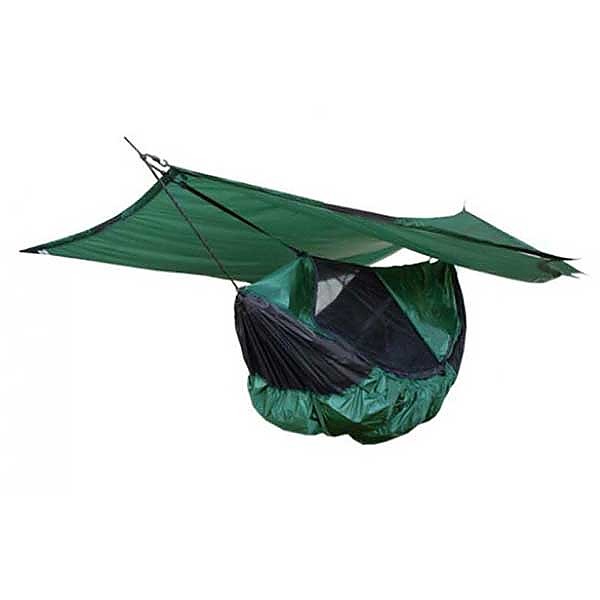 The best product I ever owned. And just the best of all methods of camping, in general.

Pros
First and above all, considerably more comfortable to sleep into that "thing" than the uninformed could believe :)
Low weight and minimal packing size, and no (beep) poles, a pure bliss.
Really 4-seasons, at the minimum of quibbling near. Matches — exactly — the climate region for which it has been designed, "North America", taïga, sub-arctic, boreal forest or snow forest.
Unbelievably sturdy (astonishing). Canvas quality at the highest of standards, in whole, and especially, breathtaking sturdiness of the extremely thin canvas (in some "non-porting" zones).
Clark's manufacturing quality of such a level (such precision of each and every sewing...) than I'm even unable to find a new superlative (I'm not English-speaking) :)
Don't even think to buy a model which wouldn't have, like this one, a "No-See-Ums" rated mosquito net (friendly advice) :)
Way enough pockets underneath to put ALL your belongings (including clothes, boots, etc.). If you need to keep also your rucksack off-the-ground (because of too friendly mice, raccoons, possums... — cough — scorpions and snakes...) :) (see considerably larger critters, like wolverines) :) :), take a 2-person model.
The only way of camping safely, anyway, in most of places where I used to hike (I would just die without it, in some places...)
Extremely polyvalent. Can be installed between rocks with Friends or Camalots climbing devices, or tent-like directly on the ground if there is no tree available (or just one tree), etc.
And why (why, why, why?) :) all these tents on the market can't have such discrete and nature-like colors...
Cons
The "severe winter" thingy (Z-liner) (insulation underneath the hammock) is only an option (and not of the cheapest...). If I (really) wanted to be hard, I'd say "3 seasons and a half", not "4 seasons" without this accessory (or a mattress).
Standard roof (just a bit) too small (it protects well the hammock itself, by any weather, but not so well all what you'll have to do below it before you climb to bed). Large roof — here again: an option :( — strongly recommended if you are not only planning short bivouacs.
Requires a canopy rope (preferably inextensible, Dyneema, PBO, I mean: not so cheap...). Like any other hammock, anyway, except if you like to climb (very) high in trees to set its attached ropes at a suitable angle. :)
You will sleep exactly at height of the muzzle of some large critters that — possibly :) — you might have preferred not to see from so close. Choose CAREFULLY your place (hidden somewhere, not in the middle of a trail...). The — questionable :) — advantage compared to a tent is that you'll see Pudgy the Bear coming from a distance. Side of safety this is a huge plus. Side of peace of mind, especially around 2 o'clock in the morning, er, (cough)... :)
Overall more expensive than others (but who questions the price of a Rolls-Royce, eh?)
I came here mainly to tell that this kind of product — I mean: the principle of the tent-hammock in general (and particularly the Clark, of course, which is in the matter the summit of quality) — is the best thing I ever encountered in all my life of wilderness camper. And I can assure you that I have encountered also, often, the worse... :)
My comrades and me, at blue-penguin.org, are owning a slightly different model of Clark (same model, military camo version) since about six years now. We tested it in almost every climate of this planet, from the scorching sun of Greece (+40°C) to the freezing cold of Finnish Lapland (-40°C) passing by the rainy and swampy forests of Alaska. We never — not once — regretted to have bought it.
In swampy and/or sloping environments (Alaska, Finland, etc.) this is even the ONLY way possible of camping. Forget immediately all kind of tents, tarps, bushcraft shelters, etc., otherwise you (and all your small belongings) will spend the totality of your nature trip 1) sleeping on a more or less angled slope, which is unbearable, especially on the long term, 2) and/or permanently soaked with soil humidity, which is not much better.
In areas where huge insects and nasty snakes are legion this is — here again — the ONLY possible way to sleep with a minimum of safety (see the photo of my friend in his hammock with his new pal the snake, on the ground) :) (ain't it cute?) :) :). The most obvious usage is, besides, — and traditionally, in many countries — the jungle. But there are so many other places where you can enjoy a hammock.
Just test one, and you'll be immediately convinced.
Regards.
Source: bought it new
Price Paid: I own a "slightly" more expensive model (480 euros) but gorgeous (camo version)

One of the most important parts of any outdoor excursion is getting a good night's sleep. The Clark North American hammock is worth its weight in gold when it comes to knowing you'll be high and dry or toasty warm and out of the wind. The built-in bug netting and weather shield make it nearly impervious to foul weather, and that's before adding the included efficient, form-fitting tarp designed for jungle use.

For anyone thinking of buying one of the better, high-end hammocks, consider any Clark hammock models to fit your needs. They pack well and you won't have any buyer's remorse.
Pros
The Clark North American hammock is as tough as nails.
Weather-proof, and better still, mosquito-proof.
The Clark North American Jungle Hammock I own was purchased used, and I've owned this hammock for two years. I have never been more satisfied with a purchase of outdoor equipment than I have been with my Clark hammock. 
This hammock has provided everything I had hoped for and more. The tarp included with the hammock is excellent for its intended use in the jungle or heavy brush, as it offers a narrow profile and adequate shelter from foul weather of all kinds in hot or cold climates. Since the camping I do is in the United States (id est, no jungles), I switched the efficient Clark tarp for a large Hennessy Hammock Asym Hex Fly tarp to provide added shelter and breathing room.
At each end, a sturdy Black Diamond carabiner attached to the provided tree straps clasps two rappel rings, through which climbing rope is threaded for quick and easy setup. The climbing rope replaced the poly rope that came with the hammock as a matter of personal preference. Using this method, hanging the hammock takes less than two minutes. Hook up the cords to an independent line between your trees to hold the bug net and weather shield overhead and you're finished setting up.
After a day of wearing a pack on one's back, hammock camping allows a body to have its vertebrae stretched out, something it seems only a hammock can do and something it does well. Since I started camping with the Clark North American Jungle Hammock, it caused me to put away my Moss Olympic tent. It's that good for me.
Weathering storms and other cloudbursts is no trouble for a Clark North American Jungle hammock, which excels at keeping out foul weather using only its own weather shield. Any tarp added above it — whether the Clark tarp or not — only makes the experience of sitting in a mountain storm more pleasant and dry.
Anyone considering the purchase of a replacement hammock, a tent alternative, or their first hammock, by all means ought to include the Clark Hammock Company in their research. Whether new or used, the cost is well worth the value of the product.
Source: bought it used
Price Paid: $325

After contracting a spinal diease I thought my camping days were over...the Clark North American Hammock changed my life and gave the woods back to me. A perfectly designed piece of 4-season equipment.
My North American Hammock is the Real Deal! It is truly a 4-season piece of equipment. I tried several other hammocks before I decided on this model. I cannot say enough good things about it.
I suffer from a spinal disease and ground camping is out of the question. I can put an inflatable twin mattress in my Clark and sleep as good as I do on my Select Comfort @ home. It's changed my life bringing me back to the woods after I thought my days of sleep out were over. The quality is bullet proof.
Thank you Clark
Source: bought it new
Price Paid: $350

I would recommend this to all people backpacking in harsh conditions. I got the standard sized tarp, but would recommend a larger tarp to stake out for cooking and such.
Pros
Easy setup
Quick teardown
Very dry
Warm
Cons
Can't cook in it
Heavy for a hammock
I have used this in 70 to below 30 degree weather. I have found it warm, dry, and comfortable in all conditions.
I would like to know how well it works on the ground, and have heard you can set it up that way.
I pack my sleeping bag inside the hammock for drier set up and quicker set up. This is the easiest hammock I have had to set up and take down.
Source: bought it new
Price Paid: $400

What a great product! I'm 6' 1" and have plenty of room, used it in a spring rainstorm in Oregon and me and my gear stayed dry. Highly recommend Clark hammock!
No more sleeping on the ground for me, or sharing tight quarters with my huntin buddies. Sets up easy and really stable. I often hunt during the rainy season and you need to keep your weapon and backpack dry, I have a bivy sack for my sleeping bag that I store my bigger gear in.
If you are considering a hammock tent Clark is a good one!
Source: bought it new
Price Paid: $400

The Clark Jungle Hammock North American model is the best piece of gear I own. I can sleep on my side.
I gave up on the Hennessy Hammock because I couldn't stay dry. The Hennessy looked cool but wasn't designed for real weather. The Clark keeps me perfectly dry and has pockets for gear plus other features like zip-up netting on both sides. You definitely get what you pay for. I love it.
Design: Four-season Clark North American Model
Sleeps: 1
Ease of Setup: takes two minutes. Just learn the knot.
Weight: 3.4 lbs.
Price Paid: $279

Let's get the bad out of the way. It is narrow (the Clark North American) and claustrophobic. The netting does not allow much in the way of a breeze in and the tarp is just big enough.
The good, the pockets are great for storage and it's warm in temps in the 30's without using a quilt. The workmanship is incredible.
Price Paid: $325

Your Review
Where to Buy
Help support this site by making your next gear purchase through one of the links above. Click a link, buy what you need, and the seller will contribute a portion of the purchase price to support Trailspace's independent gear reviews.
You May Like
Specs
Price
MSRP: $279.00
Reviewers Paid: $279.00-$400.00

Type
Solo

Packing Weight
3 lbs 2 oz / 1.41 kg

Packing Size
15 X 8 X 5 in. / 38 X 20 X 13 cm

Safety/Comfort Weight Limit
250 lbs / 113 kg

Maximum Weight Limit
700 lbs / 318 kg

Climate
4-Season

Recently on Trailspace