Coghlan's Fire Paste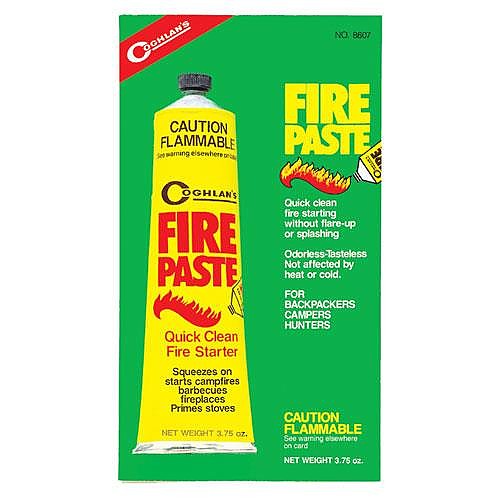 An easy quick starter for your stove or fire when you don't feel like going through the old-fashioned way. However, it doesn't perform as well as other options in adverse conditions.


Pros
Easy to use
Lights immediately dry or wet
Compact packing if not in tube
Flexible use - fire starter and stove primer
Cons
Heavy if carried in tube
Burn time not very long
Ferro rod lighting requires a larger amount
Chemical ingredients
Summary
I have been carrying Coghlan's Fire Paste for about a year in all seasons to test it as my regular firestarter. It replaced other standard firestarters in my pack like Coghlan's Fire Sticks, Emergency Tinder, and homemade Vaseline cotton balls, although I continued to carry these as a backup and comfort from long term use.
Overall this is possibly the easiest firestarter to use, but suffers a couple of setbacks because of that. It lights immediately with a match or lighter whether wet or dry and burns a 4-5 inch flame consistently for 1-2 minutes.  Since the paste doesn't burn for long it will start a fire but take a lot of it to dry out wet wood, and is difficult to light with a flint/steel (ferrocerium rod) unless you use a decent amount and spread it out.
I am testing other firestarters and will probably not use this option in the future unless I am on a short fair weather trip and just want an easy starter for my wood burning stove.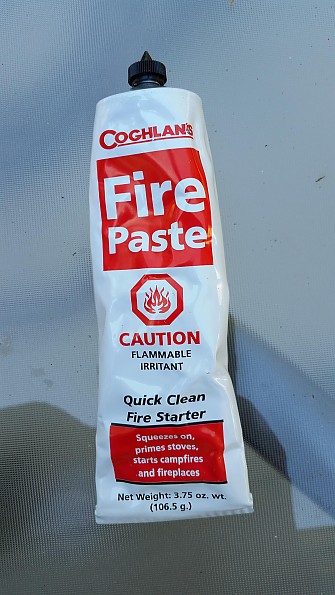 Description & Operation
Coghlan's Fire Paste comes in a 3.75 ounce tube with a polyethylene cap which is pointed to help break the aluminum seal on the tube. It contains petroleum distillates and ethyl alcohol, so care needs to be taken to not get it in eyes or ingest, and it may irritate the skin. The paste is a pale tan-pink color and relatively easy to use. 
My favorite part of the packaging is the first instruction warning – "Contents may catch fire" – well, I sure hope so!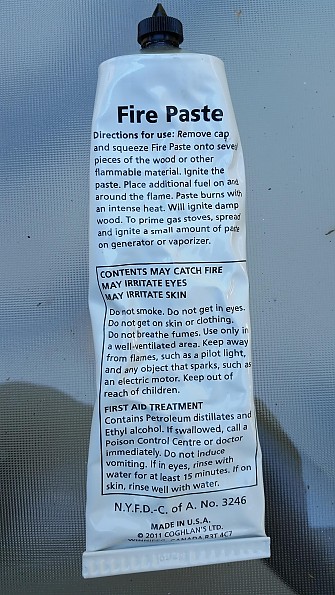 Photo of the paste in a plastic container I carry it in...it doesn't come with the chunks of bark — that's extra! One ounce including the container is sufficient for a long weekend, a couple of ounces for a week.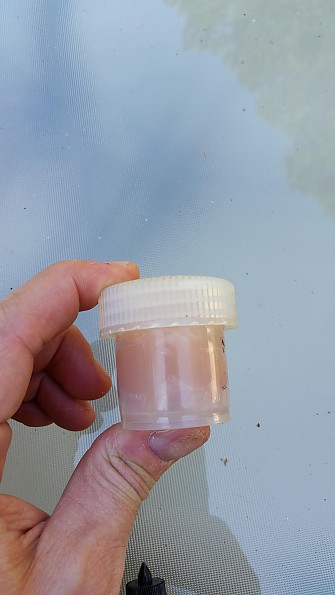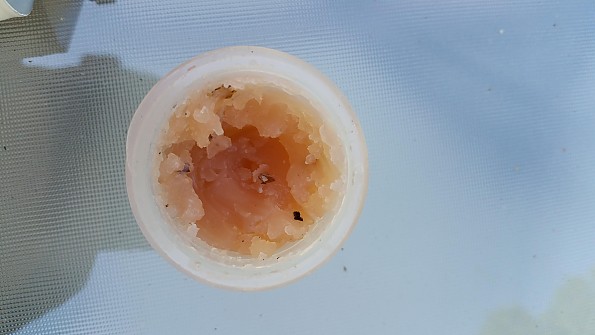 To use the fire paste, you can squeeze the tube and put it on a stove generator or vaporizer for priming, or spread it on pieces of wood for fire starting. I mostly used it as an easy starter for my wood burning stove and a few campfires, and carried it in a plastic container rather than the entire tube.
I dip the end of a stick in it then light the stick and use that flame to quickly get the stove going (Caldera Ti Tri Sidewinder with Inferno). Picture below of my usual starter amount for good weather conditions — finger for scale (just a half inch on the top of the stick).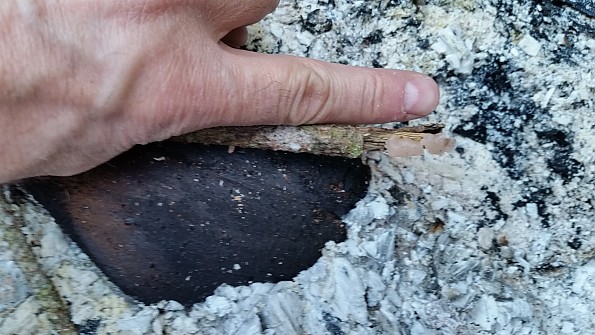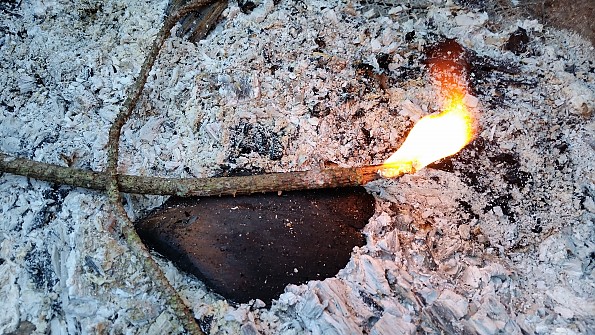 Testing
I have used Coghlan's Fire Paste on approximately eight backpacking trips of 2-5 days in temperatures ranging from 10 degrees to 90 degrees. Unfortunately, I was only able to use it on two trips with significant precipitation — one winter trip to Mount Rogers, Va., where temperatures were in the teens with misty weather followed by mostly sleet with some snow and one 3-day fall trip to the Uwharrie Mountains in N.C. where it rained constantly for one day.
The primary use was starting my wood burning stove, but I also used it to light a couple of fires on cold nights. I did not use this paste as a stove primer since I don't usually bring a gas stove, so my rating and review is for use as a firestarter. Based on its ease of use and burn time I would think this will work quite well as a stove primer.
Ease of Use
This is one of the easiest fire starters I have used, probably on par with Coghlan's Fire Sticks, and easier than their Emergency Tinder or homemade Vaseline cotton balls. Just squeeze some onto a piece of wood, or dip the stick into it like I do, then light. There is nothing more to it.
For lighting with a ferrocerium rod it is better to spread it out rather than leave it in a "glob" from the tube or on the end of a stick. When spread out to increase the chance of "catching" a spark, it lights quickly.
Efficiency
The paste burns immediately, even if wet, in a 4-5 inch flame and lasts for a minute or more depending on how much paste is used. Here is a video of the flame:
More paste squeezed out does not seem to last much longer as it just makes a longer width flame, but a larger diameter "glob" does seem to burn longer. In normal conditions it works well to light your tinder into a roaring blaze quickly.
Here are a couple of photos from a recent evening in the woods. The fire is a handful of twigs in my Ti Tri Inferno wood stove after about 1 and 2 minutes with the fire paste as a starter.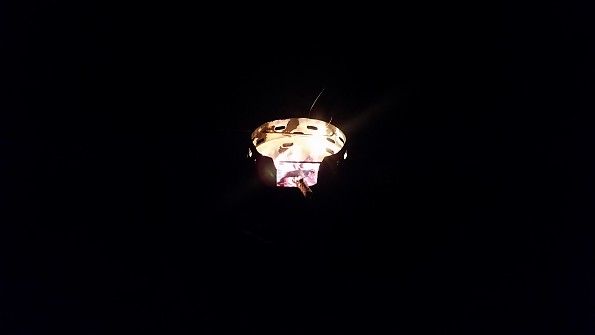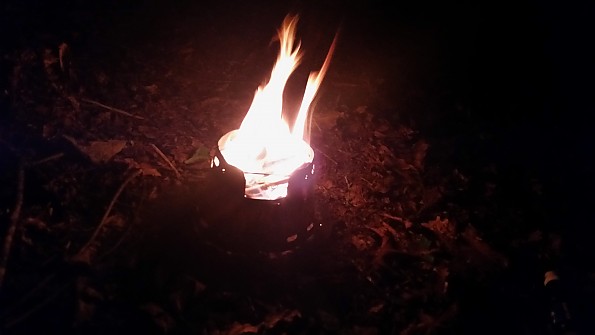 Coghlan's Fire Paste lights really well in adverse weather. In fact in testing (movie below) I could not tell a difference in performance between the dry and immersed sample. However, it does not burn long enough to dry out really wet wood. On my wet weather trips, I generally switched to my backup alcohol mode on the Ti Tri or went back to a Coghlan's fire stick or my own homemade starters in order to get the longer burn to help dry out tinder. Therefore, I would not suggest it for use in constant wet weather. 
Recommendation
Coghlan's Fire Paste is an easy fire starter for good and mild conditions, and its performance is unaffected by wet conditions. For an emergency starter in really adverse conditions — where your life depends on being able to dry out wood and get a roaring blaze going — I would recommend a different fire starter with a longer burn time.
Source: bought it new
Price Paid: $5 approximately

Excellent for pressurizing SVEA stoves.
Pros
Easy to light
Low flash point
Low odor
Cons
A full tube adds a few ounces to your pack
I've used this stuff for decades. A small amount, about equal to what you might use as toothpaste on a toothbrush burns for about two minutes. Placed in the divot around the stove stem pressurizes the brass fuel cell on SVEA 123 and 123R stoves perfectly. If you catch it just as the flame starts to die out, you can even light the stove. It just works!
As far as fire starting, I remember a trip to the West Rim Trail at the Grand Canyon of Pennsylvania (in central PA). It poured rain all day and temps dropped into the low 40's that night. This stuff saved me from near hypothermia in cold, wet conditions on that trip, and a few other occasions. Even in driving rain, you can still get damp wood, twigs and leaves lit, long enough to dry out and burn effectively. 
I've let a lot of people know about this stuff, so it's no secret. I buy fresh tubes at the start of every hiking season and replenish as needed (and yes, it gets used).  I keep tubes in my bug-out bag, my day hiker, my weekend warrior and my expedition packs. Heck, even my life-long hiking buddies have been carrying extra tubes each, because they've seen me use it over the years. 
Source: bought it new
Price Paid: $3.89 a tube

I wouldn't hesitate to carry it again and have my grandson carrying/using it now.
I used it many times in some rough, cold, and windy conditions. Smart though to carry another form of firestarter too...like a flare ;) just in case.
Source: bought it new
Price Paid: I do not remember

When there is no need to prove how woodsy you are it will get your fire going with no fuss.
Pros
It does what it is supposed to do.
Cons
A tiny bit of extra weight
I squeeze it in to a small Nalgene container (clearly marked as not food) so as not to take the whole tube. It works great to prime my old Svea stove even in the winter. At the end of a long day of backpacking up and down the glacial hills of the Ice Age Trail it helped this tired camper to get a wood fire going easily.
Source: bought it new
Price Paid: I don't recall

Your Review
Where to Buy
Help support this site by making your next gear purchase through one of the links above. Click a link, buy what you need, and the seller will contribute a portion of the purchase price to support Trailspace's independent gear reviews.
You May Like
Specs
Price
Historic Range: $2.99-$5.99
Reviewers Paid: $3.89-$5.00

Net weight
3.75 oz / 106 g

Recently on Trailspace