Coghlan's Waterproof Fire Sticks

Excellent, effective, and affordable fire starter tinder that light easily with match or lighter as well as with a ferrocerium rod. Perfect for inclement weather or for those occasions when you don't want to wrestle with seeking dry natural tinder. Great for backpackers, car campers, hunters, and more.
Pros
Effective fire starter
Affordable!
Generous supply for the money
Works after being wet or soaked
Approximately 15 minute burn time per stick
Cons
Larger than some smaller manufactured tinders
Those who frequent backcountry areas with established campsites and fire rings often enjoy the classic thrill of being warmed by or even cooking over an evening camp fire, but adverse weather conditions, fatigue, or impatience may make it desirable to have a fire starter in one's pack.
This product, Coghlan's Waterproof Fire Sticks, is just the sort of thing for these occasions. I received these after my mom picked them up for me on a whim while traveling. I've seen them listed at any price between $1.59 and $4.99—in other words, if you're interested after this review, shop around.
The name gives this product away! For a few dollars, the consumer gets 12 waterproof fire starting sticks that ignite easily with match or lighter, and with only a little more difficulty with a ferrocerium rod, even when wet.
Measuring about 5 in./ 12.5 cm. in length and about .5 in./1.27 cm. square (actually, they are slightly rectilinear), each rod weighs .52 oz./ 15 g. There are manufactured fire starters on the market that are smaller than these, but Coghlan's Waterproof Fire Sticks are easily broken into smaller, usable pieces if packability is a concern.
I tested these over a period of weeks in both the Uwharrie National Forest, N.C., and Yellowstone National Park, Wyo. Test conditions were generally fair, but I did use these to start a fire in windy, moderately rainy conditions in Yellowstone as well as during 84%, drippy-wet Southern U.S. humidity. I also simulated longer term exposure to wetness with a submersion test.


Field Tests
Note: For actual footage of some of the test, please see the video that follows the image, below. Written narrative of these tests follows below.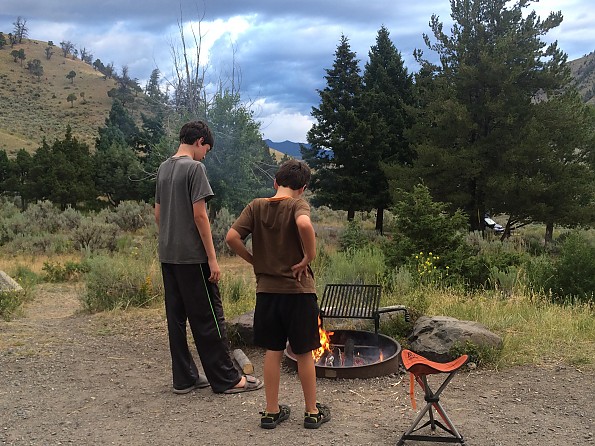 I began by testing ignition of the Fire Sticks using matches and lighters. The directions indicate that one should break each stick in half, an act with exposes finer fibers and increases the surface area of the fire stick, making them more susceptible to ignition.
Not surprisingly, the dry Fire Sticks ignited without issue, again and again. Because a long burn time is useful for starting fires under adverse conditions, I opted to do a duration burn test. With moderate breeze, one stick burns about 15 minutes. That is quite adequate to start a fire under most conditions if one has properly prepared tinder, kindling, etc. in anticipation of the eventual blaze.
Feeling comfortable with the Fire Sticks' ability to ignite from match or lighter, I shifted my focus to trying to ignite the Fire Sticks with a ferrocerium rod. This is a trickier proposition, of course, since one must now rely on a spark to catch the tinder aflame as opposed to using an existing flame to get the job done. Nevertheless, I felt reasonably confident that the tinder would ignite after the initial tests.
Although the directions do not suggest doing so, long habit of preparing tinders for ferro rods induced me to scrape the edge of a piece of Fire Stick prior to using the ferro rod, thereby exposing more surface area of the tinder. When I tested this subsequently, the tinder ignited on the second strike.
Similar results followed in other tests, igniting with relative ease, though not always on the second strike—the quality of my ferro rod strikes was not always the same, and the presence or absence of wind also impacted the speed with which the tinder ignited. Nevertheless, I had no issues igniting this tinder under dry conditions. The Fire Sticks, then, work well with ferro rods if one scrapes a bit of the tinder loose to make it more susceptible to receiving a spark. 
At Yellowstone, I had been able to start a fire using a ferro rod and a Fire Stick in moderate rain (scraping tinder loose again), but I was curious about how these Fire Sticks would respond in wetter conditions. I first doused the fire stick, noting that most of the water rolled off the waxy surface. Broken in half after the dousing, the Fire Stick ignited without issue.
I submerged a Fire Stick for more than 30 minutes (close to 40 minutes), then attempted to ignite it. This was the most resistance to ignition than I had experienced in my testing: initial attempts dried the tinder somewhat in a shower of sparks, but did not ignite. The interior was dry, still, however and when I eventually scraped a healthy amount off, exposing tinder that was dry, the Fire Stick ignited—not as cooperatively as before, but still usefully. I would liken this test to attempting to start a fire natural tinder that had been compromised to some degree by past rain or wetting. A patient user will nevertheless be able to start a fire.
The directions indicated that the Fire Sticks can also be used for light and warmth if placed in a tin, as a "flare" (see video, above) or as a fuel to heat food or water. These potential uses are all reasonable applications for this sort of flammable good. Using these for light, warmth, and fuel for cooking will be limited by burn time—about 15 minutes—wind protection, and flame intensity.
After testing, I regard these claims as referencing potential emergency uses: far better to use the Fire Stick to ignite a larger blaze better capable of producing light and heat required for these suggested operations. 
Conclusions
The bottom line is simple. For one with basic knowledge of fire craft, these Fire Sticks are a light, useful, and inexpensive option. They are especially useful for novice fire builders, fatigued fire builders, or fire builders who face adverse conditions.
After a day of exploring the wonders of Yellowstone, I was weary and not looking forward to carefully shaving the lodgepole pine branches I had into curls of tinder. I dutifully began this process, but midway through I remembered the Fire Sticks and had a blaze going within seconds thereafter. The next evening a moderate rain fell, and once again the Fire Sticks came to my rescue.
If you have been looking for an effective and inexpensive fire starting material, you may wish to consider these. They lack the DIY glamor of petroleum-jelly-rubbed cotton balls, but they are equally effective and much less messy!
Source: received it as a personal gift

Your Review
Where to Buy
Help support this site by making your next gear purchase through one of the links above. Click a link, buy what you need, and the seller will contribute a portion of the purchase price to support Trailspace's independent gear reviews.
You May Like
Specs
Price
Current Retail: $3.99-$4.39
Historic Range: $1.48-$5.19

Includes
12 sticks

Recently on Trailspace