Coleman 2 Mantle Dual Fuel Lantern

Top 25 in Fuel-Burning Lanterns
The 2 Mantle Dual Fuel Lantern has been discontinued. It was replaced by the Coleman Premium Dual Fuel Lantern.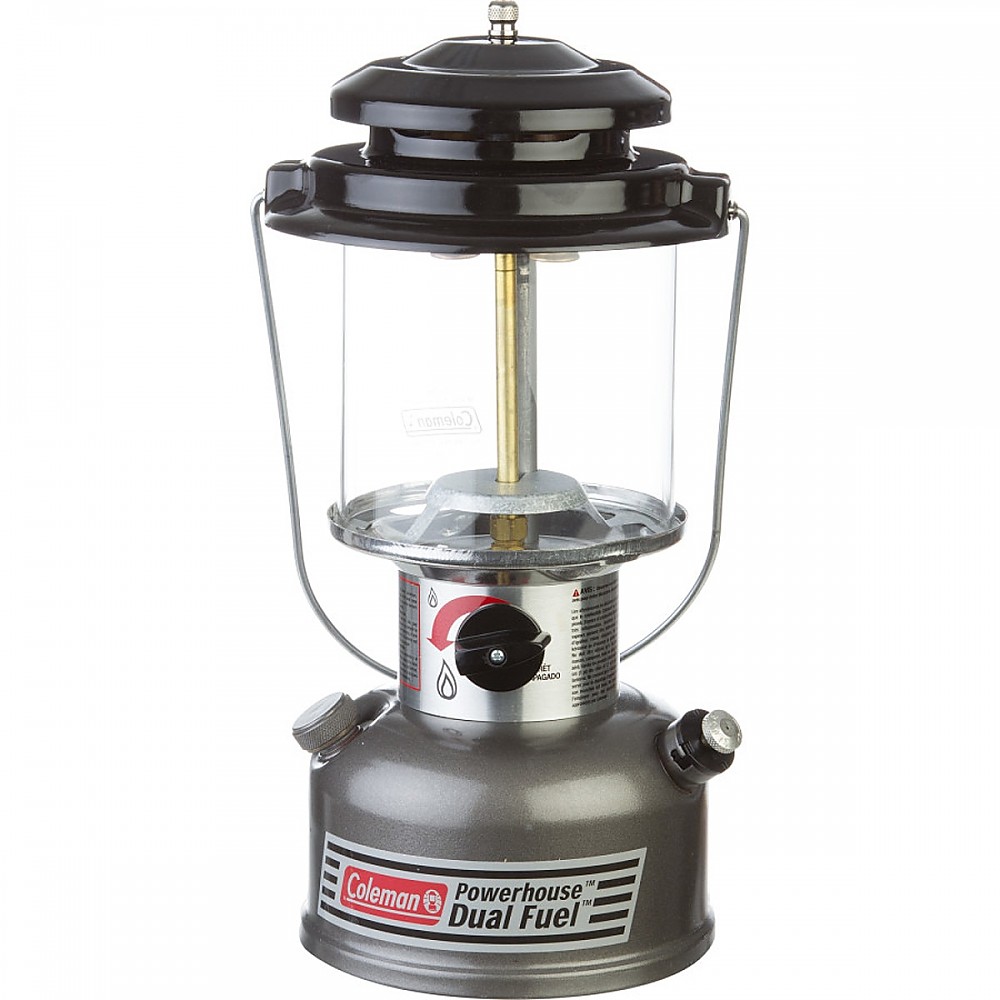 Specs
Price
MSRP: $74.99
Historic Range: $64.96-$104.90
Reviewers Paid: $39.99-$55.00

Reviews
5

reviews

5-star:

1

4-star:

4

3-star:

0

2-star:

0

1-star:

0
Don't abandon the idea of liquid fueled lanterns just yet!
Pros
Long burn times with low cost white gas
Rugged construction
Cons
No piezio ignition on older models
A neighbor offered me some broken down Coleman lanterns to cannibalize for parts for our Boy Scout Troop's propane versions. One of the lanterns was largely intact,  and when I found that standard mantles worked in this older version, I decided to give it a try just to burn out the old white gas in the tank. 
This dual-fuel lantern (white gas and gasoline,) fired right up. As it happened, it burned side-by-side with a new Coleman propane premium lantern. The liquid fueled model burned very well for 4 nights in a row for about 2.5 to 3 hours each night without a refill, while the propane version burned up a small bottle every other night. Light from the dual-fuel was very good. It put out a lot of heat, which could be a plus or a minus depending on your meteorologic circumstances.
No piezo ignition on this model, so you will need long matches or lighter to light it more easily (as with all lanterns of this type, including propane, it is possible to damage the mantles if too much fuel builds up due to delayed ignition).
I don't know if Coleman even makes this model anymore, but I'm sure there are plenty floating around at garage sales and second-hand stores.  I would count such finds as treasure!
Source: received it as a personal gift

I have used many propane and white gas lanterns over the years, I must say that the Coleman 2 Mantle Dual Fuel Lantern definitely gets the job done!
These types of lanterns are most beneficial to people who plan on driving to a campsite or a cabin. Another great use is for emergencies such as power outages. Large lanterns are too heavy and bulky for hiking any real distance, however they take up little space in the back of the family vehicle and have the benefit of lighting up large areas in a campsite. This lets campers carry on with chores and activities after dark in a safe manner.
I have several lanterns and this one is my favorite, the primary reason is because it is so bright. Secondly, it is a dual white gas / unleaded gas lantern, and as such it is very economical when compared to the cost of disposable propane cylinders.
I have found this lantern to be very durable, I have not had any issues with it outside of routine maintenance. One thing to be aware of, as with many dual fuel appliances is that using unleaded gas can lead to carbon build ups that require cleaning the fuel system. It is best to use white gas, but the ability to use unleaded gas if you don't have - or can't get white gas, is a huge advantage, especially for emergencies.
I have had my lantern for about 13 years and use it several times a year.
It holds 1.3 pints of fuel.
It has a burn time of 7 hours on high - 14 hours on low.
It uses 2 number 21 mantles.
By following the instructions I found this lantern easy to use, and those that are already familiar with using manual pump gas stoves & lanterns will be right at home.
Pros:
Exceptional light output!
Much more economical than 16.4 oz. propane cylinders.
Durable, well made.
Cons:
Sharper learning curve than propane lanterns, but not difficult.
As with any gas appliance fuel should not be stored in the lantern for long periods of time, so burning off any unused fuel is best. This is not a problem with propane cylinders.
Costs more than cheaper lanterns, but in my opinion it is well worth it due to the reliability and performance.
I would have given this lantern 5 stars if it had push button lighting, no biggie though.
If you don't mind using white gas, appreciate durable equipment, and want something really bright, this just may be the best choice.
Did I say it was really bright? I also have the Powerhouse Dual Fuel Lantern by Coleman and it is even brighter, check it out too.
Price Paid: $55 USD

Coleman has really set the standard for the mantle type lantern market. The light output is remarkable and can illuminate very large areas which can be used by several people at once. 
The only real drawback to the mantle system is that the mantles are so fragile.  I usually plan to replace them every time I use it.
Price Paid: $45

Bought this lantern when they first came out with the dual fuel concept from Coleman. Works fine as long as you feed it only white gas and nothing else. Avoid gasoline like the plague because you will only get one time use and after that next refill it will not work. The higher hydrocarbon of gasoline leaves carbon deposits that will clog up the generator and make the lantern useless.
The only other advice is to buy a spare generator, several mantles, and a case to store lantern in. Primer pump parts usually comes in a kit when a spare generator is bought.
Price Paid: $39.99

As with all previous experiences with Coleman lanterns, this one lived up to their reputation of quality construction and great performance, all for a good price. The big seller on this for me was the Dual Fuel option. Gasoline is still cheaper than Coleman fuel (amazingly enough!), so being able to throw unleaded gas into the thing and use that was a great feature. Plus, now I can just use one gas can for both spare vehicle gas and lantern fuel!
I strongly recommend getting the case for this product. As with all glass-globed lanterns, improper/rough handling could bust this one, so the Coleman case would be a prudent purchase (only about $15).
Price Paid: ~$45

You May Like
Recently on Trailspace