Coleman Fyrestorm Ti Stove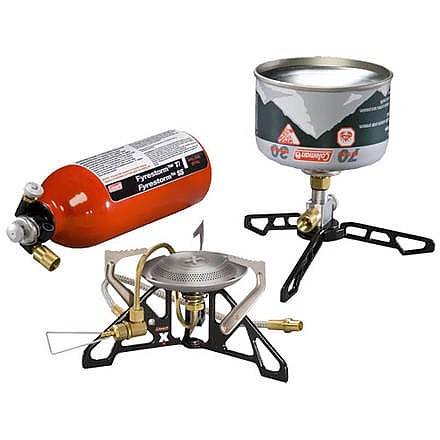 April 10, 2007: I have spent three weeks going over the trouble shooting procedures and calling Coleman customer service (Coleman corporate customer service is very professional and as helpful as they could be over the phone), but I still could not get the Coleman Fyrestorm TI backpacking stove to work in more than one out of five attempts. It would either flame up a big yellow or the nice blue flame would die out or there would be fuel leaks in dangerous places.
I finally broke the fuel line support going into the generator attempting to make the umpteenth adjustment.
My 18 backpacking trips within the last five months and my extensive experience with liquid / pump pressure stoves like the Coleman Fyrestorm TI still did not prepare me for the constant string of difficulties encountered with persistent yellow flame ups and operating flame outs.
I tried all sorts of alternate pumping pressure levels, fuel adjuster valve levels to start and warm up, but the Fyrestorm still found new ways to just die out. I even tried lubricating the pump mechanism as suggested in the manual - did you notice the "oil" hole at the top of the pump body?
I am taking the Fyrestorm TI back today for a refund, anticipating that the Coleman factory outlet stores here in Pigeon Forge and Sevierville Tennessee will be just as honorable as they have always been, which is truly exemplary. Coleman as a company has always made it right with me over the years on the very few troubles I have encountered with their gear.
Oh, by the way, on the isobutane / propane fuel, the Fyrestorm TI started up quickly and perfectly, but developed a fuel and flame leak out the fuel adjuster handle, right where it would burn your fingers.
Price Paid: $189.90

Well let's start with a comparison to the stove the FyreStorm replaced, the Apex II. (See the review on the Apex) This does everything the Apex did but better with the exception of two things. It is lighter weight, has an improved pump, a better (replaceable) fuel line (which disconnects at the pump), very wind resistant burner, taller profile (less burned fingers adjusting the stove valve), a heat shield and puts out more heat than the Apex. But this thing won't burn kerosene (not an issue for most campers) and is a pain in the xxx to prime and light.
I have tried everything, followed the directions (yes I said it), pumped it up high (too lean and blows out), pumped it up low (floods), filled above 2/3rds (loses pressure quick), filled below 2/3rds (takes too many pump strokes), and open the pump valve slowly (floods), quickly (blows out), on/off all with limited success.
The only thing that works consistently is to prime with 1/16-1/8oz of alcohol poured right on top of the cold burner. Pour the alcohol right on top (not enough to drip out the bottom, cold burner only, never manual prime a hot stove), light, wait until the alcohol burns almost out and then open the pump valve fully. This works every time (and I don't have to pump another 40+ strokes).
Coleman went to great lengths to design a pretty neat lightweight liquid fuel stove that lights without the mess and aggravation of filling a bowl with fuel to preheat. But more often than not, she primes too lean, quickly drops pressure in the tank and goes out. An Olympic gymnastics exercise of fiddling with the pump valve, lighting and pumping during priming and with some luck you can get one lit and running. Once lit it will burn hot or turn down real low. You can boil fast or simmer with great flame control.
This not an inexpensive stove, list is about $150, if it primed more reliably it might be worth it, it has a lot of other things going for it. If I had to choose between the FyreStorm and an Apex, I'd go with the Apex, but the Apex is discontinued. When I take my FyreStorm I bring a few ounces of alcohol to prime.

Price Paid: $89

This stove works great. I bought it new on eBay. I tried it with all three fuels at sea level at about 70 degrees F outside temperature and a slight breeze.
I first tried it with Coleman fuel. It took about a minute to heat up with a yellow flame, but then settled down to a good blue flame. With the wind shield, I heated a liter of water to boil in just over three minutes. I was able to adjust it to very high heat; probably higher than I would typically need. However, it was harder to make it simmer. I had to partially close the main valve to get it down to a low simmer (maybe I pumped it up too much).
I then tried the canister. This also worked very well and can burn very hot on the high setting. It was a little easier to get to simmer, but I still had to partially close the main valve to get it real low. I would guess that in colder temperatures, wind or altitude simmering would not be an issue.
I also tried using unleaded gas. This also worked, but seemed to not get quite as hot as with Coleman fuel. However, the high setting is so high that it really does not matter.
I bought this so that I can use cannisters for short backpacking trips, Coleman fuel for river trips, and unleaded gas for emergency preparedness. I think it serves all those needs.
My advice is that you should be comfortable with using and understanding liquid fuel stoves before you decide to buy one. This is because all liquid stoves require that you connect things correctly and carefully, that you pump and adjust them just right, and you may even have to troubleshoot sometimes. It's not hard at all, but it is also not fool proof.
Price Paid: $130

This stove is hard to light when using Coleman fuel.
I bought it because I have been very pleased with two previous Colemans I have owned (the "Peak 1" and the "Apex 2") and got excellent reliable use out of during the past 30 years. Each did about 10 years of hard service, mostly in New Zealand and Tasmania (there was also an MSR XGK between them which also did a lot of use but was noisier, harder to light and couldn't simmer well).
I don't know what the Coleman engineers got wrong here but they haven't carried across the lighting feature. My other Colemans self primed well but, following Coleman's instructions, this one flares up for ages before settling down (in 2-3 minutes!). Also, it isn't a simple matter of waiting for the flare to die down as this process usually results in liquid fuel spreading around the base of the stove, causing quite a big fire and necessitating turning the fuel off at the stove.
After about 20 test-lights at home from cold I have now decided to always prime with methylated spirits. Because this stove has no built-in bowl for priming fluid I have made a little bowl from the bottom of an aluminium pop can. I put about a teaspoon of meths in, put the stove over it, then let it burn out.
After this priming it usually blasts straight into action but even that isn't 100% reliable. Sometimes it just passes out unlightable air. I can only infer that the fuel/air mixture is coming out too lean (this never happened on my old Colemans). Once it is running properly though, I have never had it stop and it does simmer well (e.g. better than MSR "Simmerlights" I have used).
Overall I am not confident to take this on remote mountain trips.
Price Paid: $140

I bought this stove wanting the option of using either white gas or lpg. I'm a long-time user of the Feather 442 stove and it's never failed me so I thought the Fyrestorm would be a good light-weight replacement.
I tested it a few times in the back yard with both fuels and had no problems. Major problems, however, occurred once I actually needed the stove on an overnighter. I snowshoed up to the top of the Hakkoda mountains to spend the night in a cabin and brought along this stove with canister fuel.
I was sharing the cabin with 5 old Japanese men and started cooking my dinner with my Fyrestorm. About 2 minutes into it, ice formed around the inverted canister stand valve and apparently in the lyndal valve as well. When this occurred, fuel started spraying out and caused a nasty fireball which nearly injured one of my Japanese hosts. They let me use an older, conventional canister stove with the same canister for the remainder of the outing and it worked fine.
Needless to say, I don't trust this stove very much now. More disappointingly, I've emailed Coleman several times over the past month and a half and they don't acknowledge my emails. I'd be somewhat satisfied if they could tell me it was the result of some sort of operator error, a faulty unit, or canister incompatibility, but I'll never know if they ignore my complaint. Use this stove at your own risk.
Price Paid: $136

I rated this stove useless even though I didn't try it with the lpg canisters. I did try it with Coleman fuel however and this is the problem: It would NOT light AT ALL! Nothing. I followed the instructions to the letter. I tried for nearly 3 hours (there were breaks in there.) I was very happy to have tried before I needed it. Sent it back. It should work with ANY of the fuels Coleman recommended at that price, and it didn't.
Price Paid: $139.97

I've been using mine for two years now; mainly as a winter hiking stove. While I do use the canister on occasion, I like the fuel setup better. Compared to my old Optimus, it's lighter, less complicated, more reliable and MUCH easier to light.
One of the reasons I use it mainly in the fuel mode is that it's easy to use and gives better performance than the canister when the temps drop below 20 degrees F.
Price Paid: $129

Your Review
Where to Buy
Help support this site by making your next gear purchase through one of the links above. Click a link, buy what you need, and the seller will contribute a portion of the purchase price to support Trailspace's independent gear reviews.
You May Like
Specs
Price
MSRP: $219.99
Historic Range: $149.95-$219.95
Reviewers Paid: $89.00-$189.90