Coleman Peak 1 Feather 400

Top 25 in Liquid Fuel Stoves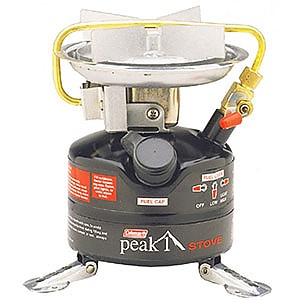 Specs
| | |
| --- | --- |
| Price | Reviewers Paid: $50.00 |
Reviews
5

reviews

5-star:

3

4-star:

2

3-star:

0

2-star:

0

1-star:

0
A bit on the heavy side, but a bomb-proof reliable backpacking stove.
Pros
Well built
Bomb proof
20 plus years hassle free
Cons
Heavy, 2 pounds with fuel
Parts hard to find now
No longer made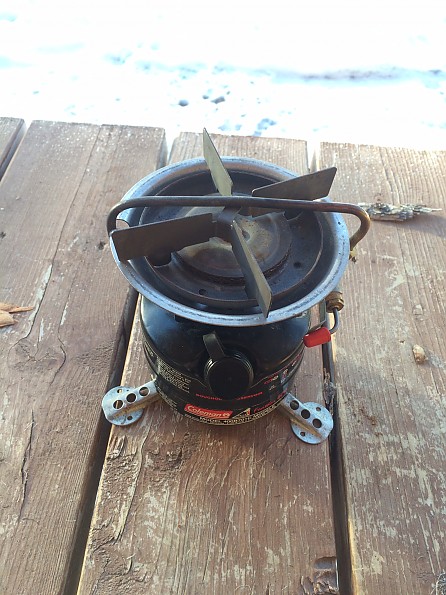 Other than the weight, this stove is a dream. It isn't made anymore, but they do make newer versions. I have used this stove trouble free since 1991. It has been on countless backpacking, cycling, and kayak trips, some as long as 14 days (one bike trip to California was actually 2 months of daily use). I don't mind carrying a bit more weight considering how reliable this is.
My stove is always kept in a padded bag, and a plastic bag to keep debris out of it. Even using a wind screen I have never had a boil over.
I have lost track of how many times my friends with other stoves had to borrow mine when we were out because theirs stopped working. Knock on wood mine never has given me a single problem.
This stove has three foldout feet and despite the height is very stable. I do always remove the pot before I pump it up. A wind screen is recommended, however when mine died the stove worked, but took longer to boil for sure.  
One of the best things is how well this stove simmers. I like to eat well when hiking and I appreciate the flexibility simmering gives me. Getting the stove to simmer after it has be run on full is a bit finicky, as there is a tendency to turn the lever slightly to far.
I bought the maintenance kit when I bought the stove and have never opened it. 
I love this stove so much I have recently sourced the now unavailable parts to repair this stove in the future if need be. I do not see myself needing a new stove any time soon. If I ever do replace this stove it will be with a newer version. The low weight of the MSR's may be nice to carry, but the difference in durability and long term reliability isn't worth the trade off to me.
A 3/4 full tank and a 1 litre fuel bottle is more than enough for a two-week hike, cooking 2 to 3 times a day. If always cooking three times a day it might be iffy.
At almost two pounds with fuel this stove is not for people interested in saving every ounce possible. However by the time you add the bottle to an MSR stove there isn't really a huge difference, unless you look at a pocket rocket or something similar.
A few tips:
After simmering, burn the stove hot for a few minutes to clean out the generator

If your stove won't build pressure and oiling the pump tube doesn't work, remove the pump and inspect the cup. If it is a neoprene cup then hold it over hot steam for about 30 seconds and fold it out. Hold it that way until it cools and the pump cup will work again. A good field fix.

wiping the stove with a damp rag while it is still warm keeps it looking clean and shiney

I use a no spill fuel bottle cap and fillg only 3/4 have never had a fuel spill 
Filling the stove 3/4 to 5/8 full produces a better flame.
i have found several of these stoves for sale on eBay.
Source: bought it new
Price Paid: No idea, it was 25 years ago

Purchase new in the late eighties, still going strong.
Cons
On the heavy side.
Doesn't look new and sleek.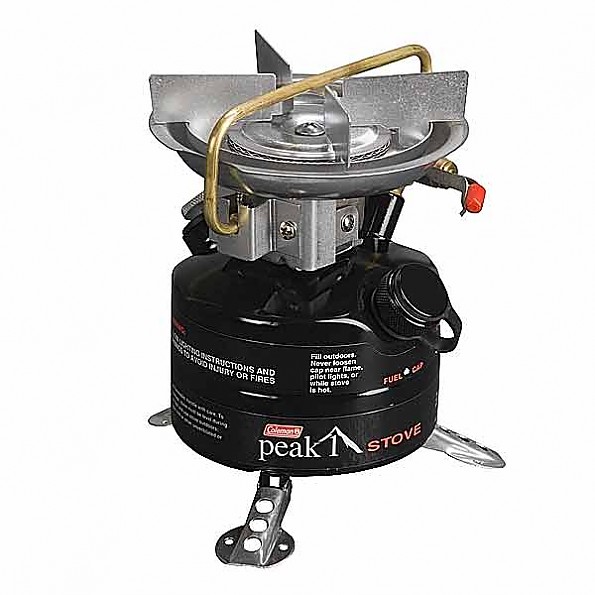 I know this stove isn't new gear, but it is still the only small stove that I own and still works great.  Believe me, I like the newest gear as much as the next, but if it ain't broke, why replace it. 
So I bought my stove new in 1988.  To say the least, it was used hard and put away wet for about eight years.  After that it went into storage under the stairs at my parents' house.  After not being used for over a decade, I pulled it out fueled it up and started a fire, no problems.  I have since oiled the pump, that's it. 
I will admit that this stove is heavier than most, however, the benefits far outweigh the cost in weight.  First and foremost is reliability.  Maybe I'm just lucky, but I've never not had this stove work.  In cold conditions, it can be a bear to start, but it will start (one super cold morning years ago we actually built a small fire on top of it to warm up the generator). 
Second is stability,  the foldout legs and low and heavy center of gravity make this thing nearly topple proof, unless it gets kicked over (I can neither confirm or deny that I have done this).  And the largest pots are at home on top.  If your cookwear has ridges on the bottom, they stick like glue.
I love this stove.  Some day I will most likely own another more modern and smaller white gas stove. But until my Peak 1 stops cooking reliably, there is no need.  Although, this model is no longer made by Coleman, they are still very readily available used, and sometimes new.
Source: bought it new

This a great stove if you find one. It's very durable and reliable.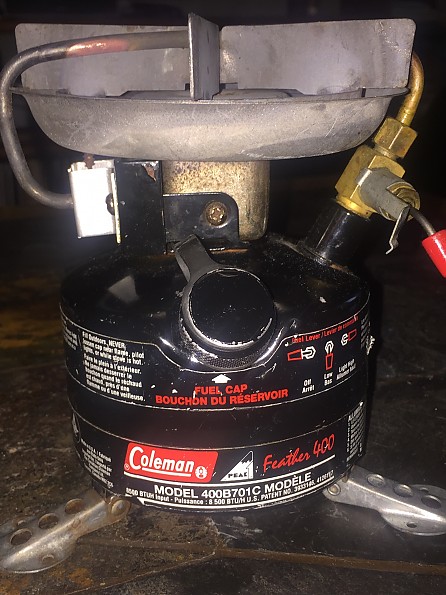 I bought this stove in 1988 and have used it countless times over the last 28 years.
There only two steps to setting up for this stove....fill it up and pump it up. It's very easy to light, just flip the lever and add a spark. At first, you will see a large orange/yellow flame. Then, once the generator is warm, it will turn blue and start to roar. The key is to pump the stove as much as possible again after it's lit. 
Flame control is excellent. You can simmer anything you like or crank it right up with just a twist of the sensitive lever. 
I have not tested the boil time because that can vary with altitude and the type of cookware used. Pots up to 2 L will remain stable on the burner. I would recommend a windscreen. I bought the one made specifically for the Feather 400 with the stove.  
The one drawback I have noticed, it's quite thirsty at altitude. A full tank did not last a full weekend while I was camped at 8000 ft. on Mt. Baker in Washington State.
The small fold-out feet make this stove quite stable. However, they are the only size reduction feature of the entire stove. Also, fully fueled, it will weigh about 1 kg. or 2.2 lbs.
If you can find one of these, you'll find it absolutely reliable. It has never clogged on me, even while using old fuel. All I have done to maintain this stove is to add oil to the pump up each season. Pretty simple....
While on that trip to Mt. Baker two years ago, my friend had his MSR WhisperLite quit on him due to a clog in the fuel line caused by old fuel. We poured his unused fuel into my Coleman and used it without any issue at all.
If this stove did quit, I don't think it would be easy to service on the trail. And it's for that reason that I have purchased an MSR XGK-EX for mountaineering. However, when I go car camping, the Coleman still comes along. It think it will outlast the next two generations of my family.
Source: bought it new
Price Paid: $65 (I think)

Bought in the '80s and still works perfect. Just a few cleanings. The old models have a control lever that makes flame adjustment a snap. Love it.
Cons
Weight?
It is worth the weight. IMHO
This stove has never failed me.  t does it all for rapid boil to cooking for six. Can control the flame to simmer and make cobblers.
It has been to the Sierra, Tetons, Big Horns, Maine, Michigan...and always satisfies.
Experience
When others were fidgeting with their other "top of the line" lightweight stoves, mine just keeps cooking along.
Source: bought it new
Price Paid: Can't remember

Bullet proof.
Pros
Reliable
Self contained fuel tank
Stable
Easy
Versatile
I have had mine for a long time and it keeps on burning. I have the multi fuel model and it has been a blessing. kerosene, white gas, unleaded, it burns them all.
It's on the bulky and heavy side, but it WORKS plain and simple. It's stable and reliable and versatile in the backcountry. That is what matters.
Source: bought it used
Price Paid: $50

You May Like
Recently on Trailspace