Coleman Peak 1 Stove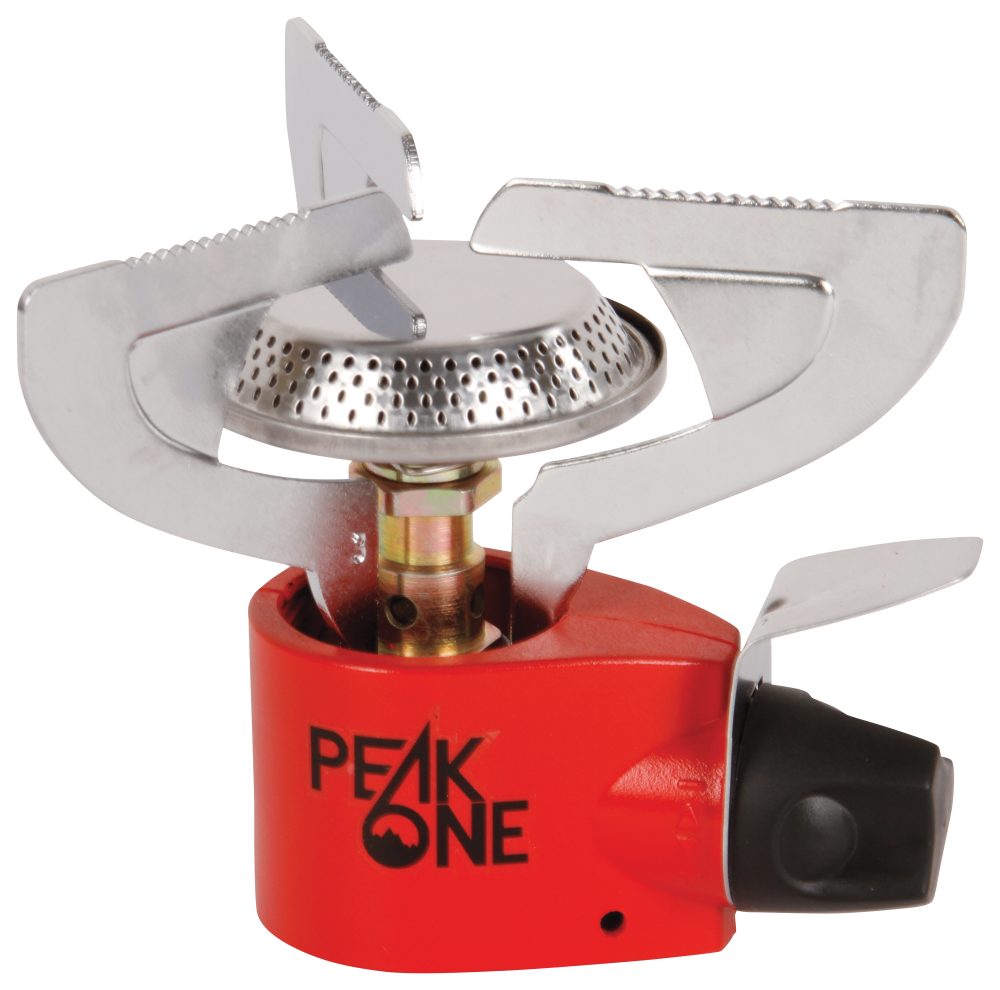 Still going strong after 38 years! Replaced with Coleman Compact Dual Fuel Stove Model 533.
Pros
Longevity
Performance
Stability
Ruggedness
Dual fuel...even unleaded for your car!
Cons
Easy of use lighting
Weight
I am sure this review applies to the new model as well...they are exactly the same except for the tank design. I think the newer wider base with no legs might be better.
As other reviewers of this same stove have commented "it's bomb proof". It is...read on:
I bought this in 1979. I used a few years and then stuck it in a shed, outside, half full of fuel in 1990. It has been in temperatures from 15°F to 110°F in the storage shed...in fact I suspect up to about 140 when it the shed is closed off in summer.
The storage bag deteriorated at some point since when I was cleaning out last year I found it and the bag had all but turned to dust. I took out the stove and turned on the fuel and heard some hiss...I pumped it up and lit it. Within 30 seconds it was running full blast 10,000BTUs! I boiled some water and then went to simmer...worked like a charm. It simmers great! The fuel was 30 years old!
So this stove is reliable and not finicky after no use for years.
I will ditto others that when it is cold and the tank is full the startup is tedious since there is no space in the tank for air pressure to build. So I recommend you use some lighter gel to get the tube hot when use in outdoors. I had no problems lighting this stove, other than time, at 10000ft winter camping at Fourth of July camping area when temp was well below zero and the inside of the tent had 1/4" of condensation ice!
Also, I after it warms up you need to give it a good pump up. These is needed again after a few minutes if the tank is half or more full.
The price of camping stove fuel is ridiculous these days but this will run on lead-free gas in the new model...maybe the old too?
This is how it looked new with the bag. I also posed  a picture of the model you can get at Amazon or Walmart and it is the same except for the tank.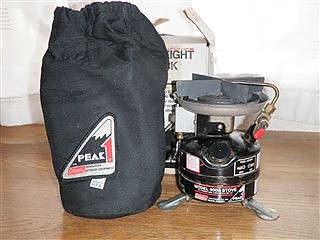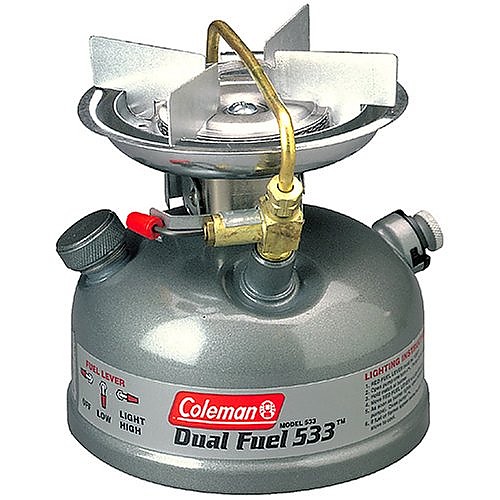 Source: bought it new
Price Paid: $29.95

Tough and reliable—but perhaps not for the weight-conscious backpacker.
Pros
Quality design and build
Reliable, in most outdoor situations
Cons
Not insubstantial
Not frugal with fuel
I bought a Peak 1 because of its reputation for reliability and the flame control it offered. Most issues folks have had seemed to happen when they couldn't find white gasoline and used stuff from the pump. The Peak is easy to ignite and burns hot for melting snow rapidly—but can easily simmer, or gently fry eggs.
I have a Coleman funnel, with filter, which makes refilling the stove a little easier. It lights easily, with a pretty good built-in wind break—but adding a screen definitely helps the fuel consumption by reducing cooking times. Setup is stable and operation a little less of an arcane ritual than some pressure stoves. I always pack my Peak inside a conveniently sized billy with a lid and carry fuel in a Sigg bottle.
I must admit that this has not been my go-to backpacking stove for many years. The weight and thirst issues didn't help, but I was principally concerned by an inability to resupply fuel in many British and some European locations.  The amount of fuel I was having to carry, for more remote destinations, made me reassess my options.
The Peak remains my first choice winter emergency stove and lives in my car when the Scottish winter descends. It has been called into action many times to provide sustenance, to myself and to unlucky, or ill-equipped travellers, on snow-bound roads and in makeshift overnight shelters. 
Background
I bought it 35 years ago and initially carried it on a number of week- and two-week backpacking trips, guiding teenagers or with friends, in Scotland, Wales, Ireland, England, and France. It was not my stove of choice for solo trips or for high level routes. Fuel is easier to find nowadays, but the weight issues haven't gone away. These seem more important as I get older;-)
Source: bought it new
Price Paid: £45

Older tech, bit bulky, but works like a champ.
Pros
Hot burner
Flame adjustability
Cons
Bulky
Weight
Stability (top heavy)
Maintainance
The Coleman Peak 1 Backpacking Stove — bit bulky, bit heavy compared to most other white gas stoves (i.e., MSR WhisperLite). Totally big and heavy compared to any canister stove or ultra-light alcohol burner.
Does it work? Certainly. I've had mine since 1997. Gets going hot fast and has good flame adjustability. However, you do have to remember to oil the pump gaskets every 6 months or so, or else they'll dry up and then the stove won't pressurize.
Would I buy one again today new? Nope. Would I buy one at a yard sale for $10 or so? Sure. Good backup or additional car camping stove.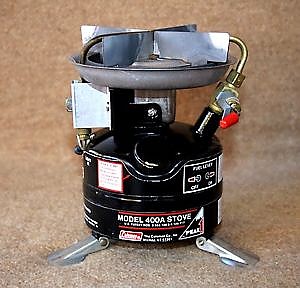 Source: bought it new
Price Paid: $49

I've owned two of these Peak 1 single burner stoves. I've only had the best of luck with my stoves. Just love it and can usually find replacement parts if necessary. I like that I don't need to connect a braided fuel hose to a fuel canister.
Pros
One unit stove and only had to replace generator once in 15 years.
Lights very easily
With wind guard heats water and food quickly
Cons
I have very little negative experience with this stove. Nothing but good luck. Maybe it could be just a little lighter.
I bought my first Peak 1 in 1990 and it was a replacement from a Coleman Sportster, which was an older and heavier model 405. It was wonderful in 1980 but was large and held more fuel but didn't boil water as quick.
The newer models burn dual fuel, but I've only owned the model that takes only white gas. Best investment in backpacking equipment I have accrued.
Background
I've used these single burner stoves by Coleman since 1980. I've owned MSR stoves and prefer my Peak 1 stove. I hike and camp year round with as much as 1,200 miles a year in Adirondacks of New York. On and off member of the ADK Mountain Club.
Source: bought it new
Price Paid: 35$

Please never leave me.
Pros
Infallible
Sturdy
Throw-off-cliff proof
Cons
Heavy
Can be cranky if too full or still under pressure
I was reading some reviews.  I just started my 1982? version in prep for 2017; lit up first try. I've never done a THING to it except add some oil. Used in in all types of conditions, run hard and put away wet. Once started, I pump (if you need a fast boil) a little more. I always release the pressure after it cools, starts better next time.
I see there's still some on eBay. With maintenance kits still on eBay as well I'd say buy it! If that's what you are looking for.
I rarely do more than a long weekend.
Source: bought it new

I love my Peak 1 stove!
Pros
Bulletproof
One piece
Flame control
Cons
Heavier than new equipment
Hasn't been made in years, so parts may be hard to come by.
I have two Peak 1 stoves, both built in the early 1980s, and I won't buy a new one unless I have no choice. The flame control from simmer to full works perfectly, and that is a huge plus when simmering pasta/sauce for 10 minutes.
The one-piece design means no hooking up fuel tanks or anything, just gas and go. It can be tough to light on cold mornings (think mid-October in Maine), but pre-heating the generator helps resolve that.
I have the original (brown) Peak 1.
Source: bought it used
Price Paid: $40 I think

Peak 1 is a great value, works great hot cold and up to 10,000 feet. Never have had a problem.
 I have used mine throughout the West in the high country and it is a great product you can buy at WalMart for around $20. I did last year pick up a BSA 3000, which is much lighter but not as well made as the Peak 1. Like everything in life there are tradeoffs.
Background
I have had this stove to ID, MT, CO, AK in all kinds of bad weather to 10 days straight rain.
Source: bought it new
Price Paid: $18.99

Your Review
Where to Buy
Help support this site by making your next gear purchase through one of the links above. Click a link, buy what you need, and the seller will contribute a portion of the purchase price to support Trailspace's independent gear reviews.
You May Like
Specs
Price
Current Retail: $29.99
Historic Range: $24.99-$38.99
Reviewers Paid: $29.95-$49.00

Weight
6.7 oz / 189.9 g

Boils
1 L of water in 3.25 minutes

BTUs
10,000

Fits
6-in pan

Recently on Trailspace