Columbia Backcountry Ride Neck Gaiter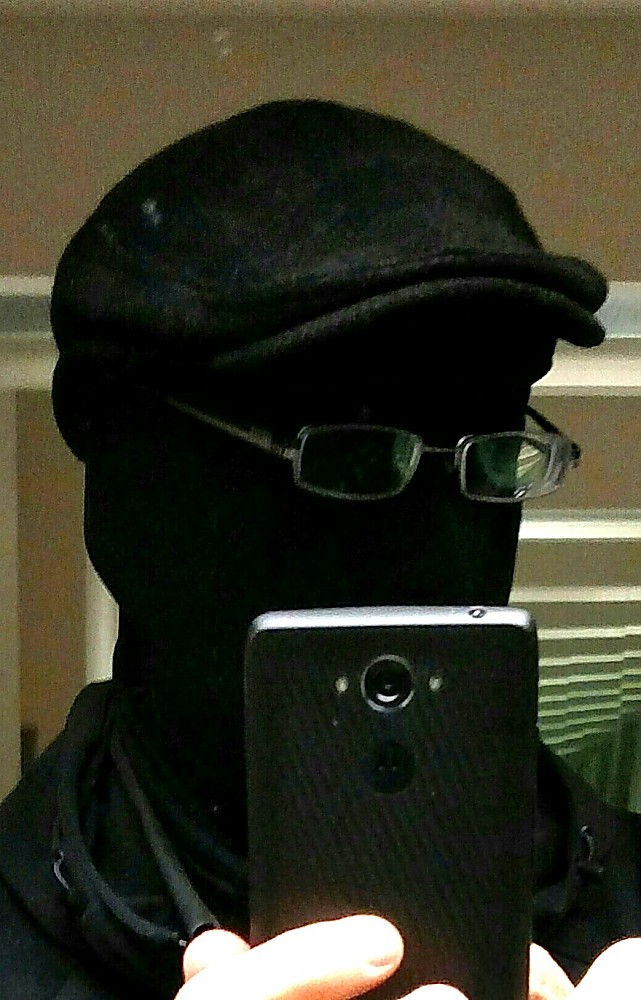 My most important cool/cold weather ear, forehead, head, neck, face activewear in the PNW! Physical shape-shifter on the trail from headband to earmuffs, neck gaiter, and balaclava. Did I mention it can help you sleep on a plane and can compress into the size of a chicken egg?
Pros
Contortionist! Amazingly useful range of shapes possible
Ability to shift heat retension or cooling effects where needed
Warmth with small form packability (made possible with omni-heat)
Blocks wind just enough, holds in heat just enough
Excellent water management: wicks just enough, does not become water soaked and freeze
Soft and comfortable against my skin
One of the best activeware investments I've yet made
Durable! Like new after over 100 outtings and washings!
Gear efficient, replaces many items, can be crafted into others.
Good News: One size should fit all
Cons
Only the good die young? Currently not offered*!!!
Easy to misplace ... e.g., in unknown pocket from last hike.
Not thick enough for extreme cold (then use as a headgear liner or *combine two)
Not So Good News: Others in the clan might also find it fitting their use
__________________________________
Columbia Sportswear description
Designed to changes paces quickly according to varying temperatures and conditions, this innovative gaiter features Omni-Heat thermal reflective on the front and regular MTR fleece on the back for two-in-one functionality. Itâs beautifully crafted, lightweight, and stretchy. When the cold bites and arctic gusts attack, secure the Omni-Heat side in front of your face for significantly more warmth. When temps moderate, rotate to the regular fleece side for soft, cozy coverage. Both sides boast laser-cut vents to disperse your breath. FEATURES: Fabric: 86% polyester/14% elastane, Omni-Heat thermal reflective, Omni-Shield advanced repellency, Laser-cut venting, Imported.
Why would someone review an item that other's can't likely get?  It's not pure meaness, but rather reminding others to consider invest(igat)ing some Columbia Sportware's Omni-Heat Reflective Technology gear for their use.  Like Omni-Freeze Zero Technology (see bandana review) this is another revolutionary, flexible use surface printing technology, adding little weight or bulk, but with great utility.  When seeing poor reviews by others, I often feel that the items intended purpose was not understood or it was not used properly.  For instance, an underlayer or liner does not necessarily work for an effective outer layer use.  And gear designed for 10 F, may not work well at -10 F.)
__________________________________
My Review   --note: no animals were hurt during this testing!  I was even helped.--
Do you ever have a favorite 'go to' piece of trail (slope, bike, boat, kayak, city street, etc) gear item that you seem to panic over, when you can't find?  This for sure is mine!  Washing and air drying this after each week's hike, I'm often on the hunt for it, when later packing the car.  This empowers another one of those predrive mad rushes!  
I can often judge how 'core' an item is by the level of my panic.  On a scale of 1 to 10, in cool/cold weather, missing this the neck gaiter is ~9.  Whereas, missing ZipFizz is 2 to 5, depending on the length of the hike. Missing the right 'go to' gloves can be an infamous chart topper too (see current Dakine Titan review and upcoming Outdoor Research Glove & Mitten reviews).
Backcountry Ride Neck Gaiter fits this BIG popular kitchen mixing bowl almost as good as my head.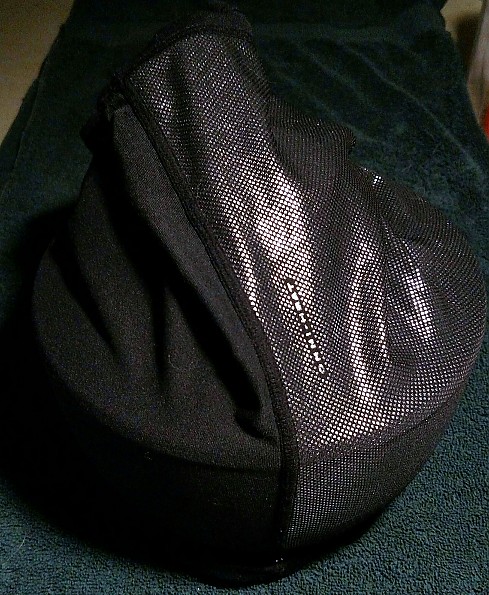 Besides being highly capable at physical shape shifting, this thing is a wizard at heat retention and redirection. It shifts from inward heat retension (omni-heat reflective warming) to outer sun heat reflection (directional cooling assist).  its' reflective surface can be re-directed 180°, as needed, for optimal comfort (it would be 360°, but the mirrored zone it's half the width of the gaiter).  The gaiter also can act as cold air warmer to protect your lungs, which can also reduce my speaking volume to the potential delight/dislike of others.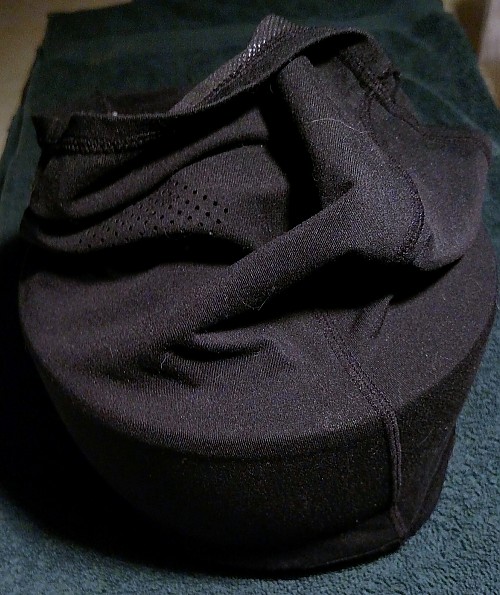 Wicking Headband with rolled up possibilities!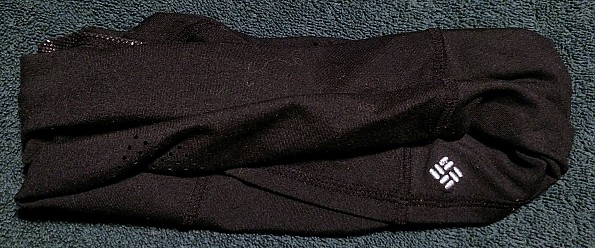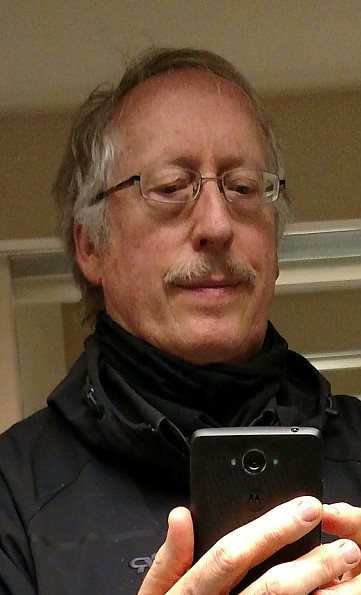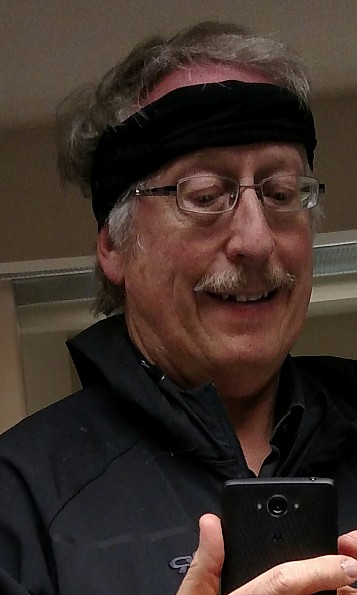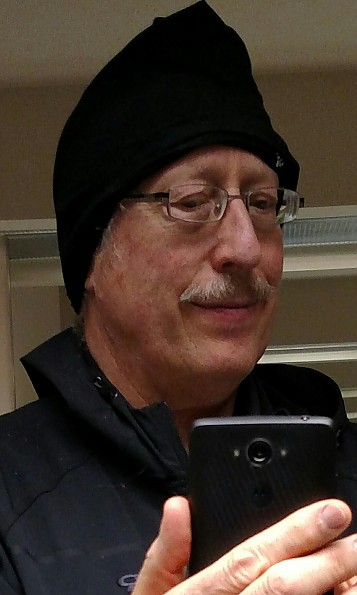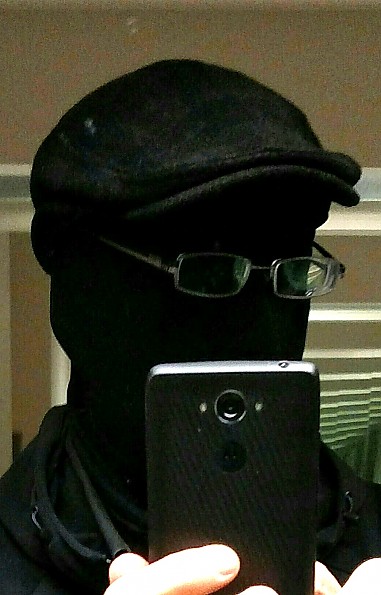 Duality in function isn't bad ... when it can be worn ON your head, rather than within it.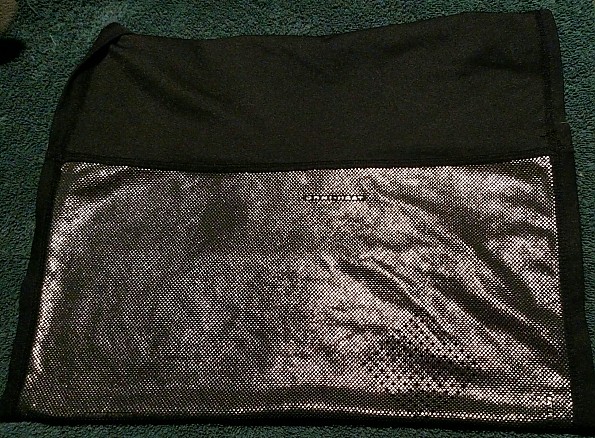 Printable Protection ... this thing can do what they print on it to indicate.  In fact, amazingly, the fine printing does most of the unique work!   They just printed on little dot mirror thingys and some ! (How do they think of these things?!)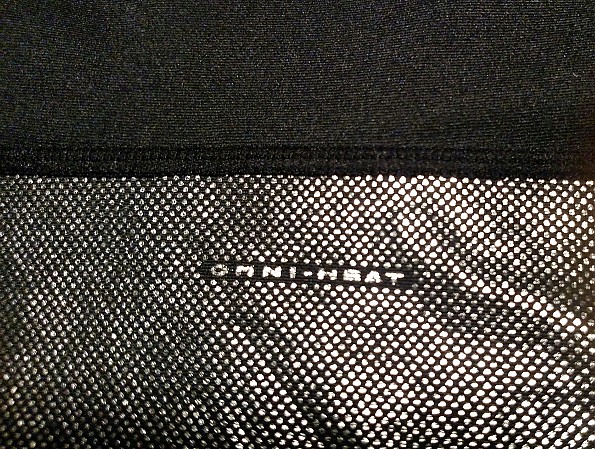 More options ... Duality -- symmetrically squared ... air hole warmers are actually front/back, reversible to back/front, reversible (on one side) to reflective inside or outside!  There as also alternate uses, such as dual ear air cooling vents right/left, with ear sun reflector or ear warmer, as desired, applied to your currently favored ear!  Makes my head spin just thinking about it, nearly as much as on the trail, when working between options. 
I'm sure there must also be other (e.g., bandana like) trail options for this neck gaiter, that I haven't yet imagined ... such as being a full hat, a food collection basket, a tube top or sports bra for a small person, or a reflective mirror flagging devise to speed my potential rescue.  I hope that I'm lucky enough, to not need to experience most of these.  (Secret wish: i do hope to test a Daniel's sling shot-like application**.  However, the dog** is not cooperating so far ... and I haven't yet found a giant deserving, or at least big, enough.)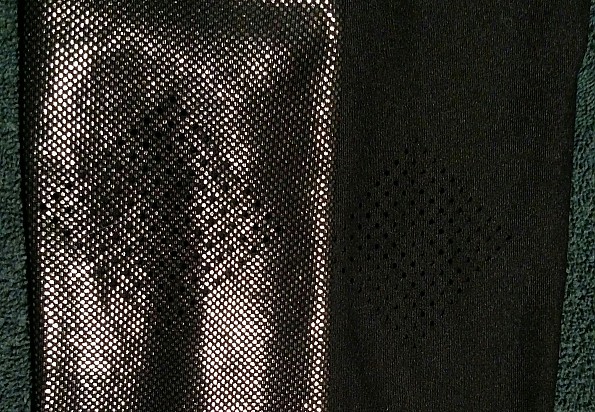 Powerful compressible options are there with it, in the palm of my hand!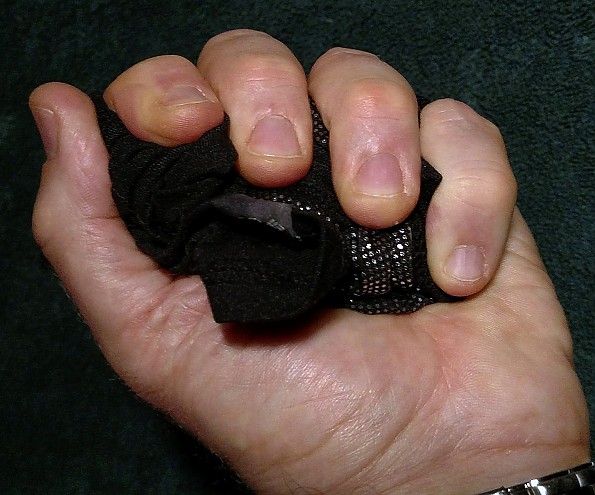 Overall, I have an AOK impression of this neck gaiter.  Beside's it's more serious uses, I also enjoy its' entertainment value. (Side Note: I was born in the year of the Rabbit and this Gaiter was likely made in China.)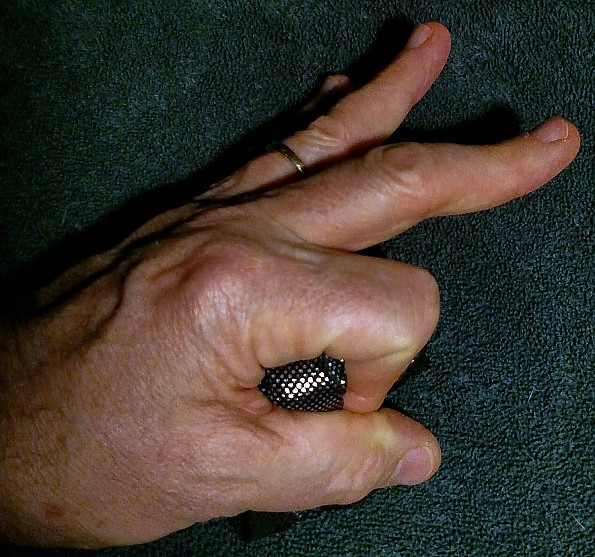 TO:  Columbia Sportsware (not Records):  
Please, re-release me ... don't let me go ....
My impression is that Columbia first released this insightful, highly useful neck gaiter when 'Omni-Heat Reflective Technology' was brand new to the world.  So many types of items rolled out so quickly, that I feel potential users didn't understand the marked utility of some in time, before they were put on hold.  
The Backcountry Ride Neck Gaiter for example, is a winner in any cool climate, even in Frontcountry (city?) walking.  I sincerely wish that Columbia would re-introduce it, at least long enough for me to get one more for each car.  This will help on the next cold trailhead day, when I discover once again, that I forgot to pack it.  OH YES ... and some other folks might also like to have one!
__________________________________
** Honesty Correction:  We don't have a dog.  And after mentioning it, I anticipate that my Wife will likely never let me test its' 'Daniel' application on our cat***.
The Pet Warmer test, however, turned out well.  With our house kept inside at 59 - 63 F, our cat seemed to even enjoy the test a little.  However, this was only using options where his legs, any two to four of which, were NOT left inside the warmer, next to his torso.  Interestingly, when leaving in one front and back foot each, across the body within the gaiter, the cat traveled in circles, at a higher than average speeds. 
The real reason for the Cat test was to determine if white hair or fur can be easily removed, from the fabric with normal use, or to see if clinging fuzz was going to drive me crazy!   Good news!  Both my fur and the cats' hair easily came off!  Gentle wiping with either a damp cloth or sticky lint brush works every time.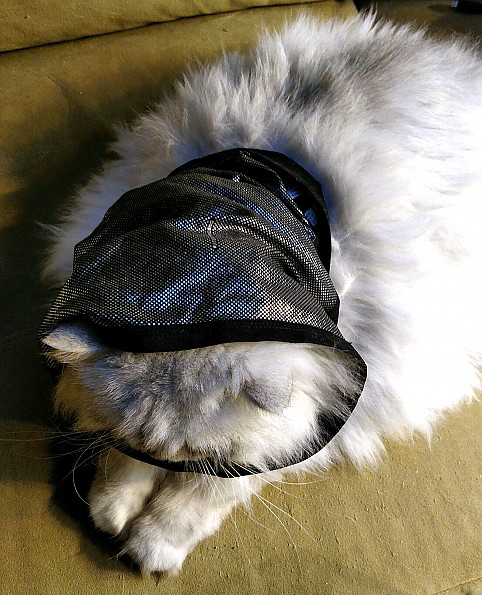 ***SnowCat assisting me in photography for an upcoming gear review, of my favorite (OR Oregon ) Outdoor Research 'Cirque' pants.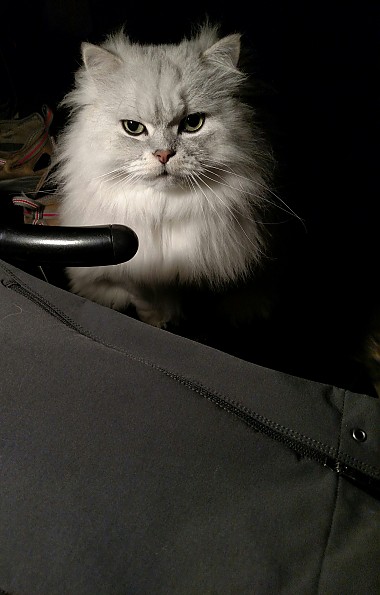 Source: bought it new
Price Paid: List price

Your Review
Where to Buy
Help support this site by making your next gear purchase through one of the links above. Click a link, buy what you need, and the seller will contribute a portion of the purchase price to support Trailspace's independent gear reviews.
You May Like
Specs
Price
MSRP: $25.00
Historic Range: $15.00-$17.90

Fabric
86% Polyester / 14% Elastane, Omni-Heat Thermal Reflective, Omni-Shield Advanced Repellency