Columbia Cathedral Peak

#5 in unisex Hiking Staffs
The Cathedral Peak has been discontinued. If you're looking for something new, check out the best hiking staffs for 2023.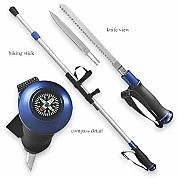 Excellent telescoping walking stick with a few essential outdoor accessories.
Pros
Lightweight
Saw, knife and compass features
Telescoping (fits in a car or backseat of a truck)
Price
Cons
Noisy
Compass holder tends to break... needs to be re-glued
Not a great deal of strength on threads (where knife/saw come out)
After a while, locking threads to telescope slip.
Saw the reviews... Good news, these are back! Check out Bud K website, they sell knives (new version is not Columbia, but United Cutlery,) Likely same base manufacturer and I'm happy to say less than $20, I'll take the risk on a pre-review being I can speak to my previous Old faithful'.
Originally got one from Sierra. I've been looking since my lil one decided to use for something other than its intended design (picked up something heavy/sword fighting) and the threads broke at base of where the handle attaches to the staff :-((
With that, had the original for over 10 years and probably put at least 1,000+K on it, not including quick walks and a few camping/scout events. Also handy for cutting medium sized dead fall for campfires or making other 'natural' walking staffs for friends or our scouts.
To note, this is not one of the 'trendy' anti-shock ski-pole designs that some spend 100s of $ on, particularly here in Europe. Personally, I think those are kind of silly, maybe more 'cliche', but certainly overpriced. For those who require support on both arms, it would be just as good to get a few of these or old ski-poles at a rummage sale :-) I guess time will tell on that opinion, then again... I'm more utilitarian and kinda cheap (my wife will attest to that).
Accessories (again) are excellent idea and design, but you get what you pay for. I could not have seen spending the original MSRP in first place. My original, the compass did get loose off the bracket piece around it (glue gave out or whatever, but had lots of banging around in back of truck).  DIY fix, no problem. 
The Saw and Knife set... though was good for me, my suspicion is that if one were not careful, could break. Cut about 100 limbs/branches, no problem! I never really used the knife, but thought it might be good item if you had to dress a deer and had nothing else. 
So, minus bringing a camp axe and full up folding saw set like Gerber has (also a good item), for the the trails and camping events... really good item to have one or two of!
Mike
Source: bought it new
Price Paid: ~$15 (marked down from about $80)

I bought this staff from Smoky Mountain Knife Works at least 5 years ago and have been looking for more like it, since. It weighs a bit more than trekking poles, but only the minimalist ultralight backpacker may care.
This is not really a trekking pole, as it is a staff that houses a very sharp knife and includes an interchangeable saw blade and contains a nice compass in the cap of a hollow handle that can hold a lighter/matches, fire starting materials, water purification tablets, and/or other small survival items.
When I originally had received this item at work, my co-workers laughed and bet me the saw wouldn't cut through a 2x4.  They stopped laughing when one of them cut through a 2x4 in less than 20 seconds and the saw showed no sign of stress..  This staff is very heavy-duty and will help even the heaviest of hikers and will hold an ultralight tarp in the most extreme conditions.
I'm very happy to have found this staff as a different brand (it must have been private label/oem made for Columbia) on a different website.  It can now be found on the budk website and is branded as United Cutlery, for a very discounted well-worth-it price.
Price Paid: $29.95

I am a big guy that goes hiking 3-4 times per year and out of all of the walking sticks/staffs I have tried this by far knocks the snot out of all of em. Best in durability and strength. This product didn't flinch when I really had to apply my weight to pull myself up and leverage me against a fall. I highly recommend this as a very quality hiking tool.
Your Review
You May Like
Specs
Price
Historic Range: $31.96
Reviewers Paid: $15.00-$29.95

Recently on Trailspace