Dana Design Astralplane Overkill

Dana Design is no longer in business, and the Astralplane Overkill has been discontinued. If you're looking for something new, check out the best expedition packs for 2023.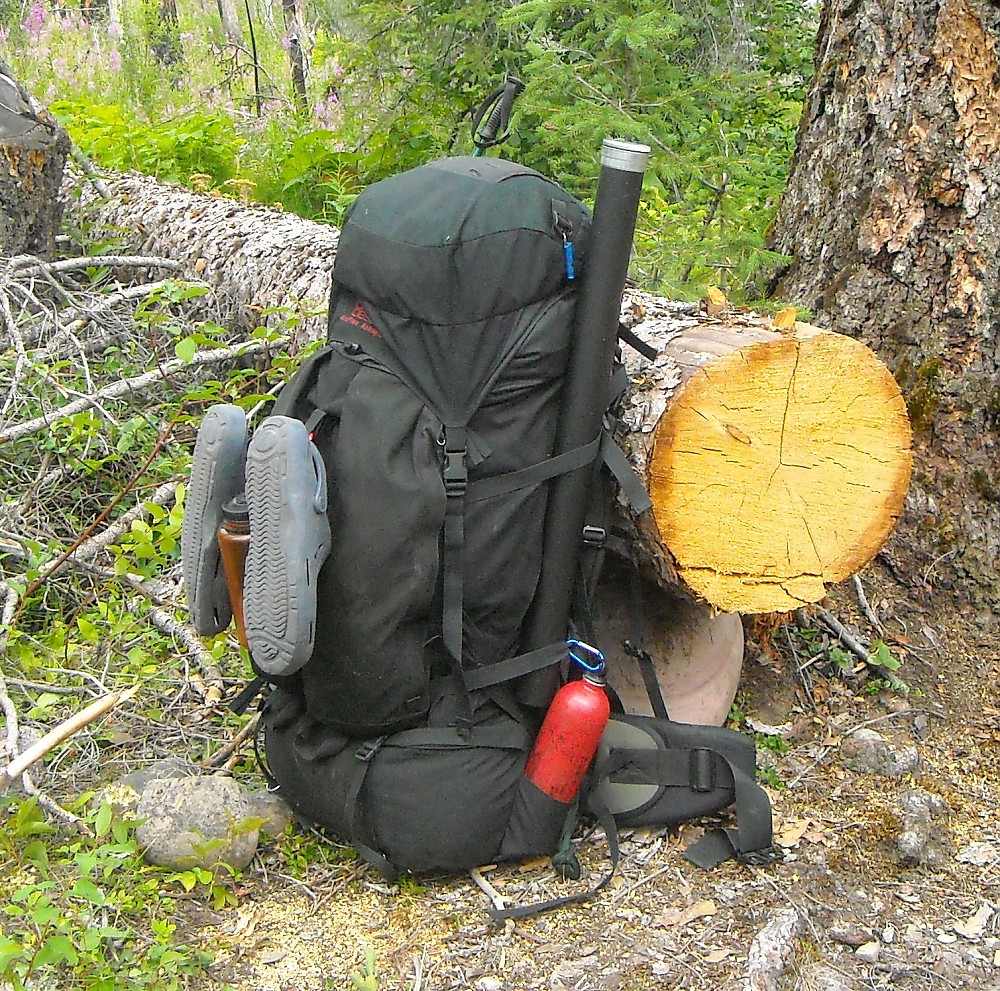 Twenty-six years later, I'm still in love with it. $460 seemed like a lot of money for a backpack in 1994, but it's been worth every penny. Would pay that—and more—again gladly, but this one looks certain to outlive me. Perfect for multi-week trips.
Pros
Everything fits inside; don't have to strap anything to the sides, back or top (and find out it fell off six miles back.)
Legendary (for good reason) Dana Design hip belt
Generous outside pockets to organize gear; easy access to every item.
Totally bombproof construction/durability.
Cons
Give me another 26 years and I might find one. None so far.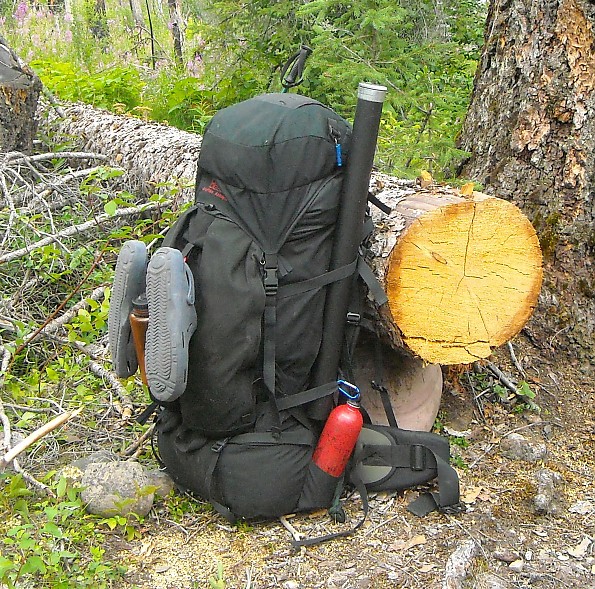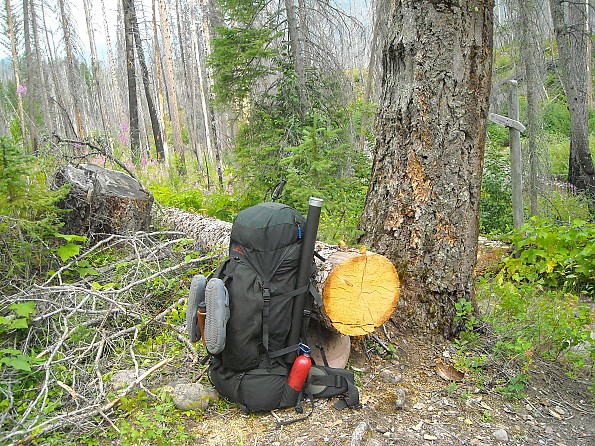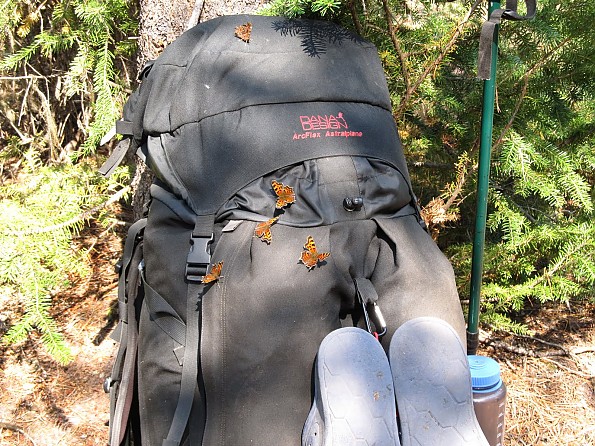 If you have the time for long range trips into the wilderness, try to find one of these; they still show up occasionally. I have been doing multi-week trips in the Bob Marshall Wilderness for a lot of years now (just did 32 days this past September/October), and the Overkill easily accommodates the necessary 20-25, or more, pounds of food, along with the rest of my gear. A perfect example of why the original Dana Design packs, made in Bozeman, achieved their reputation for design, fit and durability.
Roughly a thousand days on the trail and I'm still on my original hip belt buckle, no zipper has ever once jammed, still working like they did the first day, no seam has even dreamed about someday unraveling. Replaced exactly one small buckle, after snapping and unsnapping all the others untold thousands of times.
Once you get the all the adjustments made and the fit dialed in, you can carry loads that you never previously thought you were capable of. I really can't speak to the question of compression for lighter loads, as I'm a compulsive over-packer and will fill any leftover space with gear or food that I just might possibly find a use for. Smaller loads, use your old smaller pack.
As noted above, the interior is large enough for  all your major gear items, so you don't have to strap anything on the sides, back, top or bottom. No doubling back several miles (when you've already done quite enough hiking that day, thank you very much), hoping that your Thermarest is still lying there on the trail.
The two longitudinal zippered pockets on the back and side pockets will accommodate pretty much all your smaller stuff, making everything easy to find without having to go into the interior of the pack. Not sure how much backpacking experience Dana Gleason had before he started designing packs, but he obviously had enough to design the definitive long range backpack.
So, the Overkill is obviously not designed for weekenders or thru-hikers, but if you're recently retired, or about to be, or otherwise have the time, desire and ability to disappear into the woods with a heavy load for weeks at a time, this is the pack for you. Expect to pay a little more than might seem normal for a used pack, but you'll decide about halfway through the first trip that it was well worth it.
Happy trails.
Background
Twenty-six years of multi-week wilderness trips. Never thought to keep track of miles.
Source: bought it new
Price Paid: $460

A magnificent piece of gear for hauling multi-day to expedition-sized loads without drama. Buy this pack, then stride down the trail past the lightweight fanatics who snicker at your enormous load, confident in the knowledge that you're carrying 50 pounds probably more comfortably than they carry 30. Plus, your Astralplane will be around long, long after the lightweight parachute cloth packs have disintegrated (I can't imagine the abuse it would take to injure the Overkill model's all-1000d Cordura construction)...
I find the enormity of this pack a boon to my packing style--everything in the packbag: Thermarest (folded), tent poles, sandals, kitchen sink. Just a personal preference--I don't like having things dangling from the outside of my pack. The large vertical pockets on the front of the pack are perfect for keeping raingear and trail necessities handy. The hipbelt is without equal. Despite others' claims against them for weight and a potential failure point, I like the long slash zips along the sides of the packbag for easy access to my tent when it's raining.
Finally, if you are one who has had a rough time getting a good fit with your pack (largish guys like myself especially--I wasted time with four other 'adjustable' packs that never carried right with anything over 40 pounds, despite my endless tweaking), do yourself a favor and strap on a Dana pack. You will, as I did, recoil in horror at the price initially, but I believe you'll find the superiority in comfort/durability of this pack worth every penny.
Design: Internal frame
Size: 7250
Number of Pockets: 2 external + lid
Max. Load Carried: 70
Height of Owner: 6'0"
Price Paid: $400

GOOD
I had a bad experience with a rented backpack in Glacier National Park and did some research. After reading the reviews I decided on a Dana Designs Astralplane Overkill. I called the factory in Billings, Montana, and even talked to the owner. He emphasized the importance of getting a custom fit. If a Dana pack is fit right, you won't even know its there! Well the nearest dealer was 189 miles away at Active Endeavors in Iowa City, Iowa. So I went and got fitted. Gosh darn it if they weren't on sale! I paid just $265 (1996).
The graphite stays, the harness and waist belt, the zippers and the fabric (which appears to be made from the spall liner of an M2A3 Bradley Armoured Fighting Vehicle) are rugged.
A normal load for me is a TNF Goliath sleeping bag (lg), TNF Mountain 24 tent with Walrus Rain Fly, Cascade Design LE sleeping bag pad, MRE's, Lo Alpine Flash jacket/pants rain gear and various other items... all stored inside the back. I don't like anything hanging outside.
Two years ago this back resisted the gnawing of some type of Ring Tailed Bandicout subcreature. This year during the climb to the Boulder Field in Rocky Mountain National Park, 60 mph gusts blasted away above the tree line. No problems.
I love this pack. Gobs of room and takes all kinds of brutal abuse. I have just one problem... I don't get out and use it enough.
BAD
Nothing.
Design: Internal
Size: 6800
Number of Pockets: 2 + Lid
Max. Load Carried: 55 lbs.
Height of Owner: 5' 11"
Price Paid: $265

I lead backpacking trips for my high school students. I've had this pack since 1995 when the capacity was needed to haul my toddler son's gear. I still value the great fit and ride of this pack now as I did when I hauled changes of clothes and teddy bears. Repaired the waist belt (a burn from a campfire spark), but it still looks new after two decades of hard use.
Cons
You will be targeted — "Put it in Dad's pack. He has room."
You will wear out before this pack does. Great fit and comfortable and can swallow 10 days of food easily.
Source: bought it new
Price Paid: $380

The Dana Astralplane Overkill is the most durable, comfortable, indestructible load-hauler ever created.
Pros
Indestructible
Comfortable with huge loads
Lots of access points
Cons
Heavy pack, even when empty.
Best loadhauler ever made. Indestructible. Bought mine in early '90's and have hiked with it on at least 50 trips and it looks almost brand new. Mine is the Astralplane Overkill, so it is pretty heavy, but I've packed 80 lbs in it and it still fits like a hug.  
If you can find one on ebay, buy it — they are legendary. The guy who made them now builds for Mystery Ranch and his new version isn't cheap. Not for the ultralight hiker, but for the hiker who needs, or is willing, to tote around 50 lbs or more.
Source: bought it new
Price Paid: $450 + tax

Can haul heavy loads great, fits well and lots of adjustment, side and top access. I have had 130 pounds in mine, still looks new.
Pros
Compresses down small
Bomb proof
Hauls heavy loads well
Cons
Heavy when unloaded
No water bladder pouch
Love this pack. I have a few others, but this is my go-to pack and it will haul heavy loads well. Had it on 5 trips in at 68 pounds and out at 110-130 pounds. Most packs don't hold up to this kind of use. Mine still looks brand new.
Source: bought it used
Price Paid: $400

The Dana Astraplane Overkill is by far the best pack that I have used. I have worked in retail for many years and have demoed aboout every manufactuer. The ArcFlex suspension sysem used in Dana's pack is able to support the weight better than anything that I have tried. Also the features that are provided are not to fancy, but very useful. I really like the full side zips on each side (backed with strech 1000d Cordura), the long bellow pockets, detachable lid/fanny pack, the sleeping bag compartment is double layer (so one holds weight and the other takes abuse), and the entire pack is 1000d Cordura. I was able to carry up to 80lbs. on my semester. Hey, buy what you want, but make sure the shop knows how to fit. My advice is get a Dana Overkill.
Design: Internal
Size: 7000 med.
Number of Pockets: 2
Max. Load Carried: 80 lbs.
Height of Owner: 6'0
Price Paid: $475

Best large load backpack ever made. Bought it 16 years ago and it looks practically brand new. I've carried it fully extended down from Mt. Shasta base camp topping 85 lbs and I've hiked the Smokies with as little as 50 and it consistently "fits like a hug." I will wear out long before this pack ever does.
Design: top, front, side, bottom
Size: 7000+ inches
Max. Load Carried: 90+ lbs.
Height of Owner: 5'10"
Price Paid: $485

Most rugged, reliable and best fitting pack I have ever used. I carried 70 pounds all day with no problems. Weight is evenly distributed over back and hips. No other pack in the world like it. And I have used many other packs.
lawrence wilson
po box 494
mannasa co 81141
Design: astra plane overkill
Size: lg
Max. Load Carried: 70 pounds
Height of Owner: 5ft 9 in
Price Paid: $485

Your Review
You May Like
Specs
| | |
| --- | --- |
| Price | Reviewers Paid: $265.00-$485.00 |
Recently on Trailspace