Dana Design Slider

Dana Design is no longer in business, and the Slider has been discontinued. If you're looking for something new, check out the best daypacks for 2023.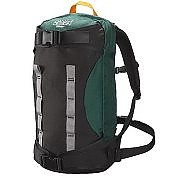 This pack dates back to the last days of DD's rep as one of the best packmakers around (roughly '00).The founder sold it off about two years prior to this to K2 sports.They started cutting corners and before you knew it, everything good about this brand has dissapeared (best packstraps, high quality fabrics, thick PE spreadsheets, US-made).
Enough about that, this pack is great and it's built in Mexico—no bones about that. However, it seems that K2 wasn't so keen on changing everything just yet, so the pack benefited from all the good things named above.
The pack itself is a very straightforward design. It's a rectagular box shape with a huge, U-shaped bombproof zipper. It has an inner compression strap to keep things together and two outer fastening straps (partially made of hypalon) for a snowboard/skis/snowshoes/whatever. I've used it for carrying skis horizontally and it works with a little fidgetting. Snowshoes fit amazingly well and stay snug when you're skiing down with them on your back. This is thanks in part to the thick PE spreadsheet that's stiff enough to keep such a heavy load as skis under control. The thick, high-quality packstraps also help ease the strain. No hot points. The pack also has an unpadded waist belt that can retract out of the way when you don't need it.
Which brings me to the other great use for this pack, which is school/grocery shoppping. Since it's built for heavy loads, it'll take whatever you throw at it and you'll never risk a blown zipper. I putter across town with it on my back while I cycle with groceries and it always handles everything with ease.
The only downside I've felt was really missing from this pack is another pocket aside from the main. If you need something small that's packed, it will invariably wind up at the bottom of the pack (cards, cash, knife, handgun).
I own several DD packs from about the same era and one of them has a sewn inner zipped pocket on the top of the inner backing—very handy, but I may wind up having this modification performed—especially if you like to have a spot for a water bladder.
BTW, I've paid top dollar for each one and have never been blind to other top makers. Pack fabric is 50% D2, 50% high-strength cordura (bottom, wear areas). Weight is spec'd at 3.10 lbs.
Design: Rucksack
Size: 1400 ci (20+ L)
Number of Pockets: One
Max. Load Carried: 2 motorcycle cylinders and 1 valve head--easy
Height of Owner: 5'8'' (1,72 m)
Price Paid: $60

This is an awesome pack. Too bad it's no longer on the market. It fits snug to the body and allows one to carry a snowboard, skis, or snowshoes quite comfortably.
Pros
Well made
Good material
Excellent design
Cons
Does not have a water bottle carrier
I am 5'7" tall. For me it is perfect. I'm not sure how it would fit someone taller. I don't remember if there were sizes. I doubt it.
It is a great day pack to fit a first aid kit, lunch, and a change of clothes. It is especially good for backcountry skiers and snowboarders. Excellent fit, will stay in place all day whether you're slogging up the mountain or racing down.
It is everything you can ask for in a small pack.
Experience
I've used this pack for 20+ years, mostly during warm months and to carry a set of snowshoes in the winter. It's been on countless trips and countless miles in the backcountry. If you need more on a day trip than what this pack will carry you need reevaluate.
Source: bought it new
Price Paid: I have no idea.

Your Review
You May Like
Specs
Price
Historic Range: $63.96
Reviewers Paid: $60.00