Danner Light II GTX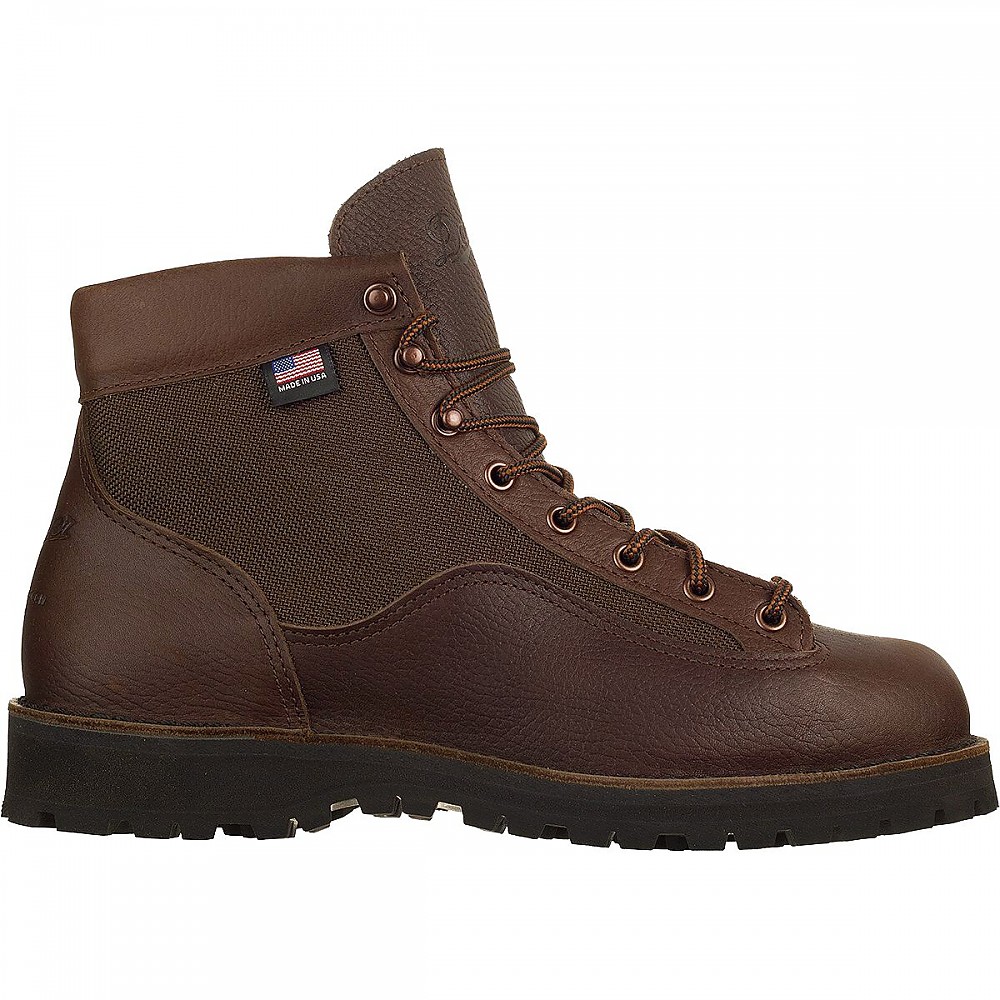 The exterior quality and construction is outstanding. However...the Gore-tex membrane inside the boot is sloppily fit and loose, causing it to bunch, which causes friction points, especially with the tight toe box.
Pros
Well constructed with quality material
Danner offers reconditioning and warranty repair
Cons
Poorly designed and/or executed Gore-tex membrane
Confining toe box
I found the boot to be well constructed, durable, good looking, and difficult to wear with anything thicker than a liner or thin dress sock. The reason? A confining toe box, combined with a loosely fit Gore-tex membrane/liner, would cause severe rubbing and hotspots on the tops of my big toes, and the sides of my little toe, as the shifting membrane would bunch up as it slipped around. Thick socks exacerbate it.
I was warned. I read a review or two, and some mentioned issues with the membrane/liner bunching and shifting, and honestly, I disregarded them, as other reviews made no mention of it, and having worn a pair of Danner Acadias to complete destruction while in the Army, I assumed the problems mentioned by the detractors were either rare QC slips, or these people had "baby" feet.
My motto had always been, "If you baby your feet, you'll have baby feet". I mean I've worn issued jungle boots up and down the hills of Panama, the burning sands of the Middle East, and all over the continental U.S., all while burdened with a stupidly heavy ruck for miles upon miles. My apologies to the reviewers calling out the membrane/liner.
I broke the boots in properly, using a technique that has always worked for me. Putting them on, immersing in hot water, wearing until dry, applying a mink oil and beeswax conditioner/waterproofer, and then wearing over extended periods time until flexible and formed to my feet.
The liner was mildly bothersome, but had started to feel better, as long the socks I wore were thin, but the first time I took them to the field, down the road to Cooper's Rock, W.Va., the membrane/liner bunching became more than mildly irritating. It was painful.
I didn't surrender. I re-broke them in, and continued to wear them on day trips, fishing, hunting, et al, for the next year. No dice. To make a long story short, I wound up sending them back to Danner for an inspection/repair. They came back cleaner, feeling a touch wider, new laces, a note thanking me with an apology, and the membrane/liner still bunching in front of the flex crease, and the toe box still cramped. Disappointing to say the least.
I really wanted to support an American made product and company. I wanted my memories of my Acadias to not be tarnished. I wanted to ignore the detracting reviews for emotions sake. I still wear the boots around town, and still notice the pressure and discomfort if I do anything beyond walking on mostly level ground with thin socks.
Sorry, Danner, for the price, I'm certain there are other boots, with better fit, etc..., for serious outdoor use.
Source: bought it new
Price Paid: $209

I have heard about the quality of Danner from a friend who has owned his boots for over 20 years. I tried on others at the store but these felt the best right out of the box. I got the 12 EE and they were just big enough for me. I didn't have much time for break-in and it turns out, I really didn't need any.
I set out for a 35 mile hike. The first couple trail days I spent more time than usual adjusting the laces and sock combo to get the right feel. The laces and studs are an excellent features of this boot, making lacing up in the morning easy. By day three I had a good sense of tightness and they felt as good as they could for 13 mile days. I will admit I had a few blisters, but they were minor and more of my issue rather than the boots. My right foot is about a half size different so it took me a while to dial in the laces and socks. My feet were refreshed every morning and boots felt more and more like slippers with every new step.
I crossed several streams and never once got my feet wet. I also hiked in some wet, mucky terrain after rain and never felt a drop on my feet, nor slipped. I had about 6500 feet of elevation gains and never had toe jams or bad heel lifts. This was a huge PRO in my book.
Overall the boots took a solid beating right out of the box. I wouldn't recommend no break-in, but they performed as I expected. At the end of the trail the boots had a few scars but otherwise still looked fairly new and I actually look forward to wearing them more often.
A boot I can grow old with and made in the USA, nice.
Perhaps the only CON - they are a bit heavy despite the name.
Update: September 27, 2010
This is merely an update to a previous review.
After another 35 miles or so in the Yosemite wilderness these boots just get better. I didn't have one major foot issue this trip (which is rare for me). Yes, I got a few hot-spots on my toes (edge of big toe and pinky toe) but those were quickly averted with some quick duct tape patches. More of my fault for being a bit loose on a steep downhill.
Perhaps my only issue would be a larger, more protected toe box. Larger because this seems to be the only area I have any significant issues (and those were minimal, I was going down 4k feet in an afternoon). I am sure a cobler can stretch the toe box a bit for me.
As far as protection in the toe box, I simply mean the front of my boots have a few battle scars that perhaps some material over the leather might help reduce potential problems. I am a bit lazy with my feet sometimes and I never once hurt my toes or did an ankle-bender (the boots saved my ankles more than once). I do wear gaters which help a lot, both in terms of hitch-hikers and water penetration.
Besides the weight, which I am used to, these are very comfy boots and they only seem to get better. (laces are excellent and stick right where you set and tie them, wow).
Materials: Leather
Use: backpacking
Break-in Period: not much, but give it some for better comfort
Weight: not light-weight
Price Paid: $200

A great boot with minimal break-in time, can be resoled and is offered in a narrow width.
Pros
Short break in time
Can be resoled
Comfortable
Good shock absorption
Available in a narrow width
Cons
Nubuck uppers crack
Seam design unravels eventually
This is a great boot that will last hundreds of miles. Comfortable right out of the box, the break-in time is minimal. The Kletterlift outsole offers superb traction and durability while the EVA midsole offers superb shock absorption.
I put hundreds of miles on these boots as a forest ranger, production assistant for movie crews and on countless long day hikes. The only place I ever got blisters were on my pinky toes after a couple of day hikes over 10 miles. That was just a couple of times.
I have narrow feet and bought a narrow width which fit perfectly and gave my feet the support and protection I needed. I had them resoled.
Unfortunately, my arches collapsed, resulting in a post-tibial tendon injury that required orthopedic arch supports. These boots no longer fit with the addition of aftermarket arch supports. The nubuck uppers are on their last thread too, unraveling at the "Y" seam, and succumbing to cracking, but I have put these through hundreds of miles of heavy abuse, so it is to be expected.
All in all I would recommend these boots to anybody who wants a comfortable pair of long lasting boots and/or anybody who needs narrow width options available.
This is a great pair of boots!
Source: bought it new
Price Paid: $200

Nice boots, made in America, and will last forever.
Pros
Durability
US made
Easy to lace
Waterproof
I found these boots at a Big-Rays tent sale in a beat up box and looking like they'd been there awhile.  Anyway, I couldn't believe it when I saw they had been marked down from $280 to only $35. Even more surprising, they fit me perfectly, so I couldn't pass them up.
I may not be the best reviewer of hiking boots, as my only other pair before this were a cheap pair of uncomfortable Brahmas, but these boots are quality.  I've had them for around two years and so far they have performed almost flawlessly. They're great for what I do—a mixture of moderate mountain hiking and backcountry hunting during moose season. The leather is way more durable than any synthetic material, and is repairable to boot! The lacing system allows you to take unlace the boot without untying the knot, which is a huge advantage for putting them on quickly or just giving your feet a quick breather on the trail.  
As far as comfort goes, they are the most comfortable boots I've ever owned (which isn't saying too much as they're only the second pair of hiking boots I've owned). They only thing I've noticed is that sometimes the tongue can bunch up, and rub my my ankle a bit. Also, after taking them to work and standing for 8 hours, the soles of my feet were hurting. A pair of memory foam insoles from Sketcher tennis shoes fixed that problem.
The only other issue is weight. The soles are very thick, which definitely add some heft. But if you are content to just walk and not run, this really isnt a problem. Spending ten days in the mountains last hunting season, my feet stayed perfectly dry and never got sore.
Sure, a pair of synthetics might be lighter and a tiny bit more comfortable, but you can't beat good ol fashioned leather Danners for their pure toughness and quality!
Source: bought it new
Price Paid: $35

Best hiking boot ever. Bombproof, replaceable sole. DANNER!
Pros
Weight
Sole
Comfort (eventually)
Cons
Hard to break in.
Laces broke quickly.
Danner boots are pretty rad. I have three pairs now, so I am a little biased. They are also right down the street from me in Portland, so repair is easy. 
The fit is kinda weird at first. The leather is super tight, and almost painful, but I listened to the shoe salesman and just went with what I felt was too tight. There is a long break-in period. I could only walk to the store, about 3/4 of a mile round trip, and it felt like my shins and arches were bleeding.
But after about a month of this, they got super comfy. The laces broke, but to be fair, I rode my bike in them and they were caught in the chain. User error. 
I have been on numerous hikes the past summer, in and around Hood, St. Helens, the Gorge, out in Bend, in all types of terrain. Wet, snowy, hot. These boots are rad. I have tromped through rain forests, and my feet stay dry. I am not suggesting that you go swimming in them, but they are pretty water resistant.
They are spendy, but they will last a super long time, and Danner has a really good return/warranty program. 
So far these boots have been fairly good to me. Bought them slightly used on eBay for $75. The Gore-Tex liner keeps water out and the soles are nice and stiff.
The soles are pretty stiff when new and the waffle sole does keep mud, so not a good boot if you're going to be going in and out of your house a lot.
The tongue is gusseted to about an inch and a half from the top of the boot, so at first I did have some problems getting it to stay smooth while lacing it up, but once you hike in them it sort of "sets" and the leather stays put
They can be very pricy and hard to find in retail stores for sizing. (I bought them on the hope that at my price they would be easy to sell back for at least as much.)
There was absolutely no toe bang going down a very steep deer trail and almost no heel slip going up (only if you continually walk on your toes).
The nylon panels on the side are very tough and help the boot to breath, which was nice.
You will want to get some insoles like the Dr. Scholls ones because the Airthotic ones that come with the boots only go half way and are nice feeling, but the rest of your foot is right on top of the footbed with very little cushioning.
Price Paid: $75

Not what I expected.
Cons
Very very hard to break in
Hard soles. Need Dr. Scholls
Tongue is weird
I normally buy the Radical but decided to cough up the big $$$ this time. Bad decision. I wore these boots for two weeks at work and my feet could not take it anymore. Had to switch to a new pair of Radicals.
Much easier on my feet. I drive commercial garbage truck and push and pull containers every day so they got a workout. So did my feet. New callouses started on my left foot. They are a super cool looking, waterproof boot, but for the price I will be sticking with the Radical from now on.
Source: bought it new
Price Paid: $295

I bought a previous version of Light2 in 1991. They are finally worn out. I won't buy anything else. I don't need to read anyone's reviews or ratings. These boots have done far more than I ever expected.
Trouble is they are brutally hard to find in retail stock. I need to try on a pair since might foot may have changed in 18 years (not that anything else has). I wish Danner put more effort into trying to serve their customers. I'd hate to have to settle for something less but may be forced to do so. Is their plan for me to ship boots back and forth through internet sales until I find the size that's right?
I'm happy to spend $235 on this great boot, I just wish it was possible to do so.
Materials: leather and gore tex
Use: all outdoors, hiking, recreation, work, snow
Break-in Period: none
Weight: 3 LB
Price Paid: $129

I am disappointed on this model. I bought these boots because they have a great look to them and my Montrail boots were finally falling apart. Also Danner company is an American company and we should support American companies.
I am disappointed in these boots, because Danner does make a great boot. However the feel of these boots are just weird. No matter how tight I lace them, they feel kind of loose when taking a step. When I take that step, the boot feels like it is filled with water and is hesitant to move with your foot. Or as you are lifting your foot, the boot moves a fraction of a second slower than your foot.
Also when walking, it feels like I am walking on dry sand or wet sponges, and I feel like I am expending extra energy on each step. My Montrail GTX and La Sportiva Glaciers feel more of a part of my foot than this boot, and when you take a step with them, each step feels solid.
Also the soles looks thick, but I seem to feel every stick and rock I step upon. The leather feels a tad soft, and I see myself wearing a hole in them over a bit of time.
Overall, if you like Danner Boots, check on their other hiking boots (I really did like some work boots I bought a couple of years ago). But I am disappointed in the feel of these boots, and I don't see myself wearing them out on the trails, maybe around work, but not on the trails.
Richard in Boise Idaho
Price Paid: $178

For my feet, Danner fits the best without exception. Will last for years and countless miles. I bought my second pair seven months ago after the first pair which I had for twelve years. I finally gave them to a friend who was just getting into hiking with tons of miles left in them.
Materials: denier and leather
Use: hiking, back-packing, and walking
Break-in Period: right out of the box
Weight: never noticed
Price Paid: $199

Your Review
Where to Buy
Help support this site by making your next gear purchase through one of the links above. Click a link, buy what you need, and the seller will contribute a portion of the purchase price to support Trailspace's independent gear reviews.
You May Like
The Danner Light II is USA made, classically designed, and packed with features. A nubuck leather and 1000 Denier nylon upper combined with Danner's stitchdown construction, offer unparalleled durability and stability. The waterproof, breathable GORE-TEX lining keeps feet dry, and the Vibram Kletterlift outsole provides lightweight comfort, superb shock absorption, and great traction and stability on both wet and dry surfaces.
Specs
Men's
Price
MSRP: $380.00
Current Retail: $439.95
Historic Range: $89.10-$439.95
Reviewers Paid: $35.00-$295.00

Women's
Price
Current Retail: $439.95
Historic Range: $149.96-$439.95