Danner Raptor 650

Top 25 in Winter Boots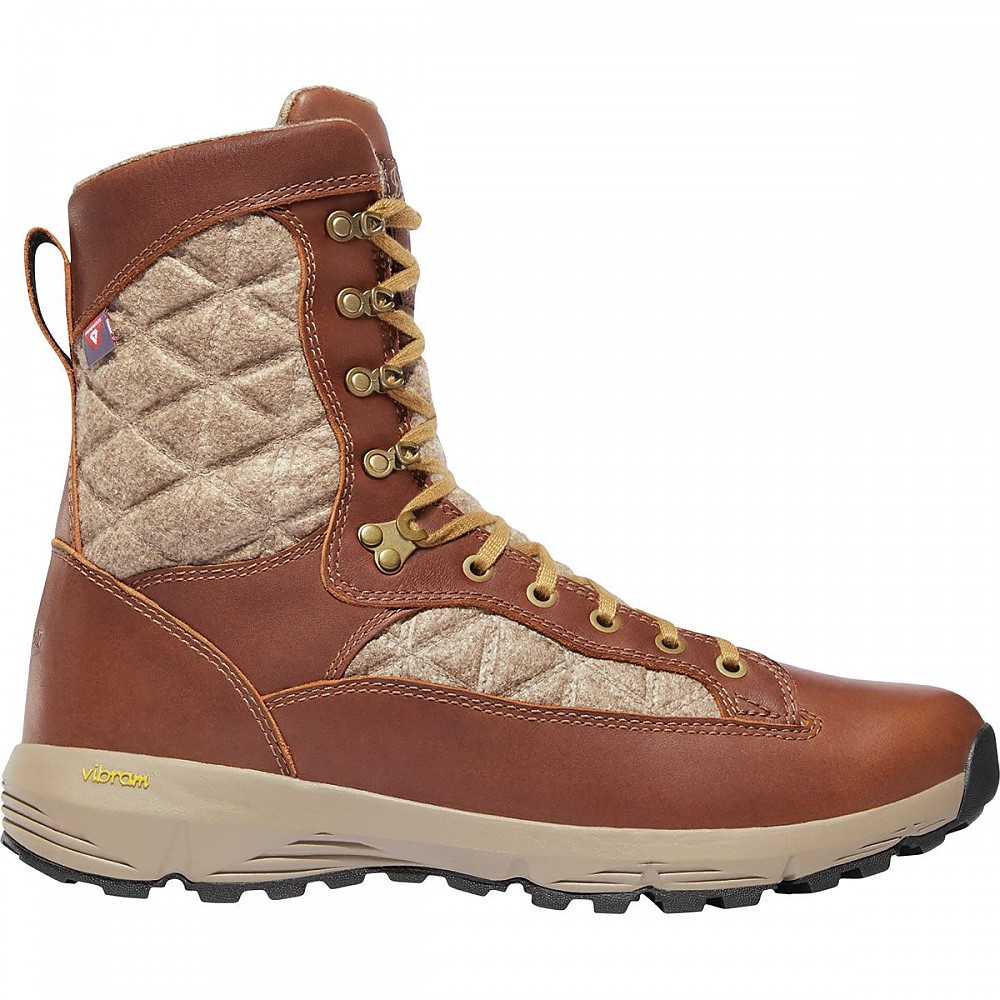 The surprisingly lightweight and versatile Danner Raptor 650 handled everything I threw at it this winter, all while keeping my feet warm and dry in snowy and cold conditions. With an interesting outer made of leather and wool, coupled with generous PrimaLoft insulation and waterproofing powers, the boots have made my feet very happy during the cold and wet winter.
Pros
Lighter than expected (~24oz. each)
Insulated with 400g of PrimaLoft
Waterproof is legit (Danner Dry)
Sturdy Vibram Escape outsole
Surprisingly versatile
Comfortable right out of the box
Cons
Snow cakes up on the wool outer
Dry time
Foot protection could be beefed up some
Testing Conditions:
I've worn the Danner Raptor 650 boots for three months during the winter, predominantly in the mountains and valleys of central Pennsylvania. The boots have been worn most commonly during the following three activities:
Hiking on a wide range of trails, including rocky, muddy, smooth, and frozen trails (Note: the boots are categorized as winter hikers by the manufacturer).

Hunting off trail while trudging through the woods and fields in snow and mud.

Shoveling snow out of the driveway (Ugh!)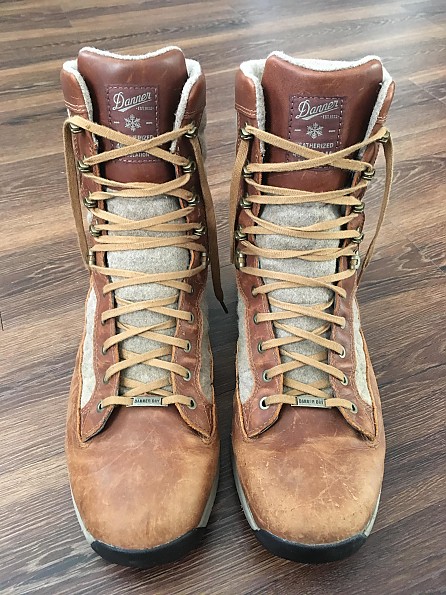 Weight:
Being completely honest, when I saw the boots, I thought they'd be twice as heavy as they actually are. Being 8-inch winter boots with insulation, leather, and a grippy outsole, I thought they would be northward of 2 pounds. each (32oz), like most other winter boots I've owned. Instead, I weighed them out-of-the-box at 24.9 oz. (right boot) and 24.6 oz. (left boot), for a combined weight of 49.5 oz (just above the manufacturer claim of 48 oz., but then again, I wear a size US13/EUR48/UK12.5, which is bigger than your average boot, so I'd say the claim is accurate).
I failed to weigh them after hiking in the rain/snow, to see how much water weight the wool outer absorbs, but speaking from experience, I didn't notice any significant weight gain when the boots were wet. If I have the chance to continue testing in wet, wintry conditions, I will update this section accordingly. 
Fit and Comfort:
My feet took a liking to the Danner Raptor 650s as soon as I took them out of the box. Generally speaking, I have long and slightly narrow feet, with normal arches, which luckily equates to having pretty forgiving feet. Most boots are at least okay for me, but the Raptor 650s are more than just okay, they are downright comfortable. No break-in time was needed at all and the comfort hasn't faded with time.
With most new footwear, I typically like to start slow, maybe with a short, flat hike or even a walk around the block a few times, just to get a sense of fit, comfort, potential tight spots, gaps, etc. I didn't have that pleasure with these boots, as the woods were calling to go hunting almost immediately after they arrived.
So the first time I wore them out of the house, I trudged through thickets, hopped over downed trees, strided across wet fields, and gingerly stepped over/through semi-frozen winter streams from sun-up to sun-down. It was a long day of hunting (estimated time on my feet was 5-6 hours) that put the boots to the test. Two things stood out that first day of testing, the Raptor 650s are comfortable, and I didn't need to wear quite as warm of socks as I was used to with other winter boots.
Since then, I've worn them with a variety of socks, usually going with a slightly lighterweight sock than I was accustomed to for winter hiking. In the past, I may have used a heavier sock, but these are most comfortable with midweight hiking socks. Because the top of the inner is lined with comfortable merino wool, slightly shorter socks aren't a big problem. When wearing a slightly shorter sock, I didn't notice any negative effect of rubbing. 
Insoles:
The footbed is easily removable, if needing to make footbed adjustments or to add aftermarket insoles. I personally found the insoles to be fine, but not quite as amazing as the manufacturer's claims (i.e. "maximum cushioning and support" and "open-cell polyurethane for better heat dissipation and air circulation"). Admittedly, my feet aren't as sensitive to these issues as they are for some, but I personally think the insoles are average and anyone needing custom insoles will probably remove these and add their custom ones anyways. 
The above two photos are from the first day of use (5-6 hours of walking through brush, woods, soggy fields, and much more). 
Discomfort:
The only discomfort I experienced during the three months of testing was during the final portion of a hike that required road walking. Most of this trail was forested, but in order to complete the loop back to the car, it required a mile-long road walk at the very end. By the time I got back to the car, my feet were so ready to get out of the boots. No blisters or chaffing, but just sore feet. These boots are made for trails and earth underfoot, not hardened surfaces like pavement and cement. Besides that one issue, I've experienced no other discomfort.
Temp Control:
The Danner Raptor 650's are designed for winter weather—maybe not hiking across Antarctica, but reasonable winter weather. With their 400g of PrimaLoft Gold insulation, I've worn them in temps as low as -20°F (-29°C) with a pair of thick wool socks and did not feel the cold penetrate my feet (I did however feel it penetrate other parts of my body).
I wasn't out in these conditions very long (15-20 minutes) and was moving pretty consistently, so I can't exactly say what their lowest temp rating might be. For me personally, I found the ideal temp range to be somewhere in the single digits through the lower 30's F (approx. -17°C through 2°C). Above that, the boots are a little too warm.
I've also found that doubling-up socks or wearing my thickest/warmest pair of wool socks isn't really necessary unless I'm not moving much in the boots. In most cases, a midweight hiker sock has been sufficient and comfortable. 
The only time I experienced excessive heat retention (i.e. super sweaty feet) was when hiking in my thickest of wool winter socks. I suspect the wool panels have a hand in offering good temp control, and even when they get caked in snow or soaked, the internal temperature doesn't seem to be negatively affected.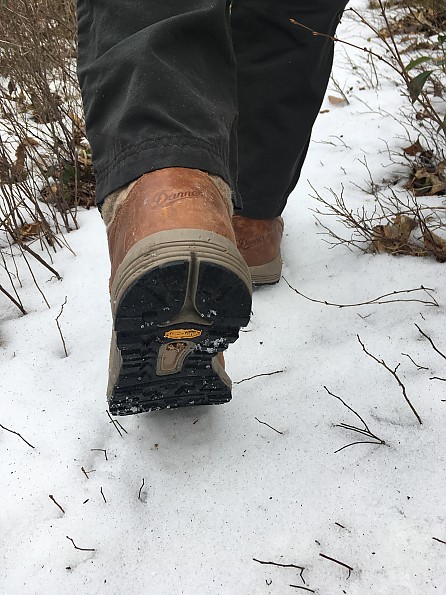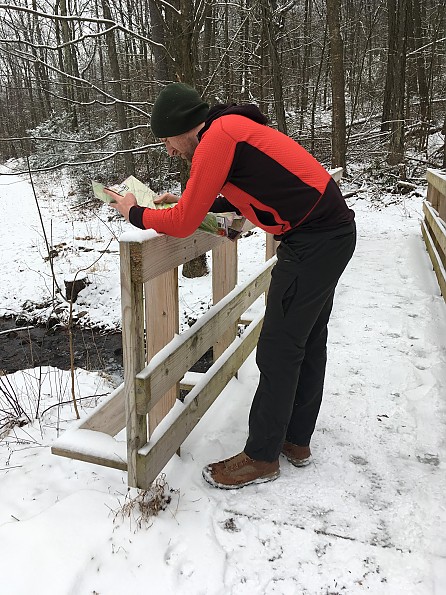 Water Resistance and Dry Time:
I was reminded of the adage "don't judge a book by its cover" while testing the waterproof abilities of the Danner Raptor 650 boots. From the looks of them, I didn't expect much in terms of keeping my feet dry. However, I quickly and repeatedly realized that the waterproofness provided by the Danner Dry lining is actually pretty solid. During the snowy winter with on-again-off-again snow melts, I've hiked through some pretty wet and sloshy conditions, and the Raptor 650s have kept my feet perfectly dry.
However, having an upper made of a combination of full-grain leather and merino wool, this part of the boot certainly takes a while to fully dry after being exposed to wet conditions. I don't use a boot dryer, only ambient air inside the house, so the boot outers can take the better part of a day to fully dry out if they are totally soaked.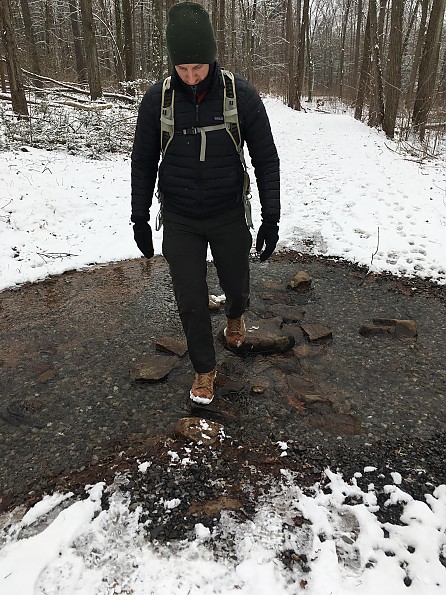 Uppers:
The aforementioned leather and wool upper was new for me. At first sight, I thought it was one part boot, one part slipper. Throughout testing, I couldn't pinpoint any particular advantages to this combination besides perhaps moisture and smell control with the merino wool and the durability that leather can provide. The one drawback that I noticed repeatedly in the snow was that snow would cake or clump on the exposed wool parts of the upper. Not a big problem, but unavoidable as far as I could tell.  
Being a new-to-me combination of materials, I wish the manufacturer would have included or posted on its website proper care instructions specifically for these boots. (Note: Danner does have a general boot care page on its website, but nothing specific to these boots.) In my experience, leather and wool are not treated or cared for the same way, so I am curious the best way to care for these boots to ensure they last a long time. 
Almost any 8-inch winter boot will provide a certain degree of protection, but due to their lightweight materials and lack of any significant toe cap, these boots offer only a basic level of protection. The Raptor 650s shield the wind, the water, and the cold just fine, and aside from some bumps to the feet while bush-whacking through deep thickets, this minimal protection never bothered me. It's a tradeoff that I am personally okay with.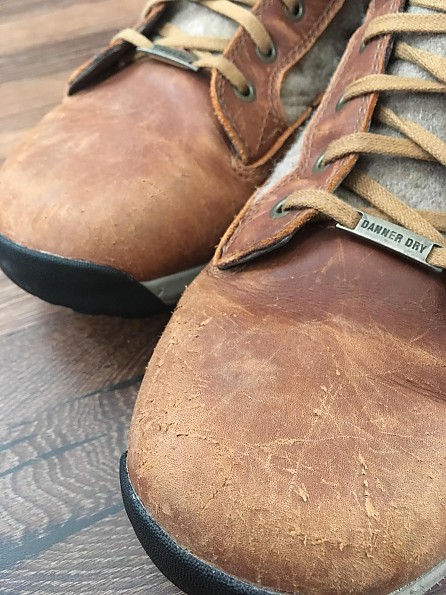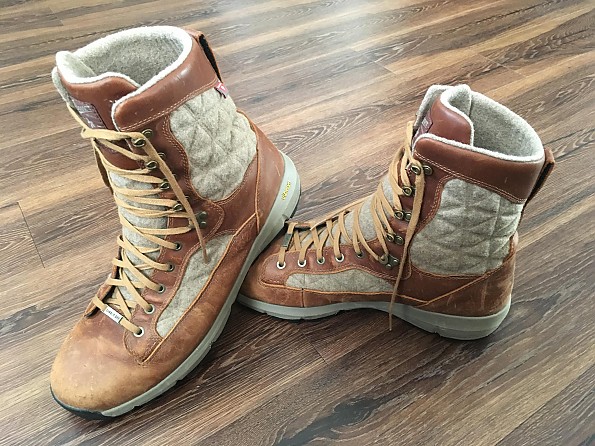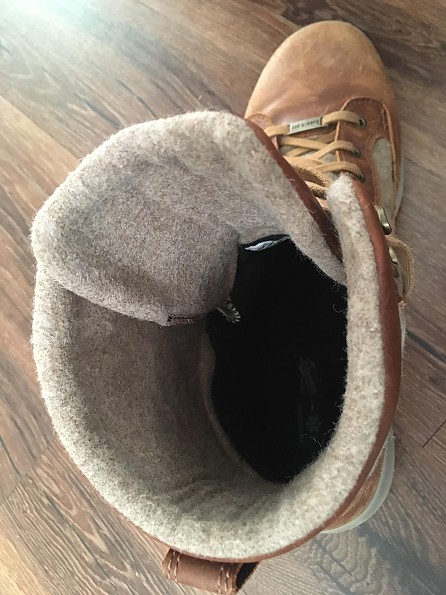 Traction:
The Vibram Escape outsole, which is part of Vibram's Megagrip technology, does a fine job at keeping me on my feet and off my butt. Good traction is one of those elements that is much more noticeable when you don't have it, rather than when you do have it. With the varying terrains, elements (ice, rain, slush, etc.) and inclines/declines I've hiked this winter, I never really noticed how good the traction of the boots was until I reflected and realized that I never struggled with slipping, sliding, or uncertainty underfoot. I'd say going unnoticed is the mark of pretty good traction.
I personally do not use traction devices (e.g. Microspikes), so I have no experience as to how the Raptor 650 boots would pair with such things. My biggest concern would be where the device makes contact with the upper, assuming it would work better if the contact point is on the leather and not the wool, but that is only speculation.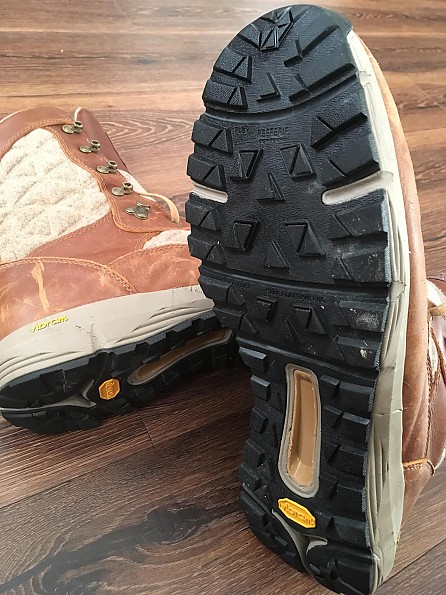 Recommendation:
I'd recommend the Danner Raptor 650 boots to those who want a multi-purpose pair of boots for winter hiking or hunting (or really for most general winter purpose uses). Don't expect these to be your next work boot or fast-and-light hikers, but rather expect a versatile winter boot that handles the cold and wet elements with ease. I really like them for general cold-weather hunting purposes (in the stand, on the ground, or afoot) and for winter dayhikes. 
Note: The Danner Raptor 650 boots are available in men's and women's, which appear to be pretty similar, with some minor changes (i.e. faux fur on the women's). This review is specifically for the men's version. 
Experience
I've been hiking and hunting for more than 20 years, and during many of the latest years, I've spent more time in the woods during the winter than any other season. Needless to say, many pairs of boots have come and gone over those years.
Source: received for testing via the Trailspace Review Corps (Sample for testing and review provided by Danner)

Your Review
Where to Buy
Help support this site by making your next gear purchase through one of the links above. Click a link, buy what you need, and the seller will contribute a portion of the purchase price to support Trailspace's independent gear reviews.
You May Like
Specs
Men's
Price
Historic Range: $119.97-$167.99

Women's
Price
Historic Range: $108.99-$142.80

Recently on Trailspace