Deuter Pace 36

#2 in men's Winter Packs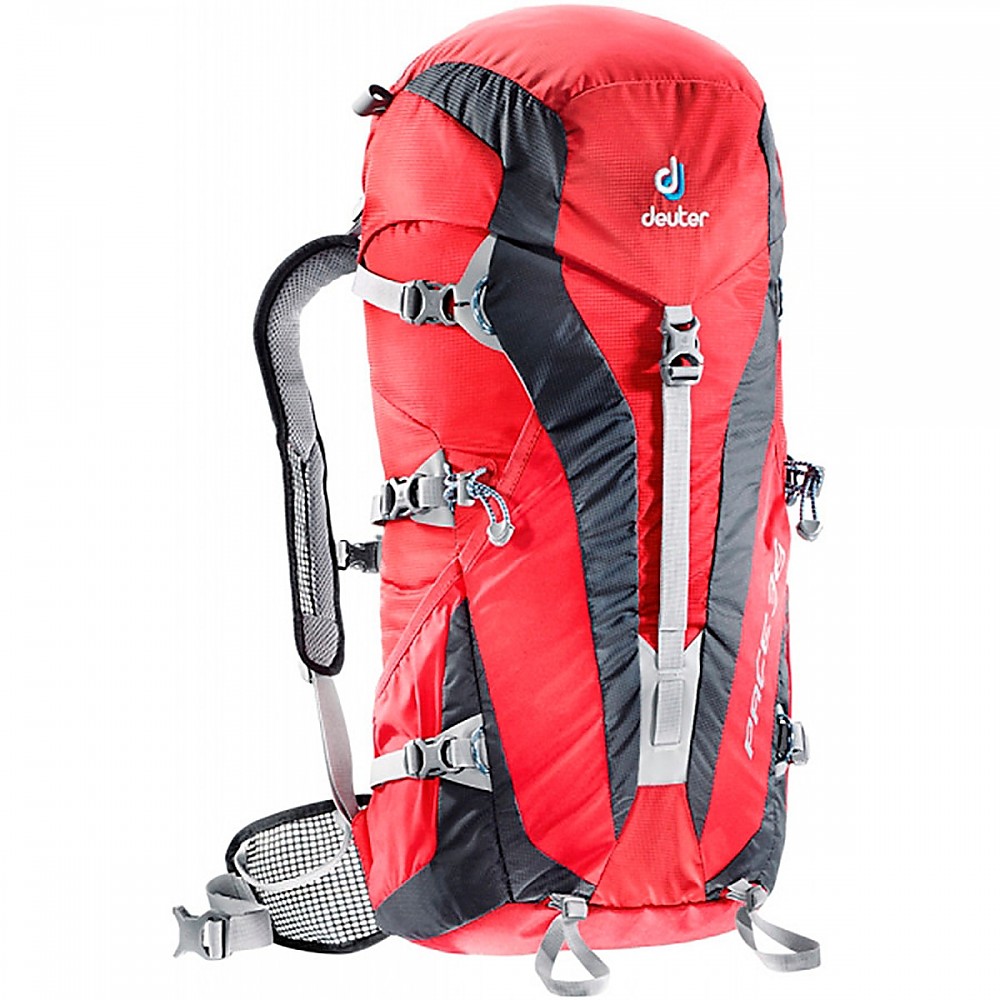 Specs
Price
MSRP: $129.00
Historic Range: $63.93-$129.00
Reviewers Paid: $130.00

Weight
2 lb / 920 g

Volume
2200 cu in / 36 L

Reviews
2

reviews

5-star:

1

4-star:

1

3-star:

0

2-star:

0

1-star:

0
The Pace 36 is a weight-shaving daypack with a very light frame and wide mesh hip belt. I applaud Deuter for figuring out how to make a bag this light that is also quite comfortable. The pockets and features are things people can actually use; I would take this along as a winter day/summit bag.

The Pace 36 can carry a surprising amount of weight comfortably, but it would not be my choice for consistently carrying more than 30 pounds on a regular basis. The simplicity that helps make this so easy to carry necessarily yields a reasonably minimalist pack.
Pros
Carries more weight comfortably than you would expect
Very good bottle pockets and hydration options
Roomy stash pocket
Cons
Minimal hip belt struggles if pack is overfilled
Tiny hip belt zipper pocket
Deuter describes this backpack as "a minimalist, lightweight and compact rucksack geared towards adventure races, alpine sports climbing, and day ski-tours. Lightweight anatomically shaped hip fins and airy mesh shoulder straps provide a secure, compact fit."  I think the backpack does these things, and more.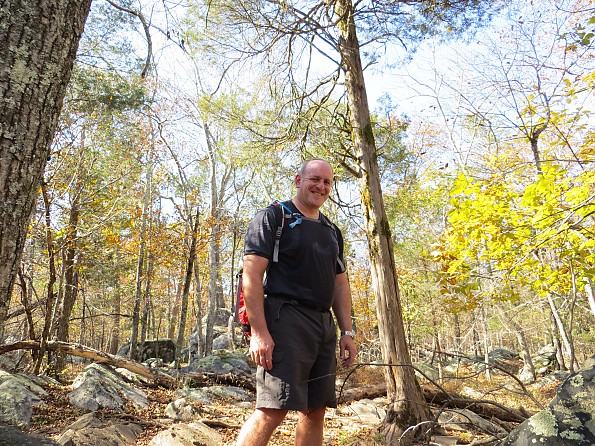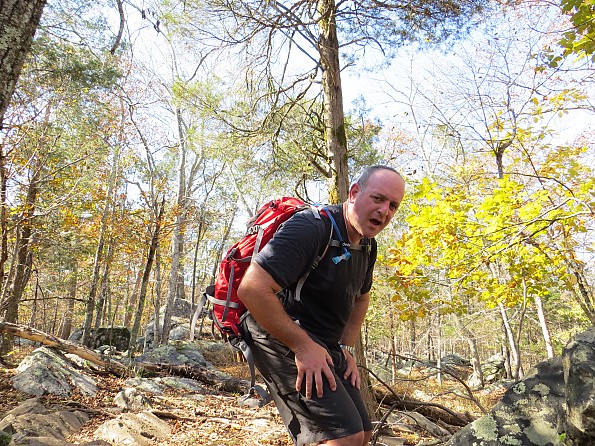 Answering a Few Big Questions
Is this truly a lightweight, minimalist backpack? In a word, yes. I use a digital hand scale to test the weight of gear I receive from Trailspace. The Pace 36 weighed 2.1 pounds.  That is slightly lighter than the frameless, uber heavy grade (1680 denier ballistic pack cloth) Cold Cold World Ozone pack I often carry for day hikes. https://www.trailspace.com/gear/cold-cold-world/ozone/
Is a pack this light durable enough for alpine climbing and ski touring? I have not had the opportunity to test the pack in alpine conditions — it arrived in July, and I tested it through November. However, I have used it a lot for rock-scrambling trails, and it shows effectively no wear. See my more in-depth comments about durability below.
How big of a reservoir does it hold? The pocket that holds a water reservoir spans the entire width and length of the inside of the backpack. I usually walk with a 3 liter Camelbak or Platypus, but this could hold two of those 3 liter reservoirs if needed.  The pack does not come with a reservoir, though.  It also works well with water bottles. Read on......
The Basics
I have no previous experience with the Deuter brand, but a hiking friend I like and trust swears by their gear. I have to agree. The Pace 36 fills its niche well — a light day pack with enough room, features, and carrying capacity to make most people happy year round.
I was surprised at the backpack's light weight, considering that the backpack has a frame. The frame is a flexible nylon/resin 'hoop' with each end terminating at the hip belt. The back pad is mesh and soft padding, no hard plastic frame sheet here, and the tops of the shoulder straps are the same soft mesh/padding. The hip belt and bottom half of each shoulder pad are some kind of grid – seems like nylon coated with something plastic-like.
The pack itself has one large space, a top-loader, with a large stash pocket on the back, a lid with two zippered pockets, and 2 stretchy bottle pockets. It has three fairly robust compression straps on each side, which initially confused me – why include such heavy straps on a lightweight? Turns out those straps have a clever purpose.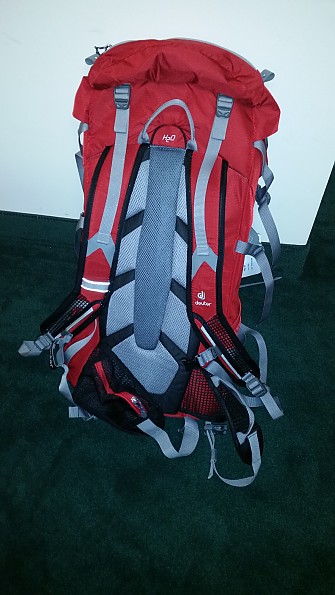 This shows the backpack, looking at the mesh/foam back pad. Note how the shoulder straps are part cushioned foam and part mesh to reduce weight. Note that at the top of the gray back pad, you can see a gray haul loop and the opening for the water reservoir tube. The haul loop feels very solid. I haven't used many packs with a center opening for the water hose; this didn't trouble me at all.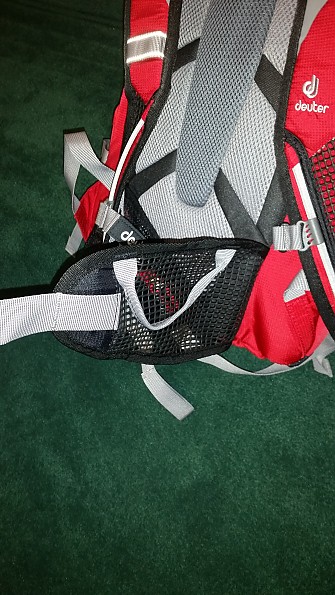 Close-up of one side of the hip belt. As you can see, it's mesh, but not stretchy. The pack feels narrow and leaves your arms with a full range of motion.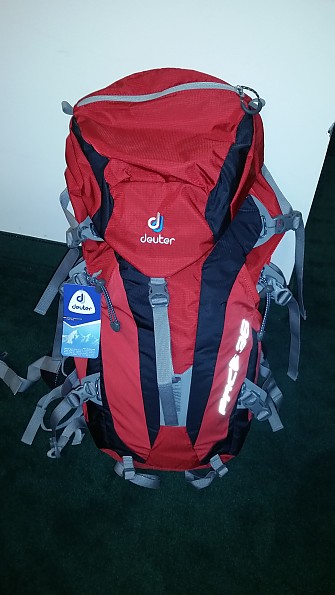 The front of the backpack. The lid straps down with a single strap and clip, which you can see in the center of the backpack.  The compression straps look pretty "busy" in this photo because they are not pulled tight.  You can also see dual ice axe loops, gray, at the bottom. 
Suspension
The mesh and lightly padded back don't offer any support, but the nylon/resin hoop gives this backpack an unusual ability to carry weight considering its very light weight and nylon grid hip belt. The belt is fairly wide and does a good job wrapping your hips, so long as the load isn't too heavy.  When you pull the hip belt tight, the nylon hoop does a nice job putting the weight on your hips.
I hiked with this backpack with loads ranging from 15 to 35 pounds. Under 30, it was great. Over 30, the hip belt has a tendency to fold over itself and does not provide as much support, and I thought the suspension was running at its limits. The mesh/foam back pad does a decent job allowing sweat to disperse.  It provides little protection from any pointy or odd-shaped stuff you might be carrying, so pack smart. 
The pack has a sternum strap that is easy to adjust upward and downward, and the clip on that strap has a built-in whistle. If you use the hip belt, sternum strap, and compression straps to keep this backpack close to you, it is extremely stable and secure - it does not shake around or feel at all loose. 
Hydration
The pack has a good-sized internal hydration sleeve and a hook/loop grabber at the top of the inside of the pack. The exit hole for a hydration tube is in the center, right under the lid, and the right-hand shoulder strap has a loop for the hydration tube. It's a fine solution.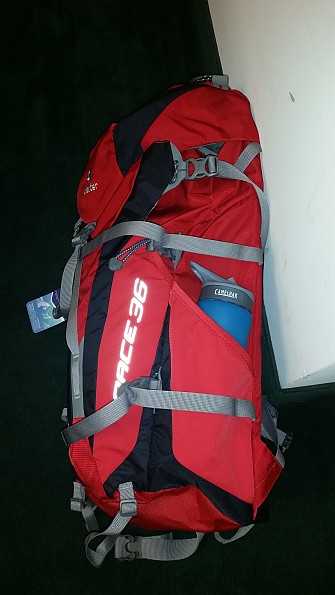 The stretchy side pockets each swallow a liter-sized water bottle, even with an insulated jacket; the angle and location of the pockets helps you reach for your bottle without feeling like you might dislocate your shoulder.
Other Interesting Things About This Backpack
The stash pocket is nice — it is in the center of the front, immediately under the lid and the single strap that closes the lid. It has a good amount of space and could hold a helmet, a crumpled wind shell, a spare pair of gloves and hat, and the sides of that pocket have some stretch if you tend to overload. The lid's main pocket is medium capacity — enough for spare gloves and hat, some snacks, and a light wind shell.
The main compartment appears to be about true to size, comparable to other backpacks I have that are at or slightly more than 2000 cubic inches.
The backpack also has three compression straps on each side that are fairly long and attached to the pack at one end via plastic clips. What I discovered was that the compression straps rather long and that the clips are asymmetrical. This allows the strap from one side to be unclipped, extended, and engaged with the strap from the other side of the pack. Male clip on one side, female clip on the other.
In other words, the compression straps double as ski/snowshoe straps. That is pretty intelligent thinking.  They can also shrink the pack to a very low profile if you aren't carrying much. On the downside, the bottom compression straps interfere with the stretchy side bottle pockets if they are pulled tight.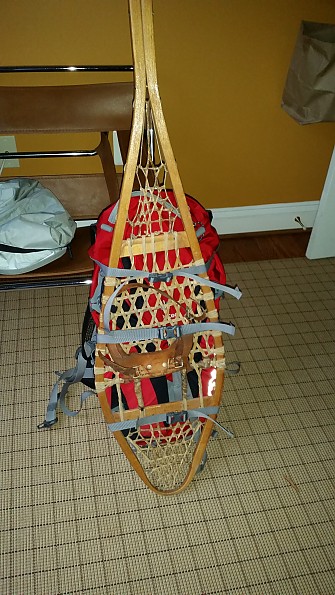 So, you can use the three side compression straps to shrink the pack or hold a touring/backcountry ski on each side. Or, you can unclip the compression straps, extend them across the back of the pack, and hold a pair of snowshoes. That is where the male/female plastic clips on the compression straps come in very handy.  
The pack also has lash loops at the base of each compression strap. They aren't big, but it's nice to know you have the option of using them. Finally, the pack has dual ice axe loops that can be adjusted to make the loop larger or smaller, and twin adjustable shock cords on the left and right side that can be used to grab ice axe or tool handles. The timeframe for my test didn't include any winter conditions, but I am really looking forward to using this one on a winter day hike. 
A photo of an ice axe and how it carries on this backpack. The dual ice axe loops at the bottom are adjustable....but you should adjust them at home. The straps are narrow and would be hard to adjust with chilly fingers.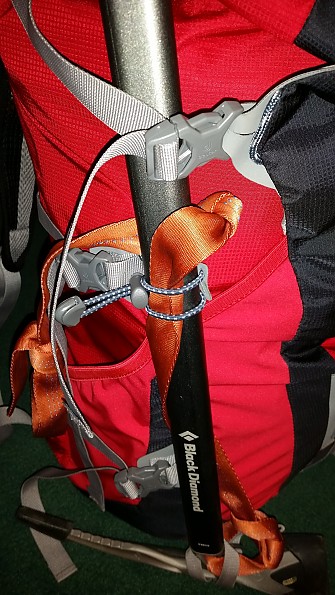 A closer detailed view of how the elastic, and the compression strap, can keep your ice axe secure.  (that orange strap is not part of the backpack; it's my ice axe leash).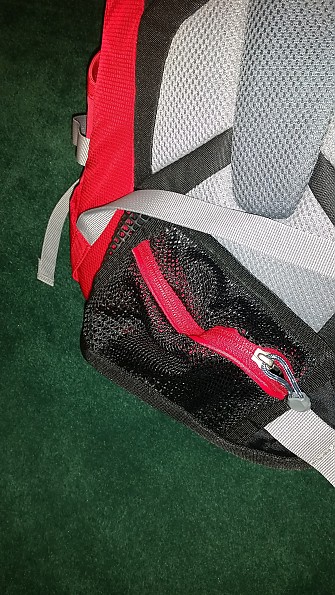 The hip belt has a small zippered mesh pocket on one side. It is pretty small, and the mesh isn't very stretchy.  You can't fit very much in there. The lid has a top zippered pocket that is mid-sized, and a very low profile inside zippered pocket for your wallet, keys, and other small stuff. 
The top of the pack bag has a cord and toggle to tighten the top of the bag….however, unlike some bags in this category, the lid is attached to the pack. You can't tighten the bag and dump the lid to save weight. The lid secures with a single strap and clip that runs right up the center of the pack.
On the Trail
To test the backpack, I used it as my primary daypack over a period of about four months. I took it on day hikes, trail runs, hill workouts, and bike rides on the trails in and around Washington, D.C. We didn't have a very hot or rainy summer, but we have had some chilly weather this fall, with a fair bit of rain. I attached an ice axe and skis to it so I could see how it works for that, but I didn't embarrass myself by hiking while toting skis and an axe with no sign of snowflakes. I tend to use a hydration bladder, but took some hikes with bottles to see how it works to reach and grab the bottle.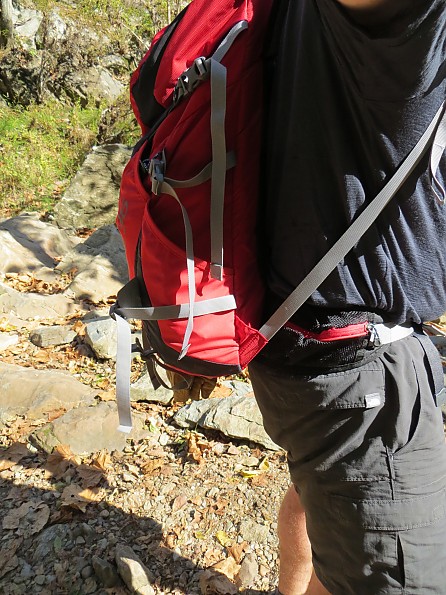 As noted above, this backpack isn't interfering at all with the range of motion on your arms. This also shows how the hip "fins" sit when pulled tight.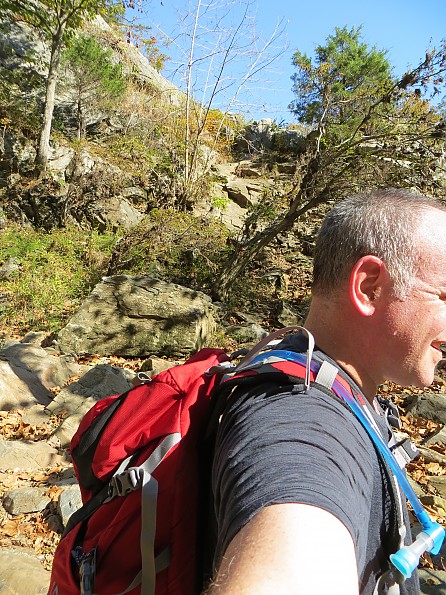 This shows how the pack sits on my shoulders, as well as the hydration tube. 
One observation is that the pack 'carries' well so long as you don't load it with too much weight. The hip belt has no padding at all, which concerned me, and that does limit the belt if you carry a fair bit of weight – 30 pounds seemed to be my breaking point.
The one hike where my hips felt sore was a half-day walk where I intentionally overloaded the backpack to 40 pounds.  If you carry a reasonable amount of weight, the thin belt does a great job wrapping around your hip bones and consequently, working with the flexible frame, makes a 25 pound pack feel pretty effortless to shoulder.
I haven't hiked with this backpack in really cold weather, but imagine that the hip belt functions even better if you're wearing an insulating layer or two — the layers would add cushioning that the mesh belt lacks. This is a pretty small backpack with breathable mesh across your back and shoulders, so it manages sweat pretty well – not as well as packs that have a mesh panel or 'trampoline' that allows air to circulate, like Deuter's Futura Pro 42. But the Futura Pro is a different kind of pack that weighs almost twice as much as this. 
Another thing I like about this backpack is easy access. The pack opens via a single clip/strap in the back, which also opens up the stash/kangaroo pocket, and the bottle pockets are easy to reach, whether you use those pockets for snacks, your cell phone, or water. 
The pack material isn't waterproof.  It is fine for drizzly weather, but bag your important stuff or bring a rain cover for anything more than that. 
Durability
I generally caveat any review of a very light backpack like this regarding durability — that's hard to measure over a short testing period. This backpack has seen a fairly rocky trail at least 20 times. The nylon fabric that makes up the body of the pack bag is light but not filmy — it has a very light small grid pattern. I like how it feels, and I think it will prove to be more durable than some super-light pack bags I have seen. 
A quick survey of the backpack shows that high-stress seams are backed by an additional strip of nylon, that stitching is uniform and clean, and that the bottom is a heavier grade nylon to limit wear and tear. It is also worth observing that the bottom ends of the nylon frame hoop are enclosed in heavy-duty webbing inside the pack — not unlike the nylon webbing 'ends' that keep tent poles from poking through your tent.
After roughly four months of fairly regular use, I see no signs of wear and tear.
Conclusions
As a lightweight day hiker with enough versatility to handle winter climbs or day ski tours, I think this backpack is a winner. The frame helps you carry a fair bit more than you would expect, and the relatively limited features are all designed with a specific purpose for a winter outing. 
Source: received for testing via the Trailspace Review Corps (Sample provided by Deuter for testing and review)

Many many small details make this a win win for the user, it would require few more sentences, this is quick glance at what makes this backpack special.
Pros
Weight, very light
Details and materials
Shape of the backpack, has length, it's trim (not wide)
Let me begin with, by saying that I'm a Deuter backpack devotee...on with the Deuter Pace 36 in the Deuter product line the Pace 36. For its capacity and volume, it must be their lightest, just under 2lbs. The design and details on this backpack are well thought out with fine detaining, so much so that they can be very easily overlooked.
Here are a few examples:
The BACK PANEL: Lightly padded, using two different densities of foam, for more comfort, covering the foam with three different fabrics, for comfort and durability. If perspiration is a problem with you this BACK PANEL is a dream. There will be no more ugly and unpleasant wet and coldness.
The MATERIALS and DETAILS: Very nicely done. The bottom of the pack they used Cordura nylon, giving it durability. Two outside pockets on each side, they've used a stretchy fabric, giving the pockets holding capabilities, eliminating loss of gear.
COMPRESSION STRAPS: This is going to be difficult to describe as is the norm the compression straps are located on each side of the pack. Here's the uniqueness of the straps, you can disconnect both side straps and connect together across the back of the entire pack, to strap on awkward gear, like snowshoes etc.
SHOULDER STRAPS: The contoured SHOULDER STRAPS are half mesh and half padded, for lightening the pack. The bonus is that it doesn't absorb the water when it's raining. It works and the width of the straps are very nice not too wide or narrow.
 HIPBELT: The HIPBELT is completely mesh with a single pocket. The nice thing about the mesh HIPBELT, it's not bulky and it's weight saving, and the comfort is still there, even with a load.
KANGAROO POCKET: Deuter detail shines again, stretchy panels added on both sides of a nylon panel of the KANGAROO POCKET, giving it more room to handle awkward gear, like a shovel.
GOODIES: There are just too many more to continue...drain holes for exterior pockets, whistle, hydration compatible etc. These are just a few highlights of the Deuter Pace 36, a user-friendly backpack.
Source: bought it new
Price Paid: Approximately $130

You May Like
Recently on Trailspace