Diamond Brand Gear Combat II

Top 50 in Four-Season Tents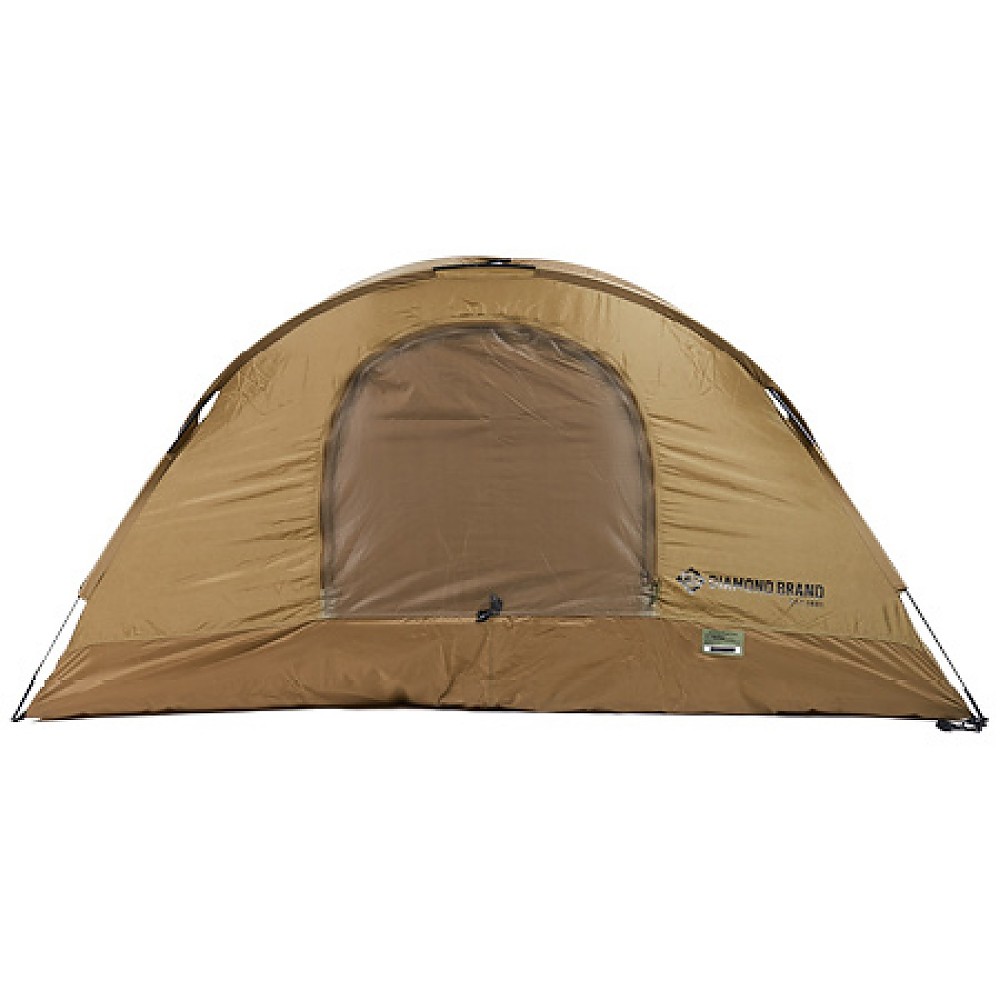 Specs
| | |
| --- | --- |
| Price | Reviewers Paid: $30.00 |
| Collection | Military |
| Design Type | Dome Tent |
| Use | Car Camping, Hunting, Military, Survival, Trail Camping |
| Sleeping Capacity | 2+ |
| Seasons | 4 |
| Dimensions | 84 x 59 x 45.5 in |
| Packed Dimensions | 24 x 7 x 7 in |
| Floor Area | 34 sq ft |
| Vestibule Area | 14 sf |
| Trail Weight | 7 lbs 8 oz |
| Packaged Weight | 8 lbs 9 oz |
| Number of Doors | 2 |
| Setup Time | Less than 5 minutes |
Reviews
1

review

5-star:

1

4-star:

0

3-star:

0

2-star:

0

1-star:

0
This tent is not for everyone. It's heavy at almost 10lbs with everything, and bulky. However, it's an amazing tent for car-camping, short backpacking trips/hike ins, and if you split carrying it with a partner. It's super well made, incredibly durable, almost 100% waterproof, and can withstand high winds consistently.
Pros
Incredibly durable, well made free-standing tent that's up to military specifications
Can withstand high winds, heavy rain/snow accumulations, and even extreme sun and sandstorms.
Rainfly is reversible from M81 woodland camouflage to desert tan.
Two doors, two vestibules
Rain fly is almost 100% light blocking, allowing users to sleep during the day and practice light discipline at night.
MADE IN THE USA!
Cons
Very heavy compared to similar sized commercial tents
Bulky
Some may not like the camo pattern
Rainfly can be hard to get on equally the first couple setups
Often hard to find new, and if so, expensive
No mesh windows except for the doors when zipped open
Somewhat stuffy in hot weather with fly and doors zipped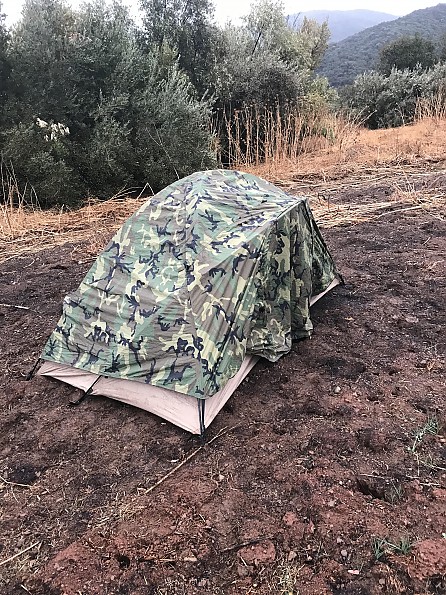 Ignore the messy backyard! As you can see from this pic, the rainfly is in desert tan mode. Inside you can see my Klymit Static V and my ILBE is in the vestibule.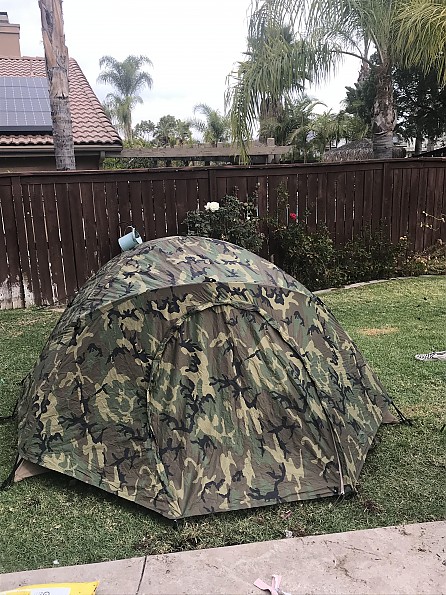 This tent is my favorite of all of my tents. I have quite a few. I'm slightly biased towards military gear, and I don't like many commerical tents. 
I bought this tent back in early December on Offerup, used but in great shape, with tent bag, body, tent poles, tent pole bag, and two rainflies, one basically new and the other in good condition. The other fly needed a touch up of NikWax Solarproof/dwr treatment and now works great! I got everything for $30. 
I haven't had too much time in extreme conditions with the tent, but I have used it in heavy rain a couple of times and unexpected hail once. It's also held up to high santa ana winds, even completely unprotected on a plateau. My handheld anemometer measured an average of 46 mph sustained winds and a maximum gust of 63 mph. Technically the tent is rated to 45 sustained winds and 50mph gusts, but this did just fine guyed out and staked down. Taking it down without everything flying away was a challenge. 
The maximum amount of rain it experienced was about 2 inches in an hour, and no leaks or dampness happened inside the tent. The hail did nothing to the tent as it was the size of peas. 
One of my favorite features about the tent is its reversible rain fly. As these were designed for the Marine Corps, it needed to be usable in both a temperate environment as well as a desert environment, so the fly was made to be reversible. That is a great feature, especially in my area, as I can be in a desert one hour and in a forest the next.
With the rainfly, there are two vestibules for the two doors. The front door vestibule has a larger door and protected space, which was apparently designed to hold two USMC ILBE rucks, which it does nicely in my testing. The door zipper has a flap with a drawcord to protect it from rain. The door also has a band and toggle system to roll the door up.
The back vestibule is much smaller, with a single vertical zipper that runs the length of the fly. It is staked out with two stakes that have to be removed to open it. It's apparently designed to hold two ILBE Assault packs. There isn't much headroom compared to the front vestibule as it's short and small.  
The tent body is a coyote color, and is made of rip stop nylon. It does have a bathtub floor, although it's hard to notice unless you can feel the change in material. If the fly is installed correctly, then the bathtub floor will be all that is showing.
In my experience, the floor is decently waterproof at the bottom and 100% waterproof on the sides. I highly recommend putting a groundsheet down. The body has two "D" or "half moon" style doors, one on each side. The doors have two zips, one that's for the bug net and body material and one that's to open the fabric only. The bug netting is on the outside of the door.
All zippers are YKK and should be opened with two hands, one on the door and one on the zipper to preserve integrity. Each door has two bands and a toggle to allow the door fabric to be rolled and stowed or the entire door itself.
Features on the inside include two mesh pockets sewn into the side of the tent for storage, four webbing loops on the top for a gear loft, a top loop at the peak of the tent for hanging a lantern, and the Marine EGA and "USMC" printed on the inside of the front door. 
The poles included (mine came with the Eureka model poles as it's kinda a mix-and-match contractor components for mine) are Easton .355 poles, which are very nice. You can find replacements very easy online either made directly for this tent for the military (surplus) or you can buy a new set of 3 from Diamond Brand directly. They also sell basically all the components on their site as of 1/15/21. The Diamond Brand Poles are DAC .355 while the Eureka Poles are Easton. A pole bag should be included with yours as well. 
The tent is easily big enough for two people alone comfortably, and with gear decently comfortable. It's a palace for one person, but would be very heavy. 
When it comes to extreme temperatures, the manufacturers claim it's good from 0°F-120°F. I think you would literally bake in 120°F, but no more noticeably than any other tent. I've yet to test it in extreme cold weather due to the lack of any weather below 30°F here in SoCal and my lack of a good cold weather bag, but now that I have a Kelty/Slumberjack Varicom Gamma 0F Bag and partial MSS, I should be GTG!
I've heard many people say that they consider this a four-season tent, even though the makers say it's three0season, hence why I put this under the convertible category. I think with the right bag and pad, this could easily be a four-season tent as it's good at holding in heat and can withstand a good amount of snow accumulation. 
I find that I can carry this tent well strapped to my ILBE, which is awesome at heavier loads. If you're an ultra lighter, you'd cringe at this amount of weight, but I dont mind it for me. I wouldn't take this on a long hike, but for most of what I'm doing its great. 
If you can find this tent for $150 or less, get it, and if it's $150-$250, I'd highly recommend looking in depth at it and seeing if you'd use it. I love it and I'll be using it a ton once I go off to college away from California next year. 
Experience
Used it in heavy rain and hail, high winds, and moderate temperatures. No experience with snow, or extreme cold weather as it's never left southern California yet (will test in Lassen National Park on Presidents' Day weekend with snow and cold weather).
Source: bought it used
Price Paid: $30, super unlikely to get it for this price again though.

You May Like
Recently on Trailspace