Klymit Static V


Light weight in a small package. Great for thru hikers or weight conscious fair-weather campers. Bang for buck on this lightweight, packable mattress is spot on. If it came down to just that it would have higher stars from me.
Pros
Lightweight
Packable
Durable outer fabric
Cons
Fussy valve
No warmth
Not comfortable for side sleepers
We decided to purchase a loot of Klymit Static V pads as rental gear for the gear shop I work at. We KNOW they are durable, which is why we purchased them. They've got a super burly 75D poly outer so the life time of these mats is great. Over two years of use from multiple rentals, there has been minimal wear; with the exception of some valve issues.
At first glance, the packaging is great. It's smaller than a Nalgene! It comes in its own little stuff sack and has some basic specs on the front package. When we purchased them over a year ago, there was no recorded R-Value to them. Klymit has since changed that and rated it at a 1.3. When you open it up and unroll it, it also comes with a little patch kit which is very handy.
One thing I commend Klymit on doing is their use of structuring their air channels to allow your sleeping bag to be the star insulator. The Static V has deep grooves between the V's so your bag can loft to create more warmth, rather than relying on the mat. This is great, however, at the time there was no R Value on the mat so you needed to chance it.
I took this little mat with me on a few camping trips; one to Katahdin, in Baxter State Park in the summer months, and another to Mount Carleton, in Northern New Brunswick later in the fall of 2013, and a handful of smaller overnight trips to some provincial parks.
Inflating the mattress is quick — about 8-10 breaths to blow it up fully. What I don't like is that valve. Every time I went to use it, I was sure I was going to break it. Trying to open it I was sure I was going to pull the top off. Closing it was a pain without keeping my mouth on it and pushing it and turning it so the air didn't leak out. Trying to remember which way to turn and pull after a long day of hiking was tedious.
Comfort of the mattress is average. It keeps you off the ground if you're a back or a tummy sleeper; I found my legs got tingly and sore when sleeping on my side. The summer trip was fine for being warm with the right sleeping bag.
My fall trip, where I had my -7 down bag and the temperature hit 0 at night; I was frozen. It was as though the cold air was trapped in the mattress and chilled me all night. So this is a fair weather mat only. (Keep in mind these did not have stated R Values on them at the time, so I figured an early fall camping trip would be fine).
If you want a warmer mattress, Klymit does make the Static V Insulated (4.4); but it is about 9 oz heavier and a bit bulkier. Which is to be expected.
Keep this one as a summer mat for a back or stomach sleeper; and beware of the valve!
Source: Purchased for shop as rental gear and used it.

This is a solid, lightweight, easy to inflate sleeping pad. Everything it claims to be, and nothing it doesn't claim to be. Decent comfort and great price.
Pros
Lightweight
Easy to inflate
Packs small
I received the camo-colored version of this pad a couple years ago for a Christmas gift. I've now had a chance to use it about 10 nights, and don't really have much negative to say about it.
It packs small and is lightweight, making it a great pad for backpacking. It doesn't claim to provide any significant warmth, and I noticed this on its first use, when I was backpacking in the High Uintas of Utah, and the temperature got down to around 30 degrees. I was just a bit chilled in my 20-degree down sleeping bag, most of the chill coming from underneath through the Klymit Static V pad. It would be nice to have a pad that offers some insulating warmth, but again, it doesn't claim to offer insulation, and Klymit offers an insulated version of this pad as well.
I've not had any other temperature-related issues on other trips, even when the temperature drops below 40.
As for comfort, I've found this pad to be more comfortable than some of the other thin, Therm-a-Rest self-inflating pads I've used over the years. As it should be, since this pad boasts about 2.5 inches, versus the 1 inch of padding by the Therm-a-Rest. I tend to switch between sleeping on my back and sleeping on my side. Of course, side-sleeping isn't the most comfortable on any backpacking pad, this pad still performed better than some of the others I've used over the years. And back sleeping was overall pretty good.
It has been easy enough to inflate, requiring only around 15 breaths. Even after a long hike above 10,000 feet, I haven't felt too winded to inflate the pad.
At some point, I'll likely pick up the Insulated Static V to use for colder conditions.
Source: received it as a personal gift

Stacks up against the big boys at a fraction of the price! Durable, small pack size and lightweight. Back or stomach sleepers welcome, side sleepers resume at your own risk!
Pros
Durable
Small pack size
Lightweight
Great price
Cons
No warmth reflective inner layer
Not necessarily for side sleepers
What a great inflatable (not self-inflating) pad from Klymit. It stacks up against the other big companies' air pads and at about $50, it is a steal.  
I was looking for an inflatable pad, durable, and a combination of lightweight and small pack size.  This is definitely it.  Packs similar to other pads (trifold and roll up). It takes about 10-12 reasonable breaths to fill it up.  I've used it on 3 trips over the summer and have enjoyed it.  
This has a unique design. It feels great as I normally sleep on my back in my mummy bag, but I do occasion sleep on my side. Unlike other "straight and flat" pads, the grooves may cause issue with your body. I am 5'9, athletic and along with the padding from my bag, normally don't have any issues. I can see this causing discomfort or feeling the tent floor if you are above average weight.  Again, for me, no problem.
Since I've only brought it out in the summer with nights only in the 50s, I can't speak for the heat reflectivity. Other pads have an inner lining of mylar or similar warmth reflective surface so you don't loose any heat between your body and the ground.  I can only say, this doesn't have any such feature and I anticipate won't be as efficient as other pads.
This pad packs down to the size of a 1L Nalgene, is lightweight (18oz if I remember) and is great for the backpacker who wants comfort without the huge foam pad!
Source: bought it new
Price Paid: $48

This is the best pad that I have ever owned or even tried. I am 6'2" 260 lbs and the V shaped baffles make for a very stable night's rest, no rolling around or trapped pockets of air. I've slept many nights in a tent and on the floor in front of the TV with no discomfort...almost as comfortable as my bed.

I don't know about winter camping in the snow, but I think if you put a space blanket under it you could use it close to temps that a 4.0 R rated pad would take you...great pad for the money too.
Pros
The V shaped baffles
Adjustable comfort by increasing or decreasing air amount
The price can't hardly be beat
Cons
Not the highest temp R rating
Wish the valve was brass like some other pads
Would be nice if it was made in a longer length
OK, so if you're looking for a great sleeping pad that won't break the bank...you can't go wrong with this pad. In about 7-12 breathes you'll have this blown up, won't even make you dizzy. The V shaped baffles will give you a fantastic sleep and no rolling off.
It does seem to be constructed very well since I'm 6'2" 260 lbs and have slept on it for many many nights since buying it 6 months ago. I would have to say that for anyone who is looking for a durable and inexpensive sleeping pad your search is over, buy one and you won't be dissapointed.
Source: bought it new
Price Paid: just under $50

Wow! Talk about comfort!
Pros
Very comfortable
Side sleeper friendly
Enough cushion for shelter floor or tent sleeping
Fast deflation — easy packing
Small and extremely lightweight
Cons
Minor—Takes about 18-20 deep breaths to inflate
(not 10-15 as advertised)
OK, so I've run the gamut from closed cell to self-inflating...tried all the major brands. I've always been skeptical of the blow up pads because of the inherent thicker fabrics, extra bulk and heavier packable weight. I read several reviews and tried the Static V pad at a local retailer, and I was pleasantly surprised! 
With the size of the closed cell foam pads, and the thin fabrics and faulty valves of even the higher priced self-inflating brands, I was never able to find a pad that met all my needs. I usually opted for the "shorty" or "scout" versions just to save a bit of pack space and weight.
Store branded items from recreational equipment and camping "outfitters" are a joke....just a cheaper version of the name branded models, with what seem to be mythological "features" described by marketing execs instead of real world backpackers. If you've ever had a self-inflating pad spring a leak or mysteriously deflate in the middle of the night, you know what I mean.
So I bought the Static V and gave it a try. At 72"x23"x2.5", it's the largest, thickest pad I've used, but it packs down to a mere 2.75"x 8" and weighs only 18.15 ounces in its stuff sack. My lightest self-inflating "3/4" pad is a 48"x20"x1.5" tapered pad with two valves and tips in at 23.2 ounces. Other 48" pads (all thinner, some narrower, one wider) have all been around 26-30 ounces - still not "heavy", but on longer expeditions, ounces add up quickly in a pack.
The Static V is by far the lightest, loftiest, most compact and comfortable sleeping pad I own. I've used it on hard, wooden AT shelter floors and in tents set over rocks and roots. In those two weekend trips, I'm sold.
This thing ROCKS! (even on rocks)
Source: bought it new
Price Paid: $54.49

A great, lightweight, compact backpacking pad with all the comfort and none of the hassles.
Pros
Comfortable
Compact
Lightweight
Inexpensive
Cons
Klymit doesn't list an R value
A few months back, I purchased Klymit's Static V air only sleeping pad to bolster my sleeping pad line. My older Therm-a-Rest Prolite 3 and all one inch of thickness wasn't cutting it for me anymore. I wanted a thicker "air only" style pad for better packability and lighter weight design.
I purchased the Static V for its great pricepoint. I've slept on it nearly a dozen times and it sure is nice. I wasn't sure how it was going to be considering similar designs from Therm-a-Rest and Exped sell between $120 and $200. For the price ($59 msrp) and my intended use, it was perfect. 72" long x 23" wide x 2.5" thick @ 18.1 ounces.
The material seems pretty damn durable but also supple enough in case you end up face down on it without your bag. A pretty quiet pad for someone who rolls around all night. Klymit says 10-15 breaths to fill it up; with my lungs, 15-20. Comes with its own patch kit in case you get a puncture.
My biggest complaint about this pad is that Klymit doesn't list an R value or give a temperature range like Big Agnes does. Being an air only pad, I'll probably only use it by itself down to 25° or so. You could always bolster the warmth by adding a Z Lite or RidgeRest (or other closed cell foam pad) underneath. 
Source: bought it new
Price Paid: $59 plus tax

Great, comfy pad that packs up small.
Pros
Packs the size of a Nalgene bottle
Durable
Lightweight
Cons
No insulation
Getting all the air out when deflating to pack can be tedious
This is a great sleeping pad for the money. It's easy to inflate with an innovative design. I've slept comfortably on it every time I've used it. I took it backpacking with my son once and let him use it while I slept on the hard ground, never again will I go with only one.
My feet don't hang over the end when inflated (I'm 6' tall). The pad is 72" inches when inflated. Also, I roll around a lot and didn't have any issues rolling off it at night. I like to pack my gear in my backpack so the small pack size is a plus.
It comes with a stuff sack and patch kit. It does not have any insulation, I haven't used it in below freezing temperatures yet, but I don't think it would be that big of a deal with the right temperature rated sleeping bag. Klymit claims it inflates in 10-15 breaths and it does.
I would definitely recommend this pad if you need one and don't want to shell out $100+.
Source: theclymb.com

Great pad, brilliant value!
I got my Klymit STATIC V Ultralight Camping Sleeping Pad (72" x 23") in October and immediately hit the trail. I have used a variety of pads over the years but always resisted spending money on a thermarest or other high priced pad. Then I came across this one after some uncomfortable nights in the Smokies. The specs are comparable to the popular inflatables on the market these days, but the price is way better!
It's by far the most comfortable pad I've used. I'm a side sleeper and have always gotten sore using other mats. My first two nights on this one were perfect. I'm a 5'9", 180lb woman and it supported me easily. It takes 15-20 breaths to blow up. (As others have said, your breath is hot so the pad will flatten a bit after the air cools, just add another breath before you hit the hay and it stays firm all night.)
The vent is really easy to use. It's very easy to blow in to, no resistance. And it releases air very quickly when you're breaking camp. Fold it length-wise into quarters, roll it and you're ready to go. It rolls to the size of a fat Nalgene bottle, comes with a stuff sack that's easy to get it in to and has a patch kit.
Source: bought it new
Price Paid: $48

My last pad was a Therm-a-rest Ultralite; the Static V was better because of the width, thickness, and ease of use when inflating and deflating. Also the V chambered air tubes functioned quite well in allowing support distribution of the major pressure points. When I first tried it out after dialing in the the right amount of air pressure I fell asleep for two hours instantly while watching TV, loved it.
Pros
23 inch width, 2.5 inch thickness
ease of inflating and deflating
compact size
Cons
At the moment none to mention.
After 35 years of using Therm-A-Rest pads: the Original and the Ultralite, I found this pad a worthy replacement to my past sleeping gear.  The Therm-A-Rest worked for what they were, but after a while they were not adequate in the width, or in comfort. 
With the Therm-A- Rest I always wished that the width would be 2 inches wider; at 23 inches the Static V is perfect.  The thickness of the Static V allow for better dispersion of body pressure points and better support to the overall comfort while displacing air volume to where it is needed; something the Therm-A-Rest never did and was always lacking. 
It inflated easily and deflated just as well, and it folds up to a nice size at that. I haven't used it backpacking yet but while testing it while watching TV I fell asleep and did not wake up until two hours later; when I woke up I felt great, with no soreness or uncomfortable after affect what so ever.  With the Therm-A-Rest I would feel soreness in the shoulder, and back; so I say to the Static V, love it all night long.
Source: bought it new
Price Paid: $59.99

At 18oz folding down to 16oz bottle size this pad is an excellent choice for the backpacker or climber trying to pack as little weight as possible. With its V-shape technology it supports hip and shoulders in just the right places out-matching our much heavier self-inflating pads in comfort as well. Price is awesome as well.
Cons
Folding it up is a little more hassle than a roll-up pad [but well worth it ]
After trying many different pads for lots of years, this pad is the best we have come across.
We are mountaineers focussing on packing our packs as light as possible, but also do not want to sacrifice our comfort.
With its V-shape technology the different air-chambers support hips and shoulders in just the right places.
No self-inflating or rollup pad has done as good a job for me.
I love its tiny size [when rolled up it equals a 16oz bottle] which takes up very little room in my backpack.
It blows up with just a few breaths, but is a little more hassle to deflate, fold, and roll up.
Have taken it on 7 trips this summer and am getting more efficient at packing it back into its little sack each time!
Our friends and family are so impressed that we have inspired several more purchases! The relatively low cost is an extra bonus.
Source: refurbished/ factory direct on e-bay

The Static V sleeping pad is excellent for people shorter than 6 feet. It is 1 pound 2 ounces, and folds down to the size of a coffee can. Best for sleepovers/overnight stays, and camping/backpacking.
Pros
Very lightweight
Durable
Large enough for people under 6'
Cons
Does not inflate as high as necessary for some people
Is more expensive and weighs more than some from more popular brands
Takes a while to fully blow up
The Klymit Static V sleeping pad is excellent for long-term backpacking/car camping trips where space is a limiting factor. It compresses into a deflated size of about 8.5" x 4.5". You are also able to put small things like an inflatable pillow in its packaging.
It is rather easy to deflate, as all you have to do is pop open the tab, and it will go back to normal size. I have used this gear for around a year now, on 12 separate car camping trips and one backpacking trip. So far it has held up admirably and has had no rips, tears, or holes.
Unfortunately, it does not completely work for all people. It only inflates to about 2.5" tall, and compresses the air inside easily. It also takes quite a while to fully inflate.
I would recommend this sleeping bag for minimal to medium high use. It is fairly cheap, and good for budget backpackers. If you plan to purchase it for a BOB or INCH bag, it may not hold up under stress.
Source: bought it new
Price Paid: $53

Good stuff.
Pros
Comfort
Packing size
Weight
Price
Comes with patch kit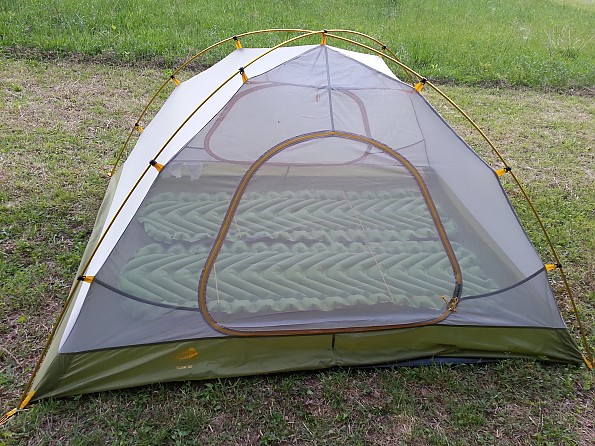 A great design. In theory, the V-shape tubes limit air movement, keeping the warm air that's under your body, under your body. It also limits where the air can go when you roll around, helping to keep your body from touching the ground at your heavier points.
The baffles on the side fill up more when you lay in the center, creating a sort of mini side wall that helps to keep you on the mat as you sleep (no one likes waking up on a cold tent floor). It fills up with around 14 solid breaths, and packs down to about the size of a water bottle with little effort. I believe it weighs in at 1 oz. without the patch kit.
If you want to use it in colder temps, I would use a foam mat under it.
I paid $60 and I couldn't be happier. Great for lightweight backpacking. The girlfriend has been very jealous and will be getting one soon.
Edit 3/14:
Got one for the girlfriend. I'd easily recommend it to a friend.

Source: bought it new
Price Paid: $60

A medium light sleeping pad that fills easily.
Pros
Lightweight
Very packable
Easy to inflate
Cons
Leaks! (probably my fault)
I bought this to use exclusively on a short cycle tour (30 days). I really like it's light weight and minimal packed space. I felt secure and comfortable on this pad. Its air chamber design does a good job keeping you in place and I'm a pretty active sleeper, switching between sides. My bag was the lighter Sierra Design's Zissou. A good system for moderate low temps.
About midway through my tour I noticed that it was not holding air completely through the night. I was using a piece of Tyvek as ground cover and mostly sleeping open. Perhaps the finer weave of a tent floor or better tarp would have prevented a possible puncture? I checked for leaks in the tub back home and couldn't find anything obvious. Hopefully this doesn't indicate a non hermetic material or construction. That would be lamentable considering how comfortable this easy to pack pad is.
In comparison I also have a Big Agnes Air Core 2.5 that seems impenetrable. It has a different, slicker material that seems more durable but doesn't grip as well as the cordura-like material of the Klymit.
One last thing; it takes nothing to blow this thing up whereas the Big Agnes takes about 400 breaths. Maybe I'll review that one once I catch my breath.
Experience
I used this on a cycle tour from Bellingham, WA, to San Francisco, CA. I stayed as close to the coast as possible and slept mostly open.
Source: bought it new
Price Paid: cheap, maybe $30?

Very lightweight! It weighs around 18 ounces and compresses down to about 9"x6": great for saving space in a pack. It's quick to set up also (about 10-15 breaths to inflate it). Simple and straightforward.

Pros
Lightweight (18.1 ounces)
Quick inflation
Includes stuff sack and patch kit
Great compression
Cons
Noticeable air shift if not completely inflated
Air leakage if seal is not properly locked
If you're looking to save weight on your backpacking trip, the Klymit Static V is exceptional. It weighs around 18 ounces and compresses down to about 9"x6": great for saving space in a pack. The material is nice and strong. It's quick to set up also (about 10-15 breaths to inflate it). Simple and straightforward.
If you're used to a foam pad, like me, this is a challenging pad to get used to at first (I notice air shifting around whenever I turn over on it), but I'll adjust in time. It has great puff (the dog loves it). However, I think I need to practice inflating it to the limit, then shutting the valve as quickly as possible before any air leaks out.
Otherwise, the pad goes soft during the night, sinking and bulging noticeably whenever I shift or turn over.
Source: received it as a personal gift

Dependable, small, convenient pad for most campers. I would recommend it for times when packing less and saving space is a factor.
Pros
Stays inflated
Easy to pack up and roll
Decent price point
Cons
Rocks may be felt if you toss a lot
Provides little insulation in the cold
Floor's chill may be felt in colder temperatures (~15°F)
May be too heavy for some backpackers
This pad has gone to the desert and forests, in nights as hot as 80°F and as cool as -30°F. It's reliable. I've never had a problem with it deflating or losing air throughout the night. You can't toss around in it much in rocky terrain since rocks will be felt.
It's always provided enough comfort to leave me refreshed in the morning. It packs up into the size of a 12oz can but it weighs a little over 1lb.
With over three years of decent use, the valve is becoming harder to seal. It's a twist seal and sometimes I struggle (seconds) locking it in. Once in, it's good to go!
Source: bought it new
Price Paid: $55

Love it.
Pros
Small
Lightweight
Inexpensive
Tough
My family and I have used this pad for camping and also cabin bunks and love it. The pad can be made very stiff, yet I did not find that comfortable. The best way for me is to have just enough air in it that my hip almost touches the ground.  This allowed me to move around (I do wiggle) as I sleep on my side.  The pad is shaped in a way that reduces rolling off, I stayed on without having to be constantly aware of how I laid, unlike other pads I have used.
I did test it in the low 20's on my concrete patio. I could feel the cold coming through, so to use in really cold weather would require a reflector of some kind to block the cold transfer. Quite frankly for me, if it gets below 30, I'm sleeping in a heated area.  I'm a little over 6' and 200 lbs. 
Source: bought it new
Price Paid: $50

The most comfortable, light, and versitie air pad I have slept on.
Pros
Lightweight
Comfort
Packs nicely
I just bought this pad for all the backpacking I am going to be doing this summer. I wanted something lightweight and packs small. The Klymit Static V gives both. At 18 oz, it is plenty light for the money, and packing to the size of a Nalgene water bottle it doesn't take much space.
I have only spent two nights on this pad so far but I can't wait to take it out when the weather warms up. The only feature it doesn't have is it is not self inflating. I personally don't care, I can blow up a pad, but if you want to just open the valve and let it go, look into a different pad.
Source: bought it new

Light, durable, and pretty comfy.
Pros
Light
Easy to inflate
Good support
I've used this on several backpacking trips and love the compact size and light weight. It inflates fully in 10 to 12 breaths and is firm enough that I can lie on my side and not punch through to the ground.
There is no insulation inside, so for cooler trips this may be a bit cold for some, but for most summer trips it should be fine.
The sleeping surface is slick so it's easy to slide off of, or down the pad, and while the concept is nice, the side rails don't really work when the air pressure is high.
Overall though, it's a very good pad and makes for a comfortable backcountry sleep.
Source: bought it new

Multi-day friendly pad sleeps you comfortably and even stops you from slipping on un-even surfaces!
Pros
Compact
Lightweight
Easy to clean
Stuff sack included
Repair kit included
Actually blows up in about ten breaths as advertised, is extremely easy to care for and is pretty tuff! I was surprised at how light yet comfortable this device was. I have used other sleep mats and pads in the past but all were too bulky or uncomfortable (or way to overpriced!).
I used this product up in the mountains in and around 12k feet and it works great. If something ever happens to this it even includes a patch kit! 
Source: bought it new
Price Paid: $48

I have used a Therm-a-Rest pad for years, but wanted a lighter and thicker pad. I looked at the NeoAir by Therm-a-Rest, but it is just too expensive. The Klymit was just what I was looking for and at 1/2 the cost of the NeoAir. It is very comfortable, light, and compact. I highly recommend it.
Pros
Comfortable
Compact
Lightweight
Affordable
Source: bought it new
Price Paid: $49

Fairly light, rolls up small, big on comfort.
Pros
Lightweight
Compact storage
Ease of inflation
Cons
Valve at head end of matress
This is a great backpacking air mattress for those desiring a little comfort for not a lot of weight or space when roughing it in the woods or on the trail.
The total package rolls up when not in use to the size of the average  soda can. Inflation is a breeze with 10 breaths or less until inflated...leaps ahead of other mattresses and inflators. Comfort is great and one can even sleep comfortably on your side!
The value is there too as most can be found for $50 or less delivered.
Source: bought it new
Price Paid: $45

Light weight, pretty dang comfortable... just find the right pressure. Durable, quality material, packs down to the roughly the size of a Foster's can.
I bought this pad after trying to scrunch down my Alps car-camping pad for backpacking. I've been pleased with it so far after maybe 10 nights.
Provided that you find that sweet spot pressure, it's comfortable — of course that holds true for any inflatable. The valve has worked well... no issues there. Interesting chamber design, I think it helps to keep the pad from rocking you around when you move around... like some with orthogonal chambers.
Source: bought it new
Price Paid: ~$50

Great when compared to any type of sleeping pad, incredible when you add in how small it packs up.
Pros
Packs small
Easy to inflate
Comfortable
I like my tent. I don't really like my sleeping bag, but I absolutely love the Klymit Static V sleeping pad. It is far more comfortable than the big fold up pads, yet it packs up to about 1/10th the size, and costs roughly the same. I would definitely recommend this to anyone as part of their sleeping system.
Source: bought it new
Price Paid: $60

Waited too long in sleep discomfort!
Pros
Lightweight
Comfortable
Compact
Cons
Not insulated
Few minutes to blow up
After years of Therm-a-Rest that are just not enough cush for getting-older-bones, I stumbled on this pad from an on-line sale. Five nights on the trail proved this was the new way to go.
Very impressed! The shoulder and hip pain is gone, as is the sliding around and ultimately off the self-inflating pad. Easily folds up and packs away out of the weather.
Source: bought it new
Price Paid: $55 Cdn

Why sleep poorly anymore?
Was searching for more comfort sleeping outside, was gonna buy the NeoAir until I saw this product by Klymit. $45 delivered to my door two years ago. Weight was as advertised.
Yeah, you gotta blow it up, but who cares. Size of a Nalgene, 19 oz, $45, and 2.5 inches of snoozing joy!
Source: bought it new
Price Paid: $45

I just ordered this sleeping pad because the science behind it makes sense. The baffles are what sold me on the product. My wife and I will each test one.
Pros
Super light.
Packs small.
Cons
You have to blow it up with your lungs.
Just ordered this and am waiting to write a full blown review. This has got to be the lightest and toughest inflatable air mattress in its class. I watched a Youtube video of the CEO of Klymit jumping on the air mattress that was placed on a bed of rocks. 
I am replacing my REI Camp Bed 3.5 because it's too bulky and heavy. This air mattress is less half the price and weighs about 70% less!
Source: bought it new
Price Paid: $59

Your Review
Where to Buy
Help support this site by making your next gear purchase through one of the links above. Click a link, buy what you need, and the seller will contribute a portion of the purchase price to support Trailspace's independent gear reviews.
You May Like
Specs
Price
MSRP: $59.99
Current Retail: $19.00-$79.99
Historic Range: $19.00-$79.99
Reviewers Paid: $45.00-$60.00

Weight
18.7 oz

Dimensions
72" x 23" x 2.5" / 182.9 cm x 58.4 cm x 6.4 cm

R-Value
1.3

Inflation
10-15 Breaths

Pack Size
3" x 8" / 7.6 cm x 20.3 cm

Fabric
75D Polyester