Sierra Designs Zissou 23

The Zissou 23 has been discontinued. If you're looking for something new, check out the best 3-season down sleeping bags for 2023.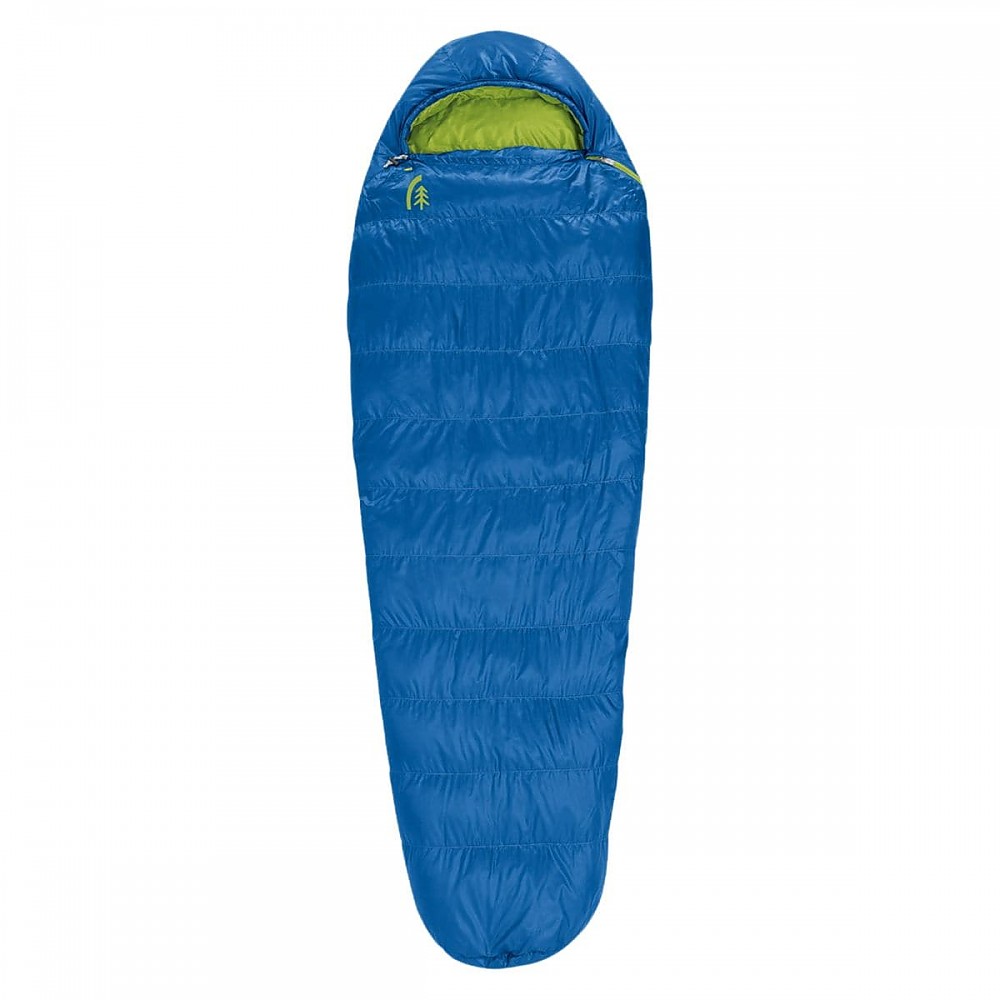 Comfortable down to 30 degrees. Good amount of room for larger people. Could benefit having draft tube at neck area. Wasn't able to test the DriDown, but that's a good thing.
Cons
Lets air in around neck
Drawstrings hard to pull
Having just purchased this bag, I immediatley went on a camping trip and tested it out.
First mistake: I forgot my 3" pad. Only thing I had was a quilt/comforter in my car to sleep on.
What did I learn from that mistake? NEVER forget your sleeping pad when using a down sleeping bag! You NEED that bit of insulation from the ground.
The temp got down to 25 degrees, I was comfortable with just a thin base layer down to about 30° (without a pad, mind you), but the ground was downright chilly after that.   
I really think that with a good pad, I would have been cozy down to 25°.
Second mistake: this is my first mummy bag. I soon realized after it got to 35 that tightening the neck and head pulls helped keep the warmth in and the cold out.
This bag is ROOMY. I'm 6'1" and 235 lbs. I did get the large version of the bag, so I had a few inches at the feet, no big deal, stuffed my fleece jacket around my feet. The shoulder and hip room was quite generous, allowing me to side-sleep comfortably.
Zippers went up and down easily, thanks to a fabric tape that runs behind the zipper, only snagged once in the dark. This bag lofted a good 3 inches, and actually packs down quite small.
Source: bought it new
Price Paid: $225

I purchased this bag in October to use for fall and spring camping trips. I am confident the bag is plenty warm enough for this time of year where I live (Ohio). It is lightweight and compresses easily into the small stuff sack that is provided.
Pros
Lightweight
Compressible
Warm
Quality workmanship
Good value
Cons
Cold penetrates from the ground through the bottom of the bag
I recently purchased this bag to reduce the amount of weight I carry. It is very light and compresses nicely into a very small size. It puffs back up easily after removing it from the stuff sack.
I have slept in in with temperatures in the 40s and I stayed very warm but I did find that the cold ground penetrated through the bottom easily (and through my Therm-a-Rest NeoAir). I noticed cold spots on the bottom pretty much all night. This may also be true of other bags of a similar cold rating. With a more insulated sleeping pad this would not be a problem. I am a cold sleeper and would probably be comfortable into the low 30s.
The drawstring around the hood was difficult to close when I was inside of the bag. The bag zipped easily and did not get caught on the draft tube so it was easy to get in and out of. By the way, the zipper does not go all the way to the foot box. It stops about 12 inches or so above it.
I'm 6 feet tall so I bought the large size. I could probably fit in the regular but I like the extra room. In terms of fit, I was very comfortable in it and had a little room to move around (I am 165 pounds). 
I only have two trips with this bag so far, both in Ohio in October and November. It has been unusually warm this fall so I haven't had the chance to try it in temperatures as low as it is rated to. I do plan on using my old Army poncho liner underneath the bag the next time I use it to provide a little insulation from the ground.
The bag seems well constructed and contains the down very well. I have not noticed any feathers pushing through the material. I did not test the DriDown and with any luck I won't get a chance to.
Source: Ordered on-line

I picked up this bag to reduces weight and space usage in my pack. I have used it down to about 15° and it has performed flawlessly.
Pros
Lightweight and compressible
Warm
Regains loft quickly
At just over two pounds it helped me reduce weight while saving room by putting it in a dry bag and really compressing it into whatever shape I need. There is enough room in this bag to be able to pull a leg up under myself in a crossed leg fashion. I am 6'0" and roughly 220 lbs and have plenty of room in length and width.
The left entry zipper works well with my tent as it is also a left entry. The two way zipper allows for temperature control by allowing air in when needed simply by opening the bottom of the zipper. Dual drawstrings around the head make it easy to adjust the fit of the mummy portion depending on temperature.
One feature that is nice about the way it zips is that the zipper does not extend into the footbox area. This prevents drafts around your feet and maintains the shape of the footbox.
Source: bought it new
Price Paid: $225

Nice, light, warm bag. Compresses really nicely.
Pros
Packs down small
Retains heat well
Cons
Sometimes zipper "sticks"
Warmth: I've NEVER been cold in this bag, even down to the low 30s.
Fit and Comfort:  I'm 6ft 2in, roughly 195 pounds. Plenty of room for me. I'm a "side sleeper." Bag "rolls" with me as I readjust throughout the night.
Entry & Exit: I've found this easy to get in and out of.
Moisture: Never been an issue, even with condensation from inside your tent.
Packability: Packs down really small inside a waterproof stuff sack...  Big plus! Fits easily in the bottom compartment of my backpack.
Loft: Loft returns pretty quickly after getting it out of the stuff sack.
Conditions: I've used this on multiple cub scout and boy scout camping trips. Only have one Smoky Mountains backpacking trip. Got pretty cold and the bag did not disappoint!
Overall I'm really satisfied with this sleeping bag!
Source: bought it new
Price Paid: approx $200 (don't remember)

Affordable and light, but easy to rip.
Pros
Lightweight
Comfortable
Reasonable price
Cons
Super light nylon easily ripped
Be careful with this bag and clear the area of sharp objects where you sleep. The nylon is super light and it'll rip before you can say "police brutality." Otherwise a great bag.
Source: bought via a "pro deal"
Price Paid: $100

Your Review
You May Like
Specs
Price
Historic Range: $189.95-$259.95
Reviewers Paid: $100.00-$225.00