Therm-a-Rest ProLite 3

Top 25 in Self-Inflating Sleeping Pads
The ProLite 3 has been discontinued. It was replaced by the Therm-a-Rest ProLite.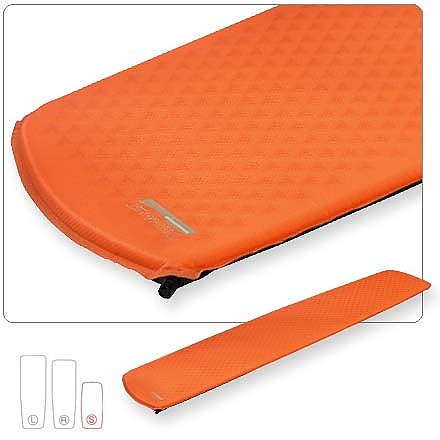 A very dependable, comfortable, and durable pad that has served me very well for more than 15 years in the US and China. I have used it in snow and hot weather, have never had a leak, and it has helped to keep me warm and comfortable for many, many nights in tents, shelters, and under tarps.
Pros
Lightweight and comfortable
Very durable if you use a ground cloth
No leaks in many years
Cons
Potential for leaks
Some heat transfer on cold ground
It's been very durable and comfortable for me. I've had it for more than 15 years and have had no leaks. I use a groundcloth under my tent or tarp and am always careful to look for anything sharp or pokey before bedding down.
I think it's not quite suitable on its own for winter camping, but I have used it on snow with a cheap foam pad underneath and also with a space blanket underneath. With the extra barrier underneath the Therm-a-Rest works great, both warm and comfortable. I don't think it's worth the money to buy a four-season pad. Adding a few ounces with a space blanket or 3/8 or half inch pad gets the same results in my book, so the Therm-a-Rest is quite versatile for four-season camping.
I also use it as a cushion on a wooden sofa at home, so it gets year-round use.
Source: bought it new
Price Paid: I don't remember. I think it was on sale.

This pad is lightweight, packs well, and is pretty comfortable if you sleep on your back, but mine popped about 8 miles in the Colorado back country on day 2 of a 8 day hunt. A small thorn (more like a splinter from some sort of weed) popped it, and it would only stay inflated for about an hour.
I packed out and bought a foam pad (1/4 of the cost) and it was about as comfortable, and cannot pop. I don't think I will do the inflatable route again as it was unreliable for me, and I don't want that to happen when I am 15 miles and a few thousand feet from a trailhead.
Having some loft in sub freezing temperatures is important, and the foam mat did a great job.

Price Paid: $90

So far this has been a marvelously light and durable pad. I'm a side sleeper, weigh 140 pounds, and it gives me the insulation and padding I need to sleep decently; ymmv. I strap it to the outside of my pack, and so far haven't needed to patch it!
Price Paid: $80

Version reviewed: Short
I use the ProLite 3 Short with my MSR Microzoid for fast overnight trips and it's great for that purpose.
Unfortunately, I tend to sleep on my side and this pad is much too thin for that. However, if you sleep on your back, this pad is perfect.
I'm 5'8", male, 150# and prefer to pack light and go far.
Price Paid: $80

A good balance between weight, size and comfort. Inflates easily, rolls up easily, just thick enough that I don't feel the ground, but I'm only 63kg. Heavier guys might find it too thin, and not suitable to sub zero climates either.
Not giving it a full 5 stars cause:
1: the valve feels flimsy and spins freely when unscrewed. Almost impossible not to leak a little air when screwing in the valve
2: For the price it should have come with a stuff sack and repair kit. Other cheaper brands do. But you get the lifetime warranty from the company, which I heard from a friend, is good to their word.
I love this tiny ground pad! I have the short version. This has all but replaced my original, full length therm-a-rest. In the summers I trip lead and live in my camping gear. When packing lots of gear for groups and dealing with kids' excessively large sleeping bags it is great to have small gear of my own. It is great for backpacking, as it is so small and light weight.
I am planning on getting a full length ProLite 4 for below-freezing weather. When conditions dip into the low 20s I can feel the cold through this pad. I do not see this as a problem with the product, as I do not expect a short, 3-season pad to perform exceptionally well much below freezing.
Lightweight, compact, and comfy!
This pad is tough too. My friend put a set of car keys under and we laid on the pad and didn't feel a thing. Worth the price and and easy to use/pack.
Price Paid: $90

I used this pad on my 800 mile bike trip from Seattle to San Fransisco, and I liked it very much. It fit very well onto my bike, and was much lighter than the sleeping pads my peers carried. I loved that it was a full length pad, that was short enough to accomadate my 5'2" frame without the extra 6" for me to carry around.
It is rather thin, so on hard ground (ie concrete), it's not comparable to any 4-star hotels, but anywhere else it is just fine. It also seems to be very sturdy (I was the only person in my group who didn't have to buy a patch kit). I would hightly recommend this pad!
Buy this pad! It is very comfortable, warm on colder nights, and commpressible. I have had mine for two months and already I'm in love with it. Great bag!
Awesome pad! Rolled up it's only a little bigger than a Nalgene bottle and unrolled it doesn't leave your feet hanging over the edge. Don't think you're sacrificing much comfort with its minimal weight either.
Update: August 15, 2006
A piece of equipment too many take for granted, a good sleeping pad can mean the difference from remembering a mountain as beautiful or just a piece of rock. All of Therm-A-Rest's pads are wonderful as long as you choose the right one for you. The ProLite 3 is no exception being durable, a well-thought design and comfortable.
- If you're considering this pad one could assume your first priority would be weight/size, and being the size of a short loaf of bread and only 20 oz it has never hindered me.
- On the comfort side of things this pad won't make you feel like you're on your space age material bed with silk sheets but it won't have you stirring around all night. I usally stuff the stuff sack made for it with extra clothes to use as a pillow.
- Lastly the design and durability of the product. The ProLite has a very obvious top and botom because the bottom is a coarse thicker material so it won't slide around under you as you try to find the right position. The valve is well molded into the edge of the pad and I have no fear of it leaking after two years of service.
You see lots of them on the trail for a reason.
Price Paid: $79

When this puppy is rolled up and ready to be stowed it's hard to believe it's a sleeping pad. This pad is what ultralight packing is all about. Very nice in the summer, but for colder weather go with the Prolite 4. I've had three Therm-A-Rest pads and they are all in great shape after years. Great products.
Price Paid: $60

Your Review
You May Like
Specs
Men's
Price
Historic Range: $11.83-$84.99
Reviewers Paid: $60.00-$90.00

Women's
Price
Historic Range: $35.82-$94.95

Recently on Trailspace