Dion Snowshoes 220 Back Country Frame

The 220 Back Country Frame has been discontinued. If you're looking for something new, check out the best backcountry snowshoes for 2023.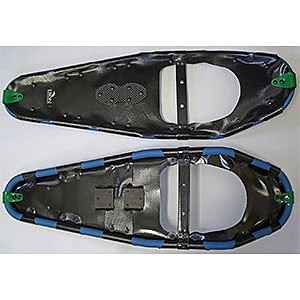 Excellent performance and clever modular design.
Pros
Excellent performance in deep snow and on packed trails
Modular design allows changing of bindings and cleats
High quality construction made in the USA
Flex hinge system that does not flick snow
Stainless steel cleats designed to resist snow and ice buildup
Excellent Quick Fit bindings using special velcro
Cons
Avoid the awful Secure Fit bindings
Standard cleats build up ice balls
I snowshoe almost every day in the winter and have used many different brands including Red Feather, Tubbs, Atlas, Crescent Moon, MSR, and an ancient pair of modified bear paws. Although I weigh 174 lbs., I almost always use snowshoes that are actually large enough to allow travel in deep snow conditions.
In the relatively short time I've owned these modular Dion 220 shoes, I've been overwhelmingly impressed with their superb quality and performance, far more so than with any other snowshoes I've ever used.
The Dion 220s are not perfect. I used the shoes with the standard cleats and found that they built up snowballs (in 30-deg plus conditions) beneath the soles of my boots at the toe and in the front cleat itself. But, that clever Dion modularity allowed me to swap out the standard for the stainless steel Ice cleats, which I found to be far better on both trail and in deep snow. These stainless steel ice cleats had no such snow build up under the same conditions as I used the standard cleats.
The Secure Fit bindings are so bad they should never be sold for use on a snowshoe. They hold your boots securely in place alright, but require great effort to adjust and make it very difficult to remove your boots from them once you're out in the real world of ice and snow. Once again, that incredible Dion modularity came to the rescue. I exchanged those useless Secure Fit bindings for the Quick Fit bindings and had no problem at all with either the adjust-ability or boot insertion and removal.
These Quick Fit bindings have Velcro straps that allow for rapid adjusting and boot removal. They don't become iced up and they hold the boot securely. They are cleverly simple and I like them better than most fancier and more expensive bindings I've tried. They also come with a bunch of extra replaceable straps in a variety of sizes, so you can fit just about anything up to an old military style mouse boot into them.
Performance is the best feature of these 220 snowshoes. They are lightweight and highly maneuverable, both on packed trails and deep snow. The hinges on all Dion snowshoes are of the flexible variety, and I expected that annoying snow flick from their tails. However, these largish snowshoes just don't suffer from that malady, like Atlas shoes I've owned.
The flex hinges on the Dions are strong enough to provide plenty of lateral and torsional stability yet flexible enough to allow the boot to remain relatively upright while the snowshoe is at an angle on cross-slope traverses. The Dion 220 snowshoes offer excellent float in deep soft snow. Maybe not as much as a full bear paw shoe, but close. The flex hinge allows the shoe to be backed out of trouble whereas a fully rotating hinge does not easily permit such a maneuver.
To summarize, the Dion 220 snowshoes — ordered with the Quick Fit Bindings and stainless steel Ice Cleats — are excellent for just about any winter snow condition you might encounter. They are NOT racing snowshoes, even if they do feel as light as a feather on your feet and allow you to get up quite some speed on packed trails. They are intended for backcountry use and are large enough to provide the necessary floatation needed by people who actually have to get around in a variety of snow conditions.
Source: bought it new
Price Paid: $305

Your Review
You May Like
Specs
per pair, frame only
per pair with Deep Cleat and Large Binding
Price
Reviewers Paid: $305.00

Weight
3 lb 4 oz
3 lb 15 oz
Overall Size
9.5 in x 31 in with 3/4 tubing (220" FSA)

Recently on Trailspace