Eddie Bauer First Ascent Guide Gloves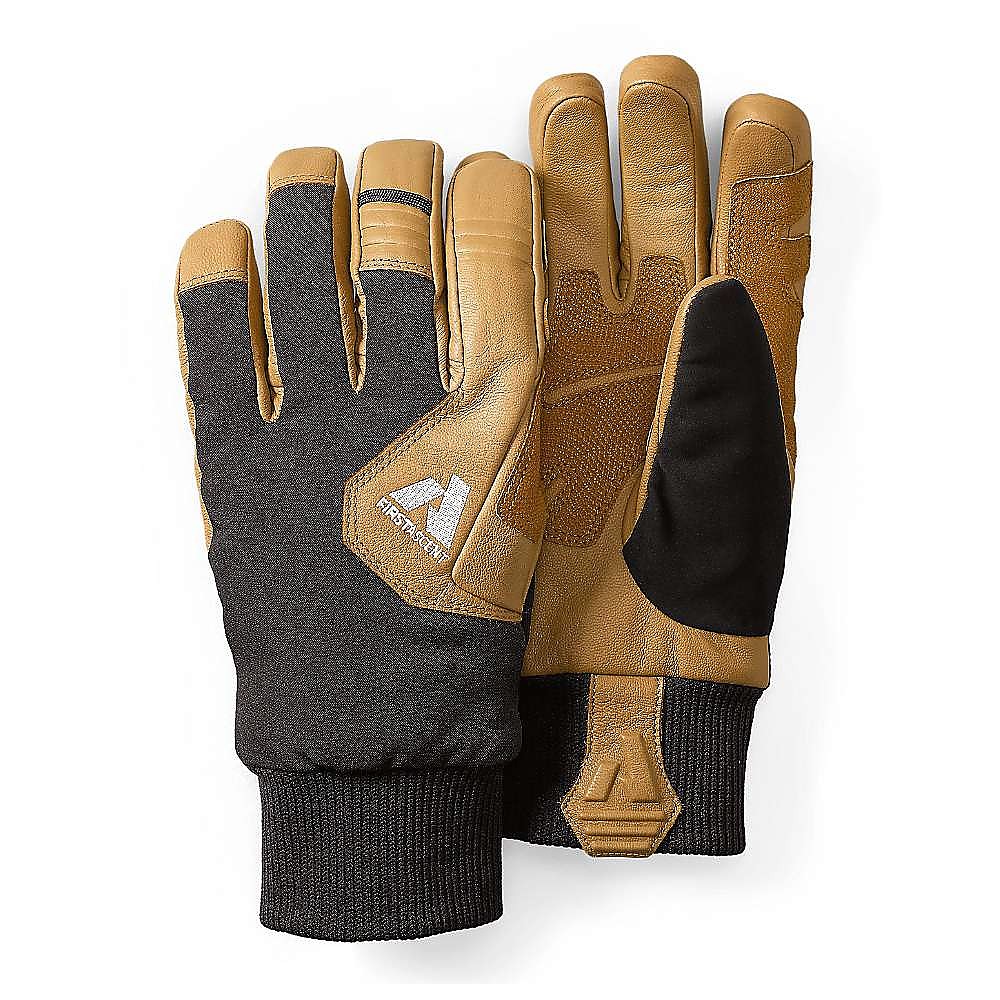 A very good winter glove for all but the coldest weather. A nice combination of warmth and freedom of movement. Very nice leather palms. Not waterproof, and leather needs to be treated periodically. Also, no gauntlet or leashes.
Pros
Warm
Comfortable
Reasonably good hand movement
Sale pricing
Cons
Not waterproof
Not up to the coldest weather
For me, this is the glove that bridges between cold (30 degrees) and very cold (zero degrees) for most pursuits.  The gloves are insulated with Primaloft, with twice as much insulation on the back of the hands as the palm.  Regular price $129; purchased at one of their 40% off sales for just under 80 bucks. At that price, a great deal.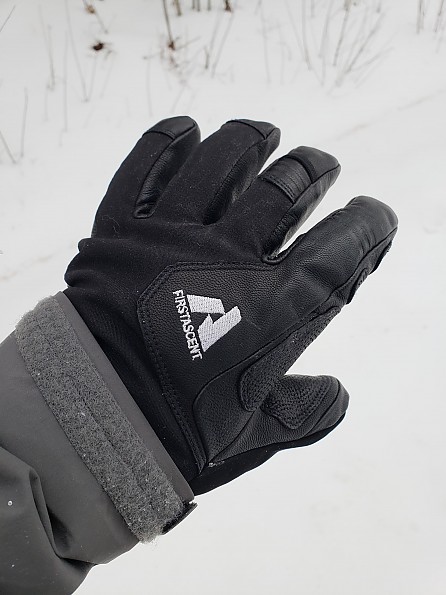 Back of the hand. Note that leather covers backs of fingers, but the back of most of the glove is nylon. Note the loop on the second finger for hooking with a carabiner if needed.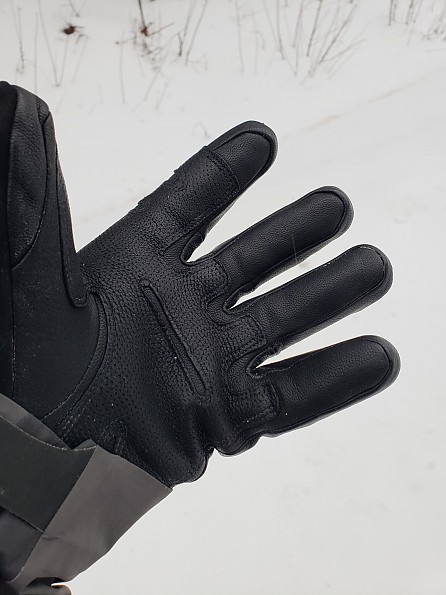 Palm—leather covers fingers and a double layer of leather at the palm.  


Another view of the palm, note how part of the palm is doubled up. I like the smooth piece on the wrist because it makes them easier to take on and off. As both of these photos show, the wrist is knit, made to fit under your shell or jacket, not a gauntlet. Also, no leashes.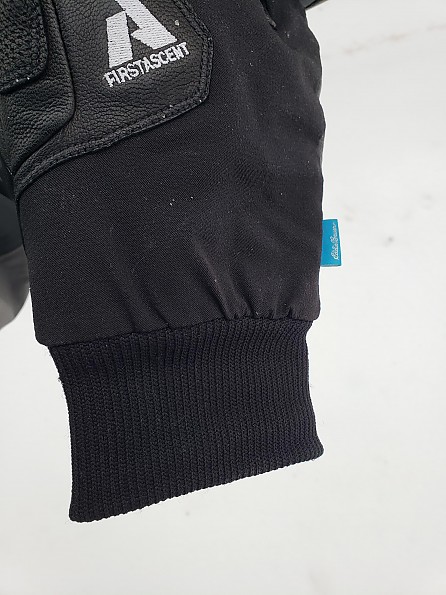 Another palm view below. I'm not sure why the palm has that little split/strip in the middle.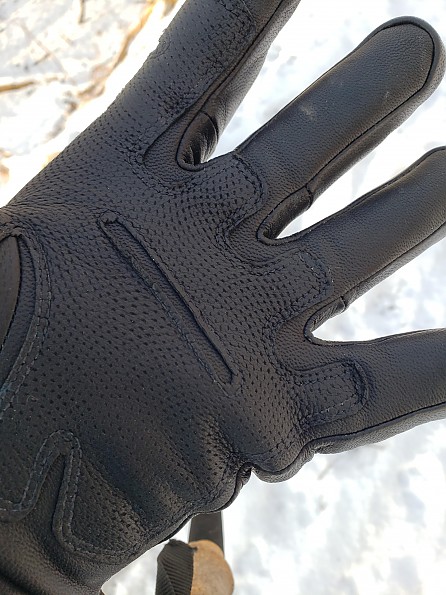 Fit is average. It's a fairly close-fitting glove. I do not wear them with any kind of liner, and wearing a liner would probably compress the insulation, so no real advantage to combining with anything but a very thin liner (silk or wicking nylon).  
OK, SO HOW WARM DO THEY KEEP YOUR HANDS?

Preliminarily, the clothing you wear otherwise has a huge impact on how cold your extremities get. If you wear the right gear for your core, your fingers and toes will tend to feel happier than if if you miscalculate and don't layer up or down (if you're too warm and sweat you get chilled; if you don't have enough layers and your core chills, no glove will keep you warm).
I picked these up six weeks ago. For better or worse, I have taken several hikes in temperatures ranging from zero to 25 degrees in these. In the colder temperatures, 0-15°, my fingers tingled for the first 15-20 minutes of the hikes, but as I warmed up from hiking and working, so did my fingers. I would not want to be standing still in zero degree weather with these for long periods of time, but for moving and being active, they work well for me, even at zero.  
Consequently, I think these would serve as a really good ski glove except for extremely cold days.  conversely, assuming you keep your core temperature well-regulated, you might find these too warm for nordic skiing, climbing mountains, or snowshoeing unless it's very cold outside; for those high-output pursuits, i tend to favor a thick polartec fleece glove that's not windproof or in a shell, perhaps worn with a fleece windblock glove.  

HOW DO THEY DO HANDLING MOISTURE?
In the conditions I use these for, rain isn't an issue. I hiked a few hours in central Massachusetts in showers of ice balls (freezing rain, sort of) with no problems. The knit interior lining (lining is not removable) transports moisture pretty well, but i don't tend to have sweaty hands. If you tend to run cold and use these in above-freezing weather, and it rains, the nylon back isn't waterproof, and the leather needs to be treated with some conditioner (I used Limmer boot grease after using them for about a month).
WHAT ABOUT MY ABILITY TO USE MY FINGERS?
As you might expect, these are a compromise. These give you much better use and touch with your fingers than my deep cold glove, Black Diamond's Guide Glove. At the other end of the range, you'll fine that a relatively un-insulated guide or work glove, or a power stretch fleece glove with a leather palm, give you more finger sensitivity and freedom of movement than the First Ascent guide glove. For something you can wear in single digit temperatures, though, they're quite good and don't feel as bulky as other solutions I have used before.  
Fingers are mildly pre-curved, which makes them more comfortable.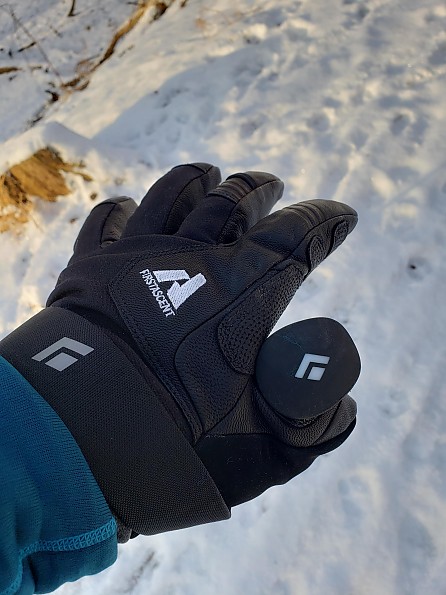 Morning hike, 15 degrees. Using trekking poles.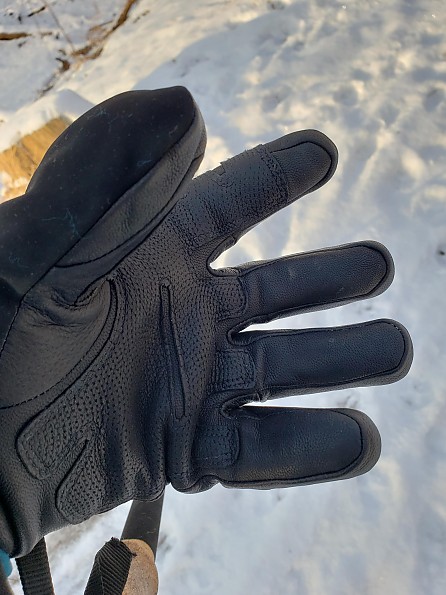 SUMMARY/TAKEAWAYS
Best glove I have used for this temperature range, hands down. (Pun intended.) I find the First Ascent gear to be hit or miss—not a big fan of their down sweaters, for example, and a fleece a family member has is fine without being great. These gloves, on the other hand, are outstanding for their intended use and an excellent deal during one of Eddie Bauer's numerous sales.  Highly recommended. 
Background
Six weeks of hiking and walking the dog in cold weather, temperatures ranging from 0 to 25 degrees F. Often used with trekking poles.
Source: bought it new
Price Paid: $78

An insulated, (mostly) leather glove which balances warmth with excellent dexterity. Adequate weather protection for all but the worst weather, very high durability and a perfect fit make this the best glove option I've found.
Pros
Fit
Durability
Dexterity
Warmth (Primaloft insulation)
Carabiner loop
Nose wipe
Cons
Cost (if bought full price)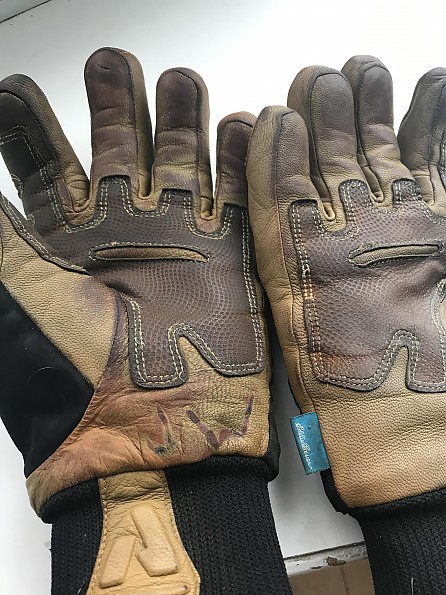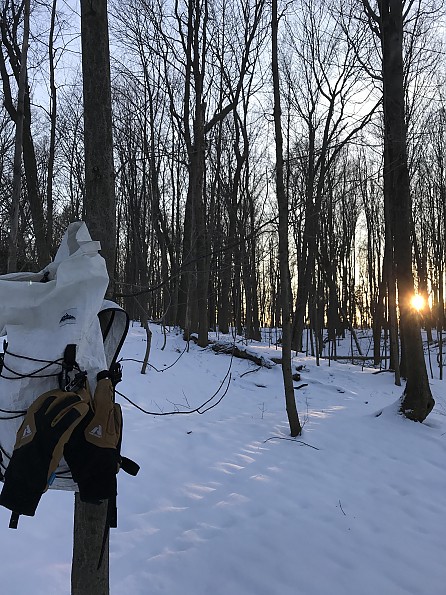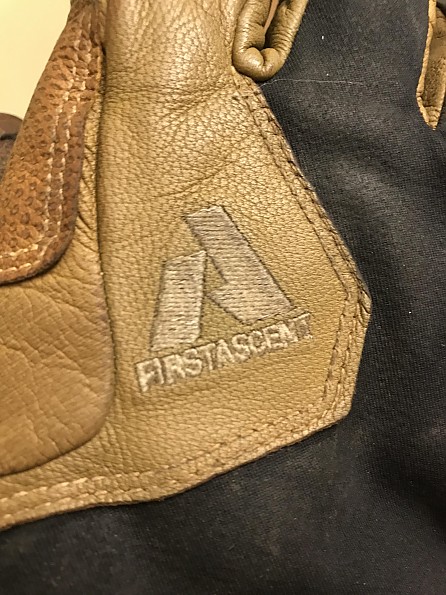 FIT AND COMFORT
When it comes to gloves the fit is paramount. Like footwear, it doesn't matter how good the product is, if it doesn't fit you properly then it will not function very well. Many other articles of clothing you can get by with a less then subpar fit. If a glove is too big then it will fit sloppily and take away any dexterity, too tight and you risk cutting off circulation and hence the warmth.
Moreover, buying gloves online can make it difficult to get the right fit. Online size guides provide only so much information. I've included a diagram/tracing of my hand in hopes of helping get correct sizing...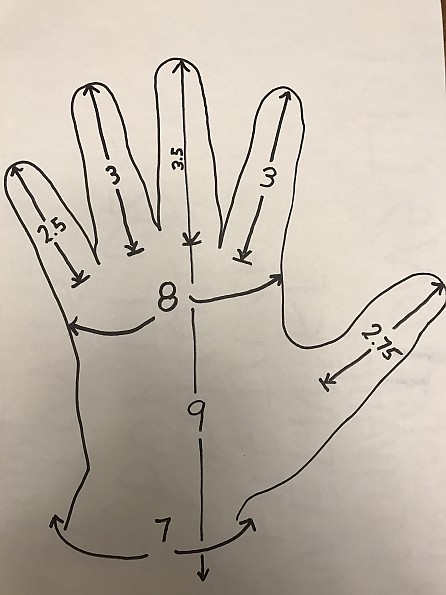 (My hand tracing including measurements, I bought the size large)


Now on to the specifics of the fit. I have large hands, but relatively slender fingers. The glove were slightly tight (but not uncomfortable) when I initially purchased them. I did that on purpose as the leather will stretch slightly and mold to the hand with repeated wearing. They now fit me like a glove….sorry, I had to.
My wrists are average/small size (7 inch circumference) and find the cuff to fit great. It sits tight to the wrist and allows it to slide under jackets well while also keeping the snow out. The cuff comes up 2 inches to ensure there is no gap between your jacket and the glove.
WARMTH
To preface this section, I have perpetually cold hands (like they are cold to the touch even in the summer level cold), which is compounded by the fact that I have gotten frostbite on my thumb and pointer finger of my right hand, making them extremely sensitive to temperature swings. 
I've found these gloves to be warm enough at low exertion levels (standing, light walking) down to about -5 celsius. If you are working hard (hiking uphill, ice climbing, cutting/sawing firewood) then I can push them to -12 celsius or so. Anything below that and I am switching over to mitts.
These mitts use Primaloft to keep the digits from freezing. Eight oz Primaloft Gold is used on the back on the hand (often more exposed, think gripping an ice tool, axe, shovel, or snowmobile handlebar), and 4 oz of Primaloft Gold Eco on the palm to maintain the dexterity. I've found the insulation does pack down. That's bound to happen when you are repeatedly compressing it, but not so much that you lose warmth like you do with many other gloves.
One of the recent cutbacks to the Guide Glove has been the omission of the merino wool lining. Previous iterations had a part merino wool lining (I don't remember the exact percentage), but it seems they were axed (probably in the name of cost savings). It's just a standard micro fleece lining now, nothing wrong with it, but it was better in the past.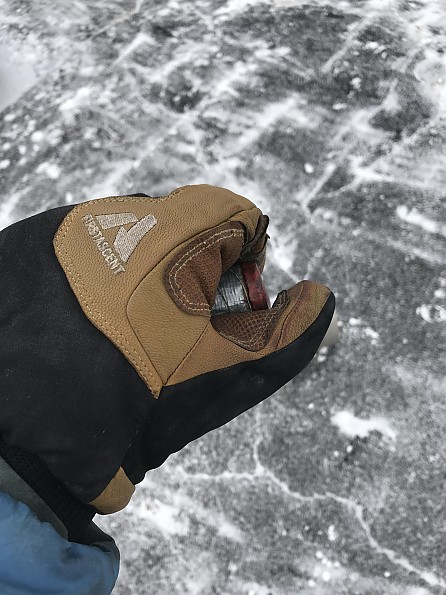 DEXTERITY
Finding a glove with both warmth and dexterity is difficult. The two are usually at odds with one another, you need enough insulation to keep the digits warm, but that same insulation rarely moves and bends well. I'm not saying these gloves have reinvented the wheel, but I do believe that they have found that sweet spot for both. As mentioned above, the Guide has double the thickness of insulation on the back of the hand as opposed to the palm, this greatly increase the hand feel. 
The leather on this glove will take some time to break in, as will all quality leather, but it will also form to your hand, increasing the flexibility.
This is one of very few gloves that I've ever found that I can do both small, fine motor tasks without removing the glove, while also keeping my hands warm enough.Whether it's small zipper pulls on a jacket or backpack, tinkering with your rack, tying knots, operating your stove or adjusting your tent stakes, all can be done without removing the gloves.
The gloves come with a pre-curved shape which helps the hand rest in a natural position.
WEATHER RESISTANCE 
The Guide Gloves are mostly leather with no wp/b lining. That is to say they aren't waterproof; they don't need to be, you shouldn't be wearing these if there is liquid water. You can greatly control how water resistant these are though by apply an aftermarket leather preservative (the best one made is by Obenaufs Heavy Duty LP). This will help to repel water, block wind increase grip and preserve the leather. I highly recommend doing so.
The back of the hand is covered by a soft-shell (89% nylon/ 11% polyurethane) with a DWR applied (the DWR does nothing, water absorbs right away). Again I believe Eddie Bauer is going backwards with this design as the back of the hand used to be covered in more leather, which I'd prefer. Easier to treat, warmer, more durable, but I guess the idea was to increase the breathability with the soft shell. I don't even know what sweaty hands feels like, so give me the warmth over the breathability. Wind rarely gets through, only on occasion through the back of the glove when the gusts are strong enough.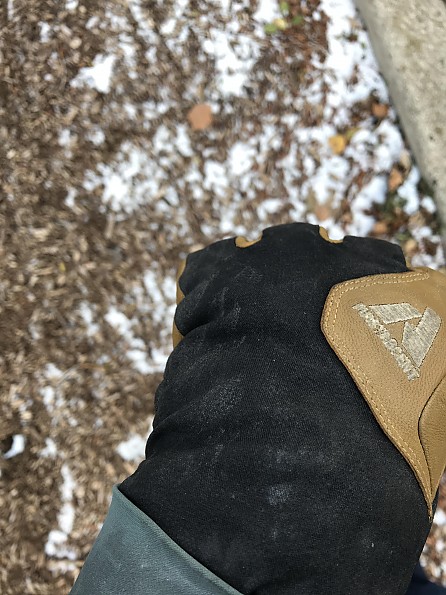 (Most of the back is now soft shell)


LAYERING
These glove don't work well with others. They are designed as a standalone unit, so they don't fit under any over-mitts (too bulky), nor can you fit any liner gloves under (that is if you've fit them properly, if you've sized them big enough to fit a liner then you are losing all your dexterity).
You can make the argument that a liner and a pair of over-mitts is more versatile for the same weight and warmth, and you'd probably be right. A common setup for ice climbing is a highly dexterous (but only minimally warm glove) to climb in, and then slip some mitts on over when belaying. The thin gloves should be warm enough while climbing (very high exertion), except if you are me and your hands are cold when most others are warm. Hence my need for an overly warm glove. To me it's also nice if it's not brutally cold out to have a glove that I can both climb and belay in without having to switch on and off.
DURABILITY
At the risk of throwing out the over-used term—bombproof. All leather palms and fingers with an additional layer over high wear areas. Ski edges, running ropes, or placing ice screws all place varying degrees of abrasion and puncture risk on the glove, which the Guide laughs off with ease.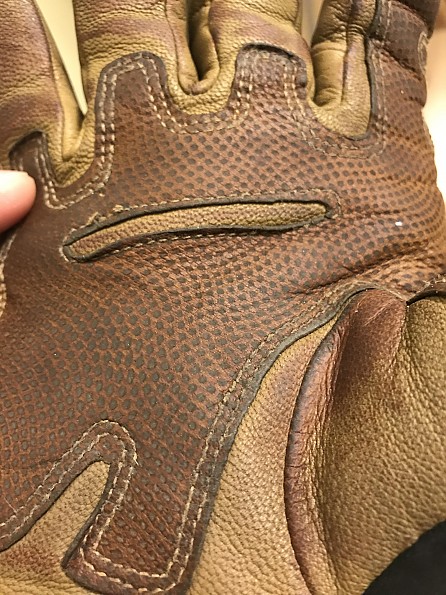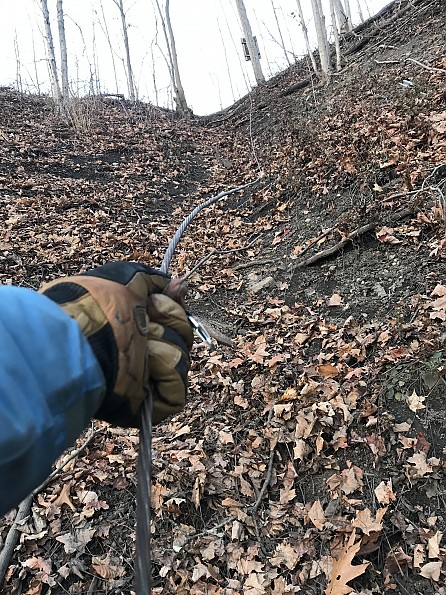 (One of the local hiking trail has an old metal wire which is fraying and is quite sharp at some parts. Unfortunately it's the only way to this lesser known trail, so gloves are a necessity, durable ones preferably!)


In keeping with my "the old versions were better" theme the Guide used to be made with Pittards leather which is a premium, quality leather. That's has been switched to a goatskin leather, again downgrade. Nothing wrong with this version, but if you had a previous model (as I did) then you will still know. I still don't see anything ever breaking these down, far more likely you'll end up losing them (or one, as I did).
A risk of some gloves is when pulling them on the potential is there to rip the cuff. The Guide has added a leather portion to the cuff. I've seen no fraying or pulling here, a usually high wear area.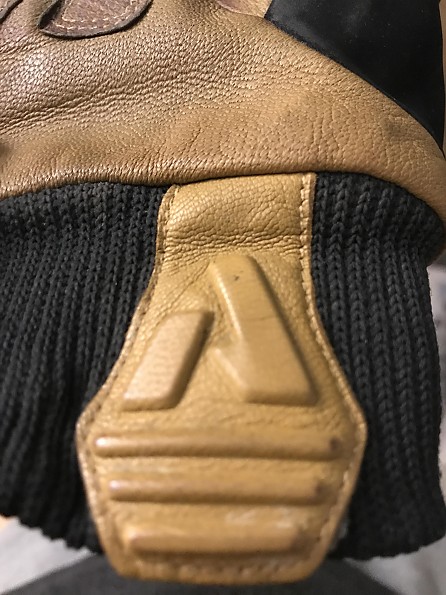 EXTRA
Because they are leather they are easy to personalize. It's possible that multiple people in your group have these gloves so make sure you know which ones are yours, also keep people from stealing them! If they don't, it just looks cool.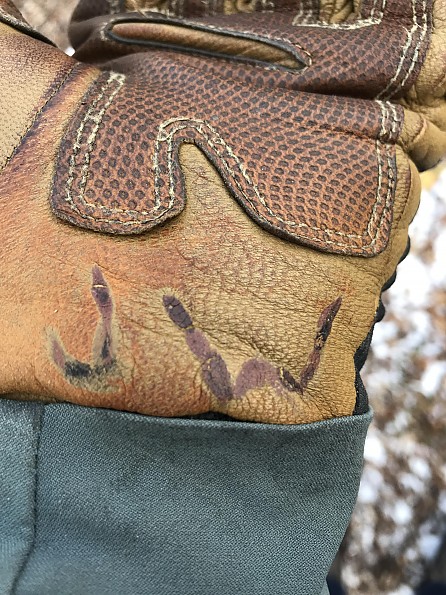 (They can be branded with pretty much anything, I used an old safety pin and a lighter)


A word or two on the pricing. There gloves retail for $165 Canadian…1…6…5. That is borderline insane to me. Especially because Eddie Bauer has 50% off sales at least three or four times a year. At a far more reasonable $80 these cross the line into good value in my opinion. Wait for the sale price.
Pretty standard feature but a necessary one, there's a loop on the middle finger of each glove. Makes it easy to clip them to your harness if you are not climbing in them. They hang upside down to keep snow from falling into an open cuff.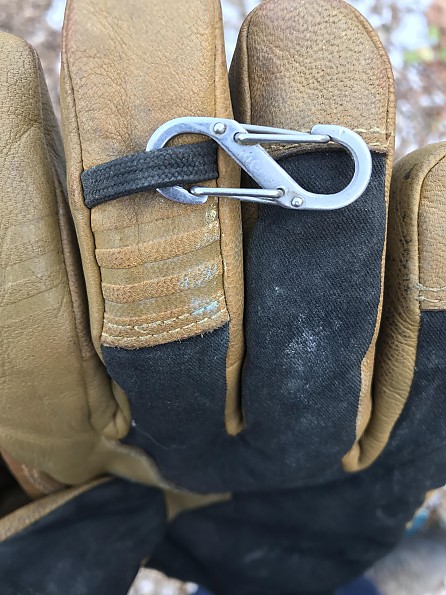 (I keep this little one on at all times. Makes it easy to clip them together, or attach to harness or backpack.)


They've got your comfy nose wipe on the backs of the thumbs, never really appreciated until you buy gloves without them.
Probably a personal thing, but I just love the look of a natural leather patina. A well worn representation of the fun trips you've taken them on.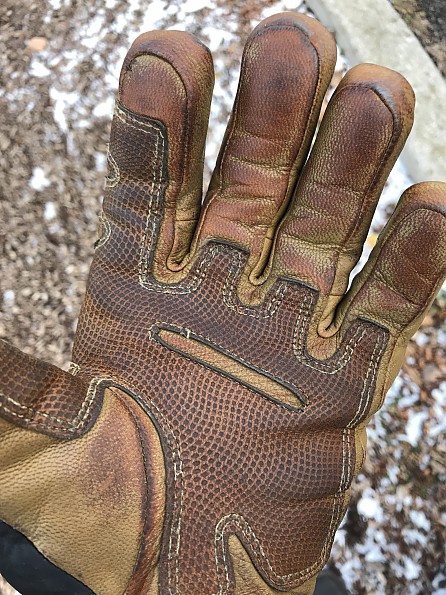 Now you may be saying to yourself, "Yeah hiking/skiing/mountaineering/climbing is cool and all but what about far more domestic uses?"
Yep I can hold a Bourbon Barrel Aged Stout...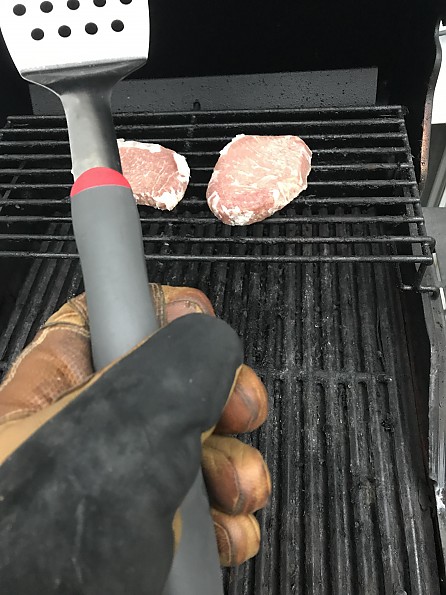 ...while BBQ'ing. What more does the urban Dad need?!
Background
I have had these ones for a year now, and a previous pair for over two years.
Source: bought it new
Price Paid: $82.50

Your Review
Where to Buy
Help support this site by making your next gear purchase through one of the links above. Click a link, buy what you need, and the seller will contribute a portion of the purchase price to support Trailspace's independent gear reviews.
You May Like
Specs
Price
MSRP: $129.00
Current Retail: $111.75
Historic Range: $69.99-$111.75
Reviewers Paid: $78.00-$82.50

Recently on Trailspace