Eddie Bauer First Ascent Peak XV Down Jacket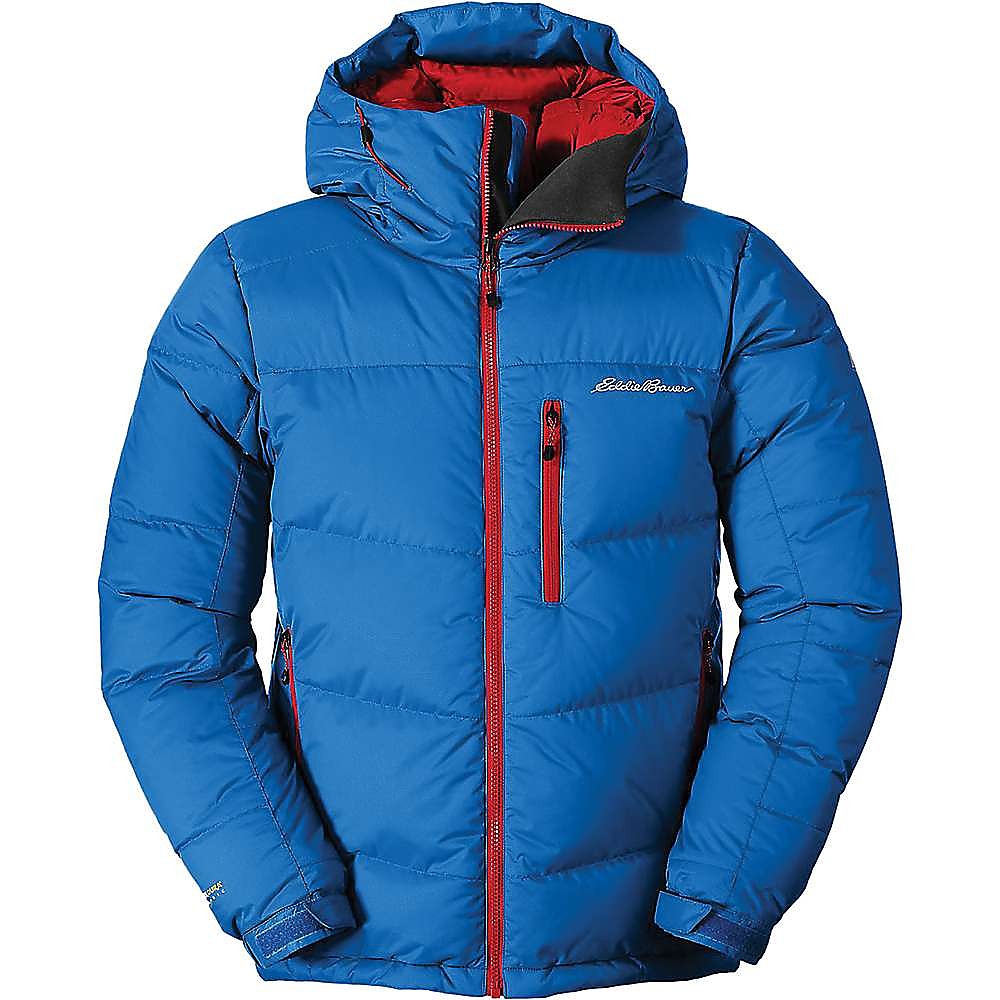 The Peak XV is a full-featured winter down parka that is built for abuse. I say that because in addition to being stuffed with 850 fill power down, it has an outer shell that is heavy and sturdy (keep in mind this is the jacket as purchased in 2012; it's still sold but has probably changed some over time). The jacket is extremely warm and durable. On the downside, it only has limited room for layering, and the baffles in the sleeves allow more shifting and possible cold spots than I would have liked.
Pros
Extremely warm
Simple but useful features
Nice puffy hood
Burly outer fabric
Good range of movement
Cons
Bulky and heavy
Baffling in sleeves
Would have preferred more room for layering
INTRO/UPDATE:
When I first reviewed this jacket, it was a preliminary look without having worn it. That was several years ago. I have now worn the jacket on a number of winter trips and in very cold weather. I'm going to insert updated observations at various points in italics rather than completely rewriting the review.
INTRO:
As noted, I have not yet used the jacket but wanted to provide some basic information. This will replace the down jacket I use to stay warm when I'm sitting still on winter trips in Northern New England and New York State.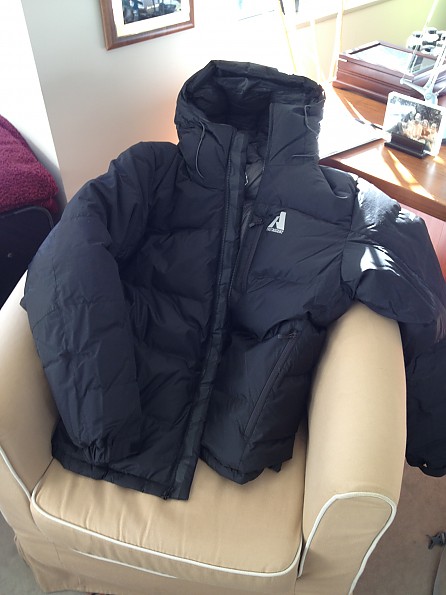 This is a down jacket made for very cold weather, and has the expected pluses and minuses. It is reasonably heavy and bulky. I have not weighed it, but I am guessing it weighs roughly 2 1/2 pounds, eg 42 ounces. In part, that is because it has a lot of down, 14.5 ounces of 850 fill power down in this size XL jacket (checked with the manufacturer on this), and an outer shell that in the 'lightweight' areas is solid, but on the shoulders, outer arms, ends of the arms is even heavier. 
This jacket is clearly not made with ultralight fabrics to save weight, but rather to hold up under abuse. Given the conditions one normally sees in the winter, in the mountains, that's not a bad idea. The outer shell purports to be waterproof and breathable, though it does not appear to be Gore Tex or eVent brand. On a baffled down jacket, it is not possible to see whether the seams are taped, but I doubt it.
to put this jacket in perspective, it is not a true Himalayan beast like the Mountain Hardwear Absolute Zero, the Feathered Friends Rock & Ice Parka, or the Valandre Bering, but it's not far behind in terms of insulating value. 
The jacket is true to size, would fit over a fleece or soft shell for me. Sleeves and shoulders are cut generously, so when i raise my arms up, it only rides up about an inch. The hem is a few inches below my hips—enough to stay warm, but short of a true "parka."  The hem has an elastic to pull it tight; there is no waist elastic or powder skirt.   
Cuffs have tabs with velcro. The hood is puffy—not removable, has a rear adjustment to cinch it down, as well as the normal pulls on each side, in a place that is easy to grab and pull, and allows pretty good peripheral vision by the way it is designed. The hood is easily large enough for a helmet.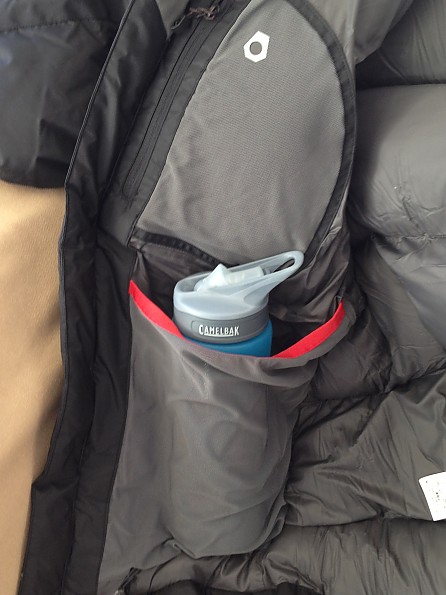 One nice feature is that the inside of the jacket next to your face has a thin layer of fleece. For pockets, the jacket has 3 zippered outside pockets, 2 for your hands and a smaller one at the chest. Zippers have pulls which are large enough to use with gloves on, and the zippers all run easily. In particular, the front zipper, which has no outer flap but is backed by a thin draft tube filled with down, has a stiffer material adjacent to the zipper. 
Someone clearly understood that zipper snags can plague puffy down jackets like this and designed around that. Inside, there are three stretchy mesh pockets—a small zippered one at the chest, and two larger ones on each side of the lower front. The larger stretchy pockets each swallow a one liter water bottle but could also hold spare mitts, hats, food. These are all features I will really appreciate on winter evenings in a tent, or during stops when I put something on to stay warm.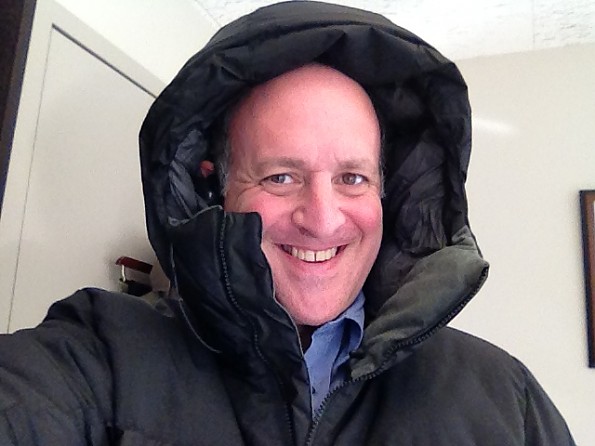 Stitching is clean and tight, extra stitching at stress points at the top and bottom of the zipper, cuffs. I saw only one or two stray feathers. Durability, of course, remains to be seen.
After nearly ten years, the  jacket is still in great shape. I used it on a series of winter trips. In the interest of enjoying being outside and removing the temptation, I stopped bringing mobile phones on winter trips a long time ago. It's nice to be unplugged.
The features of this jacket have proved to be very useful and well-considered. It's nice to be able to stash an extra hat and gloves in the large inner pockets. I like that hood is easy to pull tight. Warmth—outstanding. Range of motion has been great, the sleeves must be articulated somehow. 
Though perverse for such a large jacket, I wish it had been cut a little differently. It's fine worn over thinner layers, but it feels too confining when worn as a belay jacket over layers plus a hard shell. 
The baffling in the body of the jacket is great—it's box-baffled which allows the down to loft. The quality of the down is also excellent; it's still very, very warm. The baffling in the sleeves has been annoying. It allows down to shift more than I would like, so the sleeves occasionally had a few cold spots, particularly on the inside of the elbow. I periodically had to shift down around to address that, and it's not the easiest task when the outer fabric is so heavy/robust.  
I should mention the price, because it was a key positive. Jackets with this much high-loft down generally cost a small fortune. Compare Valandre's Immelmann or the Feathered Friends Icefall or Frontpoint. It is fair to say that you pay a price for the quality of the super-premium brands, and that those brands offer a similar amount of insulation in a lighter-weight overall package; generally, they are 8-10 ounces less than this jacket. But, this retails for $400 and is often on sale. With a recent 40% off "Cyber Monday" price, it was an irresistible steal.  
As of 2022, the retail price of the Peak XV has climbed to nearly $500. Eddie Bauer still runs good sales, so it's reasonable to expect to pay $300-350 or less for this jacket. It's still a great price-conscious option for winter weather.  
IN THE FIELD
I wore the Peak XV on winter trips in the White Mountains and Adirondacks. During a typical winter, I used the jacket roughly 5-10 days on these trips. Because my family's homes in Massachusetts are a jumping-off point for the trips. I also wore the jacket in colder weather when I visited, cleared my parents' driveway, or on breaks during daytime snowshoeing trips in very cold weather.
The main purpose of a jacket like this is staying warm, and it works very well for that purpose with the minor annoyance of the sleeves developing cold spots. I never climbed in this jacket because it's just too warm. I wore it mornings and evenings while sitting around or cooking, stuffed it in my pack and put it on for lunch breaks, on summits, or during any extended stops. If you expect to be tenting outside in sub-zero weather, even straying below -20°f from time to time, the Peak XV will keep your core warm, sitting still. 
Zippers are all easy to use with gloves, and the slightly stiffer fabric under the main zipper really eliminates snags. 
The hood is very warm, very easy to adjust, and has pretty good visibility, even when pulled tight. I never wore it with a helmet, but it's large enough for that. Thoughtful design plus: the hood pulls are accessible from the outside of the hood, but the ends dangle inside so they don't slap your face in the wind. I also appreciated the fuzzy fleece inside the top of the zipper against my face. Keep in mind that when you're in this for a while in deep cold, those fuzzy surfaces are a place where cold/frozen breath leaves more rime than it would on a nylon shell.  
Although the Peak XV is quite large, it actually doesn't have tons of interior space if you buy the size you normally wear. Putting it on over a hard shell with layers underneath felt more cramped than I would have liked, though it didn't compress the down to the point that it really affected the jacket's warmth. 
One other nit to pick for an otherwise very good jacket is that the jacket's durable build quality and outer fabric means it's on the heavier side, even among deep winter down jackets. It's also a fairly significant space-eater in a winter pack, whereas jackets with lighter-grade outer shells compress better. 
I rarely wear this jacket in my home state, Maryland because it's rarely cold enough to justify or need it. A few times each winter, I end up doing something outside in the cold—some minor car repairs and being a spectator at some winter soccer games, for example—where I wore the Peak XV and was, unsurprisingly, so warm that I had to partially unzip. 
CONCLUSION

The Peak XV is well-designed, well-made, and warm enough for most situations short of the Himalaya. There are a few design items I would change; if you are looking to maximize warmth to weight, the Peak XV's heavy grade outer shell might not be the best choice, and the baffling in the sleeves wasn't ideal. Still, it's a great jacket for deep cold and an outstanding value.
Experience
Winter trips in the Northeast and Northern NY over the course of several years and general use in very cold weather.
Source: bought it new
Price Paid: $240

This is the parka in First Ascent's new line of outerwear. I use this type of jacket for warm protection in really cold weather during rest breaks, in camp, and also (yes) to sleep in.
The jacket is a well constructed 850 fill down jacket that features an attached hood and a heavier ripstop nylon outer shell. It's a pretty straightforward simple design—there's no turtle collar, just a straight up hood that can fit over a helmet. The hood has a back pull adjustment and two drawcord side pulls for the front—pretty standard—and they are easy to get to with heavy gloves on.
There's adjustable elastic around the wrists. There are three pockets on the outside—two sides and one chest—and one smaller pocket on the inside.
The jacket is extremely warm. I wore it in high camp at night and in the morning and found I could regulate temperature pretty well by zipping or unzipping the jacket. The warm weight was great help for comfort breaks at night when I didn't want to layer up for a quick trip out !!
I also find it a very useful piece for winter camping. I generally try to avoid carrying a zero degree or subzero degree rated sleeping bag—just too heavy. I usually bring a 20-degree bag and make up the difference with clothing to keep the weight down. I've done a couple of trips bringing this jacket and my 20-degree bag—together they weight less than a 0 degree sleeping bag and the parka and the bag have kept me warm down to minus 5 degrees on a very cold night this past month in the White Mountains.
The major feature of this jacket is the value. Its 850 fill down and baffled construction (very important with this type of parka) with quality materials—for $265. I shopped around and compared this to similar parkas from Marmot (more expensive) and Mountain Hardwear (less fill rating) and think it's the best value on the market if you are looking for a warm parka.
One minor thing that keeps it from being a 5 rating is the relative bulk it has when stored in the stuff sack—it stuffs into a pancake shaped stuff sack that's about 12 inches by 7 inches—a little large for a jacket but pretty standard for this class of parka.
The other minor thing is the lack of a larger inside pocket for accommodating a water bottle or gloves. If I was climbing in the Himalaya I'd worry more about this.

Overall, this jacket is a great value and I'd highly recommend it.

-g
Fabric: Ripstop Nyon
Fill: 850 Fill Down
Price Paid: $265

An exceptional buy WHEN PURCHASED ON A SALE. Several good design features, but lacking a robust inside zipper baffle.
Pros
Excellent price when purchased on a sale
Excellent quality of materials and design
Warm to -30° F. according to EB
**Helmet compatible
800 fill goose down, responsibly sourced
Cons
Needs better main zipper baffle
A neck baffle would also be nice
I wanted a fully baffled expedition level parka that was helmet compatible so I could use my ski helmet at alpine resorts on very cold days.
The fit was very good for me, a 5'10" 185 lb. male.
Construction quality is top notch as are the materials.
The outer shell is a Cordura brand with a tiny diamond pattern woven in and it is quite tough from my experience of catching it on a broken Ponderosa branch with no ill effect. The novel Cordura brand shell material makes the parka stuff into a larger sack than a parka with a lighter shell, but I feel the toughness is a bonus.
This parka has virtually all the warmth and features of many similar parkas but with a much lower price when purchased on a sale.
Like several other top quality expedition parkas the PEAK XV has two large netting inside lower pockets for gloves and an inside chest pocket for an avalanche beacon.
The hem drawstring is accessible from inside the main lower outside pockets.
The hood has drawcords that adjust from the inside to keep wind from whipping them in your face and a rear drawcord for adjusting peripheral vision.
Wrist cuffs have partial elastic and adjust with Velcro closures in a traditional manner.
As for the front zipper baffle, I opened the top end and filled it with the same kind of  800 fill DWR treated down as there is in the rest of the parka. Then I made another tubular baffle and had it sewn to the left side zipper area and filled it with down. Now the front zipper area is double baffled like a Patagonia Fitz Roy and Grade VII.
The front baffle "problem" is the only reason I did not give this parka a 5-star rating. Otherwise it is the equal of much more expensive expedition type parkas.
Experience
I've only used this parka for one winter camping trip in February 2019, since I had just purchased it in late January. With day temperatures in the 20s it was only used in the late afternoon and evening as a "camp parka". Very tough outer shell. Very warm! Packs down to soccer ball size.

When zipped up and with the hood cinched down it makes a nice "foot warmer" when slid over the foot end of a sleeping bag.

UPDATE 1/2022: I used this parka for a bitter day skiing at Mammoth Mountain and was glad to have it on windy lifts and while skiing. It fit over my helmet well and that feature was nice while sitting on cold, windy chair lifts.
Source: bought it new
Price Paid: $240

For someone who is afraid of cold, I wore this for Mt Elbrus trek in August and have no doubt for its ability to keep me warm during the extreme cold conditions, even though I was blessed with good weather and had no chance to test it to its fullest.

This is a very warm down jacket, you can feel it the minute you wear it with the hood giving added warmth. The exterior has some water repellent function and should be good to handle light rain conditions during the trek. Recommended for people who are going to cold climate for trek.
The fit is good for ladies and feels true to its size. I did not feel any restriction to my movement. Material is comfortable too and the exterior is water repellent and should hold under light rain conditions. It has cords to adjust the hood and tighten the lower part of the jacket to prevent cold air from coming in. The handcuffs can be velcro-ed to prevent cold air from entering.
The main attraction for this jacket is its warmth, 850 down fill. It felt very warm and for a person who is afraid of cold, this is the best deal. However, during my trek, it was really quite hot even for me, but what I did was to zip down if I felt too hot. 
It has a small inner pocket around the right chest level, which is not too functional except for keeping small stuff. It probably should have at least 2 interior and bigger pockets by the sides, so that user can even put water bottle in to prevent freezing. The later version of this jacket seemed to have incorporate this suggestion. Hand pockets with fleece interior are fine and useful to keep hands warm. 
Feathers as per most down jackets, will lose out bit by bit with usage. It is also a bit bulky, and you have to compress it down for packing.
Overall, this is a great jacket with both design and functionality. I like the jacket and will recommend to friends to get it.
Source: bought it new
Price Paid: bought it at a reduced price through pro deal

I wore this jacket on Mount Washington at -2 degrees F with 20-30 MPH winds and stayed toasty warm. I have no compliants and no suggestions to improve. It performed great.
I'm a 42 and I bought the extra large and the fit is good without fitting over other layers and it is still roomy enough to fit over other layers.
Price Paid: $100

Excellent product. I took it trailing in Russia at minus 25 C. Jacket never gave up. Underneath I wore a poly thermal. No issues at all. My gloves gave up, but not the jacket.

A true cold weather beast. I was outside for no less then 4 hours at a time.
Cons
Does not pack down properly in its stuff sack
Fantastic jacket. The only jacket I take to the Russian forests in minus 20 to 25 Celsius, never misses a beat.
You may read other reviews on more expensive jackets and think you need to spend more money. Take my word for it. This is a sub zero beast.
Always in my kit and we would recommend it.
Can't wait to take it below -30 C.
Source: bought it new
Price Paid: 300

Made for belay, summits, or Midwest winters!
First Ascent Peak XV Jacket: This thing rocks in the heat! Super-puffy, and the hood engulfs your head like a bunch of warm puppies! Blocks the wind, lightweight, fits well! 
I've used this jacket for Chicago winters, like walking downtown, where in between the buildings the wind almost pushed you over! I've also used in for long walks and winter campouts.  First Ascent/Eddie Bauer has the EB creed and guarentee, return it for any reason. This jacket has been build by mountain guides and it shows!
Compare to MH, FF, Marmot, etc. this thing wins hands down. Get it on sale or clearance and you have to buy it!
The only thing...the hood is super-puffy like the jacket, and can get in the way while driving a car, just tuck it inside the jacket!
Source: bought it new
Price Paid: $149

Your Review
Where to Buy
Help support this site by making your next gear purchase through one of the links above. Click a link, buy what you need, and the seller will contribute a portion of the purchase price to support Trailspace's independent gear reviews.
You May Like
Specs
Men's
Price
MSRP: $499.95
Current Retail: $374.25
Historic Range: $147.99-$498.95
Reviewers Paid: $100.00-$265.00

Average length
Reg 29.5 in

Insulation
800 Fill StormDown

Women's
Price
MSRP: $349.00
Historic Range: $199.99-$249.00

Recently on Trailspace