Eddyline Sea Star

Top 25 in Touring Kayaks
The Sea Star has been discontinued. If you're looking for something new, check out the best touring kayaks for 2023.
Amazing kayak. Very well built and designed. Its long water line gives it speed and allows it to track well. Moderate to high-volume boat which can be used on anything from weekends to longer expeditions. Rudder is probably its Achilles heel and can lose its shape in very hot weather. All in all a superb craft.
Pros
Good stability for the length and width
Fast and well built
Well designed and very durable
High volume for longer trips
Cons
Plastic rudder can lose its shape in hot weather
Rudder spring system could be beefier
Slightly narrow beam makes it a little less stable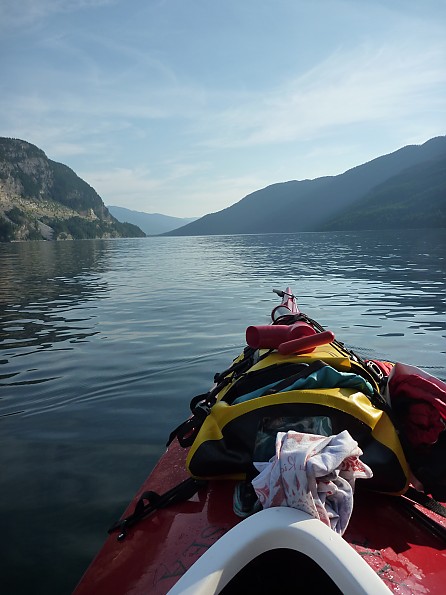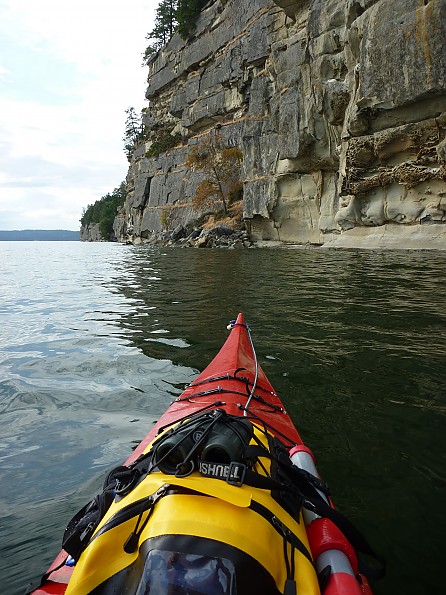 I have been the proud owner of an Eddyline Sea Star since the very early '90s and it's difficult to say enough good things about it. I've taken this boat on twelve-day salt and freshwater trips with food and water to spare.
Sadly, it's difficult to find single sea kayaks in this length anymore. The length gives it more volume, speed, and better tracking. It is clearly a well built boat which has given me well over 20 years of excellent service. The SS holds up well to mild-moderate abuse and exposure to the elements.  
Other than some rudder and deck bungee work the boat has needed no significant maintenance (although I do want to re-caulk the bulkheads...). It's really too bad Eddyline doesn't make boats in this size anymore since they are well suited for almost any kind of paddling.
Its 21" beam can make it feel a little tippy (especially unloaded) making it less ideal for novice paddlers. I was essentially a novice when I bought this boat though and became comfortable with it very quickly.
With the proper care, this boat will last almost anyone a lifetime. Another similar boat is Eddyline's Wind Dancer which I believe is also out of production. It is a wider and higher volume version of the Sea Star.  
Source: bought it used
Price Paid: $1,400 w/sprayskirt and paddle

Light, fast, long boat with ample storage and big-sea capabilities.
Pros
Light, lively
Plenty of storage for a fast boat
Rudder system is flawless
Cons
Fiberglass lacks the durability for our rocky shores here in New Hampshire
I purchased this boat used 5-6 years ago because I needed something faster and lighter for a few competitive endeavors such as Sea to Summit (12 miles paddling upstream in the tidal Piscataqua River from its mouth at the Atlantic Ocean, 93 miles biking, and a 8.5 mile run/hike to the top of Mount Washington 6288ft above the starting line).
This boat is very fast, but also much more versatile than I originally expected, with lots of storage and a penchant for tackling rough water. As a fiberglass boat it is not nearly as durable as my plastic touring kayak, and I've had to do a few repairs over the years, but it has a liveliness which is wonderful to experience, and overall it has held up quite well over the years.
I am no longer using the boat for competition, and I'd love to find a new home for it. I don't have enough space in my basement to keep it safely stored anymore. I didn't realize how rare this boat was until I started researching it recently (Eddyline no longer builds a kayak over 16 feet long).
I have a CraigsList listing for it in Portsmouth, NH.
Source: bought it used
Price Paid: $900

Solid kayak with a nice balance of volume, speed, and stability.
Pros
See previous reviews
Sleek lines
Hatches don't leak
Comfortable cockpit
Lots of freeboard compared to others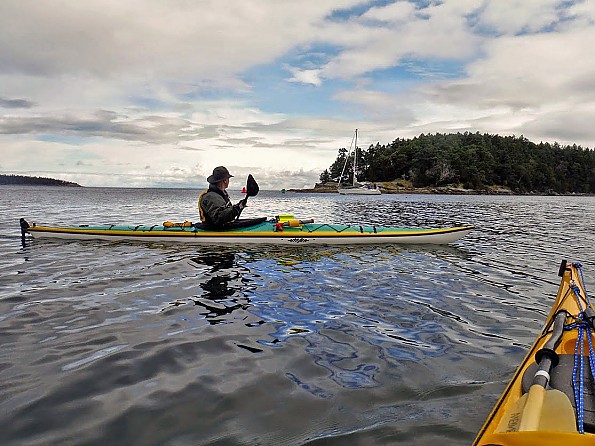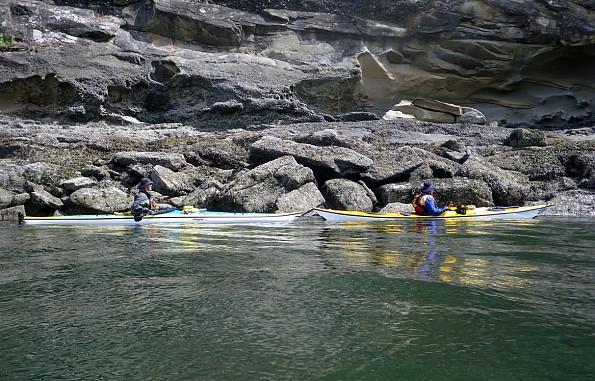 Glad to see that these fine kayaks are still out there.  After trying various kayaks at Seattle's NWOC and renting a couple different models from Eddyline through the 1990's, I decided on a Sea Star.
My 1999 Sea Star was purchased used from the owner of Eddyline around 2002.  It was one of his personal boats with a custom two-color fade on the top deck. It was stored under his home's north eave next to a cherry tree and was looking rather sad with the accumulated sap and debris. This made for some negotiation on his asking price...
Meguires Gold Class wash, paint cleaner, and Gold Class paste wax made the finish like new again. It has been garage-stored since acquired and the Meguires finish is still holding up to salt water and sun more than a decade later.  Highly recommended! 
I've been on numerous San Juan Island and Puget Sound trips and always get compliments on the SS's lines/features. "Did you just put that soft cooler behind your seat?" The roomy cockpit allows for my 6'-2" 195# frame and is the most ergonomically comfortable I've experienced. It effortlessly handles chop and roaring rips (rudder up) with lots of freeboard when loaded for longer trips.
I would agree with 300WM that Eddyline should have dropped the seat slightly for more stability but I have never rolled it unless intentionally done. She's a beauty and a keeper.
Source: bought it used

The 18' 6" Sea Star is long out of production and Eddyline's longest boat now is just over 16'.
I have the Kevlar version and it is, at that length, FAST!
Pros
FAST!!
Lots of storage space
Light for the length
Very high quality
American design and American built
Cons
Plastic rudder warps
Deck hatch covers harder to open/close but very sleek
No retractable skeg
I bought this kayak when it first came out in '91 partly because Tom Derrer, the owner of Eddyline, changed the stern profile at my suggestion at the LL Bean 1990 Sea Kayak Symposium. I was amazed he did this.
Of course the main reason was that here was an American designed and built sea kayak of very high quality materials and construction that was not only very fast but also quite stable for a 22" wide boat. You could lay your paddle down and take photos, read your chart or get a drink of water in a normal sea state without worrying about rolling, unlike most very tender (tippy) British "sea canoes" of the time, like Nordkap.
OK, the Sea Star could not turn quite as fast as the Brit kayaks but who cares? It's a touring kayak. And it had a rudder that you could drop and use to fight crosswinds and steer with foot pedals. Nice touch. 
I have loved the design, stability and speed of this kayak ever since my first ride. 
I did one modification. I lowered the seat about 2" until it was only 1/8" off the bilge for much greater stability. This was done by cutting the narrower vertical side sections of the seat and attaching heavy duty aluminum plates then reattaching the seat to the plates with stainless steel bolts to connect the seat to the top section. It has worked very well for many years.
The plastic rudder warps in heat and I'm replacing it with an aluminum rudder.
I had asked Tom Derrer, the owner/designer to consider lowering my seat but he decided they were fine as he had them. A factory custom change like this was not in the cards so I did my own custom work.
A sea kayak can carry twice the normal 30 lb. backpacking load and you can camp in more comfort, not to mention the beer and wine you can bring along for added "comfort" around the campfire. ;o)
Source: bought it new
Price Paid: $1,500

Your Review
You May Like
Specs
| | |
| --- | --- |
| Price | Reviewers Paid: $900.00-$1,500.00 |
| Length | 18 ft |
| Beam | 22 in |
| Cockpit | 31.5 x 17 in |
| Weight | 60 lbs fiberglass, 50 lbs kevlar |
| Volume | 12.7 cu ft |
| Capacity | 390 lbs |
Recently on Trailspace