EMS Thunderhead Jacket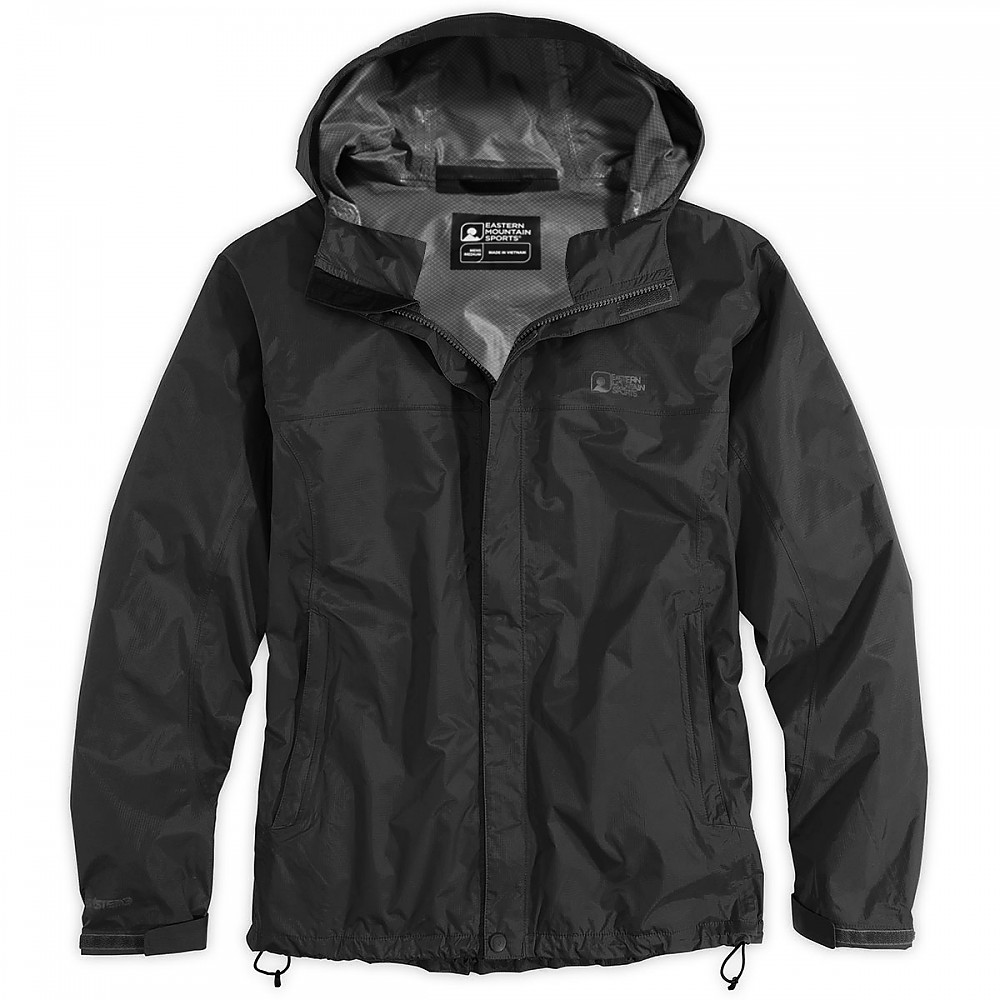 The Thunderhead Jacket is a lightweight, waterproof, and windproof jacket suitable for use in all seasons. The rollaway hood is easily accessible and doesn't fill up with rain if you'd rather wear a rain hat. Exterior pockets are large and easy to access. Long pit zips help ventilate even in warmer weather.
Pros
Waterproof
Windproof
Packability
Pit zips
Fit
Colors
Cons
Hood is too large without a helmet
Dual front zippers would be nice
A snap front flap would also be nice
No interior stow pocket as advertised
I bought my EMS Thunderhead Jacket about a year ago because I needed a lightweight, waterproof and windproof shell for 4-season use. It's completely waterproof, and the pit zips allow for excellent ventilation in warmer weather — why bother wearing a rain jacket if you'll just get soaked from your own sweat? It's also my outer layer of choice for snowshoeing, even though I'm warm-blooded enough that unless it's very windy or the temp is below zero I'll pack it instead of wear it. 
It has a somewhat loose fit and there's plenty of room for my silkweight baselayer, merino wool shirt, and a midweight fleece like my Mountain Hardwear Octans. I like having a full range of motion, and with this combination of gear any restriction I feel when bending over comes from my midsection and not my clothing! I've read that the newest version of this jacket has a more athletic fit, which may be good if you're wearing it over a T-shirt during a summer rainstorm but not so good if you use it year-round like I do.
I like the zippers, you can zip them up or down without having to hold the fabric on the sides to keep the teeth from snagging. The main zipper is small enough to lay flat under the storm flap, but easy to grab even with midweight gloves on. The pit zips are about 15" long and reach almost from the elbows to the kidney area, and the zippers are relatively easy to manipulate. 
In my opinion the jacket has a number of minor cons, but taken either individually or as a group they don't really detract from the jacket. Implementing at least some of them, though, would make it better. For me, the worst one is the lack of a snap front flap. As I mentioned earlier, I'm very warm-blooded, and even though the pit zips open very wide I'd like to have a little added ventilation by leaving the zipper down and just snapping the storm flap in 1 or 2 places. Barring that, the ability to ventilate more by lowering the top of a dual zipper and raising the bottom one would be nice.
I understand the large hood, nobody wants to have to leave the hood off and have water or melting snow dripping off their helmet and down the back of their neck while climbing, skiing, snowshoeing, or 'boarding. There are 2 adjustments on the hood, one at the back that tightens it up from ear to ear and another that cinches it around your face, so I can pull the hood back far enough to give me good peripheral vision and still keep my head dry. And the lack of a stow pocket is no problem with me at all, but the EMS website says it's there so it should be. It's probably quicker just to make a few folds and roll it up, anyway, and it rolls up pretty small.
All in all I really like this jacket, it does everything I want even when some of those things may not exactly be what it was designed for. The price was very reasonable compared to many of the products from bigger-name manufacturers, and I doubt their gear performs two or three times as well. The extra cost might get me that snapped storm flap and 2 way zipper, but their lack isn't THAT much of an inconvenience to me. I strongly recommend the EMS Thunderhead jacket.
Update 08-21-15
I've been using my EMS Thunderhead jacket quite often in the 11 months since I wrote my review, and think it's time for an update. I really like this jacket!
This past winter, it accompanied me every time I went snowshoeing, with the exception of one trip in the middle of a snowstorm when I wore my ECWCS parka. Most of the time I wore the Thunderhead, and it did surprisingly well at venting excess heat for someone as naturally warm as I am. The huge pit zips were instrumental, obviously, and the wrist cuffs that didn't fit snugly unless you tightened the Velcro strap helped a lot as well. I'd still like to see a snapped storm flap! 
The fabric was more durable than it looked, as well, not bothered by branches and thorns that tried to poke and snag it on our off-trail treks through the woods. 
This summer I've been wearing it a lot while driving my topless and doorless Jeep in rain ranging from light showers to torrential downpours, and it keeps me dry even when pressed against a soaked seat back. Not all waterproof/breathable fabrics do. Tightening the hood to fit snugly around my face and zipping all the way to the top keeps rain from getting in, and with the pit zips open I can ventilate and stay dry. 
When it's not raining but merely cool enough to need a windbreaker while driving, the Thunderhead comes through as well. It flaps and pops like crazy in the wind when doing 70-75 on the interstate, but the only damage is to my eardrums — no rips or tears in the fabric. 
To the best of my knowledge my older model has the 2-layer system, and with temps in the mid-70s and high humidity it does feel a little clammy inside. Nothing unpleasant, though, and since I like the fit better than that of the same size in the new (2.5 layer) model, I think I'll stick with this one till I lose enough weight for the new one to fit how I like. 
Lastly, if you're out with dogs and there are no streams for them to drink from, the Thunderhead makes a great water bowl after scooping out a hollow in the snow and pouring water from the Camelbak into it. Stella and Maggie were very appreciative!
Update 10-11-2015
I recently picked up a second EMS Thunderhead jacket (the new 2.5 layer model) and wore it yesterday on our Mt. Washington trip. I felt the color (blue smoke) would stand out better against terrain and vegetation than the dark red of my older model if something happened and people were searching for me. (Yes, that influences my choice of colors to wear, my Odin Jacket and Snowtastic 28 backpack are both safety green LOL)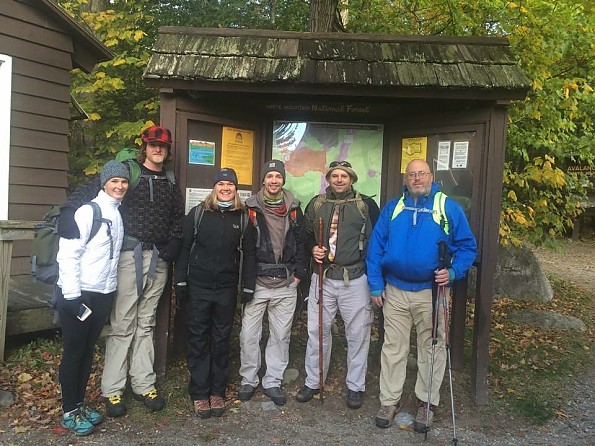 Even though it's slightly smaller than my older model jacket, it still fit well enough over a silkweight baselayer, midweight merino shirt, and my Marmot Odin down jacket that I put on to help cut the brutal wind while I rested before beginning my descent. While descending, I rubbed and scraped the jacket against rocks quite a few times, and there are no visible abrasions anywhere on it.
As it started warming up below the treeline I unzipped the pit zips, then the zipper, and finally had to take it off. But it did a great job at keeping the fierce wind from getting through above the treeline, where wind chills felt to be around 15F. It passed its rain test on Friday, when I was standing out in a torrential downpour trying to get my last cat that was outside to go inside so I could head to the Mt Washington area and set up a campsite before it got dark. 
One feature I like on the new jacket is they put a velcro-secured storm flap on it, with a single snap at the bottom. It allows ventilation while still protecting against all but wind-driven rain. There's still no interior stow pocket, though, and dual zippers would still be a nice touch. But as it is I find the EMS Thunderhead jacket to be a quality product, well-built and 100% backed by EMS.
Source: bought it new
Price Paid: $99

Another great product from the growing EMS line. I would say for less than $200 you can't do better than this for a summer outer shell, this is because it's designed to not be used. It packs into its own pocket (about 5"x8") and weighs less than 1lb. That's pretty hard to beat, also considering it does its job as if it were a high end Gor-Tex shell. I take this jacket on any trip from a sunny day trip to a wet weekend or anything in-between.
Update: March 10, 2007
I've had this jacket for three years now and I haven't been satisfied with it, or dissatisfied. Supposedly the system III technology is breathable, I would disagree. It's no Gore-tex or Conduit, but it does keep you dry. I'm not saying this is a bad choice at all, it does what it does. It packs within its own pocket and stays compact and is completely waterproof. It's just not anything outstanding.
Fabric: Nylon
Price Paid: $99

Your Review
You May Like
Specs
Men's
Price
Historic Range: $19.98-$99.00
Reviewers Paid: $99.00

Women's
Price
MSRP: $99.00
Historic Range: $19.98-$99.00

Kids'
Price
Historic Range: $12.98-$65.00

Recently on Trailspace