Enlightened Equipment Accomplice

#2 in unisex Top Quilts and Blankets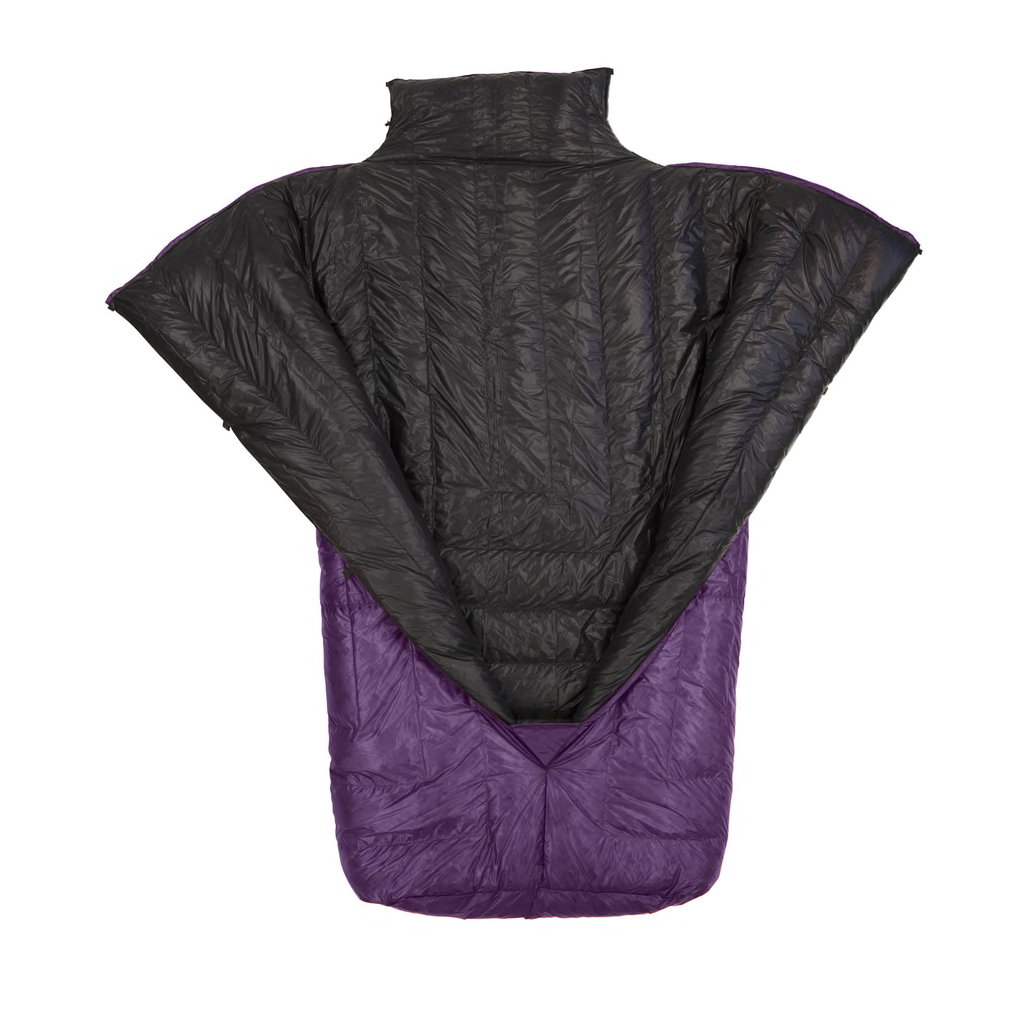 Specs
Price
MSRP: $420.00
Reviewers Paid: $415.00-$450.00

Reviews
3

reviews

5-star:

2

4-star:

1

3-star:

0

2-star:

0

1-star:

0
An ultralight and ultracomfy sleeping solution for two, with top-quality treated down fill, silk-like shell fabric and thoughtful details. Save weight, sleep with a friend!
Pros
Very light and very comfortable
Customizable
Draft collar
Generous foot box
Coupler straps with clips to anchor to mattresses
Cons
No dual temperature option for divergently thermic couples.
For years we have used an opened-up TNF rectangular bag, now probably 25 years-old, as a summer sleeping quilt for the two of us. In winter, we zip it together with its twin for more airtight warmth down into the teens if not single digits. But as of 25 years ago, 700 or maybe 750 fill down was the good stuff, and shell materials have gotten lighter too, so each bag weighs in at 1388 g (about 3 lbs), not too bad when sharing a bag but on the heavy side when carrying both.
A lighter double quilt has been on our shopping list for a few years now, but for cash flow reasons didn't make it to the top until last spring, in the final stages of our gear-shopping frenzy while we spent a year in the US. There aren't a lot of choices in that particular category, and the Enlightened Equipment (EE) Accomplice clearly tops the list.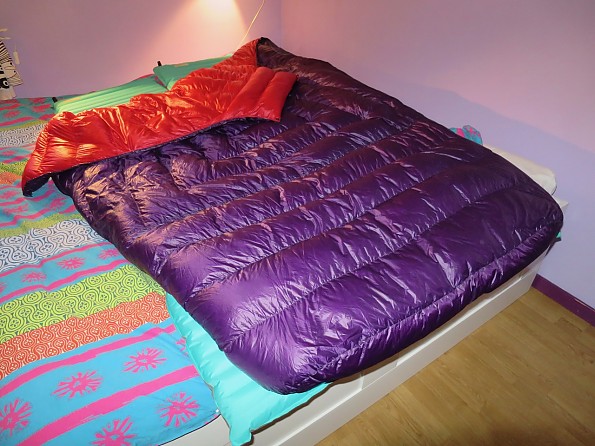 EE quilts are made to order with length, temperature rating, colors, and down quality specified by the buyer. We went for -1˚C (30˚F), 850 fill Downtek treated (now the minimum quality), purple out and red inner, long size to accommodate me, at a total, and I think quite reasonable price of $415, delivered within 6 weeks.
Revisiting their website, it appears that they now stock standard colors and sizes with 850 fill for faster delivery, but you can still order custom colors at the same price (but a longer wait) and go for 950 fill down for $50 to nearly $200 more depending on temperature rating. In our case the higher fill would have cost $100 more and saved us 60 grams (2.1 ounces) so we decided to save our shekels.
We had it along on some of our last desert trips in AZ and UT, but those nights were on the warm side so a proper low temperature test had to wait until we got back to Norway. During my busy autumn semester we used it only on a short canoe camping trip, but this weekend finally spent a ca. 0˚C (32˚F) night under it up at our favorite Saturday night campsite on Lomtjønna in the city forest area that is our backyard.

As the star rating shows, we love it. Compared with our old bag, it feels almost like it is going to float away as we take it out of its stuff sack. After a few uses I weighed it in at 891 g (31.4 oz), about 2 ounces more than promised and 1.4 ounce more than the weight given on the storage bag, a difference I can live with. I can easily stuff the quilt into a 10L waterproof stuff sack (53 g), giving a similar volume and weight to many high quality one-person down sleeping bags. Like showering to save the planet, maybe the real secret to UL backpacking is hiking with a friend!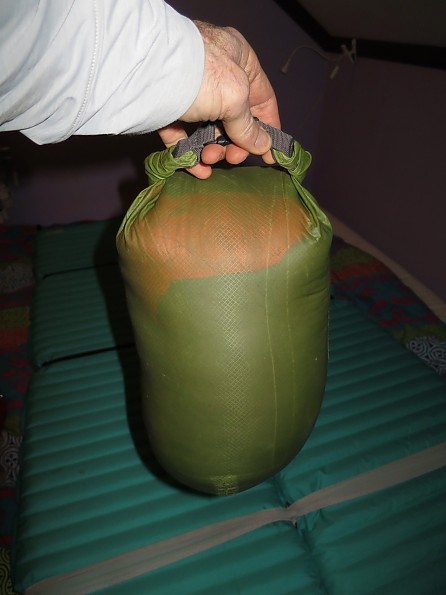 The sheer fabric feels like silk on the skin and the red side is slightly translucent so that you can see shadows of the down through it. It's pretty thin, so we'll definitely be keeping it away from sharp objects. The light build is probably the reason that machine washing will void that warranty, but hand washing is practice for any down bag anyway.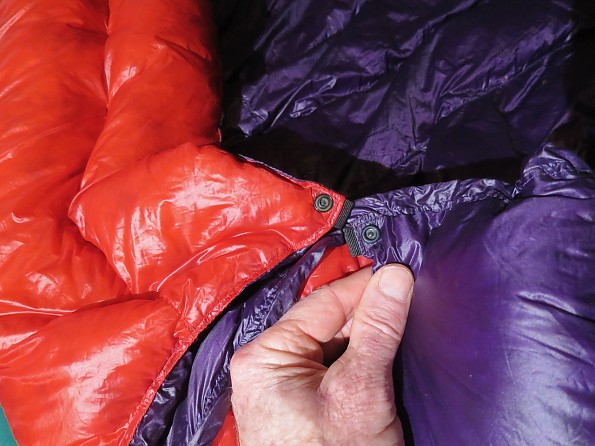 The simple snap-down draft collar keeps the quilt wrapped around the shoulders when things get cold. I was afraid that it might be an annoying barrier between us, but in colder conditions it was most welcome and it is so insubstantial that it doesn't interfere with cuddling.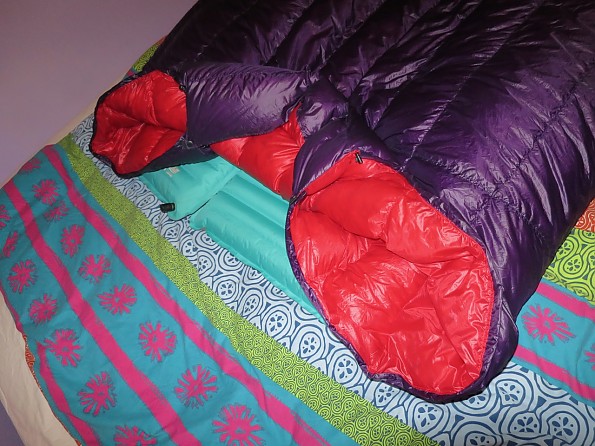 I had thought there was V cutout to save weight on the underside, but the quilt actually folds into a neat rectangle big enough to cover the two mattresses so that there's plenty of extra width to wrap around and close out drafts.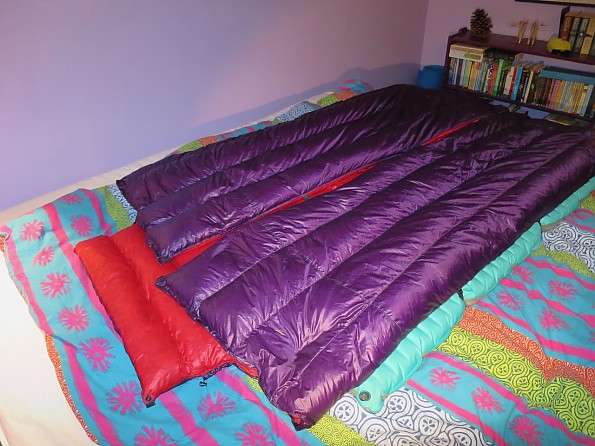 The 30˚F temperature rating is about right for us. As a warm sleeper I could probably take it down into the 20s F, while my wife was quite comfy at temperatures around freezing. I corresponded with EE to see if they could make a custom dual-temperature version but they said the u-shaped baffles wouldn't adapt. I would hope they would think more about that because I think it's common for one partner to sleep warmer than the other.
Along with the cotton fabric storage bag, the quilt comes with a pair of elastic straps (48 g, 1.7 oz) to couple the two mattresses, with lightweight clips that match clips on the edges of the quilt to keep the edges of the quilt pulled in. We have our own mattress coupling system with a silk mattress cover so we haven't used this, but it might be worth a try. The clips position both straps above the sleepers' waists, so I would want to use a third strap (I like the Big Agnes couple straps, 37 g each) to keep the foot end of the mattresses together. The generous foot box comes up about to the knees, where the quilt opens up to wrap around the rest of the body.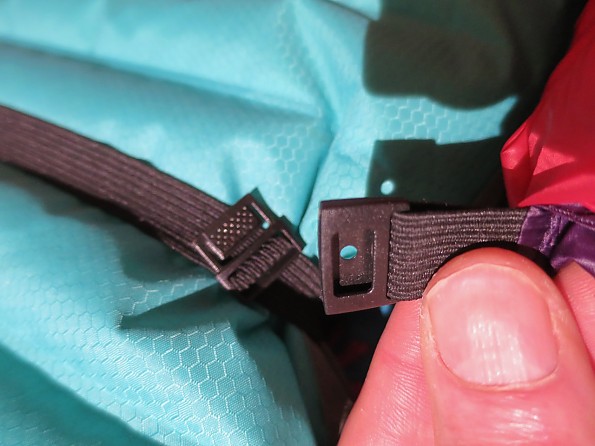 Come full winter, we will boost the warmth of this quilt by adding in our 500 g (17 oz) Etowah Outfitters liner bag. That ought to get us back down into the single digits. Let it snow!
Experience
So far a week of summer nights and a few nights in autumn- to bordering-on-winter- temperatures (for Norway). We have been experimenting and building our own snuggle-friendly sleeping system for decades, this is just the latest iteration.
Source: bought it new
Price Paid: $415

This quilt is warm and light. Excellent for backpacking or kayak camping. Packs to a small space. PS:my orange kitten thinks it neato!
We were both warm enough for comfortable sleep during September in northern Minnesota. The fit of the quilt is perfect for two. No problem with moisture issues. Excellent packability; very compressible. Bag was easy to use and held up well. 
Experience
This is our first quilt. We have used it twice so far, once hiking on Superior Hiking Trail and once kayaking in the Boundary Waters. We stayed warm and dry while sleeping.
Source: bought it new
Price Paid: $420

This is one of the lightest double quilt and IMHO the most versatile one. If you are looking for a double sleeping bag or quilt, this must be one of the top contenders.
Pros
Lightweight
Warm
Versatility
Backpacking with two small children, finding a lightweight double bag system has been one of critical issue for us. We've used individual bags, and Big Agnes and Nemo double bag systems, but none were light or warm enough.
We finally found the answer with Enlightened Equipment's Accomplice. It's highly customizable and the quality is top notch. We were looking for a winter bag (for snow camping in single digit), that will also cover the shoulder seasons.  
Three final contenders were ZPack's double quilt, Feathered Friends' Penguin and Spoonbill, and Enlighten Equipment's Accomplice. The Feathered Friends Penguin was too heavy and the Spoonbill, although looked great for cold weather, its use was just that—only for cold weather.
So we finally pulled the trigger with two Accomplices. We ordered the 0 degree quilt. It packs and weighs as much as a decent single 0 degree bag, if not smaller and lighter. Our first outing at 25 degrees proved to be too warm, but it was easily managed by opening the side a little, and loosing a layer. We will put these babies to cold test this winter in Sequoia and Yosemite, and I think they will perform fine.  
To add to the great product, the customer service and communication was A+.
Source: bought it new
Price Paid: $450

You May Like
Recently on Trailspace