Esatto Classic Hiker - Women's

(3)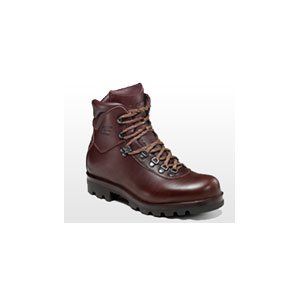 Reviews
I've had my Esatto boots for two summers now and I…
Rating:


Materials: Leather
Use: rough trails, rough bushwhacking
Break-in Period: 2-3 months!

Summary
I've had my Esatto boots for two summers now and I can't say enough good things about them!

After years of hiking long distances with my toes pinched from boots that were sold as 'Wide' (HA!!!), I broke down and committed the money to these handmade boots, hoping that finally I would not be in pain after a hike.
When they arrived, I admit I had to laugh. My feet are very short and very wide — especially at the toe box, so the boots, though handsome, look like Hobbit Boots. I put them on and fell in love. At last, all of my toes had room. My feet could move in a natural motion.
These boots are not of the 'fast and light' variety. They are tough, rugged, durable and, the only drawback, a bit heavy. They actually took a couple of months of hiking to truly break in and move due to their dense, solid sole. But, if you are a hard core hiker, with feet that don't fit in store bought boots, please consider taking the plunge and purchasing from these guys.
I hike 'off trail' in Alaska. Through willow and alder, onto scree and talus, boulder fields, sharp granite...and these boots support my feet in an unhindered fashion. No wear on the soles yet, the leather remains water resistant even in Alaska's rainy wet hiking conditions.
I ripped one of the eyelets out bushwhacking through alder, sent them back for a repair. The guys fixed them with no questions or problems and sent them back quickly with no charge.
Bottom line: Excellent company, wonderful workmanship, truly the best thing you could ever do for your feet if you love to hike and climb.
I'm only giving a 4.5 because they ARE heavy compared to store bought boots. I'll never be without them.
Your whole body will be in proper alignment. Weight…
Rating:

Summary
Your whole body will be in proper alignment. Weight is distributed evenly on hips, knees, and back. There are not pressure spots. Your ankle and feet are comfortable immediately after wearing, even for the first time.
Pros
Comfort
Beauty
Safety
Support
Traction
Cons
Wait time to get them
Price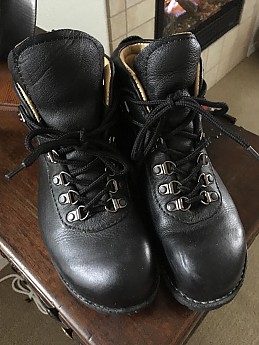 If price and lead time is preventing you from ordering your boots, then don't waste any more time—get on it and place an order ASAP. You will not be disappointed.
Here is my story: Many sports related injuries, on the same leg have left me with almost an inch difference in length, causing me pain in my ankle, knees, hips, and back. Walking has become a challenge and being able to run or hike again? I don't know yet, but getting these light hikers made for me by Esatto has opened up possibilities now that last year seemed hopeless.
I spoke with Alex and he gave me a detailed explanation of what to expect, costs, measurement kit etc. The kit came overnight and I had a friend help me with the measuring. It was easier than I thought, but you can go to a prosthetic medical place and for a nominal fee they will help you.
When the boots arrived, I figured on them being pretty nice considering the price, but wow they were amazing. At first I thought I had gotten another customer's boots because both shoes looked the same and one is supposed to be almost and inch bigger.
They were mine! Alex builds the shoe up around your foot. It was the first time I had ever worn custom made shoes or boots before, and it was a "mind blowing" experience. So incredibly comfortable; my body felt balanced for the first time!
(I ordered custom orthotics.) They are gorgeous boots as well as being so functional. I get compliments every time I wear them. They have Vibram soles and no problems with traction, water resistance, also, are very lightweight. I am no longer embarrassed about dealing with a limp and having one shoe different in size.
I have had my boots for over a year. And yes, he is making other shoes for me.
Esatto boots and arches are great. They are custom…
Rating:


Source: I went to Esatto, had my feet measured and they made the boots for me.

Summary
Esatto boots and arches are great. They are custom made by a professional who is knowledgable and skilled in boot making.
Two years ago I had a pair of Esatto summer boots and arches made. My feet are unusually bad, both are too wide (one is wider than the other) they are pronated, and I have bunions and hammer toes. I took a chance and had the light summer boot made with arches, and they turned out great.
The boots are exceedingly comfortable. They fit perfectly, and that was from the first time I wore them. I needed no break-in time and my feet have been comfortable from the first time that I wore them. They are great hiking boots, they hug the rocks well.
I have been wearing them for two years and I always look forward to wearing them. If your hiking boots are giving you problems, I suggest that you have a pair of Esatto boots made. Your feet will thank you!

All Classic Hiker versions
In addition to the 3 women's reviews above, there are 11 reviews for other versions of the Classic Hiker. Read all reviews »
Where to Buy
Help support this site by making your next gear purchase through one of the links above. Click a link, buy what you need, and the seller will contribute a portion of the purchase price to support Trailspace's independent gear reviews.