Esbit CS585HA Cookset for Solid Fuel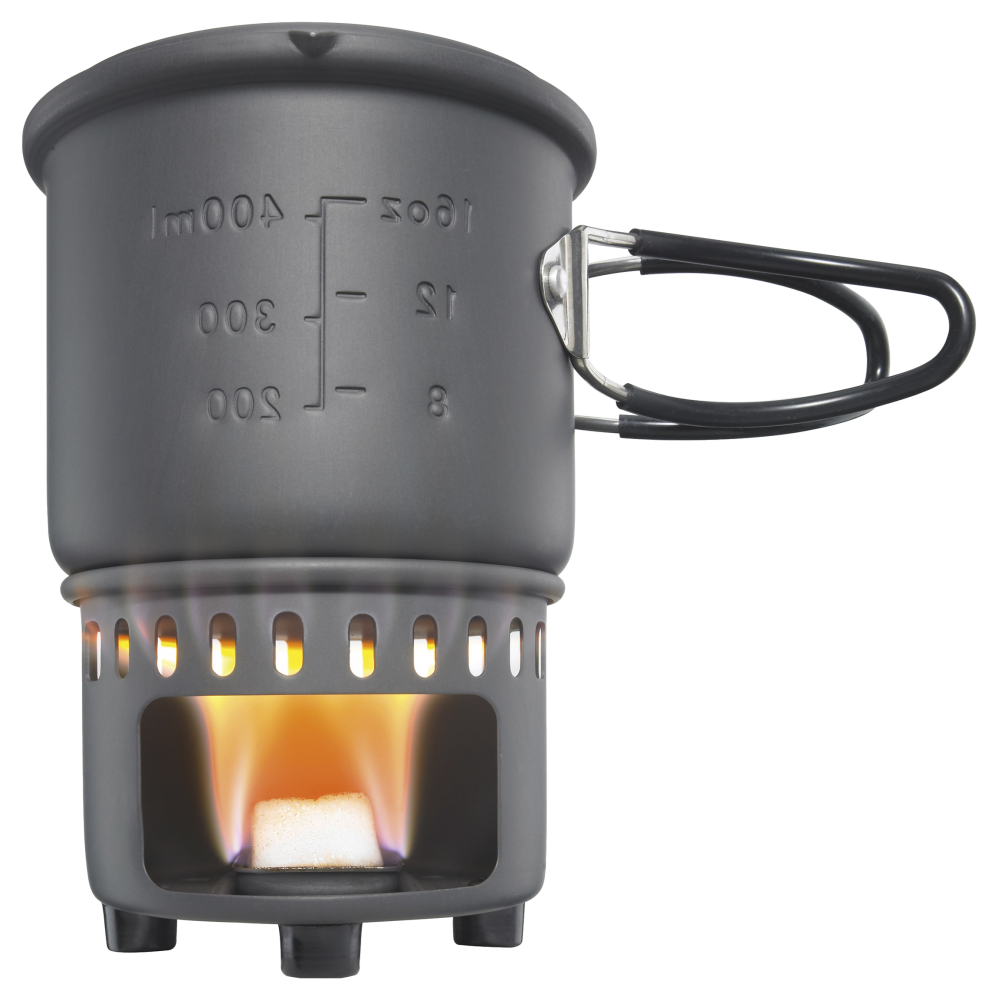 Simple little lightweight camping stove. Does not put out a lot of heat though.
Pros
Lightweight
Simple to operate
Packs down small
Cons
Not a lot of heat output
No control over flame
I have used a bunch of different backpacking stoves and while I was drawn to this one for its simplicity it is not my favorite.  
I like the design and how everything packs down inside the pot for storage. It makes for a nice small footprint in my backpack.  
I like that the Esbit fuel is stable and you can store a bunch of the tablets inside the pot as well. Better than a fuel bottle.
But I found that when trying to boil water with this pot it requires two Esbit fuel tabs to make it work well. In my testing under ideal conditions it took about 10 minutes to boil water. The burning chamber has a small opening where you are able to access the tray for the fuel.  
In my opinion the tray is placed too low. I think if it was a half inch higher less heat would be lost and the pot would boil quicker. The opening should have a little door to reflect in the heat as well. I ended up using a tin foil wind shield around this pot to try and keep the heat in better. I have found that the pot will get sooty from the fuel but that is to be expected and can be cleaned off with a sponge and a little scrubbing.  
Here are a few pictures of the soot on the pot.  You can see the cook stove itself is the original color of the finish.
What I do like is that aside from using Esbit fuel I can also feed in small twigs into the opening and burn them for fuel. This is a nice feature since you are inevitably going to need more fuel to get your meal to temp.  
Overall, for the cost, it is a nice little compact stove. I like the included pot which has graduated measurements on the inside. The anodized finish is nice too.  And of course the Esbit fuel is inexpensive and has a crazy shelf life. 
Source: bought it new
Price Paid: $23

A good compact cook kit ...
Pros
A versatile stove, with the modifications I made to it.
Cons
Hard to get a rolling boil using one solid fuel tab. A windscreen helps.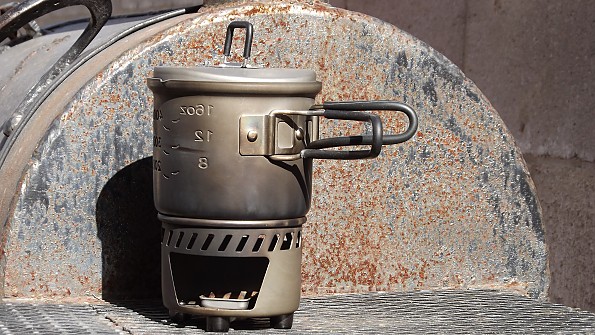 I converted this unit to accept a DIY soda can alcohol stove by removing the solid fuel tray. If I want the tray back I secure it with a short flathead bolt with a wingnut underneath. A third option is to remove the tray and burn twigs and small pieces of wood. 
Now I have three stove fuel options that work pretty well. A windscreen is recommended for all three methods of cooking though. A screen made from an aluminum can is what I use and it fits well coiled inside the cook pot.
Experience
I have used this stove many times in the windy Guadalupe Mountains in Texas and New Mexico.
Source: bought it new
Price Paid: $25

The Esbit Solid Fuel Cookset (model CS585HA) is a portable, lightweight cookset that will heat up to 16 ounces of liquid using a solid-fuel cube. It's great for a solo tripper who wants to brew up some coffee or heat up a tin of beans or some soup. Nice to take along on a longer trip as a backup stove.
Pros
Small and lightweight
Well constructed
Heats and warms foods in about 10 minutes
Cons
Does not boil the water
Must use the Esbit brand fuel blocks, which are not as widely available as other fuel types
I have edited a video review of the Esbit Solid Fuel Cookset. Please have a look:
Experience
I do a lot of backcountry camping, but this is a new piece of equipment for me so have only used it a handful of times, but so far it seems be a good choice for warming and heating simple meals.
Source: bought it new
Price Paid: $30

This kit is very lightweight and durable. It is also very compact.
Pros
Lightweight
Durable
Compact
Cons
Not very wind resistant
Not 100% dependable
I have had this kit for a few years now and have used it on more than one section hike. I do like the kit, however, if there is any chance of windy conditions, I wouldn't recommend it.
I do like how small and compact the kit is. It really packs down small. It is very lightweight. I added a few things to the kit. Made the most of the empty space inside and only added a few ounces.
I still use mine, however, for me I use it primarily as a backup. It is not my primary kit. It is well made and functions well, that is why I gave 3 stars. I made my own wind screen and it helps control the flame in the wind but not the best. 
My video review of the product:

My video review, boil test with the product:
Source: bought it new
Price Paid: unsure

Other reviews summarize it, so I won't rehash things (much)... Has mini fry-pan/cover, larger pot, stand, alcohol burner, tablet stand. Both pots have coated butterfly handles. Everything nests together in a mesh bag.
Pros
Wide cheap/ accessible fuel possibiltiies
Lightweight
Nice hard anodizing
Not expensive set
Ounce and millimeter marks stamped into big pot that's readable from inside
Cons
Longer heat/cook times
I'm afraid of scratching the finish
One pour lip on big pot that's awkward if you're left-handed; wish it had one on each side.
The tablet stand seems to place the flame at pretty much the right height and the alcohol burner is a Trangia-type alcohol burner, but unlike Trangia the ESBIT has a foldout handle on the simmer ring to help adjust the opening to control flame/heat while in the pot stand. Everything nests together.
I pack it by wrapping the burner in a cloth potholder inside the tablet stand (inverted), both inside a mesh drawstring bag inside the pots so there is no metal-on-metal contact (I want to preserve the anodized surface for as long as possible). My lighter and a few tablets are also in my burner bag and I might have room for a small (4 oz) bottle of alcohol too. 
I might seem paranoid about the surface, but that's just me, not the set. It's a good surface and seems well done and should hold up quite well. I also use nylon utensils for the same purpose.
That said, I chose this set for its ease. Alcohol can be had almost anywhere (unlike blended canisters). Alternatives can be used in a pinch (HEET from auto parts stores, antiseptic alcohol, even Everclear drinking alcohol). The set is as bullet proof as one can get, lightweight, and for my needs fits the bill. Sure it takes a bit longer to heat/cook something, but I'm in no rush and besides it's absolutely silent, no screaming jet of a burner.
Definitely best for a solo someone or possible duo that's in no rush or intense about 'getting r done' in their trip.
I wouldn't use for twig burning in the pot stand, even if it looks like it could. But again, that's just me.
Source: bought it new
Price Paid: $35 +/-

Esbit stoves are awesome...however, this version is not great.
Pros
Hard anodized aluminium
Solid fuel tabs
Pot size for solo camping
Easy to light
Cons
Weak heating for pot size
I have been a fan of Esbit stoves for years. I still have an Esbit folding stove from the '80s that I use all the time. I bought this stove several years ago and have used it many times. 
This stove set up is awesome. The pot is fantastic. It is the perfect size for solo camping. Folding handles are functional. The pot is easy to clean and has a little pour spout. I love this pot (but I don't want to marry it) and it I could find a silicon lip protector I would use it as a mug.
The burner is great and stores easily inside the pot. You can also store 4 or 5 fuel tabs inside for transport.  This is an Esbit stove so don't expect flame control, fast boil time, or anything else associated with more expensive stoves. It is for boiling water. I mean look at it...it is a no-brainer, easy to use product. 
The problem: the stove cannot boil a full pot of water. The pot capacity is a pint/16 oz/about 400 ml. It will get the water hot enough to make coffee or ramen. However, if you needed to boil water as treatment it is not effective. I am not sure why it has this problem.
The Esbit folding stove will boil 16 oz of water on half of a fuel tab in an IMUSA pot with no lid. It could be the distance between the pot bottom and flame is too far. I am not an engineer and have not played one on television so I cannot give you the adjustments needed to make this more functional.
I will use this stove for making hot drinks with enthusiasm. Recently I used it in the parking lot at my local high school football game to make a fresh thermos of coffee for the game. 
When this stove is all packed up and in its mesh bag it is so cute that you want to pinch it cheek. It will fit easily in your pack.
Comparing this to a similarly functional stove, Trangia Solo Set, go with the second.
Source: bought it new
Price Paid: $25

Not a very good stove.
Cons
The design puts the fuel too far below the pot
One Esbit tablet will not bring water to a boil
The nesting stove stored in the pot messes the inside of the pot
The design of this stove is its weak point. Esbit fuel works as expected. The pot is well made with a good lid. The stove does not work. The fuel is too low to boil water. I tried wind screens, a DIY sliding door to close the side port, all to no avail.  
My overall impression is one of disappointment. The stove is SO close to workable, but it fails to do the one thing it is made for, heating stuff.
I was going through my equipment and supplies this afternoon for the upcoming year and I threw the stove part in the trash. I will use the pot on a Vargo stove.
Source: bought it new
Price Paid: about $25

I bought this more as an impulse buy and a curiosity with Esbit and this design. I am a bit disappointed.
First of all Esbit is well known and respected and they do have tried and true designs. I am a backpacking, looking always to go lighter, and so I thought I should at least try this.
The Good: The pot is great and the nesting design really encouraged me to buy. The stand looked great, solid, and seemed to have a good wind-screen design built it.
The Bad: It is messy (ok some tweaking can minimize this), and the boil times...well don't watch it try to boil. Add a wind screen (piece of foil will do) or prepare to use extra fuel and wait longer).
The pot is well worth it and the stand is pretty good, but the fuel is messy, stinky, and once tablet on a warm evening using 60f water took over 12 minutes to boil (at 700ft).
I was disappointed. I was left with a less than confident feeling. If I really had to purify my water how long would it take? How many tablets? My friends say they often use two at once but I went with the instructions. Gotta use a wind screen.
Bottom line: Great idea, great pot, great nesting, love it all. Use a piece of foil to prevent soiling the stand. Use a piece of foil as a wind screen. Be prepared to isolate the stand from the pot when nesting to avoid contamination ans smell, be prepared to wait or use extra fuel.
I decided to put this system in my 'ready bag' as back-up or will use for more car-like camping. Love the pot, not lovin the fuel.
Price Paid: $30

Your Review
Where to Buy
Help support this site by making your next gear purchase through one of the links above. Click a link, buy what you need, and the seller will contribute a portion of the purchase price to support Trailspace's independent gear reviews.
You May Like
Specs
Price
MSRP: $29.99
Current Retail: $29.99
Historic Range: $9.83-$39.95
Reviewers Paid: $23.00-$35.00

Weight
223 g

Volume
585 ml

Size packed
111 x 86 mm

Recently on Trailspace