Esbit Titanium Stove

#1 in Solid Fuel Stoves
Compact, reliable, lightweight, indestructible. What's not to like about a titanium micro stove that simply works? Sure, it's not fast nor lava-hot. But it gets the job done in almost every situation and condition during most outdoors activities. It's perfect for lightweight types who also want to avoid bulk and complexity.

Sometimes simple and basic is the best option.
Pros
Compact
Reliable
Weights next to nothing
Simple and safe
Works with most kinds of cookware
Indestructible
It's titanium!
Cons
Requires specific fuel (though I've used others—read review)
Windscreen a must
Leaves residue
I can't think of an easier piece of camping gear to use than this stove. Certainly not other kind of stove, as this just requires the fuel tablet and a windscreen. Almost anything will lit it in a second in any weather.
Some have said it's not good for cooking, and I concede it's most efficient for boiling water. But I've used it even at home to make scrambled eggs and other stuff when we ran out of natural gas. Anyway most of the time I'm boiling water or just heating up some piece of food, a steak, old pizza or something and it works pretty nice for those things. 
When camping I frequently cook my breakfast (bread, eggs, muffins, etc.) on it. I've also warmed pizza slices and cooked fish, poultry, beans and pasta. Sometimes it takes more than one or two tablet's but that's OK for me, and making it possible is what matters as I can rely on it if necessary or convenient.
A couple of times I've run out of tablets and had to rely on alternative fuels. Once I put a small pot with alcohol on the tablet tray, I had to refuel twice to get it done but was able to boil the water all the same. The second time I had to use twigs and it took a lot of work to get things half-done, and it left my stove black. Fortunately I was able to clean it. Titanium is indeed a wonderful alloy. It cools down faster than steel too.
A windscreen is an absolute requirement. It not only protects from wind, but also reflects some of the heat back. I use a windscreen with my spirit stove as well so it's always with me. It's a foldable TOAKS titanium screen and fits perfectly around the set, keeping everything nice and protected, speeding things up.
It does stay lit on moderate winds, but that burns extra fuel and takes away the heat from the stove and the pot. I'm mentioning this in case readers are planning on using the Esbit Ti micro, they should remember to take a windscreen. It does help accelerating the cooking and boiling of water considerably. 
I've used it on multiple surfaces, and it's rare that I get a perfect place to cook my stuff when I'm camping or backpacking. It's not as stable over sand or loose dirt, and also over small rocks. Sometimes I have to improvise a stable "structure" to support it, also considering the weight of the pot and liquid/food inside. But never had a pot dumped, I'm careful when cooking because I also use a small Trangia-style spirit stove and these also demand care and attention to use. 
In the end, it's so small and compact that everything goes inside my cookware set without a single issue. I keep the included pouch to protect everything and also not to lose the thing because it's small and so light. This also help keeping it quiet inside the pot when walking. Be careful not to step onto it, it may or may not resist some abuse because it's titanium (super tough and high-yeld), but everything has a limit. 
If you prefer to deal with solid fuel instead of gas or liquid, this and its foldable sibling (also from Esbit and others) is a great option. I quit using gas and multi-fuel stoves long ago, in favor of lighter weight, ease of use, and smaller size, and I've settled for Esbits and spirit stoves without issues. 
One last tip: buy a small waterproof plastic box, the kind used for pills and other small stuff, to carry the tablets. Don't remove them from the original packaging, just cut the pieces individually and use the box to carry inside the bag. This avoids the strong smell of new tablets and keep them dry and safe (also safe from falling and catching fire in the middle of the woods which would be a disaster). 
Experience
Sometimes (most times?), simple is best. When it works this good, it's great really. It should last forever, and provide decent performance as long as there's fuel tablet around. Can't compare to a propane camping stove or MSR multi-fluid compact stove. But then it costs a fraction, takes up a lot less real estate, and weighs an even smaller fraction. Performance-wise, it can be compared to a spirit stove, for less weight and space.
Source: bought it new
Price Paid: USD21 plus importing and delivery fees

The lightest stove option out there, and it's cheap!
Pros
No messy, heavy liquid fuels.
Fuel tabs come individually wrapped.
Costs $10
Titanium
What else can I say, it's the lightest!
Cons
Not quite as stable as heavier stoves.
Doesn't fold completely flat, but small enough.
Good for boiling water, not actual cooking.
At less than a half ounce, this stove is a wonder. If you are wanting to simmer food (actually cook) then this stove is not for you. If all you do is boil water to add to a pack of Mountain House, then look no further. The 0.5 ounce fuel tabs easily boil 2 cups of water with burn time to spare. And since you don't have to worry about conserving fuel, you can light it and forget about it while you set up camp. 
We almost always have a fire, so I mainly use this as a backup for when it rains. It does produce an ashy residue on the bottom of my pot, but not unlike cooking over a fire.
Some have voiced concerns that the fumes could possibly be harmful. I don't see how it would be much different than cooking with any other petroleum based fuel. And like I said, you don't have to hover over it.
It is made from titanium, so it's very durable. It folds up to a tiny 3 inches long. And the fuel tabs are individually wrapped so you don't have to carry a fuel canister, or worry about anything leaking in your pack.
This stove has really been the impetus of my ultralight renovation. Not only did it help slash the weight of my cookset, but it caused me to rethink the rest of what I'm carrying.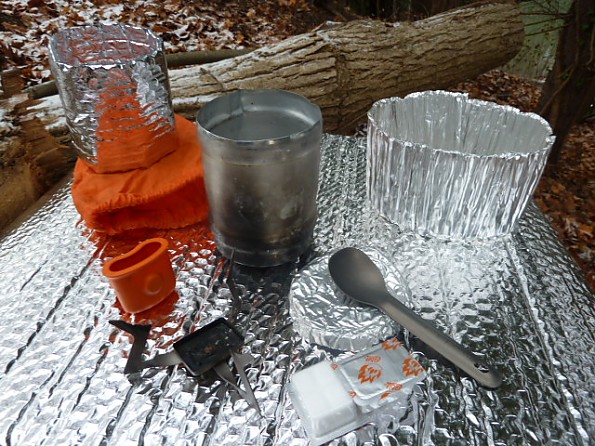 My ultralight cookset:
Heine beer can pot  0.7 oz

Alum. pot lid and windscreen  0.5 oz

Reflectix pot cozy  0.3 oz

GSI pot lifter  0.4 oz

Esbit stove  0.5 oz

Sea to Summit short spoon  0.2 oz

Small bandana rag  0.2 oz

Stuff sack  0.4 oz
Total cookset: 3.2 oz  (plus .5 oz of fuel per meal)
I don't actually buy Mountain House often, but if you do, then you will probably want the long Sea to Summit spoon to reach the bottom of the bag. I prepackage most of my meals in ziplocks from anything I can just add water to and enjoy. If you put the ziplock down in your pot cozy and fold the top over the outside, it creates a nice bowl to eat from. When dinner is over you simply close up the ziplock and dishes are done!
So if you hate the time and complexity of cooking, and the headache of scrubbing out pots, then "boil and eat" with this esbit stove is your best ultralight option. 
Source: bought it new
Price Paid: $9.95

This stove rocks. It's reliable and works for me at all temps between 0 degrees and up. Also it works well from below sea level to 11,000 feet and on the snow.

Pros
Light
Compact
No moving parts
Works with a variety of pots
Cons
Used fuel tablets do not work as well as new ones
Fuel can be hard to get in some places
Hard to simmer, can be done.
This stove rocks. It's reliable and works for me at all temps between 0 degrees and up. Also it works well from below sea level to 11,000 feet and on the snow.
You must use a wind screen or wind block of some kind. Will boil 2 cups of water consistently in about 7 minutes + or - depending on conditions on about 1/2 tablet of less.
Set up is easy and quick.
TOAKS Ultralight Titanium Cook System that weighs under 4 ounces = stove, pot 550 mil with lid, and wind screen. Add a ground puck of aluminum foil to reflect heat up helps, still under 4 oz and packs up in the pot—3 3/4" x 3 1/8 ". Fits in pack easy
This has been the only cook system I have used for 5 years now. I hike and backpack year round and this system gets taken out every trip and is well used.
The fuel is easy to come by at most outdoor stores. Each tablet is .5 ounces. Carry only what you need. The fuel is safe. It does not burn as hot as alcohol. Can be put out by: blowing on it, with water. No flash fires or infernos if it should tip over. I bring this up because of the mishaps I have witnessed with alcohol stoves.
Tip: Use odorless foot powder in the stuff sack to keep residue on pot from sticking to bag. This system has very little residue.To clean pot after the trip use Easy Off Oven cleaner (blue can), makes it look new for next trip.
Remember it's not a race. You're just trying to boil water.
Source: bought it new
Price Paid: under $60

Super light and reliable, I use it for boiling water for freeze dried meals. At a glance I know how much fuel I've got.
Pros
Small and light
Robust
Light it and leave it, tab burns out
Cons
Leaves a bit of a black smear on pot, but no big deal
I take my 9-year-old son hiking. He carries a pack with his own sleeping bag and clothes. I carry the rest, so a small light and reliable stove works well for me.
It is incredibly easy to set up: unfold, add fuel tab, and light. Not the fastest boil time, but I'm never in that much of a hurry.
I've read other comments about the smell and mess the Esbit fuel tabs make. In my experience it seems to be a storm in a tea cup, quick clean up and there are a lot worse smells about when you've feed a 9-year-old boy freeze dried beef curry and apple pie.
I've taken it away on four weekend trips. No complaints. Pick a small stable spot to set up. I use a DIY aluminum foil pot cosy/windscreen. Boils the 800ml of water in a reasonable time. I might time it one day.
Did I mention it weighs 11 grams? Less than a fuel tab.
Source: bought it used

This is a simple way to reduce your pack volume and weight. This stove is able to fold down to the size of two of my fingers! This amazing little wonder weighs in at a mere .05 oz. !!! Using the Esbit fuel tablets this stove boils 3 cups of water in 8 min.
Pros
Lightweight
Compact
Solid construction
Easy to use
Cons
Works better in wind with a wind screen.(not provided)
Residue on burner platform and bottom of pot
Overall I recommend this stove for the hiker wanting a small, lightweight, dependable stove for all seasons of hiking. No liquids and no canisters make this stove great for keeping it green and keeping it safe.
Source: bought it new
Price Paid: $11.99

Your Review
Where to Buy
Help support this site by making your next gear purchase through one of the links above. Click a link, buy what you need, and the seller will contribute a portion of the purchase price to support Trailspace's independent gear reviews.
You May Like
Specs
Price
MSRP: $17.99
Current Retail: $29.99
Historic Range: $12.99-$29.99
Reviewers Paid: $9.95-$60.00

Weight
0.4 oz / 11.5 g

Dimensions folded
3.3 x 1.1 in / 8.4 x 2.9 cm

Recently on Trailspace