Eureka! Assault Outfitter 4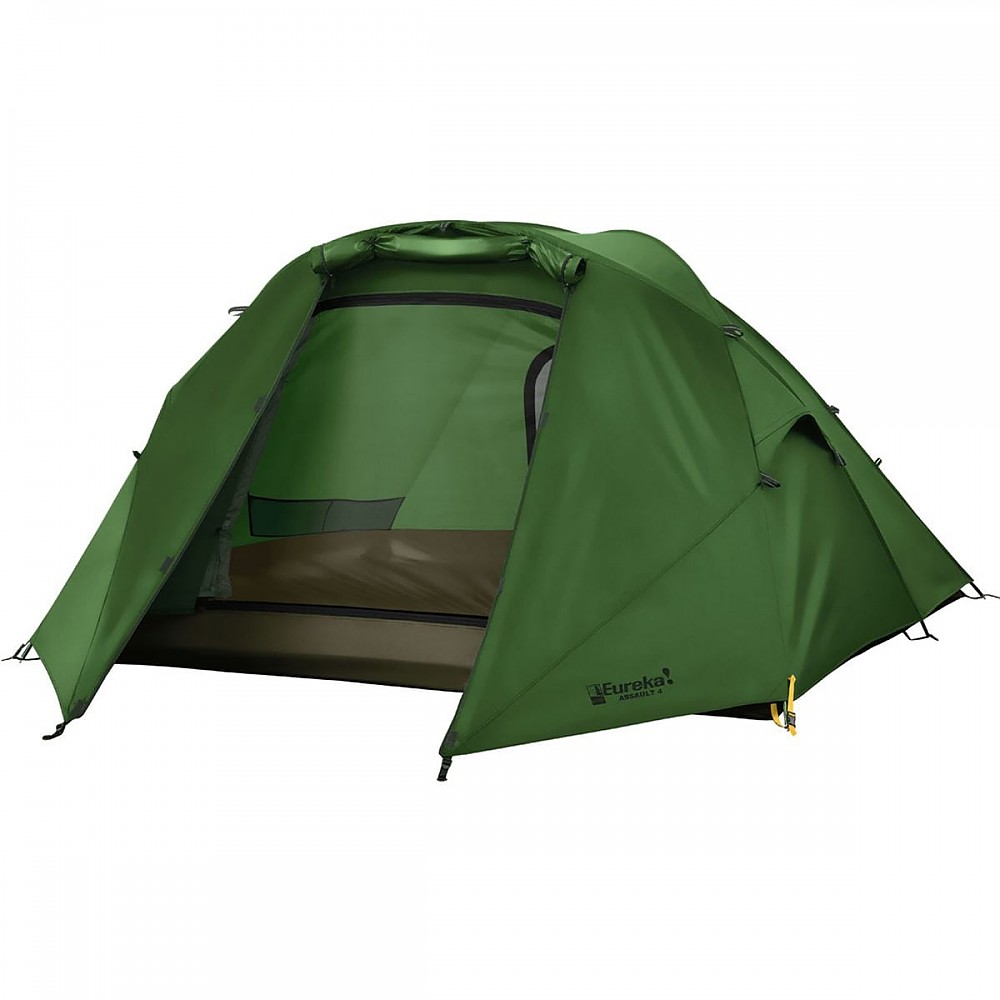 This tent is pretty heavy duty with good use of space (vertical and horizontal) for up to four people and will keep you dry. You have quite a few tie down points to use if it's going to be really windy.

I recommend it for people who are more concerned with reliability, durability, and piece of mind than that extra gram of weight. It would be best used anywhere that you can get the tent to to use it in that location.
Pros
Great materials
Overall good design
Great cost-benefit ratio for size and features
Cons
Design flaw above main vestibule fly collects water
Get better stakes
While i prefer a geodesic and still have my old Eureka 2-man Wind River (awesome tent) bought in early '90s with vestibule for around $250, I was looking for a little bigger tent with a fair amount of headroom, heavy duty materials, full coverage fly and relatively aerodynamic design to shed wind.
I looked at a lot of tents. Cabelas XWT and Guide series, North Face VE 25, and Eureka Expedition were too expensive or heavy for what i was getting. This tent had most of the features I was looking for at a more reasonable price. 
This tent is made from ripstop material (which I prefer), heavier duty waterproof coating, floor, and aluminum poles than most tents, and full coverage (almost to the ground all the way around) fly with two vestibules to unzip as necessary for ventilation.
Because the fly comes so near to the ground, you can hold it out away from the tent body to minimize wind driven rain from blowing in under the ground sheet and floor.
Some folks prefer clips to support the tent, but I like the idea of the sleeves to spread out the load even though it's a little more time setting up which, by myself takes about 1/2 hour. Attaching the velcro straps on the underside of the fly to the poles is kind of a pain. I'm anal retentive about getting it just right.
I bought a visqueen tarp at the lumber yard just the right size to fit under the floor and extend into main vestibule (I think the finished size was 8'3" x 11' 6") and folded it to fit the vestibule. I made 3" diameter loops out of 1/4" shock cord and short piece of metal coat hanger bent (like a hogring) to hold ends of loop together to attach to each guy out point (they're there permanently) so guy lines have a little give if the wind were to blow hard.
I tied little aluminum carabiners to the end of each guy line for easy attachment to shockcord loop guyouts instead of tying and untying knots at each guyout or leaving them attached to fly when tearing down the tent and getting all tangled. I bought a dozen 8" stainless steel "j" stakes and a 12" x 24" dia. Duffel bag to put it all in instead of the stuff sack so it would be easier to pick up and all that weighs in at about 22- 23 pounds instead of the 15 pound specified weight.
I discovered after an all night rain that there was a puddle of water holding probably close to a quart of water (not good, bad design) on the fly above the door. You have to guy out the pole above the door pretty tight to take the little bit of slack out of the fly in that area.
I use this when fishing in Northern MN. With a boat and motor in remote lakes so I don't have to carry it far and I'm more into comfort than that self abuse minimalist sort of thing. I'm talking lawn chairs, cots, bedrolls, and such.
Paid $350 on sale at the end of the season, plus probably another $60 or so for other stuff mentioned — a good investment for what you get. 
Source: bought it new
Price Paid: $350

A real game changer when the weather can be unpredictable on multi-day Alaska float trip adventures.
Pros
Simple, rugged and reliable
Very easy setup and take-down
Weather-proof
Comparatively affordable
Good ventilation
Excellent floor
Oversized zippers
2 entrances w/ vestibules
Cons
Toss the stakes out
Don't bother w/ plastic footprint
Main entrance could do away with draw-string cord design
A few more guy-line points
The Eureka Outfitter Assault 4 is a rugged/dependable, free standing, weather-tight, 3-pole rectangular modified dome design. I use several of these tents for my premier, remote guided/outfitted fly-in whitewater and sport-fishing tours here in Alaska.
These tents are used throughout spring, summer and fall in Alaska for my fully-guided river float trip ventures as well as in our self-guided camping gear rentals and retail customers. Alongside 8'x8' 4-season bombshelters and very high-end Mountain Hardwear Trango mountain tents — the initiative at Alaska Raft Connection, LLC is to provide guests or rental and retail customers with exceptional quality, weatherproof tents that are "camper-proof" as well as quick/easy to set and strike in an impact free approach.
These tents truthfully measure up to the pledges from Eureka: (QUOTE) "These 4 season tents trace their roots to the combat shelters designed to meet the challenge of the military. Tested against desert heat and blowing sand, tropical storms and arctic cold, they've withstood the most severe punishment the armed forces and nature can dish out."  
The Eureka Assault Outfitter 4 is the most affordable reliable protection from the elements you can buy.  A real game changer when the weather can be unpredictable on multi-day Alaska adventures.
I'll relate — to be further assured, the tent meets Alaskan demands for certain. It is weatherproof, having a sturdy design, and a fly-sheet that provides total coverage. Fabrics, components, and workmanship are first-rate… to  any doubting Thomas... superb when in view of the comparably low cost. A tent failure just can't and shouldn't occur on remote multi-day Alaska trips where winds, rain, and snow (any season — any time) can flatten even the "so called" best mountain tents. I give an A+ to the storm-shedding devise.
A couple points of interest:
I would not say this is a big enough four-man tent… But no issues with roominess for two-three persons on extended multi-day trips. Fortunately the vestibules afford good usable utility space.

Ventilation features are well thought out... the added vents are a smart addition that usually comes only on much higher price tents.

The waterproof and seam-taped tub of the tent is 'outfitter' heavier duty fabrication than typical tents and entrances have over-sized zippers.

Situating dual vestibules and doorways along length-wise v.s tunnel effect is a good concept for getting in and out. Width is fine for two (so that two need

not 

stumble over one another) or three can have ample room beyond shoulder to shoulder length-wise.

The poles are reasonable quality specification anodized 6000 series aluminum with a bit more diameter than most. Incorporating the small end-caps NOT glued in prevents electrolysis and the splitting of the ends by corrosion or freezing… something a lot of folks may not be able to relate to.

Some might cry that the tent (for its size) is too heavy… the tradeoff is that it can take rugged, routine, commercial use all summer long in Alaska and come away looking new.
Bottom Line ---> Straightforward setup, stable in bad weather conditions, water-tight in torrential downpour or when pitched on soggy ground,  good ventilation, roomy, pack-able enough and of rugged construction. Every comfortable and pleased customer enjoyed the tents w/nothing but positive feedback.
Brian Richardson of Alaska Raft Connection, LLC
Source: Eureka Dealer at Alaska Raft Connection, LLC in Anchorage Alaska

I read all of the reviews on this tent and bought it despite of some issues people mentioned that I'll address later.
I'd like to say that it is a tent lover's dream first. Water tight and bombproof. Very roomy and private.
The only thing I wish is that the windows were larger and there were another piece of fabric sewn on to block the windows entirely if you wanted. There could also be room for some side windows.
Lot's of people seem to complain about the door opening from the bottom. I don't find this to be an issue. There are ties at the bottom and on the flaps where you can pin them against the tent under the opening and off the floor. I usually just unzip to the top and slide in through the crack anyhow.
I saw another complaint about the tent for winter. I took this tent to Valdez on New Year's Eve and camped for a couple days at minus twenty. By no means was it a cozy cabin, but it did its job and held up to two days worth of camping with a dog in the extreme cold. No problem setting it up at all.
A great tip for setting this baby up is to remember to thread all of the poles in the sleeves before you begin setting them and erecting the tent. Do not try to complete one pole at a time. You will bend them and get frustrated for thirty minutes. Thread them all first and then erect.
Mine is durable as hell and the only problem I have is in the heat, but I just hate heat. Eureka needs a lightweight ac option.
The tent is a bit heavy, but this is a large tent. It is really only reasonable as a backpacking tent if you have more than one person, or a big dog... :) I carry his food and then let him sleep in the tent he carried.
I have a collection of different stakes I use in different situations and the guy lines are very nice on this model. I think the vestibules could be a little better designed, but now I'm just being picky.
Again with the windows, it would be cool if they unzipped for hunting, had a zipping cover, and were more abundant.
This tent has seen me through lots of mud, wind, snow, hot, cold, bugs, park rangers, and all kinds of stuff.
I think it is the best tent investment you will ever make, especially since they are coming down in price so much.
Sleeps: 4
Ease of Setup: Simple, but thread all the rods before you erect it.
Weight: About as much as my dog likes to carry...
Price Paid: $300

I love this tent! It's very heavy duty great ventilation, nice and easy to set up. I like the 3 pole design with the continuous pole sleeves, it makes the tent very stable in high winds. I have had no problems with water in heavy rainstorms. The tent has a very thick cordura floor. It is a little on the heavy side but I think it's a great compromise. The tent seals up nice in cold weather.
The doors are large enough where you don't have to get on your knees to get into the tent. I am 6" 200lbs. and I have to hunch over a little when standing. It has a roomy interior due to its almost vertical sidewalls. I set up my cot in mine and there is still plenty of room for another. I would say it would hold three nice 4 would be tight and the vestibules are nice size too. 
If anybody already has this tent or is going to buy one there is a tent footprint that is made by Alps Mountaineering sold by REI in their outlet section online that fits this tent perfectly the tent measures 7'6" x 8'6" and the footprint is 7'3" x 8'3" with nylon webbing stake points in the corners.
FYI- I made up up 4 small 1/8" x6" shock cord loops with stay pulls and shock cord ends and looped it through the center of the webbing. then I can snug up the footprint. It fits perfect and if you have to move the tent the footprint stay attached to the tent. One doesn't need the footprint under this tent because it's so heavy duty but I like it because I think it will make it last that much longer.
Price Paid: $300

Very dry and fantastic privacy but breathes incredibly well. This really isn't a true 4 season tent. At -20F the material shrinks to a degree that the tent may rip while inserting the frame. Also the shock cords will not shrink back into the tube. Bare hands were required for most of the tent setup.
Instead of using dead-men we used 20 penny nails with a loop of bailing twine to stake it down into the frozen ground. Once it was ready the zippers worked very well and the frost from 3 campers was kept away from them by a very good double wall design. as a 3 season it is one of the best ever made. High winds just blow around it and it barely moves.
After threading through the traditional dome "X" the third shock corded pole provides a lot of stability but make setting it up fairly difficult for a single person. Each need to be revisited many times to get the full arc inserted into the retainer straps. Sleeving the poles is very strong but hard to maneuver. Sportiva and clip designs are much easier. It would be nice if there was a good middle-ground
Design: 3.5 season freestanding dome with small vestibule
Sleeps: 4
Ease of Setup: 3rd shock corded pole somewhat difficult
Weight: pretty heavy for nylon. 25 pounds or so
Price Paid: $89

Highly reccommend this tent, but plan on getting some decent stakes. Take advantage of price match guarentees for the lowest price.
Pros
Rugged
Fairly easy to set up
Tent is fairly easy to pitch though 2 persons would be very helpful the first few times it is erected. There are 10 guy out points on the tent and, if used, the tent will be very stable in windy conditions. Hard, heavy rain does not leak in, though I have not used it in the snow. 
The tent is well vented; however, the plastic window on the vestibule could very well be eliminated. Tent is great for 2 with all of their gear.
I have not had this tent long but my early opinion is that it is a great  bargain. IMO it is not a good choice for backpacking but it is great for car camping or with a motorcycle. 
Source: bought it new
Price Paid: $275.50 delivered

This is a review of the Assault Outfitter 4. This is a rugged tent that can withstand high winds and heavy rain. I've been in storms that buckled other camper's tents, while this one barely moved. It's a bit heavy at 13 pounds, but can sleep up to four average size people, so if you are backpacking you can split the weight.
Pros: strong, waterproof. Fairly easy to set up. Condensation hasn't been a problem for me. Lots of guy out locations. Fends off the cold in the winter. Vestibules have plenty of room for gear - there's a larger one at the front entrance and a smaller one at the rear entrance.
Cons: Bulky for just one or two people. Have to experiment with the fly to get decent air circulation in the summer months (it can get hot). Stakes that come with it are weak, they will bend easily in hard ground - but you'll want to buy more anyway for the guy lines.
Overall, I really like this tent and would recommend it.
Design: four season dome (rectangular footprint)
Sleeps: 4
Ease of Setup: average
Weight: 13 lbs
Price Paid: $300

I purchased this tent for its durability. I've used it primarily for kayak camping with no issues and at 13lbs, the weight is not even a thought when kayak camping. I could not find a better price, so in my opinion, it will be pretty tough to beat.
I'm 6'6" and fit a queen size air mattress when car camping, good enough for two people without much gear, but when on sleeping pads, 4 people can easily fit in there, and the vestibule provides extra storage space for shoes, etc.
I'd recommend a floor mat outside the tent to kick off shoes before entering the tent and a good seam seal prior to the first use. The tent breathes well, but in the summer months when car camping I use a tent fan to increase air circulation.
This tent does what I want it to, and due to the top materials used, will keep on doing it for years to come.
Design: four-season freestanding dome
Sleeps: 4
Ease of Setup: Easy
Weight: 13 lbs
Price Paid: $269.99

Boy Scout leadership tent with 20 years on it! Been through Michigan winter camping to Black Hills mountain camping. Yes, it's heavy, it's not a backpacker, it has never let us down.
Pros
Very rugged
Simple design
Very waterproof/wind proof!
Fabric is a thicker grade
May have 50 trips on this tent
Cons
It's HEAVY
After 20 years I had to have the fly replaced due to busted window—covered 100% by Eureka !
Fly does fit oddly? Not the best in the heat of the summer. Excellent in the winter.
This has been an ideal "scouter tent"—a little expensive, and a little heavy. It is built like you'd expect from a commercial tent. 
Experience
I'll replace it if it ever wears out!
Source: bought it new
Price Paid: $400

I rented this tent from my university's rec center for an early August weekend in SE West Virginia. Ventilation was adequate for moderate climates but not south of here. It was easy to set up. Room for two adults, too much gear, and a dog, with plenty left over. Would be tight for four.
Excellent counstruction, e.g., about as bomb proof for the money as you can get. Remember, it is rented out (for the most part) to careless, drunk/stoned, never been camping students as well as us older folks.
I would use this tent for fall through spring camping (yes for snow). Summer temps above 75 would be too much for me in this tent though. Too heavy for two to backpack -- unless the dog would do her part.
Design: Dome
Sleeps: 4
Ease of Setup: Easy and quick first time.
Price Paid: Rented

This is a great tent -- have owned mine for 1 1/2 yrs. and used it 66 times -- camp at least once/wk. or more -- sleeps me (6'3" 250#) + 2 kids and 2 lg labs.
The one thing that needs to be changed is the doors unzip from the top and sides and are left laying on the bottom of the tent and it is easy to damage the screen when being walked on.
Handles wind and snow (14") great, but there is one spot that rain collects -- where the three poles form a triangle on top -- sags under the wt. and I push up from the inside to force the water off.
Design: 4-season free standing sq. dome
Sleeps: 3
Ease of Setup: in sub zero weather threading the poles thur the tent tubes takes longer than I like - other than that it is a fast simple setup.
Weight: 14# and bulky - not a backpacking tent
Price Paid: $269

Your Review
Where to Buy
Help support this site by making your next gear purchase through one of the links above. Click a link, buy what you need, and the seller will contribute a portion of the purchase price to support Trailspace's independent gear reviews.
You May Like
Specs
Price
MSRP: $499.95
Current Retail: $549.95
Historic Range: $248.93-$549.95
Reviewers Paid: $89.00-$400.00

Sleeping Capacity
4

Floor Size
8 ft 6 in x 7 ft 6 in

Interior Peak Height
4 ft 8 in

Minimum Weight
14 lbs 13 oz

Pack Size
8 x 22 in

Floor Area
63.8 sq ft

Vestibule Area Front
19 ft²

Vestibules
2

Vestibule Area Rear
11 sq ft

Doors
2

Storage Pockets
4

Pole Attachment
Continuous Pole Sleeves, Post & Grommet

Main Pole
13 mm Prebent 7000-Series Aluminum