Eureka! Backcountry 2

The Backcountry 2 has been discontinued. If you're looking for something new, check out the best three-season tents for 2020.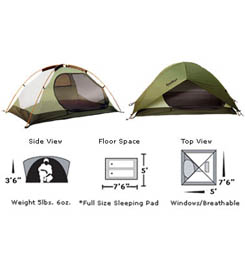 Specs
Price
Historic Range: $149.99-$189.97
Reviewers Paid: $130.00-$160.00

Reviews
11

reviews

5-star:

1

4-star:

6

3-star:

3

2-star:

1

1-star:

0
Got this tent as kind of a hand-me-down, and took it out last weekend for the first time on a short backpacking trip in Texas Hill Country. This tent preformed magnificently! I have used Eureka! tents since I was old enough to know what a tent is (over 2 decades), and they have always kept me dry, this one especially.
Setup is very easy and quick with clips to hold the body to the lightweight aluminum poles. Rain fly gives complete coverage nearly all the way to the ground on two sides. As for coverage on the other two sides, do some planning if there's gonig to be weather and set up the tent with the narrow ends toward the approaching weather and the open sides are not an issue. Tub is factory seam sealed so no leaks. Space inside is enough for two somewhat larger people though it is a little cozy, and don't bring a lot of gear inside with you. Good ventilation and no condensation. We had a pretty bad thunderstorm overnight and were completely dry in the morning despite a small puddle UNDER the tent.
The only reason this tent doesn't get 5 stars is it is a little heavy, there are lighter tents out there. Overall a great value for a great all around tent!
Design: three-season freestanding half-dome
Sleeps: 2
Ease of Setup: very easy and quick
Price Paid: n/a

I have owned this tent for 10 years. I have used this tent in many rainstorms with no leaks. 
Pack size good for backpacking.

Good ventilation.

Don't like the pole sleeves, would rather have clips.

The zipper is starting to separate from itself after 10 years.
I'm ready to upgrade to a 4-season.
The Eureka 2 is the biggest, 7.5' X 5' hybrid single wall tent. And it's the only tent around with the small 13" tent poles for bike panniers. I like the tent so much I got 3 over the years and the new one is all seam taped for leaks so you don't have to seal any seams. I like I can open the door and window from the top about 6" in the rain and keep a breeze aerating thru the tent in the rain, something you can't do with other tents. The only problem I got with the tent is its the new door in it. The rain runs down the tent door and seeps thru the zipper at the bottom in a rain storm.
Design: three season freestanding dome
Sleeps: 2
Ease of Setup: very easy to set up
Weight: 5 pounds
Price Paid: $130

This is my second Eureka! tent and I bought it because of good past experience (27 yrs of it) in a Timberline 4 outfitter! I'll write that review next. I have only used the Backcountry 2 once, on a 4 day in Allegheny NF, Penn. The first night out it poured all night, but I was dry and snug. After reading the other reviews, I do see how wind could drive rain under the fly and into the tent,but not my experience.
The fly does well in straight down rain, that I can attest to! The tent is simple to set up, though the long poles are a little awkward. I'll get used to that. I really like the room inside. I generally hike solo and I have plenty of room for gear and ample headroom.
Design: 3 season freestanding
Sleeps: 2
Ease of Setup: Simple
Weight: 5lbs.6ozs. w/o stuffsack
Price Paid: $150

I have used this tent several times in the past couple of years, most recently on the Northville - Placid Trail in the Adirondacks. It is an inexpensive tent and it basically did what I asked it to do...keep me dry and out of the elements. I was wet for most of nine days and the tent held up well. It has plenty of room and is light enough for long hikes. I don't pay a lot for my equipment, so two and four hundred dollar tents are not on my list. The Backcountry is easy to set up and easy to pack. I like the short poles a lot and found that I can open this thing up for ventilation or shut it down for warmth. It's a good addition to my gear and I have been comfortable with it in all four seasons.
Design: three season free standing
Sleeps: 2
Ease of Setup: easy
Weight: 5lbs. 12 oz.
Price Paid: $130

First time I used the tent was in the Delaware Water Gap mountain (more like hill) tops. It rained very hard the first night. The tent leaked from the walls just above the tub line. Rain forced by rain penetrates the tent walls. Vestibule does not cover the front and back tent walls so it is exposed.
This tent does well, in calm weather, or mild rains without wind. However, it is a terrible shelter in really bad conditions.
Good part:
Fairly light.
Roomy enough for two people without backpacks inside the tent.
Fairly descent opening and descent ventilation.

Design: three-season light weather free standing tent
Sleeps: 2
Ease of Setup: easy setup
Weight: about 4 pounds.

First time I used it at Great Smokey Mountain, during raining, water drips from the top through the seams. Very bad experience for me.
Sleeps: 2

I got this tent kind of "on-the-run" and i did not make the usual investigation that I do for every purchase I make.
This tent is very lightweight (in comparison) and provides an awesome view just when you wake up, the problems I see are the condensation, most of the times i've slept in this tent I've woken up in the middle of the night completly soaked.
The High-Low ventilation thing, does quite well to keep it cool inside, the problem comes when you want to keep it warm. Or when it rains...then is when you start having the condensation issue.
Other than that, the tent is great for summer, and dry climate camping, and it holds together well to great windspeeds.
Design: Three season freestanding
Sleeps: 2
Ease of Setup: Extremly easy
Weight: light enoughf for a demanding hiker
Price Paid: Don't recall

I carried this tent for 850 miles from Springer Mountain to Waynesboro on the Appalachian Trail, and used it just about every night for almost 4 months, during all types of weather conditions from hot to cold to rain to snow to wind.
I liked having all that space (7ft X 5ft, and 3 1/2 feet tall). It was a great tent unless it rained. Things got damp, but never really soaked. The problems seemed to be when it was windy and rainy at the same time. The fly was just inadequate and water always ended up getting in. Mostly drips that would run down the sides of the tent on the inside and then create tiny puddles along the edges, and depending on the slope they might run and collect a tiny puddle in one corner or on one side. Using it solo, this was usually just annoying, as I always had room to shift everything around so that my gear and I didn't get wet. On the trail for a few months, you learn to deal with being wet and slimey, and if you haven't had a shower for a week, maybe you need to get a little wet.
All in all, it's not a perfect tent, but most of the time I liked it.
Design: freestanding
Ease of Setup: easy
Weight: 5 lbs

This 2 person tent is very tight on interior room for two people but hey it's a small, high performance backpacking tent! Very light and packable. The ventalation is exellent, the construction is sound and the tie-down loops on the outside of the rain fly are a real plus, especially in rough weather. I rode out a nasty storm last summer at Sawtooth lake, elev. 9500', in Idaho.
Torrential rain, water running under the tent and very windy and not a leak in sight!! But you have to stake the tent down for it to hold up under conditions like these.
Great tent, would recommend it highly!!
Design: 3 Season Freestanding
Sleeps: 2
Ease of Setup: Quick and easy setup
Weight: 4 lbs. 9 0z.
Price Paid: $155

This is an easy to set up tent that is lightweight, breathable, and packs small. Due to its lack of a vestible, it is really a one person tent with room for gear. On a recent trip to Death Valley, CA, a group I was with expirienced high winds and heavy rains (even in the desert). My tent survived both the winds and the rain due to many guy lines and thorough seam sealing. However, another person's identical Backcountry 2 was destroyed in the 60+ mph winds, though he did not guy line it out. This tent is best suited for more protected areas such as forests.
Design: 3 Season dome
Sleeps: 2
Ease of Setup: Very easy to set up
Weight: 5.6 lbs
Price Paid: $160

You May Like
Recently on Trailspace