Eureka! Sunrise 11

The Sunrise 11 has been discontinued. If you're looking for something new, check out the best three-season tents for 2022.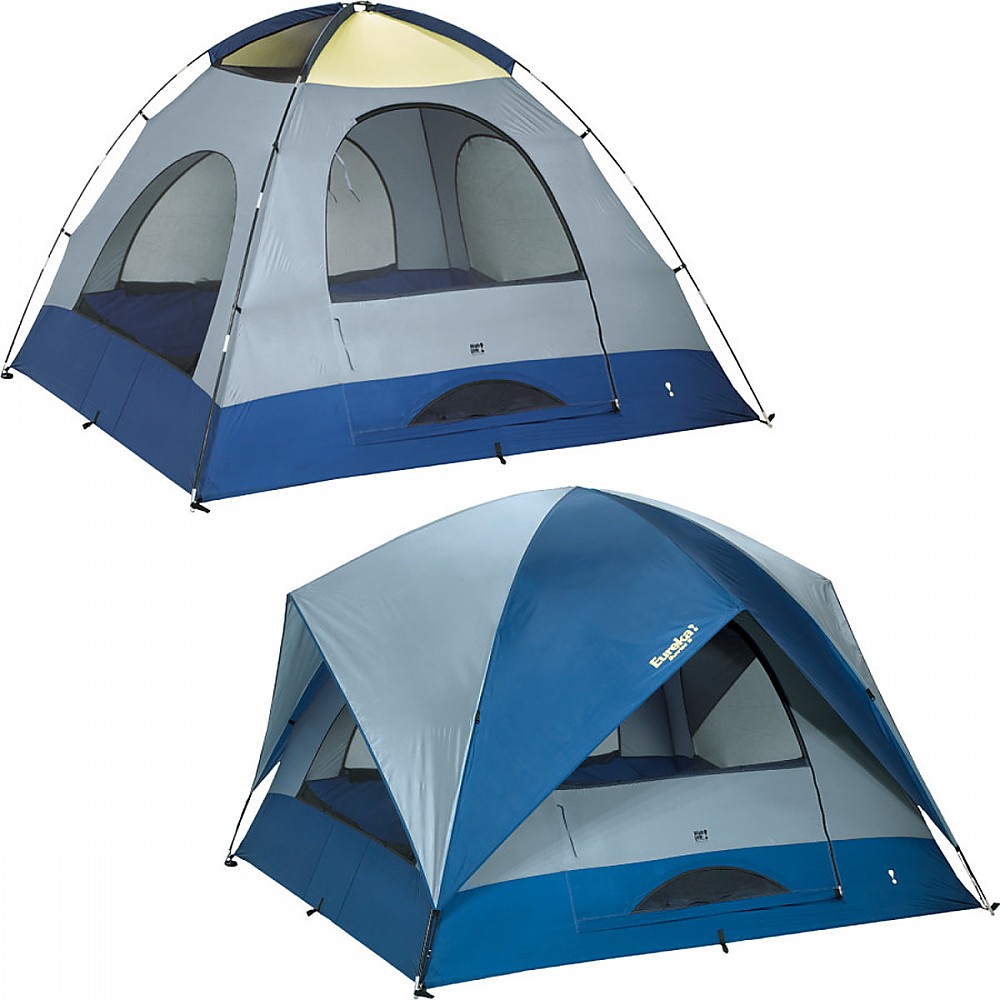 Specs
Price
MSRP: $319.90
Historic Range: $199.93-$319.90
Reviewers Paid: $200.00-$250.00

Reviews
4

reviews

5-star:

0

4-star:

3

3-star:

0

2-star:

0

1-star:

1
Love this tent. Have used it for over 20 years now.
Pros
Very roomy
Interior is well lit
Big windows for cross breeze
Top vents
Bathtub base
Fly top
Cons
Weight (only suitable for car camping)
Poles are fiberglass and not aluminum
Have had Eureka tents going back to the 1960s. The originals were a tan cloth material and heavy duty with aluminum poles. The pole system was super strong. The Timberline tent is probably the best Eureka line. I have two that I use for canoe trips. One original tan from the 70s and a newer nylon green one.
I also have the Sunrise 11 (now discontinued by Eureka though they will service them still). It is great for family car camping. Will fit a family of 4 comfortably and still have room for all your gear and space to fully stand up. They designed the blue nylon material to allow more penetrating outside light in. Condensation is pretty minimal with the windows closed in colder weather. The top vents do a good job with this. 
I would totally recommend Eureka products.
Experience
Years of camping, canoeing, and travel all over N. America since the early 1960s.
Source: bought it new
Price Paid: Around $500 back in the '90s (was a new design at the time)

Let me say this, I wanted a bigger tent with elbow room for my family of 4 and I GOT IT! You can easily set up all the sleeping bags and packs and still still have room to walk. And head room, WOW this thing delivers.
Now let me tell you about my criteria for my tent purchase:
Size: Well this tent has it all. Elbow room, leg room, head room and whatever kind of room you want, it's got it.
Fly: I wanted something that would keep me dry in a storm. This is definitely not the most weather resistant tent, but for FAMILY camping and the little rains encountered, the fly should be fine. When I say family camping, I mean that you will probably not go camping if the weather is going to be lousy, right? Family camping is fair weather camping. Although I think this tent would do fine as long as winds don't exceed 30MPH. If it got that bad then I might be worried.
Windows: This was the tradeoff for the fly. I wanted to have lots of CLOSEABLE windows. This tent is one of the nicest because of that. When I am camping I like to be able to look 360 degrees out of my tent and see mother nature. That's why we're out there right? The nice thing about these windows is that they are closeable. If it gets cold at night you can close the windows to keep it a little warmer inside.
I know you're going to say that if you close the windows, you will get condensation. Well in my case with my family of four, there was NONE. This must be due to the large mesh on the top. This tent has Great Ventilation! I absolutely love the large windows. When your inside the tent, you get the feeling like your outside.
Ease of setup: Well if there is a downside to this tent then this is it. It is a simple two-pole dome, but because it has pole sleeves on the top the ferrules get hung up in there. just a bit of working it through and it's fine, but if you're in a hurry can be a pain.
Also due to the tent's size, once the poles are installed it is difficult to raise the tent. You have to make sure the poles are even from corner to corner because the poles dont slide very esily through the sleeves. I wish Eureka would fix this by putting pole clips on the top rather than the sleeve. Anyway, all in all, it takes prob about 20 minutes from unpacking the tent to complete setup including stakes.
Heavy Duty Construction: I wanted a tent that would stand up to my kids and their crazy clumsy reckless style. This tent is built well. I love the heavy duty polyester floor, it's outstanding. Everything else is nicely constructed too, with reinforcing wherever needed. As long as my kids don't run and jump onto the side of the tent or try to puncture it with sticks, it should be good to go for a long time.
All in all, I am very satisfied with this tent. It is not the most weather resistant, easiest to set up tent, but it has TONS of room, closeable windows on all four sides that open you up to nature, and is built to last. If this tent had clips on the top rather than the sleeves, it would be a 5-star tent without a doubt!
Design: freestanding family dome for fair weather
Sleeps: 4
Ease of Setup: 7 out of 10
Weight: Its a family tent. Nuff said.
Price Paid: $200

After a lot of research, I decided on this tent because of the many favorable reviews I saw and Eureka's reputation for good tents. I am now tent shopping again (this one is two weeks old and has not gone on a single camping trip yet).
Simply put: where the floor of the tent (the bottom dark blue) meets the wall (the light blue part) - this is a "bathtub floor" as Eureka and other reviewers refer to it. Nice because there is no ground level seam to leak during rain. But - it does leave a nice horizontal seam all the way around the tent (where the light and dark blue meet) that is not covered by the fly and IS NOT factory sealed.
We sealed the seams of this tent twice with three tubes of McNett. It rained - the floor of the tent was wet.
In spending a substantial amount of time on the phone with Eureka today, they apparently feel it is the job of a $6 tube of McNett to make sure you stay dry, not the job of a $250+ tent. I would have thought the seam sealing was a secondary safeguard, not a mandatory requirement - apparently Eureka is banking their reputation on a 3rd party rather than choosing to provide a quality product.
We have always had REI tents until now, never sealed any of them and have always stayed dry. Will never buy another Eureka - they simply do not stand behind their product.
Design: Three-season dome tent
Sleeps: 5
Ease of Setup: Fine with 2 people, tricky with 1
Weight: Unsure
Price Paid: $250

I'm only giving it a 4.5 because I only had it out once for a three day trip. I'm familiar with domes as I have 2 LL Beans which are great but I wanted more space and HEAD ROOM which the 11 has an abundance of--121 sf with a 7 ft center.
We barely had time to glance at the directions (which "are" provided and in simple ENGLISH) as we were racing a fast approaching thunderstorm. With 2 of us we had it up in 15 minutes right as the skies opened up. More like a monsoon with hail, 40 mph winds---it was 2:00pm & looked like midnight. Even with the windows down about 18 inches (we love watching storms) the large overhanging rainfly, Storm King is right, we didn't get even a drop of water in there. What the fly didn't get the big bathtub rolled away. The storm lasted into the next day and still not a drop.
If this doesn't sell you there's some neat storage compartments, loops for lights and my favorite parts are the nice strong tight zippers and the taped seams.
Considering the size, quality and "tested" durability, at this price you cannot beat it!
**Poles separate rather easily--great for take down but make darn sure they're secure "BEFORE" bending.
Design: 3 season Dome
Sleeps: 4
Ease of Setup: Easy, just follow the directions. As with "all" shock corded poles make sure they're completely inserted.
Weight: About 20 lbs
Price Paid: $239.95

Your Review
You May Like
Recently on Trailspace