Eureka! Sunrise 9

The Sunrise 9 has been discontinued. If you're looking for something new, check out the best three-season tents for 2022.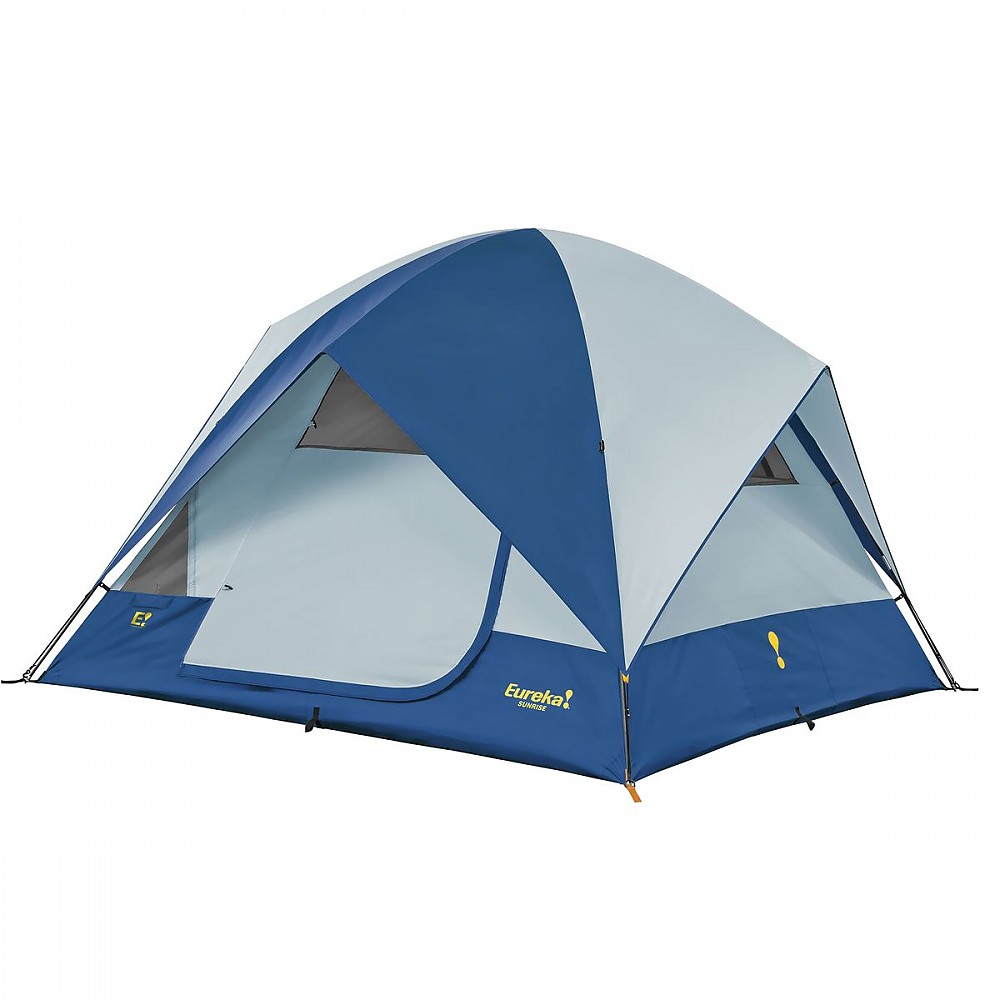 Specs
Price
MSRP: $259.90
Historic Range: $116.20-$259.95
Reviewers Paid: $100.00-$450.00

Reviews
13

reviews

5-star:

8

4-star:

4

3-star:

1

2-star:

0

1-star:

0
This is my most used tent! Great for all seasons, totally waterproof and tough. Easy set up and roomy inside. Not for backpacking (a bit heavy) but great for any other type of camping!
Pros
Tough, durable material and strong poles
Extra storage compartments
Easy setup
Cons
Not lightweight - but was not made to be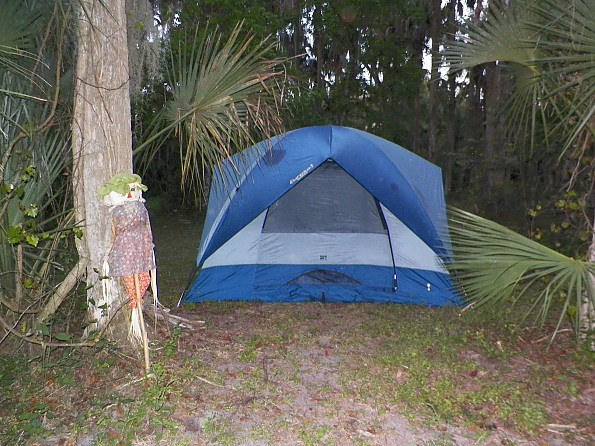 Camping in Florida you never know what you will get. From wicked heat and mosquitoes to terrible thunderstorms and yes, we even have freezing nights. This Eureka Sunrise 9 has survived over 40 camping trips to date and even the wildest child has not been able to tear it up.
Tough durable poles and material has kept this tent in use after much abuse. We love the extra storage accessories to keep our gear off the floor of the tent giving the appearance of even more space in this spacious tent. We have had 2 cots in this tent before and still had room to move around.
Eureka tents are the tents of choice for Not a Clue Adventures, a local outdoors guide company, due to their durability! Thank you, Eureka for a great product!
Source: bought it new
Price Paid: 260 USD

Great tent for car camping with the family. We have used this tent three or four times without any major problems.
Pros
Easy to set up
Great value
Comfortable
We have mainly used this tent for car camping with two adults and two kids (a little cramped when you add our gear). Setup is not bad and can be done by one person. Large mesh windows can be opened or closed depending on the weather. Even with four people, condensation inside the tent has never been a real problem. We have mostly used this in 50+ degree weather.
This tent has weathered a couple of nights of solid rain and I did not notice any problems with leaking water (rain was steady but wind was light so the rain fly did its job). A little water seeped through the bottom, but I believe that was more of an issue with the tent pad allowing water to pool underneath.
Comes with gear loft and corner organizers which we don't use. The corner organizers are left at home and sometimes the gear loft gets in the way.
Front door contains two zippers — one along the bottom and one along the side/top. I would prefer just one D shaped zipper but this system has been fine.
Packing up is easy and can always get it back down to fit in its original box.
We have been happy with this tent and plan to move to the Sunrise 11 for more room. Can't really beat the price for the quality you get.
Source: bought it new
Price Paid: $200 - maybe

More money than I've spent for a tent in the past. Use it 3-4 times a year for group camp. Only had it for 2 years. Like it so far.
Pros
Roomy
No leaks so far
Fairly easy to set up
Good value for the $$
Actual 10' x 10' footprint
Cons
Gear loft gets in the way if you don't need it for gear
My old Greatlands Easy Pop-Up tent finally got threadbare enough to replace after 10 years plus.  
Shopped, researched, and found good reviews here and elsewhere.      
Pretty easy to set up.  Stands up to wind and rain so far.  
Window zip up down on three sides to vent in summer, keep wind and cold out in spring and fall.  I was a bit skeptical about the bottom door vent, but it keeps air flowing and condensation to a minimum.  The storage attachments are nice if you need them. I have to roll up the gear loft and fasten it with those black office clips so I don't bump my head.
Reviews I read stated that zippers were a bit dicey, but double stitching makes them sturdy enough so far.
Door design takes some getting used to. Still trip over the bottom and I have to make sure that the front of the tent is not staked too tightly to make open/close difficult.
Packs easy and actually fits into storage bag.
Source: bought it new
Price Paid: $230 plus shipping

This is an amazing tent for the money. Durable, great ventilation, ease of use.
Pros
Great ventilation on humid or wet days.
Easy peezy for amateurs to put up.
Bathtub bottom never leaks
Sleeps 3 comfortably; 4 close; 5 like sardines.
Cons
It's not so packable for backpacking; it's a heft. Make the boys carry it.
We use this tent when we will be camping for multiple nights in the same location with at least two people. It is easy enough to get it together for a one nighter...but we've got a 2-person, packable MSR that is even easier if we're going to be making camp in the dark or don't have much time to break in the morning. (For instance, for bicycle tours.)
For camping that will require we do a little living in the tent, the Sunrise 9 has served us well. It has been used mostly in the Midwest. It's a 3 season tent, but my Sunrise 9 has seen quite a few 0-25 degree nights. The ceiling vents don't close (which is necessary to keep the humidity down), and it makes for a freaking cold morning. If you stay inside your cold weather sleeping bag, you won't notice.  :)
I have owned mine for over ten years. The design has not changed. That's because it's awesome and doesn't need a change.  
Setup is easy. Obvious pole placement. My 70-year-old mum has put it up for me before without a hitch. She's a champ. I am 5'4", and I can stand to get dressed, no problem. I think it's a 6' clearance in the highest part.  
A few years ago, my Sunrise 9 got pelted with a pointy rock and left a 4 inch tear in a side wall. I contacted Eureka for repairs. I feared it was just too much to fix. I sent it to Eureka, and they fixed it. The repair cost about $30. The Sunrise 9 has been through heavy downpours since, and it does not leak in the repair spot nor anywhere else.  Eureka stands by and supports their products. I am impressed.  
When asked for tent recommendations from friends, I urge everyone to spend a little more and buy this tent. It's not terribly expensive as good tents go, and it's worth every penny.
Source: bought it new
Price Paid: $200 10+ years ago

I bought my Sunrise in 1992, so I can't comment on the newer models only my 20 year old model.  I can find absolutely nothing negative to say about this tent. The fact that it has provided about 300 nights of use without failure is testament to the quality design, materials, and construction. 
I still use this tent any time I car camp in spring, summer, or fall. The tent goes up easily and it is 100% waterproof (I must admit that I am an anal seam sealer). I use a plastic ground cloth inside and out which has probablly saved the floor over all these years. Ventilation is incredible even in the rain due to the window overhangs and it is fairly sturdy in the wind when the external guy lines are employed. 
I would buy another one of these without second thought.
Price Paid: $200?

I've owned several Eureka tents over my 30 plus years of camping and all of them have been very good tents especially for the money. I have never been more impressed with a tent than this summer.
We were camping in the Nicolet National Forest in August and spent the night in the worst, I mean the worst thunderstorm I've ever experienced. Think of the hardest rain imaginable, the kind that makes you pull over on the highway and then double it. Seriously. Rolling thunder, lightning cracks that sounded like the hand of God slapping the earth.
For most of the night we suffered through this storm. I thought the tent would blow away and we'd end up in the car or a pit toilet to stay dry. Didn't happen. The Eureka Sunrise 9 withstood it all and in the morning, everything was dry inside the tent. Of course I had silicon waterproofed the tent the year before and had sealed the seams, but still.
I love North Face products and have a TNF backpacking tent, saw a Traihead 8 on sale and thought about getting it, but after this night, I'm keeping this tent as long as it holds up. The windows are great and yeah, the zipper sticks a little but like most tents you just have to take your time and not force it. The little vanity thing and cupholders and all that are cheesy; we don't even use em.
I highly recommend the Eureka Sunrise 9. There is not a better tent for the money on the market.
Design: 3 season
Sleeps: 5
Ease of Setup: one person can do it
Weight: idk, car camping weight
Price Paid: $200

When I turned 71 I broke a promise that I had made to myself over 50 years ago: after Korea I would never, ever camp again unless it was at a Holiday Inn. Then I got Beamer, my service dog and constant companion, and we started off going to California and agility trails.
We got a small Wenzel, or something like that, but the size was too darned small, it was a constant leaking of condensation, and the winds were howling and the snow was coming down in the Sierras. Then we moved up to two other tents, the Sunrise 9 was our favorite for a couple of years.
Then the graphite pole had a "slight break", but it was lateral and did not affect its holding power. We duct taped the thing and went on camping, first up north from us in Montana and Wyoming.
Then we went down to Grand Junction, Colorado and around Arizona and the Four Corners region. The pole held up all of that time, through some of the nastiest wind storms and even some snow at Bryce Canyon. Whether it was the duct tape or the magic of Eureka, the camping season was not stalled in the least.
When I got back I turned to Eureka's warranty department, expecting a mess of a problem dealing with them; but, amazingly, they were very helpful and accommodating. Just for the cost of shipping they not only replaced one pole but both of them under their warranty and told me to have a good time camping. And this took place over a period of 17 days, unlike the Kelty Warranty Department which has been holding me up now for nearly two weeks while I await their vacationing personnel.
I had bought a Kelty Trail Dome 6 thinking that with the Aluminum DAC 17 poles I would have the best of the tenting world. But on our second camping trip, at Dinosaur National Monument, on the next to last day the Kelty gave way and there was a groaning tear of mesh and fabric that we faced when we returned from a hike.
Unlike our experience with the Eureka, the folks at Kelty have dithered and even though we may have gotten another tent from Backcountry Edge by going to Taylor Eshleman directly the warranty department is saying that it will be another five or six weeks before they will give us an answer.
I must say, I like both tents. While the Kelty is bigger the Eureka had better directions and their warranty work is outstanding. What more can I say, the Sunrise 9 is a great little tent for the vacationing camper. But we car camp out about four times a year and you can't beat the convenience of the Kelty. I just wish the warranty department would make up their mind with a little alacrity.
Design: Three-season Dome
Sleeps: 3
Ease of Setup: No problems, even for an old short man
Weight: light, but not as a feather
Price Paid: $150

We've had an older model of this tent for more than seven years now. At first we were quite impressed with its performance, and we do camp a lot. But, as time progressed, it has started to show its age rather quickly. Our main beef is with the poor quality zipper on the main door. From the get-go there were issues with it, as it always wanted to split open. The shoe was, repaired and then replaced, and now the zipper has teeth falling out! (rendering the tent useless)
Also, the fly, while it appears to be durable, has always leaked, especially from the center velcro area (leaving you wet inside in minutes). It has also shrunk to the point that it is difficult to get the poles in! The poles would have been better if they were aluminum, but being fibreglass, they have broken (at the ends) and been taped together in many spots. The floor, while quite thin, has stood up very well (amazingly)!

Overall, for the abuse this tent has seen, we really can't fault it too much. (we just curse at its faults!) However, our 80 dollar Wenzel tent that is 18 years old, while it does leak, is still completely intact!
Sometimes "you get what you pay for" isn't true!
Design: 3-season family tent
Sleeps: 5
Ease of Setup: No-brainer here
Weight: Definitely a car camper
Price Paid: $450

I find Eureka tents to be the best family tents in the market. Their backpacking tents are also great value for the price. I am very happy with this tent since I bought it in 2003. I use it in my family camping trips all around the Northeast, TN, GA, VT, and I did a couple of trips to CO (Gunnison River and Crested Butte area). I used during thunderstorm (coast of the Lake Ontario), soggy nights in Smokey Mountains area and late fall in VT. The tent worked great all through these.
Now, I hear people complain about tents, but I strongly believe that you need to know some basics to handle (pitching, putting guy lines etc.) a tent. It's true for any gear.
Pros:
- Great ventilation. no condensation whatsoever.
- Great rain protection. I know cause I spent a lot of time inside the tent while it was pouring down outside. couple of my friends came in to our tent cause some of their "better brand tent" did not work so well.
- very easy to set up
- holds up surprisingly well in sustained wind gusts
- colors. I like the low profile colors
- Space. it's great for a family of 4 or more. Not a lot of manufacturers make this spacious of a tent with such quality material and worksmanship. yes, you can buy a cheaper and bigger tent from say Coleman or Kelty, but they are not as good of a quality as Eureka. I tried them all.
- Customer service. Eureka customer service is truly exceptional. I did not need them so much. but they were really helpful when I needed information.
Cons:
- this tent could be lighter. But I have no complaint cause I use it for car camping, or as a base camp, or for short backpacking trips.
- there are a couple of seams that are not factory sealed. but, the tent came with some seam sealing liquied and I seam sealed it before I took it to my first camping trip. Never had to seam seal it again. it's working fine.
- could use two doors instead of one.
- I would love a vestibule in this tent.

Summary: a great 3-season tent at a great price. Ventilation and moisture management are the greatest strength of this tent. This could be the most ideal family tent if it had another door and a vestibule.
Design: Three-season free standing dome
Sleeps: 4
Ease of Setup: Very easy
Weight: 13lbs
Price Paid: $100

Bought this tent probably 10 years ago (thus the higher price); used it once and then didn't use it again for another 10. After some really nasty weather last fall, realized I must have done my homework before all this info was available on the internet!
Everything said about the great ventilation is true, and that the windows can be left partially open during rain. It also stays pretty warm when you zip everything closed.
Since it is a car camping tent, do yourself a favor and get two 9x9 5 mil tarps; one for under the tent, and one for inside; then you can even put up chairs inside with no worries about the floor.(I actually use a 9x12 for underneath, providing 3x9 ft of "front door mat" for storing stuff in front of the tent. Yes, I make sure the front is downhill...)
For a tent 6 ft. tall, it's a bomb shelter in high wind and drenching rains (seam sealed it 10 years ago.) And the height, especially when entering the tent and changing, is great for less than limber baby boomers. It's not the sexiest tent around, but you can't beat it for functionality and value. For two adults with airmattresses, it's a hotel room; comfortably sleeps three on pads with plenty of room for gear.
Design: three-season family dome
Sleeps: 3
Ease of Setup: 1 person; 5-10 minutes
Weight: not for backpacking!
Price Paid: $219

A great car-camping tent. Laughs at wind and rain, sets up QUICK. Inner pockets and attic are quite handy. ROOMY TOO!
Price Paid: Can't remember

I just bought this tent for 130. I am very keen on the four windows and large awnings over them by the fly. The fly concentrates flow of water to the corners, which could have better stitching. With careful seam sealing, this shouldn't be a major issue. Since it's a car camping tent, it'd be nice if they'd use one of the indestuctable floors available on cheaper brands. There is something to be said for those floors.
The built in gear loft was a nice surprise. I also really like the polyester fly. I love all the ventilation, which was the main selling point.
Easy enough to set up with one person, less than 10 minutes. Probably less than five with two organized souls.
I bought it for car camping, and it should serve this purpose well.
Design: 3 season freestanding dome
Sleeps: 4
Ease of Setup: easy
Weight: 15 lbs
Price Paid: $130

Had this tent for 2 years. I use it as a 4-season tent by putting a plastic bag over the top vents in the dead of winter. Roomy, solid, well ventilated (but all windows can be shut if it's cold out). Fly is large enough to allow the windows to be open on rainy nights. Many tents don't allow that. That's a great feature. If you've ever been stuck in a stuffy closed tent on a rainy night you know what I mean. Big and definitely for car camping but it's a great tent. Pole sleeves at the top of the tent make for added headroom. Great!!
Design: 3 season freestanding dome
Sleeps: 5
Ease of Setup: easy - short sleeves at peak of tent
Weight: 14lb
Price Paid: I paid $125

You May Like
Recently on Trailspace