The Zeus 2LE has been discontinued. If you're looking for something new, check out the best three-season tents for 2020.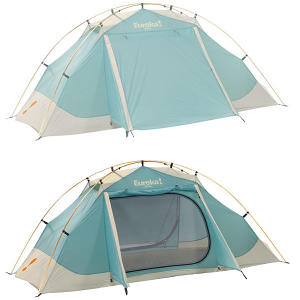 Specs
Price
Historic Range: $94.99-$149.90
Reviewers Paid: $90.00-$129.00

Reviews
I've used the Zeus 2 LE for four years all over the US. It has stood up extremely well on super-humid summer trips in Florid, high wind with heavy rain in the coastal mountains of California, and lots of places in between.  
I love this thing! No rips, no leaks. I only wish Eureka would start making it again.
You'll look hard to find another single wall tent that matches this price to performance ratio. I find the LE more versatile than the Zeus 2 Classic since it has two doors and vestibules. I'll just keep babying this one until it finally dies. 
Price Paid: $119

Overall design is great. The square floor allows easy maximization of floor space. Walls are nearly vertical at least a foot off the floor- makes even more gear/sleeping volume. Double doors are handy for 2 people and vestibules at each side allow some private space. Very easy to set up (no sleeves or super tight bends for the poles, just beefy eyelets for the pole ends clips for the remainder of the poles). Bright color makes interior "livable". Endless possibilities for ventilation using Eureka's hi/lo method of zipping doors, etc.
I've had this tent out many times, and compared to higher-priced "pro" brands like Mountain Hardwear and The North Face, the Zeus holds its own marvelously. While others are spending time setting up their high priced, overly complicated, poorly ventilated super-tents, I'm already set up and off pumping water, etc. I highly recommend Eureka tents to anyone due to their consistently simple yet effective designs, reasonable prices, and overall quality and workmanship.
If a fault can be found, the Zeus 2LE is a bit heavy with respect to other tents in its class, but only by ounces.
Design: 3 season, Al pole, freestanding single wall
Sleeps: 2
Ease of Setup: Super easy! With pole ends in place, attach clips, secure vestibules/guys- done!
Weight: about 4.5 lbs
Price Paid: $110

Very good, lightweight tent for the money. We've used this tent in rain and shine, cold and hot. Lots of trips to the Blue Ridge mountains in NC, and it has held up well over about 2 years time.
We replaced the 10 stakes with MSR aluminum Needle stakes which took a little weight off and are nearly impossible to bend. Total pack weight is 4 lbs 9 oz on my scale.
We previously owned the Zeus 2 Exo (original) which had a bad condensation problem. But the Zeus 2LE has had no problem in this regard. The 2LE is also much more practical, having 2 doors and 2 vestibules.
Setup is a breeze, and staking out the tent isn't necessary in case you're setting up quick or on rocks.
Design: three-season freestanding dome
Sleeps: 2
Ease of Setup: Simple. Only takes a couple minutes.
Weight: 4.6 lbs
Price Paid: $129

If you purchase this tent knowing it is a few ounces heavier than other tents in its class, there is not a flaw to be found. I've taken this tent out many times along sections of the AT and have had wonderful experiences.
I can get it up in a little over 2 minutes in any weather condition and the vestibules are great for muddy and wet gear. It keeps you perfectly dry and this tent is also very spacious. I slept in the Quarterdome recently with a friend and felt completely cramped.
The only problem may be the stuff sack which does not compress very well. I purchased compression straps to fix this and you can either do this or buy a separate stuff sack for the tent. But it's proven to be extremely durable as well so far.
It's also basically a steal at the $120 you can get it at now (I only spent 90). Overall, I am very pleased with everything about this tent and it has served me well.
Design: 3.5 season freestanding dome
Sleeps: 2
Ease of Setup: Could not be easier
Weight: 4 pounds, 6 oz.
Price Paid: $90

I have only used this tent one time but was impressed with the single-wall design. My wife and I used it in Oct. in the Smokies in very humid and raining conditions. Condensation was not too bad and it kept us very dry. I liked that it was so light at 4.5 lbs and very easy to set up. It has good vestibule space (one on each side), it was just a little short for me at 6'2" but bearable if you don't spend too much time in it. It came with seam sealer and I have since used it but stayed dry without seam sealing that night. Great quick light shelter with aluminum poles that snap into place for a nice taut fit!
Design: single wall freestanding, backpacking tent
Sleeps: 2
Ease of Setup: very easy
Weight: 4.5 lbs.
Price Paid: $120

The minimum weight is really 4 pounds 1.4 ounces, not the 3-10 that Eureka states. That alone is enough for me to look somewhere else. The out of package weight, without seam sealer, is 4 pounds 9.3 ounces. At that weight, it is in the same class as REI quarter dome, Sierra Designs Lightning, Montbell Thunderdome, Big Agnes Emerald. All of which handle condensation much better than a single wall ever could.
Design: three standing single wall
Sleeps: 2
Ease of Setup: clips are easy, the stake the vestibles
Weight: 4 pounds 9.3 ounces
Price Paid: $110

You May Like
Recently on Trailspace