Eureka! Zeus 3EXO

The Zeus 3EXO has been discontinued. If you're looking for something new, check out the best three-season tents for 2023.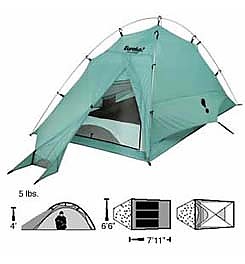 I'm 6'3" and my head and feet both touch the walls of most tents that are advertised as a full 7 feet in length. Very few 2-man backpacking tents give me enough room.
I spent about two years contemplating this tent purchase. I wanted a sub 4 lbs tent that my son (also 6'3") and I could be comfortable in without spending much over $200. That's impossible even at $300?
This tent is very comfortable for two 6'3" men and can handle 3 adults in a pinch. It's actually roomier than many other 3-man tents. 3 adults and a dog might even work.
I finally decided on this one when the new Eureka Zeus was introduced and neither the two- or three-man had what I was sure would be enough length.
Seam seal (as instructed and provided) it and make sure the low vents are properly staked and the high vents proped open and you should be very happy.
The condensation complaints about the Zeus 2 and 3 are probably due to a common failure to understand proper vent management. The new Zeus tents have better vestibules (with doors on each side). I gave up the extra door, better vestibule and 2 ounces of weight to get extra room.
Design: three-season single wall
Sleeps: 3
Ease of Setup: a snap
Weight: 5 pounds
Price Paid: $159

This is the worst tent I have ever purchased. It was wet on the inside surface every morning except when we had 50 MPH winds. When it is raining the roof droops when you unzip the fly to go inside and all the waterdrops on top run down INTO the tent. The velcro on the flap for the zipper also hangs down and sticks to the door screen and tears the screen when pulling it back off. This one is going back to the store.
Price Paid: $150

Bought this tent on the recommendation of an outdoorsman friend. He had a Eureka for years and loved it. I have to say this has to be the easiest tent on the market to set up. Litterally 2-3 minutes and you are done. Took it up to Yosemite and it was great. Minor condensation, but that seems to be standard fare with any tent these days. I was worried about ventilation, but was amazed how comfortable we were even with no breeze outside.
My wife and I are 6' and 6'4" so the extra length was another selling point for us. There is plenty of room for 2-3 people. A couple with a kid will have plenty of room. It also packs small and light for backpacking. Don't pay more then you have to on a tent, this thing rocks for a really great price.
Design: Single-wall 2 pole
Sleeps: 3
Ease of Setup: stupid simple
Weight: I think it is 5 pounds
Price Paid: $140

On a recent two-day trip in the White Mountains with a buddy, we got rained on for 16 hours straight, and the one thing that we were thankful for was this tent! Not only was it light and easy to set up, as advertised, it remained quite dry inside, a little condensation aside.
Lots of room for two, but if you are thinking of the two-man version, go with the three for the space; adds a mere 2 lbs of weight. Overall I am thrilled with this tent, and cannot wait to use it in dry conditions! The only things they can improve are the zippers, very prone to snagging, especially the vestibule. Very good tent overall.
Design: 3-season lightweight backpacking tent
Sleeps: 3
Ease of Setup: easy as pie
Weight: 5 lbs and change
Price Paid: $169

Excellent dry tent. We just completed a cold and wet camporee and this tent couldn't have performed any better. Roomy vestibule to stash gear, plenty of space for two people, and adequate ventilation. I can see how condensation could be a problem in some calm areas, open the vestibule and prop it up on hiking sticks for a lot of air. We propped it up to experiment a bit.
Especially at clearance prices, no better tent.
Fellow scoutmaster went and bought one the day right after the campout.
Design: three and half season freestading done single-wall
Sleeps: 3
Ease of Setup: Simple and quick
Weight: 5 lbs
Price Paid: $99.97 end of season

Your Review
You May Like
Specs
Price
Historic Range: $108.34-$169.95
Reviewers Paid: $99.97-$169.00

Recently on Trailspace