Exped SynMat 9 DLX

The SynMat 9 DLX has been discontinued. If you're looking for something new, check out the best air-filled sleeping pads for 2023.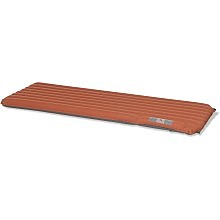 Version reviewed: LW
This mat is absolutely awesome. It provides great comfort while out camping. It isn't quite as comfortable as some beds, but awfully close. It is large for larger people. Mine is called the "LW" for Long and Wide. It is heavy, so it isn't the first choice for lightweight camping.
Pros
Extremely comfortable
Integrated pump
Good durable material
Cons
Heavy
Expensive
Very slow deflation valve
I really like this sleeping mat. It is large for larger people (I am 6'-2" tall and 220#).  It is extremely comfortable. One can sleep on their back, side or belly and the support is amazing. I have read some reviews that state that this pad is more comfortable than a bed. I don't know about that but it sure is comfortable and you can't go wrong with this pad for a good night's sleep.  
Rolled out Dimensions: 77.5"L x 26"W x 3.5"T
Pack Weight & Size: 42 oz and 11" x 6" 
Conditions Used: 5 deg (f) overnight lows, flat and somewhat rocky ground, inside a quality 2.5-season, 3-man tent with a quality sleeping bag.  
This mat helped keep me warm while sleeping in fairly cold weather. The insulated pad kept the cold ground from absorbing my body heat (that would be a good thermodynamics problem). The R-value of the pad is 6.0 so it has good insulating properties.  
Ease of Use: This pad is easy to use. Nothing special to mention. The pad works as it should.
Features: This pad comes with an integrated pump built right into the pad. Very clever feature in my opinion. It is a little tricky to use at first, but once you get used to it, it is quite simple. It takes about 5 minutes to blow the pad up to the desired firmness.  
The pad also has a separate deflate valve. This is one of my issues with the pad. The deflate valve is very very slow. It takes longer to deflate the pad than it does to pump it up. To deflate you have to roll the pad up very slowly as it deflates. Then roll it back out, fold it again and roll it up again to get a nice tight roll for fitment into the included storage bag. It is a bit of a pain, but fits well into the storage bag.  
Construction and Durability: This pad is made very well. It is made of thick polyester fabric that seems very durable and strong. I expect it to last a long time. If it doesn't it is covered by a lifetime warranty and also comes with a field repair kit built into the storage sack. The pad is fairly non-slip so you stay on it while sleeping in a slippery sleeping bag.  
I don't think I will be carrying this pad for long trips into the backcountry due to the weight and size but I may consider it over my much lighter Thermarest pad for shorter trips. A good night's sleep may be worth the extra weight. This is definitely my go-to pad for car camping and I may even use it for guests when they come over to the house for a sleepover.  
Bottom line is I highly recommend this pad for a very comfortable nights rest while camping.  
Source: bought it new
Price Paid: $126

A giant pad for a big person! 77.5" long, 26" wide, and 3.5" thick, with an R value of 6 all for only 41 oz. I love this pad. Yes, it's big. Yes, it a bit heavy. And yes, you have to pump it up. But this is the most comfortable sleeping pad I have ever had!
Pros
Warm
Big and thick
Easy to pump up and deflate
Can be folled flat to save space in you pack
Cons
Heavy
Big, maybe too big for most people
Have to pump up
This is a great pad in my opinion. Yes, I know there are lighter pads and smaller pads out there, but I can get a good night's sleep on this pad and I don't slip off the pad too. 
Given that I am a big guy and 6'6" long, this pad is a great size for me. If I was 5' 10" this would be an overkill in pad size. 
Pumping it up is quick and fairly easy, just make sure the palm of your hand covers the air hole on your push stroke.  Otherwise a lot of air is going out, not into the pad.
I have used this on cold nights and wet weather and been fine for warmth, but I have not yet had a chance to use it in winter-like conditions. 
The pad seem to be very well made and the material is not slippery at all, unlike some air pads.  I have had no trouble staying on the pad at night, and I move around a lot.
Source: bought it new
Price Paid: $149 (REI)

I have had this now for just about a year and camp nearly every month. Cold weather camping is a huge thing for me and I really needed to lighten my winter-pads inventory when I winter camp.
I typically use a 1/2" rubber-like base then two Therm-a-rests for near or below 0 camping and was able to replace the two Thermarests with this, no problem. I have already had two nights near zero and this was just fine. I was really concerned since it was air filled, but between the fiber-filling and not using your moist breath to fill it makes a huge difference.
In the summer, this is such a joy. It packs so small and fits in my backpack, just crazy unbelievable. Yes, it is expensive but the comfort, portability and ease make it worth it. The most comfortable pad or pad system I have ever used in my 50 years of camping.
I unfortunately bought the 9LW which is a little longer and wider. It was marked down a little and I thought "what the heck". It really is a little too big for small tent camping so I can only use the darn thing in my North Face Him 35, and it JUST fits lengthwise.
Pumping feels like it takes a while but then all of a sudden, you're done. The multi one-way valves make deflating and packing a dream.
I really love this pad and totally recommend it highly.
Price Paid: $119

This thing is awesome! More comfortable than my bed. You can adjust it for your personal comfort but when you have it right it supports every part of you. It levels out bumps on the ground (roots, acorns, etc...) and it is warm.
Not hot but you feel none of the coolness of the ground. And the fabric on it is very comfortable. Not plush like terry cloth or felt but still not slick and cold like nylon or vinyl. And it is less than 1/2 the size of my rolled up self inflater.
This is the best upgrade I have made to my camping equipment yet. If you need lighter and more compact look at the downmats. Figuring in the cost this Synmat was the best for me.
Price Paid: $100

comfort plus, great insulation
Pros
side sleeper heaven
warmth
Love this mat. Have used it all year long and have not had a problem with it yet. Last winter I never felt the cold come up thru the mat. It's a bit heavy but for the comfort I will take the weight.
The built in pump has worked flawlessly.  To deflate, just open the valve and fold over to push out the air, then roll up and your done.
Would have given it 5 stars but for the weight.
Source: bought it new
Price Paid: $169.95

I just did an overnight trip with my son and can say I had the best night's rest ever on a backpacking trip. I am almost 50 yrs old and comfort, especially when it comes to sleeping, is my utmost priority over cost, weight, etc. I have tried most other sleeping pads but was hesitant to pay for the Downmat. This is awesome to sleep on. Obviously, I haven't tested this in cold weather but for pure comfort this pad is the absolute best ever and well worth the $100 I spent on it. Although 3.5 inches thick, it is simple to inflate (I also bought the pump/pillow).
Price Paid: $100

I have the same one. I love it. I will take it with me anywhere.
Very easy to use. Very durable and comfortable for a bigger person. The price was high, but worth every penny.
Source: bought it new

I am over 300 pounds and frequently motorcycle camp. This air mattress is amazing. It is compact and strong. It is comfortable and promotes good support. It is a little spendy, but you get what you pay for. While other motorcyclist are sleeping on the ground by morning, I am up, rested and making coffee before their sore bodies role out. I would recommend it to anybody serious about camping.
Price Paid: $99

Splurged at the last minute and picked up a Synmat 9 Pump Delux for a one-week kayak trip off northern Vancouver Island. Had 7 nights of perfect sleep! A first for kayak trips in the wilds.
I cannot say enough about this mat: packs up into a small space, light weight, inflates in a short period of time, easily deflates when packing, and comfortable, comfortable, comfortable.
Price Paid: $135.00 CAD + tax

Your Review
You May Like
Specs
Price
Historic Range: $100.00-$169.95
Reviewers Paid: $99.00-$169.95

Recently on Trailspace