Feathered Friends Hummingbird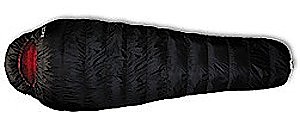 A few years ago I purchased the Hummingbird. When I first received it in the mail I was amazed at its size and weight (about a loaf of bread). It worked well for a year or so until i noticed a lot of down coming out from the fabric.
I sent it to Feathered Friends along with the stuff sac that came with it to have it checked out and cleaned. I also purchased a bag liner. They called and reassured me that the down coming out was pretty normal but it still bugs me. When they returned the bag they forgot the stuff sac. I called and talked to a rude woman who said I should call back another day and talk to someone who might know something about the stuff sac. I called back the next day and the man to whom I talked to said he would send me a Humming Bird stuff sac.
About three weeks later when it came it was a different size than the one which had first come with it. I called back only to find out that when I first bought the sleeping bag they must have sent me a stuff sac for a down jacket instead. I told him I waned that stuff sac back. He told me he would look around the store for it. He found a jacket stuff sac lying on the floor and said it must be mine. Three weeks later it came to my house. It was the wrong size again!!!
I decided not to call back and deal with those buffoons who didn't seam to care about customer service. When I first used the liner I purchased it was hard to install and bundled up whenever I moved. When I woke up I found that the loop of string in the bag where the liner attaches was ripped out.
Now I have a ripped sleeping bag, a crummy liner and three stuff sacs that I don't want. If I were you I would stay away from feathered friends and invest in a Marmot or North Face bag.
Design: Mummy
Fill: 700 fill down
Temperature Rating: 20 F
Weight: 1 lbs 10 oz
Price Paid: $230--I think

Super lightweight (1lb 12oz) and can pack down to about Nalgene size, an excellent backpacking sleeping bag. Always kept me warm (I'm a VERY cold sleeper), and comfortable. It's pricey, but high quality. I absolutely recommend it.
Pros
Very lightweight
True to rating (and below)
Comfortable
Extremely compressible
Dries quickly
Cons
Expensive
No accessories (pockets, etc.)
I am a 5'6" 110 lb female. When I say I sleep cold, I mean that at 40 degrees I am still cold in a -30° synthetic bag. The Hummingbird, however, has always kept me warm (as a 3-season bag). It's also very comfortable.
However, I have a slight frame, and it's a tiny mummy bag—I image that for a 6' male it would probably be constricting. The bag is surprisingly moisture resistant, and even when it had gotten wet (and I slept in it soaked), I've stayed warm, and the bad dried out quickly, very quickly, in the sun. 
This bag packs down very small—you can get it to about Nalgene size if you really want to. And it puffs right back up once you pull it out, it's almost obnoxious when you're trying to pack it.
There are no special features, no pockets or draft tubes; the hood is a bit oddly shaped, and the zipper snags pretty much every time I try to zip up or down, but those are all minor when you consider the huge pluses of this bag: warm, comfortable, high(est) quality, packs down super small, extremely light weight, and water resistant.
It's pricey, but a good investment. 
Source: bought it new
Price Paid: $389

I am sorry for Jake. My Hummingbird is probably my favorite piece of gear.
Unlike every other bag on the market that I have weighed (Marmot, TNF, EMS, etc), it weighs out PRECISELY to spec. (so does MSR gear, but this is about my bag...)
It is for very skinny guys or small women only. I am 5'9" and weigh about 145 lbs. I have a moderately small build (39 suit jacket, 30 in waist) and if I was bigger, I would havehad to go with a larger cut bag.
Yes, the Hum is LIGHT, and compact. It also has more loft than most 0 degree bags on the market (measure for yourself). It is simple.
Basically, you call Feathered Friends and they make you a custom bag (I have never seen a FF retailer out East), starting with a production model and customizing it (I had a choice of 3 weights of nylon and a DryLoft, in 4-6 colors each)
I had to wait about 6 months for my bag, and I was antsy. I never got anyone explicitly rude on the phone or email, but from my calls I got the distinct impression that nobody had their act fully together. I could clearly envision Jake's stuffsack dilemma happening.
The bag just reeks "primo", as far as quality of materials and impeccable workmanship.
Any new down item initially sheds down, as the few quills work their way out. My Hum has been beat up, and the only down I've seen was the snow-white, literally golf-ball size plumule that floated up when I opened the UPS box.
I expected more. Numbers and bogus "independent down labs" aside, feel the down. Pinch it and roll it between your fingers, and determine how quilly the down is.
You will be surprised at how sketchy even some widely distributed "700+" down feels.
Basically, their strength is that they are a custom shop. If you need the genuinely warmest bag on the planet, or the lightest, give them a call. Otherwise, get a Marmot.
Design: very trim mummy
Fill: 800 fill down
Temperature Rating: 20dF
Weight: 26 oz. ACTUAL
Price Paid: $265 (w/ 800 down option)

This is a fine sleeping bag, although a bit pricy. Part of the reason I selected this bag was due to the fact that it is manufactured in the USA, could be customized (girth, length, material, fill), and had 750 down and a good recommendation. The bag is well made and has kept me warm in the Colorado Mountains in June at 11000 feet. The zipper operates smoothly. Not much more I could ask for.
Customer Service disappointed me. Before my purchase I called to disuss features of their bags. Since I don't live in Seattle and I couldn't visit their brick-and-mortar store, I decided (upon advice of the Customer Service rep) to order two bags, try out the fit, and return the one that didn't fit as well. I did this and shipped back the bag that I didn't like (not the Hummingbird). A few days later I got a call from a different Customer Service rep claiming that the bag came back too dirty to sell as new and that they would require a $50 cleaning fee. The bag was tested at my house, not outside... ever.
This was very frustrating since THEIR customer service rep recommended the order-two-return-one idea. Due to this I've ended up paying nearly $400 (including the return shipping) for a bag that, had I gone to REI, EMS, etc and tried out a TNF, MARMOT, etc. I could have spent $250 and gotten comparable.
Design: Mummy
Fill: 750
Temperature Rating: 20 F
Weight: 2.1 Lbs
Price Paid: $320

Yes the bag is expensive. Yes, customer support at FF can be a crap shoot. (Sent mine out to get cleaned, and somehow they lost my address and phone number!) But they make damn good bags. A good down bag is an investment that will last for a long time. THe dry loft shell blocks wind, make me feel a bit better about the damp conditions of hiking in the Appalachians I am use to, and I think is worth the money.
Larger people may have a problem with the bag, but I do not think you have to be skinny to fit into the bag. People of average size should be able to fit into this bag.
(Have a jacket size of 42, waist of 34)
Overall, it is a bag I am glad I purchased..
Design: Mummy
Fill: 750 fill down
Temperature Rating: 20 F
Weight: 1 lb 13 oz
Price Paid: $335

Your Review
Where to Buy
Help support this site by making your next gear purchase through one of the links above. Click a link, buy what you need, and the seller will contribute a portion of the purchase price to support Trailspace's independent gear reviews.
You May Like
Specs
regular
long
Price
MSRP: $379.00
Reviewers Paid: $230.00-$389.00

fall 2010
regular
long
Weight
1 lb 11 oz / 770 g
1 lb 12 oz / 790 g
Fill weight
13.4 oz / 380 g
14.5 oz / 411 g
Loft
5 in / 10 cm

Temperature rating
20 F / -6.7 C

Fill
850-fill down

Shape
Mummy

Max user height
6 ft 0 in / 180 cm
6 ft 6 in / 200 cm
Shoulder girth
58 in / 150 cm
58 in / 150 cm
Hip girth
52 in / 130 cm
52 in / 130 cm
Foot girth
38 in / 97 cm
38 in / 97 cm