Feathered Friends Swift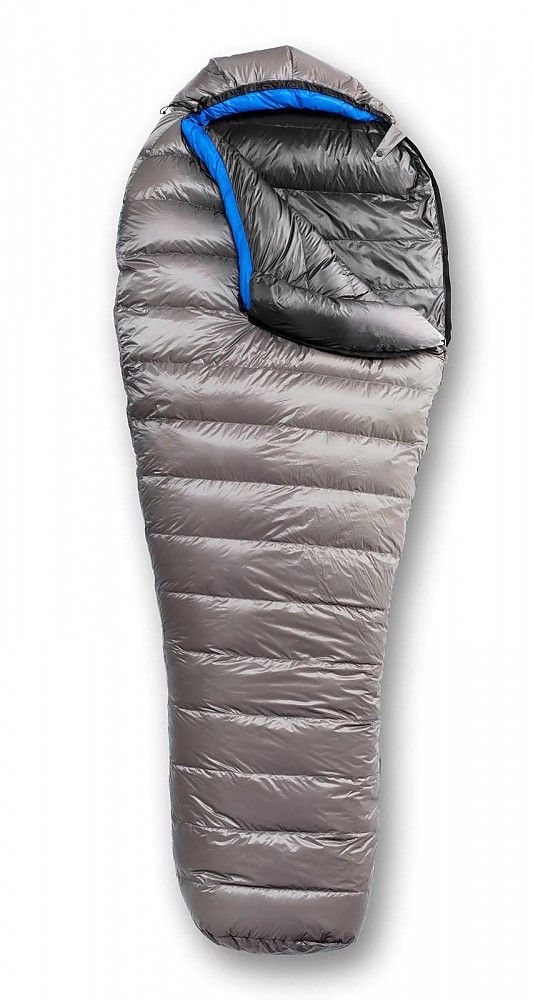 I purchased this Swift at the FF store across from REI about 1998. The Swift is light, compresses well, and holds up to a great deal of abuse. It has kept me comfortably warm down to its published temp range of 20° F with only a base layer inside a homemade liner. I definitely recommend it for PCT section hikers from Oregon North to Manning Park; as well as weekend or holiday treks where you may encounter wet/cold conditions.
Pros
The long model easily fits my 6'1", 185lb frame with room left over at the bottom for boots and food.
Compresses down to about the size of a loaf of bread, and lofts back up quickly with a few shakes.
Resists water in both sub-freezing temps and rainy weather. I never sealed the seams, and the bag wicked my body vapor out in temps from 50-20°F.
Durable, held up well on solid foam and inflatable Therm-a-Rest pads, as well as thick carpet.
Lightweight, ~2lbs depending on how dirty it was after hiking.
Washes well in a frontloader on gentle cycle with a very slow and short spin cycle, dryed in about 6 hours using a dryer on "fluff" for about 1.5 hours with a tennis ball, then about 4 hours in the sun on a cold day.
Good customer assistance and support
Cons
If high price point is a weakness, then this is the main one.
Foot box seems a bit narrow however, I wear a size 13 boot.
I wish it had a reinforced interior foot box with side pockets to hold warming packets.
Interior lining seems to attract and hold hair and head oil more than usual; I needed to make the liner long enough to wrap around hood area.
DESCRIPTION AND PURPOSE
This is a Swift, serial number 95448, 800 fill Goosedown with a NEXTEC shell.
I purchased the Swift after examining similar bags made for sleepers who are wide across the shoulders and chest. After examining two other models at REI, I chose the Swift because it allowed me to roll up on my side (I am a side sleeper, mostly right side) with enough room to have a small pillow inside the hood area, and at the same time the bag did not "follow" me as I rolled.
The coil zipper has never failed me, and it is backed by a wide, thick nylon fabric tape to keep it from snagging the shell fabric; that being said, it is still "snaggable" if I don't lead it with the tip of a finger to keep shell material from falling into the zipper's path.
EXPERIENCE
I have used the bag in a variety of terrain, temperature and humidity from a high of ~ 50° (I had to sleep with the zipper open and laid out over me as a quilt.) down to 20°F inside a very old Holubar tent. The tent floor leaked or condensed a bit under and around the pad, the water was not sufficient to "puddle", and the bag showed no sign of absorbing any water. The unsealed seams, along with the shell itself did a great job of breathing throughout the temperature range, but this may also have been a factor of altitude and low humidity. I spent a few nights in a very old Marmot Goretex bivy sack, the one with the white fiberglass pole holding up the mosquito netting, mostly in Oregon in the area between Diamond Peak and Jefferson Park; once again no problem with condensation.
The Swift met all of my expectations, especially its ability to retain and regain loft after getting dirty, and going through a home wash rather than a commercial laundromat, or professional cleaners. I feel that even on a gentle cycle, a front loader puts about as much stress on seams, and over all construction, as can be reasonably be expected. I haven't seen any stretched seams or frayed fabric anywhere. I always washed it with the zipper closed to avoid any mini "chainsaw" effect from an open zipper. It may be that I just take very good care of my gear, but there are no obvious stains, nor rips or cuts in the NEXTEC.
COMPARISONS

Over the years I have owned and put a lot of nights on old Army mummy bags, one of the old Eddie Bauer, Kara Koram down bags, a Marmot Penguin (800 fill down) and a Snow Lion and Mountain Hardwear synthetic fill bags. The Swift is a better three-season bag than any of them; it will not handle the very extreme temps the Penguin will, but it is far more versatile (The Penguin is a -40°F/C bag.) The Army bags and the Bauer bag are far heavier, and the Swift handles  su-freezing temps just as well for much less weight. The synthetic bags have gone flat over the years, and even with the loss of loft they still don't compress anywhere close to the volume of the Swift, and they still weigh almost twice as much.
Experience
I used the bag mostly on the PCT section in Oregon, with a few nights up in Washington around Mt. Rainer on the Wonderland Trail. I can't begin to list the number of nights, I have put on this bag. I do know that the terrain was varied, and often wet, usually from Late April to Mid October.

Some day I hope to hike the whole PCT. When I do the Swift will be my sleeping bag.
Source: bought it new
Price Paid: I don't remember the exact price, it was so long ago, but I think it was ~$300.

This bag is Very Good, not Excellent. The hood design and lack of an insulated yoke made me sell it. It's a good bag, but I prefer Western Mountaineering.
Cons
No yoke at the neck
The hood wasn't shaped very well.
I bought this bag because my Western Mountaineering Ultralite felt a bit too cramped. I have wide shoulders and I found my shoulders to be compressing the down of the WM UL and making me cold there in the night.
The FF Swift is a bit bigger. The first few times I used it I was very pleased with it. It was big enough that my shoulders didn't get cold. It is rated to -7°C [20°F] and at near freezing conditions I was nice and toasty.
Once it got down to -5°C, then I got chilly. This is mostly because the Swift doesn't have a neck yoke, just a drawstring around the hood, and I'd get a draft into the bag. I found myself trying to hold the neck area closed with my fist, but as I'd drift to sleep my grip would relax and I'd wake with a chilly draft again.
I should have bought the Western Mountaineering Alpinlite. It has the same dimensions as the FF Swift in size and weight, but it is a bit more $ [less than $100 more]. The WM Alpinlite has a nice insulated yoke with its own drawstring, so it keeps me warmer in below freezing conditions [which are common all year long in the Canadian Rockies]. 
So I sold my FF Swift at a loss after three seasons of use. I learned an important lesson: If you want a top quality down sleeping bag... don't settle for less than WESTERN MOUNTAINEERING! They're the BEST!
Source: bought it new
Price Paid: ~$500

Version reviewed: 1991 customized model
Pros
It has worked well
It has been cleaned a couple of times.
It is light and warm enough for winter camping in the Sierra Nevada mountains.
Back in 1991, I ordered a "customized" model of the Swift sleeping bag for my very tall son. I ordered it to fit a man who was seven feet tall and 250lbs. He was 16yo., 6ft. 3in., and still growing.
My son still uses the sleeping bag for snow camping and backpacking. He has never said anything negative about the sleeping bag. We have spent many nights where the temperatures were a few degrees above freezing, plus we were in a tent.
I am happy I was able to get a "first class" sleeping bag for my son, that fit him, provided extra room within the bag and, for a reasonable price. (Customizing the bag cost a little over $100 and, it was worth it!)
Experience
My son still uses his customized Swift bag.
Source: bought it new
Price Paid: I paid $385 (in 1991)

Your Review
Where to Buy
Help support this site by making your next gear purchase through one of the links above. Click a link, buy what you need, and the seller will contribute a portion of the purchase price to support Trailspace's independent gear reviews.
You May Like
Specs
Price
MSRP: $639.00
Reviewers Paid: $385.00-$500.00

Temperature Ratings
20ºF / -6.67ºC and 30ºF / -1.1ºC

Dimensions
64" shoulder / 58" hip / 40" footbox

Shell
Pertex Endurance UL

Lining
Flite 15 denier ripstop nylon

Fill Power
950+ Goose Down

Origin
Made in Seattle, USA of imported materials