Ferrino Lightent 1 Pro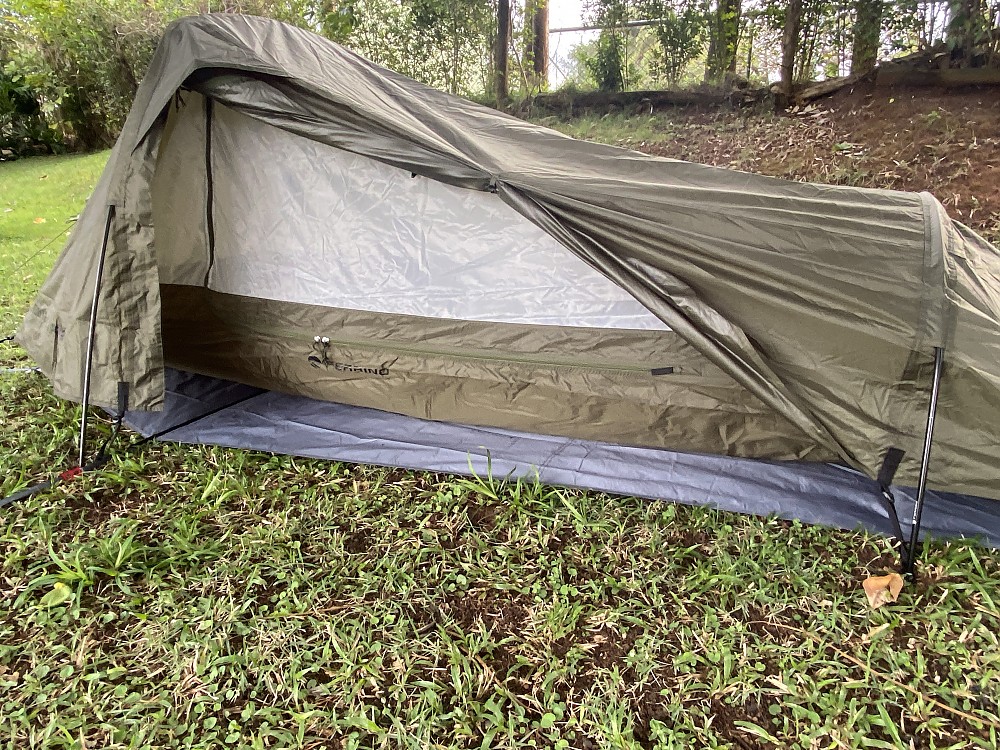 From Italy, a well-made one-person tent with nice features that would be much better with just a few improvements in design and manufacturing choices. Still a good and capable three-season tent with high quality and attention to detail, relatively lightweight, and decent price tag.
Pros
Easy pitch-in-one system
Easy access: lateral door
Porch (it's small, though)
Modular: can be used w/o the inner mesh tent/floor
Good build and attention to detail
Lantern hook and side pockets in usable places
Dedicated ground mat
Cons
Small interior when compared to similar designs
White and airflow-restrictive mosquito mesh (inner tent)
Too warm in hot weather
Small porch
I got tipped about some makers and models of Euro tents I've never heard about before by a friend living in Spain. Ferrino is one of them. It's an Italian company offering a variety of outdoor gear and apparel for reasonable prices.
They have a line of tents with various designs and capacities, and the Lightent 1 Pro is their one-person, tube-style "survival" tent for backpacking and bike touring.
The Lightent 1 Pro is very similar in design, look and dimensions to the Snugpack Ionosphere (which I'll compare directly in this review) and others from different brands. Besides the 1-person model tested here (I purchased it for myself), they have 2- and 3-person capacity available for those in need of more room.
Updated model.
There isn't much documentation on the Lightent Pro out there, just a couple of videos on YT showing what I suspect are the older version(s). Mine (purchased early 2022) is apparently the latest iteration—now called "Pro".
Here are the main differences in design:
The most impactful is the change of the pole's assembly: from supporting the inner tent (mesh/bathtub floor) to the top/outer cover instead.

The inner mesh changed from black to white.

The red color is not an option anymore, now the flysheet is only available in white or the traditional dark olive.
Now, why would someone want a white tent is a mystery to me. Visibility? Use in the desert (to reflect sunlight)? Fashion statement? Maybe it's just an Italian thing, who knows.
Color is a personal preference so I'll discuss the first two changes in more detail bellow, as these have a lot of impact in functionality and versatility. Though I aimed for a comprehensive review of the Lightent Pro, I do some direct comparisons to my favorite survival tent, the Snugpack Ionosphere.
I consider the Ionosphere the gold standard for this style of tent. It's time-tested, rugged, low profile, durable, relatively low weight, and incredibly comfortable for its size and shape (minus the small entrance). There are other bivy-tents out there that are lighter, or cheaper, but I haven't come across one that ticks so many boxes and is as reliable in all kinds of conditions as the Ionosphere.
Even though the Snugpack keeps the crown, the Lightent Pro has a lot going for it. 
Design and features.
It comes in a dedicated bag with printed instructions and separate compartment for the poles and the included hex-shaped hook-tipped pegs. There's even a QR that leads to assembly instructions.
It's nice to keep dirty and pointy pegs separated from the tent, though I've never had an issue with the Ionosphere on that department. Just store them in their respective nylon bags and roll with the tent and into the sack. 
The pegs themselves are so-so; I mean they're OK, and the shape makes them easier to insert in soft terrain using hands or feet. But they're not as light nor functional as more traditional "Y" alu stakes, which I prefer and ended up replacing shortly.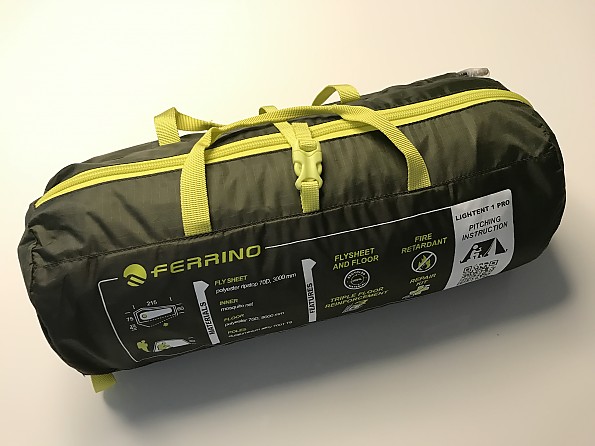 Pitch-in-one.
The inner compartment comes assembled, i.e. attached to the cover flysheet with shock cord to keep everything tight once pitched. The toggles insert in small loops inside the flysheet and this setup makes it easy to hook/unhook the inner to the outer, in case you decide to use them separated or to clean/wash/dry them apart.
This arrangement also means the Lightent Pro can be pitched in-one step, which is great to keep the interior of the tent dry (or drier) when assembling the shelter after rain has started to fall. I always try to avoid this but nature has its own plans, and sometimes that's just not possible. A pitch-in-one tent provides a tremendous advantage over an inner-first such as the Ionosphere.
Adding to versatility, the change in pole assembly from inner to the outer tent means the Litghtent Pro can be used as a cover-only, i.e. without the inner mesh. I can see the advantages in this design:
1) Lighter weight and less bulk to carry; 
2) Quicker, less complicated shelter option; 
3) Can be used to shelter your dog or gear (i.e. a bike, backpacks, shoes, whatever). 
I haven't yet used the Lightent this way, not sure I ever will. But I admit this is a nice feature and may be useful for some.
Specs.
The Lightent 1 Pro specs are fairly standard: The flysheet is 70D PU coated Polyester Ripstop 85g/sqm with 3.000mm water column.The bathtub-style floor is also recycled Polyester 70D, but slightly heavier at 95g/sqm and thus a 8.000mm water column. No water coming inside with these numbers.
Corners are three-layer and stitches are very regular and consistent, all double-parallel. All seams are taped and all parts are treated with fire retardant, including the mosquito mesh.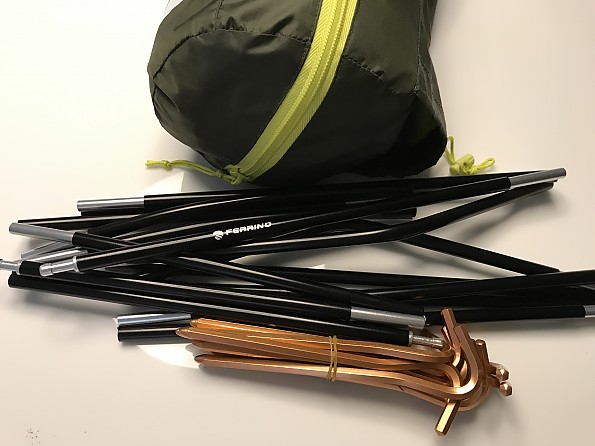 The poles are 7001 T6 aluminum alloy with shock cord and different colors for easy ID, though the size alone is more than enough to differentiate both head and feet poles. The segments attach and detach easily, and insert the flysheet channels without much effort. 
Without the inner tent, weight is only 1.10kg (38.8oz or 2.45lbs). The whole kit with pegs weighs 1.55kg (54,6oz / 3.41lbs). Bag size is 36x17cm, slightly above advertised but still hard to pack the tent back after use, especially if it's moist. Anyway, it's not ultralight category, but certainly lightweight. Especially if compared to some of its competitors, and a decent weight for a low-cost 1P backpack tent.
The Lightent Pro comes with a repair kit that goes inside the bag. Overall, it's a very well designed and built tent with some interesting solutions adding convenience, though as I'll show some features work fine while others aren't as efficient. 
Dimensions.
The tent is 215x1.20x0.80m (84.6x47.2x31.5 inches) when pitched. Externally, it stands taller and wider than the Ionosphere, though it's considerably shorter (0.50m or 20"). This makes a huge difference in both sensation and available indoor space, as I describe bellow.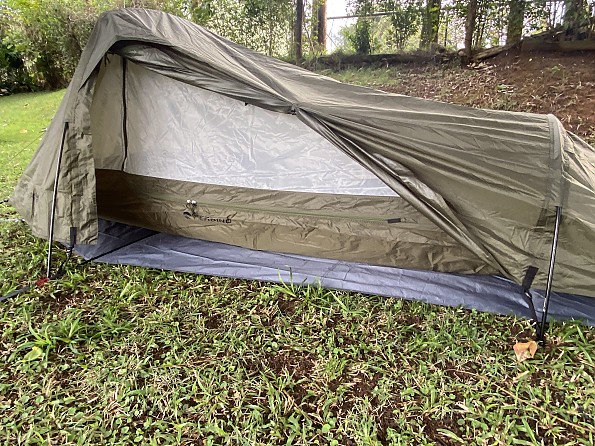 Total width is split between the inner tent (75cm) and the small porch (45cm). The fact that my Sea to Summit Ether Light XT inflatable sleeping pad (198cm long and 64cm wide) covers the entire floor of the inner tent reveals the dimensions are actually shorter than advertised by Ferrino, and by a fair margin. For instance, the porch is only ~38cm. 
For comparison, the Ionosphere's inner tent is 240x90cm (94"x35") and has room to spare both in length and width, more than enough to accommodate my 55L backpack + food bag + water bottle + jacket and plenty more inside. It's also more spacious and comfortable at the feet and head than the Lightent 1 Pro, even though it's lower profile on the outside.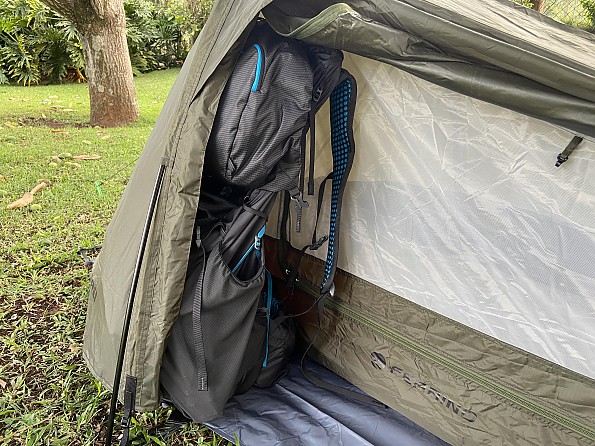 This makes a significant difference in sensation.
But the worse to me is the bug mesh. Snugpack's black mosquito mesh provides a more "ample" feel, but it also allows for a much better airflow, and thus ventilation. That's not a deal breaker in my opinion, but I prefer black mosquito netting both for my tent and hammock protection, for the mentioned airflow capacity, and also for better visibility, less glare and easier cleaning. 
It's important to highlight that neither the Ionosphere nor the Lightent 1 Pro are "hang-out" tents. These are basically survival shelters designed and built for minimal, low-profile, one-person camping/backpacking. They're for sleeping and staying protected during rain and storms only. I recommend taking a small lightweight hammock to rest and relax when using small tents for camping. It's more comfortable and convenient.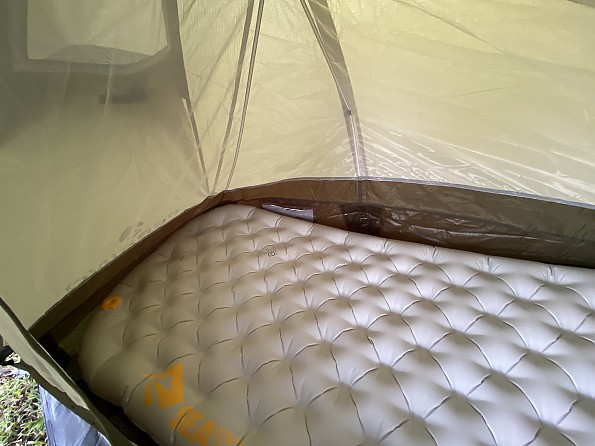 Still, the available space impacts organization and overall feel. Despite standing taller than the Ionosphere, the inner tent is lower both at the peak, head and feet areas. I keep touching the mesh, whereas this never happens inside the Ionosphere. It's possible to change clothes inside, but it takes some twisting and turning. Overall, the Lightent 1 Pro feels more cramped than the Ionosphere. 
Pitching.
The tent is easy and quick to pitch up and take down, thanks in great part to it being "pitch-in-one" design with both inner and cover tied together, and also to the fact that it requires less pegs to get it completely taut (as opposed to the Ionosphere which can use up to 12 if you follow the instructions).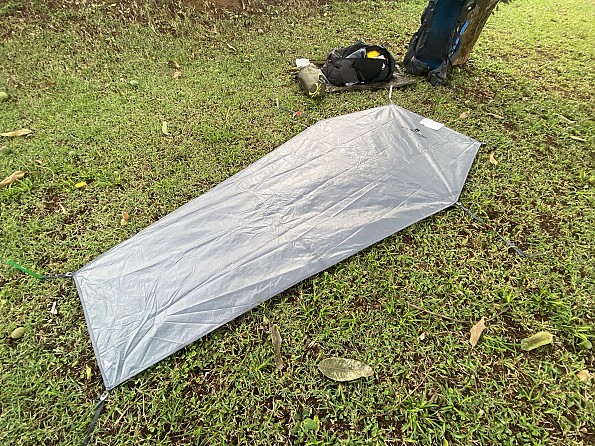 I purchased the dedicated footprint, which is sold separately. It comes in its own carry bag also with instructions. Pretty neat, the lashes have adjusters and double stitching and add only 210g to the kit. Each model/capacity has its own size (1, 2, and 3 person), and follows the hexagon shape of the tent when assembled. The ground tarp is made from the same material of the bathtube inner (also 8.000mm hydro column), so it's sure to keep things dry no matter what (and it does). 
Even though it's advertised at 2.30x105m (or wider and longer than the tent assembled), it's marginally smaller in reality. Still, during a heavy storm with wind it will collect a bit of water that will then run under the tent. The water resistant tent floor will keep it outside, but it's not a good sensation. I'll be doing adjustments to the footprint to avoid this happening in the future.
Once the footprint is staked, it's only a matter of unrolling the tent over it, inserting the poles and attaching the guylines to the same pegs, and it's pitched. One extra stake at each end of the tent to secure the adjustable spreaders, or guylines that pull the tent taut at the ends. These also help keep the ventilation sleeves from flapping with the wind.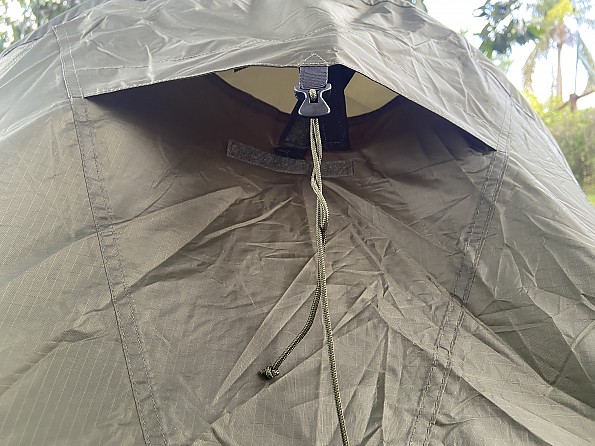 Inside the tent.
There are two mesh pockets one on each side at the head end. Perfect location, much better than the Ionosphere's which stays distant in the middle of the inner tent. A lamp hook at the top pole part allows for a headlamp or lantern to be easily installed and removed, this is a nice touch.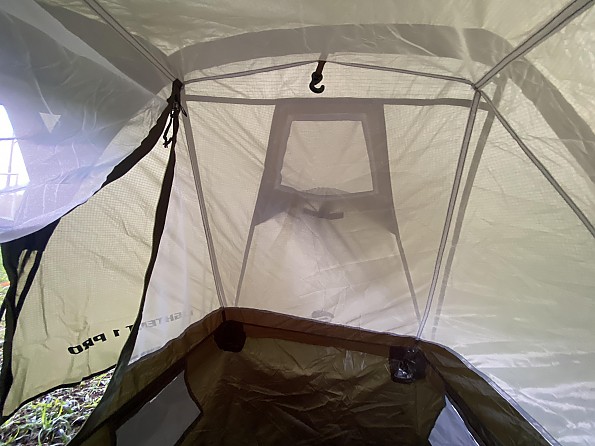 The space is just enough for one person and nothing else. Sure, it's possible to tuck a book, tablet, and smartphone, a powerbank and other smaller items between the sleeping pad and the inner tent's walls. But that's it, no room for a backpack or bulkier items.
I'm 6' and fit fine but unlike with my Ionosphere, the bag has to stay outside. My cookset, shoes, and other dirty/wet items also stay outside, under the tent cover tabs.

I'd encourage anyone considering the Lightent Pro to check out the dimensions for the 2- or 3-person, especially if you carry too much gear, a dog, or if you find one-person survival tents too claustrophobic. I have no issues as-it-is, and actually prefer a more compact and light tent, but I'm used to small tents and have no issues with confined spaces. Besides, I only stay inside to sleep or read (or shelter from bad weather).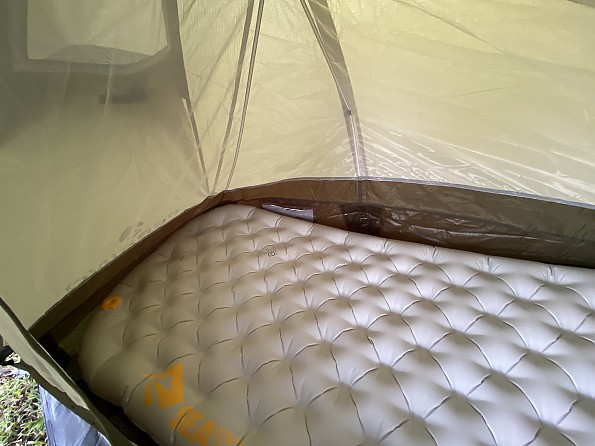 In use.
One big plus of the Lightent is the access. The door is wide and tall and located on the side, unlike the Ionosphere's small one that sits at its upper corner. This makes it super easy to go in and out for normal people (i.e. non-contortionists). Both the inner mesh and outer cover doors have their own straps and hooks to keep them rolled open independently. I tend to keep the inner tent closed most of the time to avoid dirt, bugs, and other insects entering the cubicle.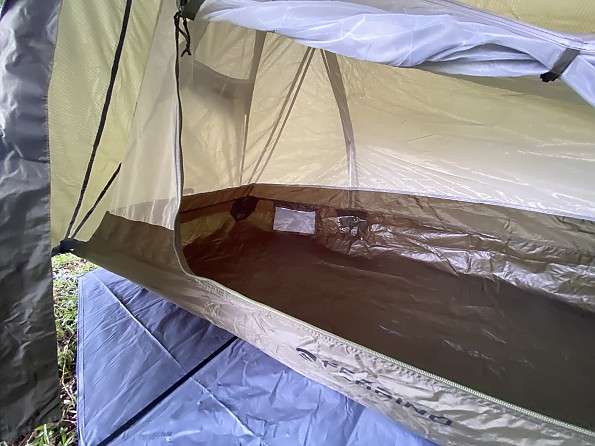 With the Lightent though I can sit on my sleeping pad and cook meals while enjoying the view if the weather is good, something that's impossible with the Snugpack and in fact most other tube-style survival tents.
Though the admin area is small and the footprint only extends a few inches outside, it's possible to spread the food, cookset, and other stuff right at the front of the tent while sitting more comfortably or relaxing inside. The footprint helps with keeping the interior cleaner and the stuff that stays outside the tent also dry and clean. With the Ionosphere, I have to use a ground tarp for that. 
Condensation is not an issue.
I mean, like the Ionosphere and every other two-layer tent it will form inside during the night. But so far I had no dripping into the mesh, only minimal spray here and there during rainy overnights with wind buffeting the tent.
During a very stormy night I noticed water forming inside the tent at the main pole/panel stitch. It wasn't a defect, just the waterproofness of the poly cover being taken to its limit, but it was minor and didn't leaked into the inner mesh. The tent resists wind very well. Still, everything considered, I feel more secure inside the Snugpack Ionosphere during really bad weather. Maybe I just have more time in it than the Lightent Pro.
The mosquito mesh. 
Ferrino could have used a lighter (thinner) and less restrictive yet still strong and efficient mesh for the mosquito protection on the inner tent. This would have dropped a couple ounces and improved visibility and airflow at the same time. As it is, it contributes to keep the Lightent Pro's inner too warm, especially when there's no wind or the weather is hot outside. It may be better for fall and winter, or colder climates, but not for damp and hot summer weather. 
The mesh render the ventilation sleeves almost useless to keep things comfortable inside. I mean, the openings are clever and functional, and help a bit by allowing cross-ventilation. But the mesh is too restrictive to make good use of any fresh air that comes in. I have to keep the front door open at night, but this is not possible when it's raining so at times I found myself wishing I had brought my Ionosphere instead. Or my hammock and tarp setup, which works even better to regulate airflow when weather is hot and air still. 
I have to find a spot under trees and good shadow to pitch and keep it from getting like a sauna when the sun comes up. At noon during summer I'm sure it will be unlivable in daytime, and probably quite warm during the night as well.
The Ionosphere, and in fact most tents, don't fare too well in direct sunlight especially during summer. But it is better when it comes to ventilation, also because the flysheet's borders can hang higher above the ground, allowing the breeze to flow in. Not so much with the Lightent, as it sits nearly touching the floor.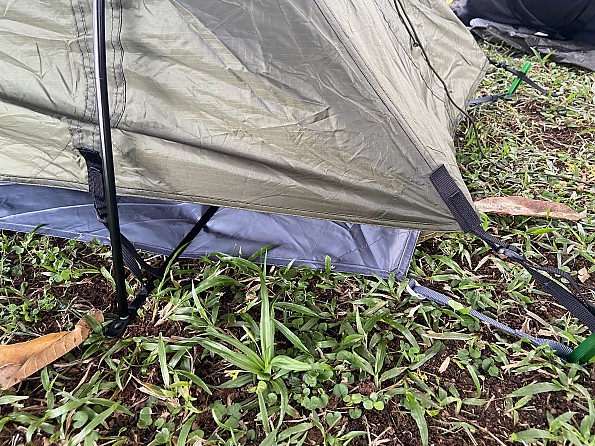 There's really no solution for that other than keeping the Lightent Pro for cold weather or season only. Unlike the Ionosphere, the inner compartment can't be pitched without the cover, because the poles support the flysheet as I explained earlier. It can be used as a tent-only, and this would certainly allow better airflow. But without the mesh-and-bathtub inner there's no protection from the ground nor from mosquitoes and bugs.   
Experience
I've used the Lightent 1 Pro during late winter and early spring, alternating it with my Ionosphere and also my hammock-and-tarp setup.
It fares better in mild/cold weather due to the so-so ventilation and restrictive mesh inner tent, so I suspect those camping and backpacking in colder climates may appreciate this characteristic.
Overall, I'd rate the Ferrino Lightent 1 Pro as a decent, 3-season survival-style tent. It's well made and has some nice features. I got used to it after a short time, and other than the extra warmth, I have no issues.
For those looking for more space, they have the Lightent Pro in 2- and 3-person capacity as well, for an added weight and $.
Source: bought it new
Price Paid: USD 160 + shipping and import tax

Your Review
Where to Buy
Help support this site by making your next gear purchase through one of the links above. Click a link, buy what you need, and the seller will contribute a portion of the purchase price to support Trailspace's independent gear reviews.
You May Like
Specs
| | |
| --- | --- |
| Minimum Weight | 1.30 kg |
| Maximum Weight | 1.55 kg |
| Volume | 0,6 m3 |
| Dimensions | 15 x 35 cm |
| Structure | Tunnel |
| Materials | Fly-sheet in 100% Recycled Polyester Ripstop 70D, 85 g/m2, coated in polyurethane, waterproof to 3000 mm, water repellent, FR treatment | Mosquito net interior with FR treatment | Floor in 100% Recycled Polyester 70D, 95 g/m2, coated in polyurethane, waterproof to 8,000 mm, FR treatment | Taped seams in fly sheet and floor to guarantee waterproofness | Threelayer construction to reinforce the floor corners |
| Poles | Poles in 7001 T6 tempered aluminium alloy: light, strong and elastic | 2 shockcorded duraluminium poles | Different coloured poles for easier set up | Inner tent hung from poles with tapes and toggles | "Hexagon" aluminium pegs |