Fiskars Chopping Axe 28"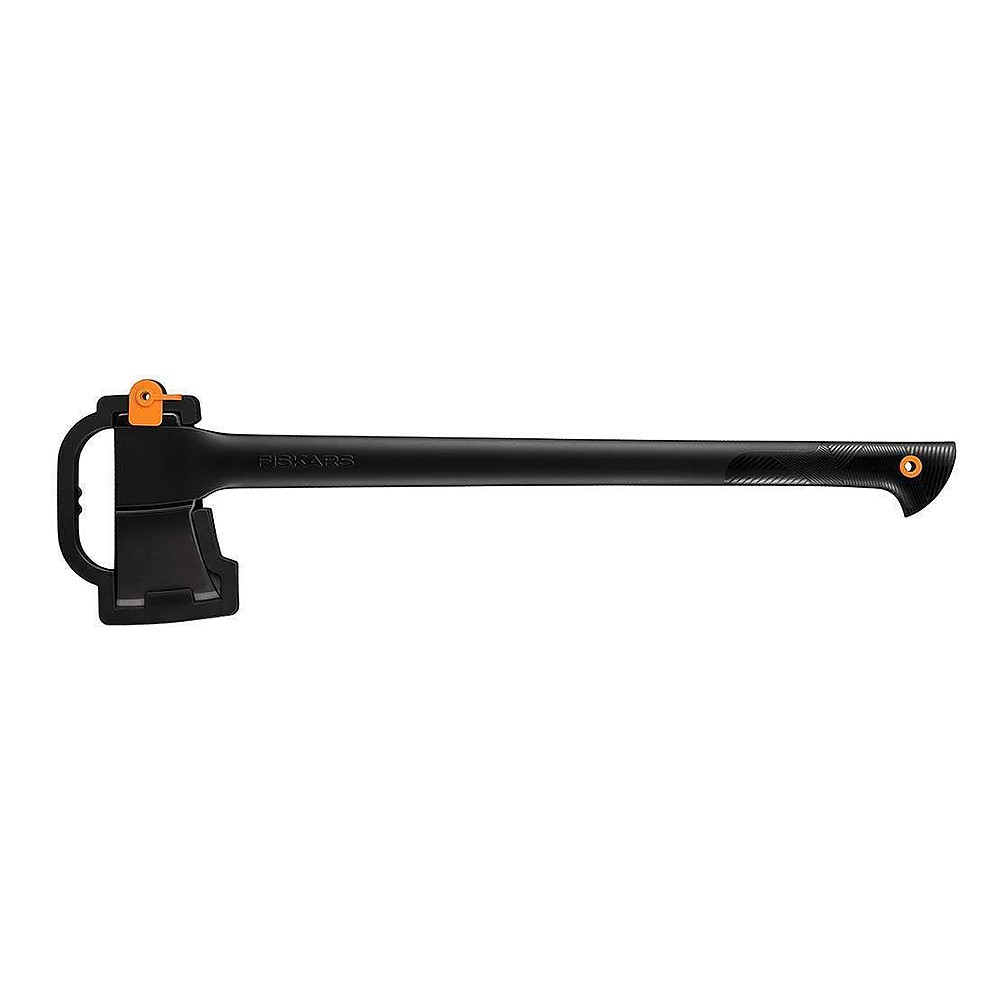 The Fiskars Chopping Axe (WALMART $34.47) is basically just a longer handled version of the Fiskars X15 axe (Amazon $33.98) with a new paint job. Here is a side-by-side comparison of the two axes.
Pros
The Fiskars Chopping Axe head has a coating so it sticks less when chopping.
The handle is hollow.
It is lighter than similar wood or steel axes.
It has a hole in the bottom of the handle for tying it down.
Cons
The axe is all black so it looks like a "tactical axe".
Comes with a cheap orange plastic blade guard.
The ax blade is smaller than similar US and European axe blades.
Not a "traditional" wooden axe.
Most people either love or hate these axes, no in between. Persnikity, Ayuh.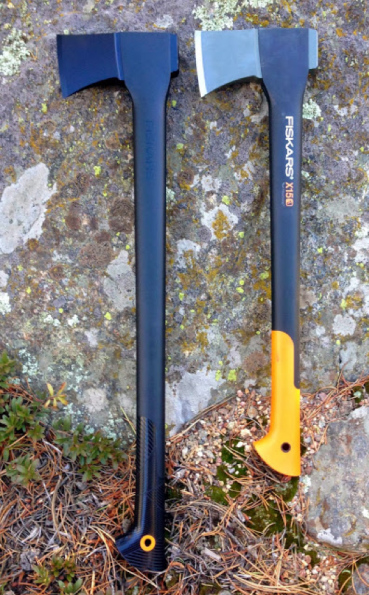 (New black longer Fiskars Chopping Axe on the left, and the Fiskars X15 on the right)
If you like winter camping using either a hot tent with a wood stove or bush craft with tarps and a long fire, you shall process a lot of wood.
In the winter, you need to find standing dead trees because the downed or leaning trees are frozen wet. The wood gathered from snow and ice covered trees really does not burn well.
So you need a good ax for chopping down dead trees. Also you need a good saw for dividing the trees into logs and a knife for batoning the logs into dry kindling.
Size
Too Small: I find the 15 to 18 inch (or less) handle length hatchets are way too small. Also, the 23.5-inch pack axe or 24-inch camp axe or 30-inch saddle axes are all just too short for winter camping. They require you to get too close to the tree especially when you are wearing snowshoes.
Too Big: The "logger style" axe with 3.5 to 5 pound single or double bladed heads (Dayton, New Jersey, or Michigan style) with 36-inch or longer handles are just too big for camping.
Just Right: The traditional 28-inch woodworking axe is commonly referred to as a "boy's axe". This is the right size. Don't be fooled by the name. These 2.5 lb 28 inch boy's axes are the ones used by the US Forest Service.
I include several types to compare with the Fiskars in this review.
Here is a detail of the hole in the hollow handle of the axe.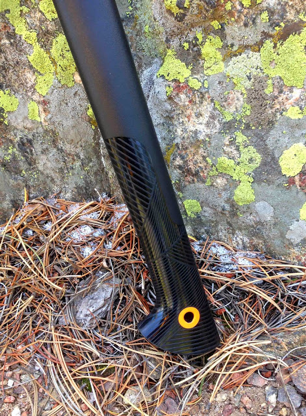 Chopping Axe Specifications
Head Weight = 2.3 pounds
Overall Weight = 3 pounds, 8 oz  (measured on a postal scale with the plastic sheath on)
Balance and power-to-weight ratio increases your swing speed to multiply the chopping power, much like an aluminum baseball bat (Softball)
Fiskars's proprietary blade-grinding technique provides a sharper edge for better contact and cleaner cuts
Hardened, drop forged medium-carbon steel blade
Low-friction blade coating powers through wood. The coating prevents the axe head from getting stuck (mostly). This is critical at "wicked cold" conditions like you find in the White Mountains of New Hampshire or Maine in February. I can't say how it works in Minnesota.
Inseparable PermaHead insert-molded head will not loosen and it prevents overstrike breakage. Tested and proven. I still wrap some parachute cord around the ax handle up near the axe head—just in case.
Shock-absorbing DuraFrame handle is lightweight (it's hollow) yet stronger than steel to prevent overstrike damage. Still, I wrap it.
Designed/Manufactured in Billnäs, Finland (vs Swedish, German, or Norwegian mfgrs).
Includes a cheap orange plastic blade guard
Warranty – Lifetime
Fiskars previously sold a 28" long black and orange PRO chopping axe.

Fiskars decided to discontinue this 28-inch PRO Chopping model axe (eBay $84) around 2013 when they introduced the smaller X15. This left a hole in Fiskars's axe product line with no 28-inch ax available as opposed to the 5 or 6 models of wood axes.
The new Fiskars Chopping Axe is the same axe as the PRO model with a black handle.
This new all black Fiskars Chopping Axe is 4.5 inches longer than the Fiskars X15. The extra length of the handle makes the axe swing farther with more speed, hence, it cuts faster. It doesn't vibrate on impact like the Husqvarna or Estwing. It works great in the snowy woods.
Comparison (Composite axes)
Comparing the Fiskars X15 to the Husqvarna A2400 27" Composite Multi-Purpose Axe ($89.95 Amazon) will be in another review.
Husqvarna A2400 27" Composite Multi-Purpose Axe 3.5 pound overall with steel handle guard

Axe Comparison
The Fiskars Chopping Axe head and blade is different than found on most European axes.
For example, the (Fiskars Chopping Axe) vs
Husqvarna Traditional Multi-Purpose Forest Axe (1.9 lbs) with 26 inch Curved Handle 576926201 (Walmart $85.99)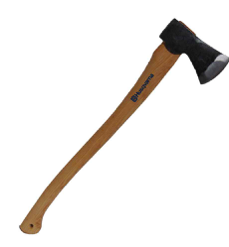 and the
(Fiskars Chopping Axe) vs 1844 Helko Werk Germany Classic Scout - 2.5 Lb Felling Axe (Amazon $139)
(Fiskars X15) vs 1844 Helko Werk Germany Black Forest Woodworker Axe (Amazon $164)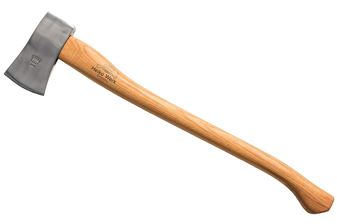 and the
(Fiskars X15) vs Gränsfors Bruks American Felling Axe with curved handle (Amazon $298)
(Fiskars Chopping Axe) vs Gransfors Bruks Scandinavian Forest Axe with curved handle (Amazon $349)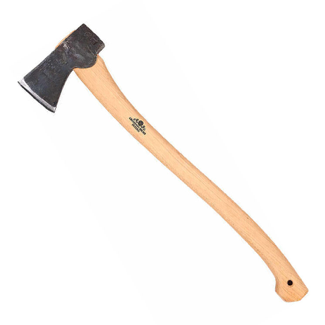 The Fiskars Chopping Axe head is smaller than found on traditional U.S. axes.
For the next example, we will look at a U.S. style ax with a European style head such as:
the all steel Estwing E45A 26 Inch Outdoor Camper's Long Handle Camp Axe & Leather Sheath (Amazon $133.11 Sold By 2 Pack) or the
Estwing Special Edition Camper's Axe - 26" Axe with Forged Steel Construction & Shock Reduction Grip - E45ASE (Amazon $59.99).
Both of these axes comes with a nylon blade sheath that is easily lost. Both the following Estwing axes are identical other than color.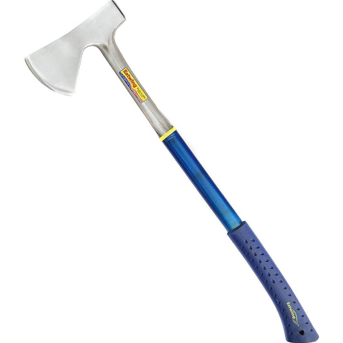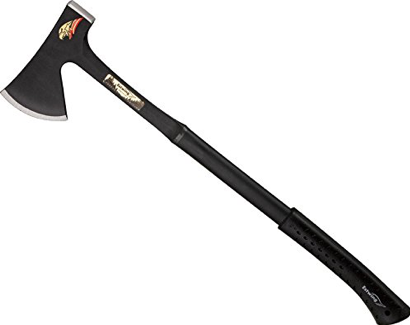 This black "special edition" Estwing was the very first axe that I ever owned. I figured that it would not break the steel handle when I overswung. The rubber grip on the handle was the same as used on Estwing carpenter hammers that I saw in hardware stores. Because of the hardened steel it is hard to sharpen. Your hands hurt from the vibration after a few minutes of use. It hurts even with the rubber coated handle and when wearing gloves. It is too cold to handle for winter camping. It rusts easily.
Another USA example axe:
Cold Steel 90TA Trail Boss Axe (Walmart $28.67)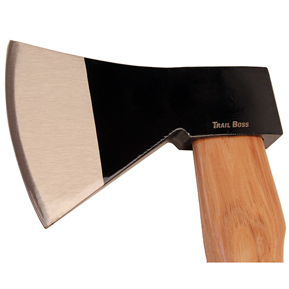 A few years ago, I used one of these Trail Boss axes when backpacking. This U.S. style axe is actually made in China. It is one of the least expensive 2 1/2 pound 28 inch axes compared to the Swedish axes. You shall need to file and sharpen the axe blade when it arrives. Scrape and sand the handle. Apply raw linseed oil (or not).
This is a good beginner's axe. When sharpened correctly, you can grasp the axe holding it under the head and easily shave some kindling. Use a Rothco O.D. Canvas Axe Sheath (Amazon $6.79). This inexpensive axesheath comes with belt clips that conveniently fit on your old army surplus pack's MOLLE straps.
Another US style axe:
Collins 2.5 lb 28 inch Single Bit Premium Boy's Axe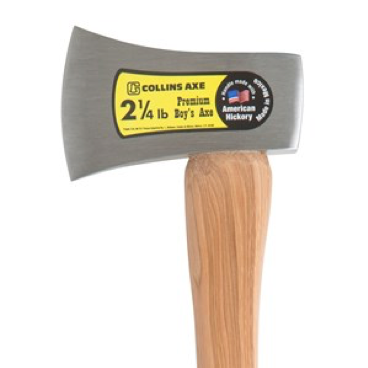 The Collins 2.5 pound 28 inch Single Bit Premium Boy's Axe (ACE Hardware or Home Depot $19.99) is the least expensive 28-inch axe that I own. This axe is really not usable when you buy it. The head is drop forged and the blade is just wheel ground. It needs a lot of work, sharpening with a file then finishing up with an axe stone.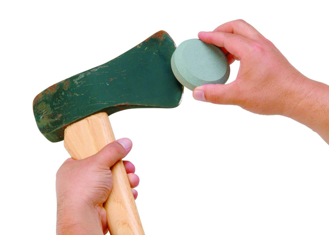 Sharpening Stone
Lansky Puck - Dual Grit Multi-Purpose Sharpener - Blade & Tool Sharpener (Amazon $7.44)
The hickory handle on the Collins 2.5 pound 28 inch Single Bit Premium Boy's Axe is factory made. The handle needs to have all of the varnish scraped and sanded off. Apply a few coats of raw (not boiled) linseed oil and let it dry. Raw Linseed Oil - Sunnyside Corp. 87332 32 oz. Raw Linseed Oil (Amazon $15.25)
Fire Hazard.
Do not keep your linseed oil soaked rags lying around. See (http://skillcult.com/blog/2016/12/19/my-simple-deep-penetrating-axe-handle-oiling-system). It is possible that the handle may need to be re-seated. My favorite "how to do it" two-part web video is the US Forest Service clip titled "An Ax to Grind"
https://www.fhwa.dot.gov/environment/recreational_trails/publications/fs_publications/99232823/toc.cfm
Or the True American 1113100100 28" 2.25 lb Forged Steel Axe with Hickory Handle (Walmart $22.77)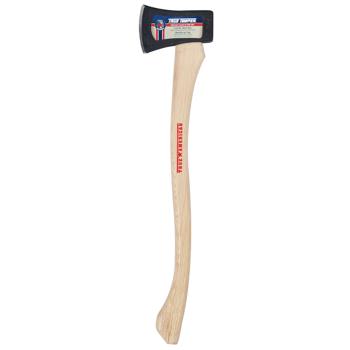 True American 28" 2.25 lb Forged Steel Axe with Hickory Handle
Made in USA by The Ames Companies Inc. This axe is very dull. (yawn) It needs sharpening when you get it. The labels need to be removed. The varnish needs to be scraped and sanded off the handle. Apply some raw linseed oil to refinish it. Need to drill a hole in the handle.
Make sure if you want to buy one of these cheap (I meant relatively inexpensive) axes that the wood handle is seated correctly with no knots or cracks nor any dark heartwood visible. Look at the end of the handle. The grain must be in line (not perpendicular) to the axe head. The handle must not be warped to either side. I noticed several handles in the store with either knots or with the grain running in the wrong direction (or both). When the handles have the grain running in the wrong direction, it will split or shatter if you use this axe on hardwood (just like those cheap donated baseball bats did during Little League—remember those?). No warranty.
I found one of these Ames type axes initialed WPA 1936 buried in the crushed stones in the roadbed of an old narrow gauge railroad trestle. I used steel wool to remove all the rust, then sanded and reseated the handle and carefully sharpened the blade. The refinished ax works great despite it being over 80 years old. Not sure you will want to do all that restoring work.
Traditional style wood axe challenger
Finally, we come to the traditional wood ax "challenger" to the Fiskars Chopping Axe.
NO. It is not the Gränsfors Bruks American Felling Axe (Amazon $298).

It is the Council Tool 2.25 lb 28 inch Boy's Axe.
Available at Omaha Knife for "only" $44.95 with two types of leather blade sheaths. You can buy the axe alone or else you shall need to buy one of the two types of leather sheaths in order to get the "free" expert sharpening service.
Free Shipping with orders over $99. Omaha Knife also offers the same axe at a lower price, but it is not the US Forest Service model.
Also, the non-Forest Service axe is offered with a shorter handle. The shorter version is the same size as the Fiskars X15 and the Gränsfors Bruks Scandinavian Forest Axe. Same rules apply as the previous ax.
The US Forest Service uses this 2.25 pound 28 inch Council Tool Boy's Axe. Suppliers always expertly sharpen these axes before shipping. The handles do not need any work unless you want a hole drilled near the bottom.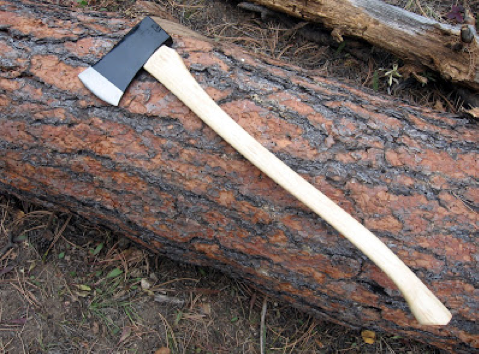 I have one of these Council Tool 2.25 lb 28 inch Boy's Axes. I got it from Forest Supply. They ran out in about two weeks. The head is stamped USFS and the axe is very sharp. It works just fine for "summer tourist" camping. (ahem)
See: http://rockymountainbushcraft.blogspot.com for an in-depth review and lots of YouTubes.
Experience
I love using this new Fiskars Chopping Axe along with my 30-inch folding "bob saw" and full tang hunting knife for batoning in the winter. After a winter of use, it has no to little visible wear!

Winter Camping Note: You will need about 600 pounds of logs for two days of fun filled winter camping and cooking your fine steaks over the wood coals. I use the "other" axes when summer bushcrafting or setting up a base camp when helping Boy's Scouts with logistics.
Source: bought it new
Price Paid: $34.47 pickup in NH store

Your Review
Where to Buy
Help support this site by making your next gear purchase through one of the links above. Click a link, buy what you need, and the seller will contribute a portion of the purchase price to support Trailspace's independent gear reviews.
You May Like
Specs
Price
MSRP: $55.99
Reviewers Paid: $34.47