Fitkicks Originals Men's Edition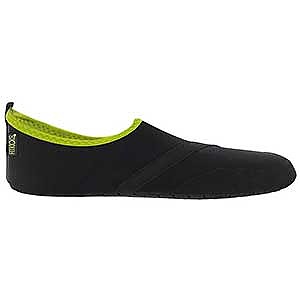 Lightweight shoes great for water crossings or in camp, but maybe not both in the same day. Solid feeling sole protects the bottom of your feet while light minimalist upper keeps feet clean yet letting them breathe.
Pros
Light
Sole protects and adds traction
Fit snug but comfortably
Cons
Doesn't dry as fast as I'd like
Minimal toe protection

With most of their weight coming from the footbed, these shoes trade lower weight for less protection. Marketed as a casual shoe for non-specific use, but this review is written based on their use as water and camp shoes.
Specs:
8.7oz/247g for the XL size pair on my scale
MSRP: $21.99
Construction & Durability:
As seen above, the Fitkicks Originals have a flat bottom with no hint of a heel. There are pads where the heel and the ball of the foot meet the ground and a traction pattern over most of the rest of the sole. There are also toe details, which I'm pretty certain aren't functional, but do leave a fun looking print on the ground if you walk through some mud.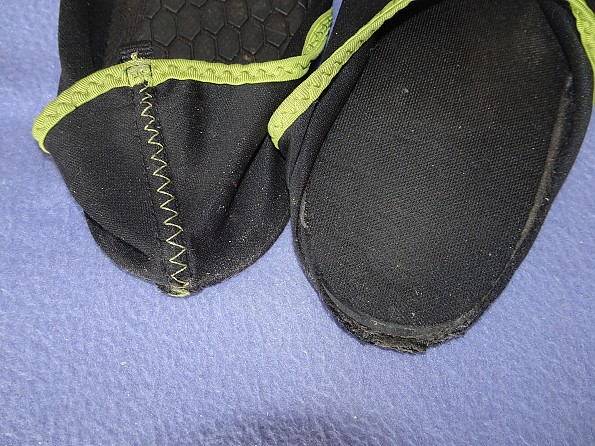 This picture was taken with both heels inverted so we can see the insides. On the left you can see the stitching at the back of the heel. That big zigzag stitch is very flexible and works well with the closed mesh of the upper to snug up against the foot without being irritating.
On the right you can see the heel of the foot bed which is fused directly to the sole over the length of the shoe. This is a firm and compressed foam that provides a little cushion, but also retains some water.
The materials and construction have been quite durable throughout. I found via their web site that these shoes are considered vegan as the toe protection is a leather like synthetic. While that may matter to some, most will be more interested to know that these shoes show almost no sign of wear after an entire year of use.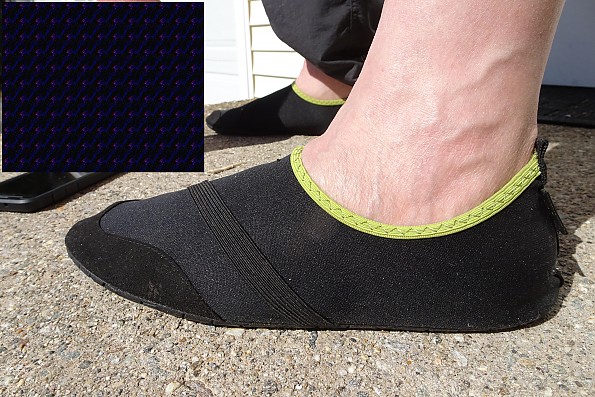 Comfort & Support:
The Fitkicks are very comfortable in a minimalist sense. If you like the feeling of wearing almost nothing on your foot you are happy. Those who find that uncomfortable, well, they may not be as pleased. Comfort and support really go together with these shoes for that reason.
The sole is firm when flat, yet flexible enough to bend double easily. This provides a solid, protective layer between the sole of the foot and the ground. Thorns, rocks, and sticks were prevented from poking tender skin in camp or while doing water crossings
Features: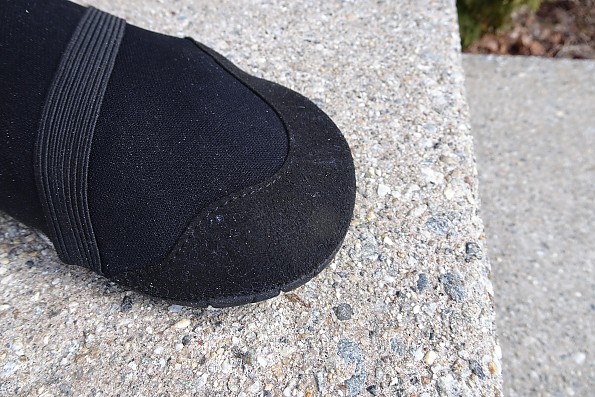 The elastic strap that runs over the top of the foot is a pretty neat way to make the lighter mesh material under it act more like a shoe as you walk without needing a heavier material. Weight savings without loss of function or comfort.
The synthetic leather material wrapped around the toe is designed to provide some protection and that is what it does, provide some protection. The material keeps with the light and soft theme of the Fitkicks and won't cushion toe stubs much if at all.

Traction:
The shoe has great traction considering the simplicity. The bottom sticks to most surfaces well. It handled sandy, gravely and rocky crossings nicely with secure footing. On slopes the lack of support from the upper could and did pose a challenge at times, especially when going downhill.
Testing Conditions: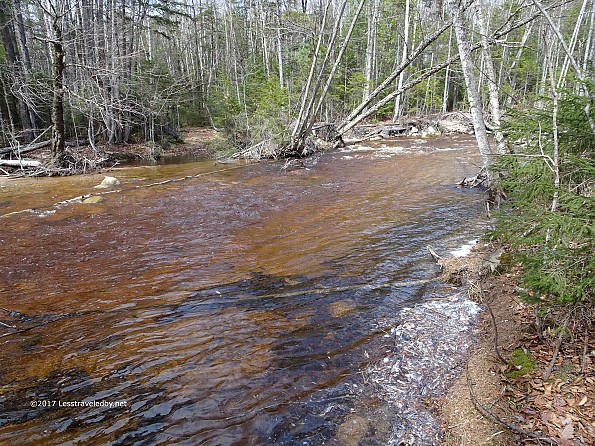 Backpacking in Maine, New Hampshire, and Vermont throughout 2017 provided plenty of opportunities to employ the Fitkicks as water shoes. The early part of the year was quite wet and many crossings that might have been rock hops were too deep to cross even in Limmer Standards and Outdoor Research Crocs. The shoes were also used as camp shoes whenever they were dry enough to wear in camp or when everything was so wet it didn't matter heh.
Conclusions:
I am pretty sure these shoes weren't intended to be used for prancing around the mountains and forests of New England, but they have worked out pretty well in the application I've forced upon them. The review and score reflect that use, which I want to make clear. I didn't use them as lounge wear or casual sport or whatever their marketing folks say these shoes are made for. I stuffed them in my pack and pulled them on at water crossings, long breaks, or in camp. For those purposes they did well enough, but could have been better.
Looking at their water crossing use they did very well in most considerations. They slip on super easy. The snug ankle fit keeps small stones and gravel out, though some sand or silt could get through at times. The traction was better than a lot of shoes I've used that were designed as water shoes. Toe protection was lacking and when walking through silted water that obscured the view it was either go slow or say "ow!"
The other drawback from water shoe application was the amount of water the foam insert retained. It wasn't a huge amount that was streaming down the pack after a crossing. It just seemed to not dry very well after it got wet, so that hours later it would still give you a wet foot if you put them on in camp. That meant I had to choose water crossing or camp comfort some days when I'd prefer to have both.
In camp the Fitkicks also did very well with a few caveats. I really liked how they let feet breathe after a day on trail. I wear heavy leather boots with lots of sock when I'm moving so I like to let my feet get air when I'm not. When taking a longer lunch break I will often take off my boots and outer sock, then slip on  the Fitkicks over my liners. That lets liners and feet get some air while my belly gets some cheese and sausage.
The lack of toe protection again was an issue in camp. Last year was my first using a hammock so there were a few toe vs tarp stake collisions where I really noticed the faux leather didn't exactly shield the toes from contact with pointy metal things. It did help speed up the process of learning to not do that I suppose.
The lack of support from the uppers wasn't an issue in camp generally, but was when using the Fitkicks on water fetching expeditions. Going down steep slopes was quite treacherous. Feet wanted to slide past the toe of the sole and there was little to stop them from doing so.
Those things being said, I like these shoes as either water shoes or camp shoes. I just wish I could use them as both in the same day heh. They are light to carry and wear. I really like feeling air on my feet in camp and tend to peel off my boots as soon as I can to put these things on. They also have never taken on any sort of smell which is a first for water shoes I've  used. Not perfect, but maybe what you are looking for is how I'll wrap this up.
Source: received it as a personal gift

Your Review
You May Like