FITS Sock Performance Trail Quarter Sock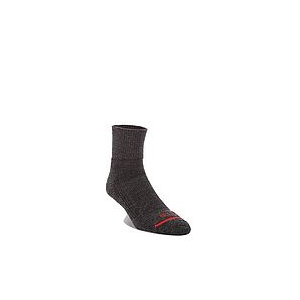 FITS Performance Trail Quarter Sock is a solid performer. This sock's specialty, outside of being durable and "fitting like a glove," is the snug-fitting, scree-proof cuff. Its comfortable fit, no-rub seam, and effective debris-proof ribbing make this a real go-to sock for your outdoor adventures.
Pros
Fit
Durability
Comfort
Effective cuff
Cons
The cuff after wearing all day
Can get to feeling really tight
Minor pilling from use/dryer
Fit and Comfort
These points are the hallmark of the design of the sock. It is lightly padded in the right places. It also snugs to my foot in all the right places. I found that as I was putting these on, the sock really wanted to settle on the correct parts of the foot. I found I didn't get hot spots or have any irritating rubbing.
As mentioned, the cuff is snug. While I was doing my activities, I just didn't give these socks a second thought, which for somebody who has a hard time finding shoes and socks that fit right, don't rub, or cause hot-spots, that is high praise.

A good look at the socks after a season of use
Water and the Socks
Because the sock is almost 60% wool, coupled with a polyester and nylon yarn combo, these socks dried the fastest of any performance socks I have worn. I like to let my socks dry/air out at night; when on a multi-day trip these did a great job drying, even when it was bit humid. I did not have the chance to try them while it was raining, but based on their performance, I suspect they will handle the wet better than the classic all merino wool sock.

Temp Control
I got a chance to use the socks in a pretty wide range of temps — from about the mid-40's at night in Washington's Cascades to 95 degrees and 80% humidity in mid-August in Japan. These socks really strutted their stuff with the good yarn blend. My feet were very comfortable in the broad range of temperatures.
I love wool for that anyway, but FITS hits a nice sweet spot. The yarn handled the wicking; I didn't get blisters while walking, biking, and hiking in high heat and humidity of Japan. The days I didn't wear the socks were the days I got blisters on my toes.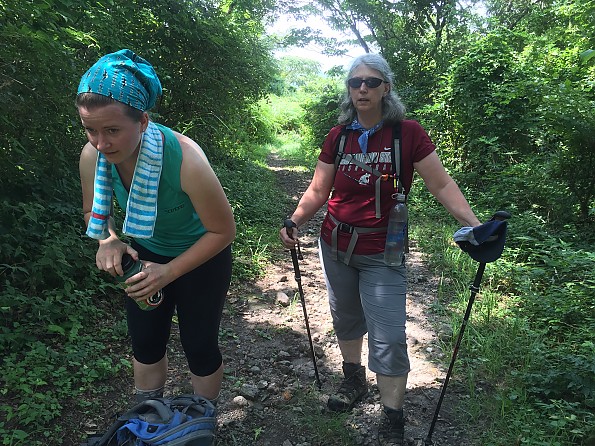 My daughter and I hiking in Japan. It was 93 degrees, even in the forest. We even had to walk about 3 miles back to the car on the pavement (long story). I didn't even get a *hint* of blisters with these socks with that heat.
Ease of Use
Because these socks are designed to fit specifically to each part of the foot, it's important that when pulling them on, to align the fitted features to the foot. Outside of that, it's wear and go.

Features
I have worn some very good wool and blend socks from other manufacturers that made excellent socks. But I have become quite a fan of some of the things that FITS has done with its socks. I have mentioned that they snug onto the foot for an exceptional fit.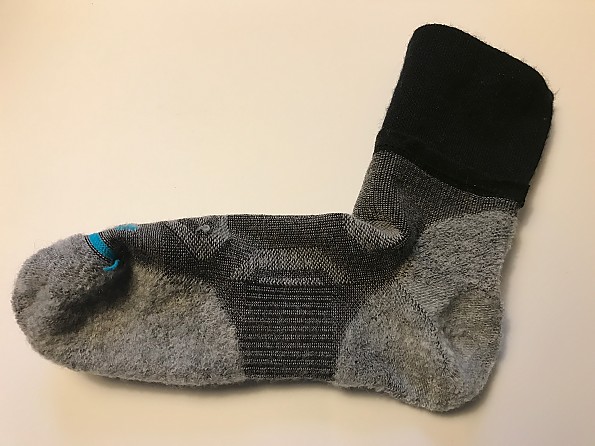 The sock is inside out; note the design and the effective stitching.

I do a funny thing when I walk; I flip debris up as I walk. I am FOREVER having to stop to get rocks and twigs and stuff out of my shoes and especially my hiking socks.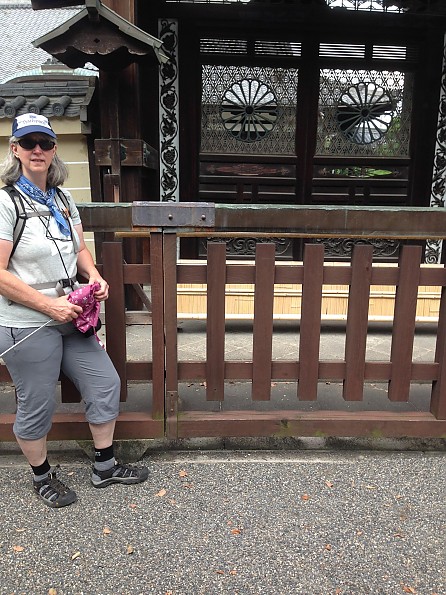 The pathways all over temple sites are covered in pea gravel. Not once did I get rocks in my socks.
I also found these socks to be really versatile. I wore them with my bike shoes (I wear a mountain bike style, and they are pretty snug), my Keens (as pictured), my regular walking shoes, and my hiking boots. Because they are not bulky, they are the most "utility player" of my wool sock collection.

These socks do just as advertised. Their design really do keep junk out of the cuff. I could see where a trail runner would really enjoy this feature because it stops one avenue of debris from becoming an issue.
The only downside is that after all day, I found I was really ready to get the socks off. Because they are made to be snug, they do put a bit of a squeeze on after several hours.
I was asked if I thought these socks could be worn sans gaiters as a trail runner. I would say no—they do not replace the overall effectiveness of gaiters in keeping debris out of your shoes. However, they DO keep the junk out of the tops of the socks. In traditional wool socks, many of us wear the tops folded or scrunched down. THAT is where I get loads of junk in my socks. These do a great job of keeping the debris out of the cuff as well as socks, didn't do any kind of slippage or riding around on my foot, like some wool socks do when they stretch, get sweaty, etc.
One backpack trip I forgot to pack a pair of sleep socks, so I needed to wear the FITS socks overnight. I was VERY ready to get them off by morning for a while as I was getting ready. I had quite an indention around my ankles.
Construction & Durability
I have worn these pretty steadily over the summer. Aside from a little bit of pilling on the heel, the socks look really good. I don't see any signs of thinning or wear. They do show a little pilling, which got a splash worse after I forgot and put them in the dryer. Other than the minor pilling, the socks look great.

My all merino wool socks will ball up and the fabric thin inside the socks; I have seen nothing like this so far with these socks.
An important consideration for wool socks is how they handle laundering. I wash my socks in the regular laundry. (I know some people will only hand launder their socks, but I have found they handle the regular wash cycle and detergent fine.) But  I try to never put my tech clothes in the dryer.
One day the socks accidentally wound up in the dryer. I found that they did have just a bit of shrinkage, and the cuff felt tighter; I needed to stretch the cuff out a bit, and they were fine. I suspect that they will pill faster by putting them through the dryer, like my other wool socks (which is why I quit putting them in the dryer. The dryer puts a LOT of unnecessary wear on clothes, anyway.)

Conditions: Where, when, and how long have you used this gear?
I was able to wear these socks while biking, hiking, and backpacking around the Northwest and in Japan from May to present, from temps of the mid-40's to the mid-90's.
I am happy to recommend these FITS Performance Trail Quarter Sock to anyone who is looking for a great all-around outdoor sock.
Source: received for testing via the Trailspace Review Corps (Sample provided by FITS Sock for testing and review)

Your Review
Where to Buy
Help support this site by making your next gear purchase through one of the links above. Click a link, buy what you need, and the seller will contribute a portion of the purchase price to support Trailspace's independent gear reviews.
You May Like
Specs
| | |
| --- | --- |
| Price | Historic Range: $18.95 |