Five Ten Anasazi Verde

The Anasazi Verde has been discontinued. It was replaced by the Five Ten Anasazi Lace.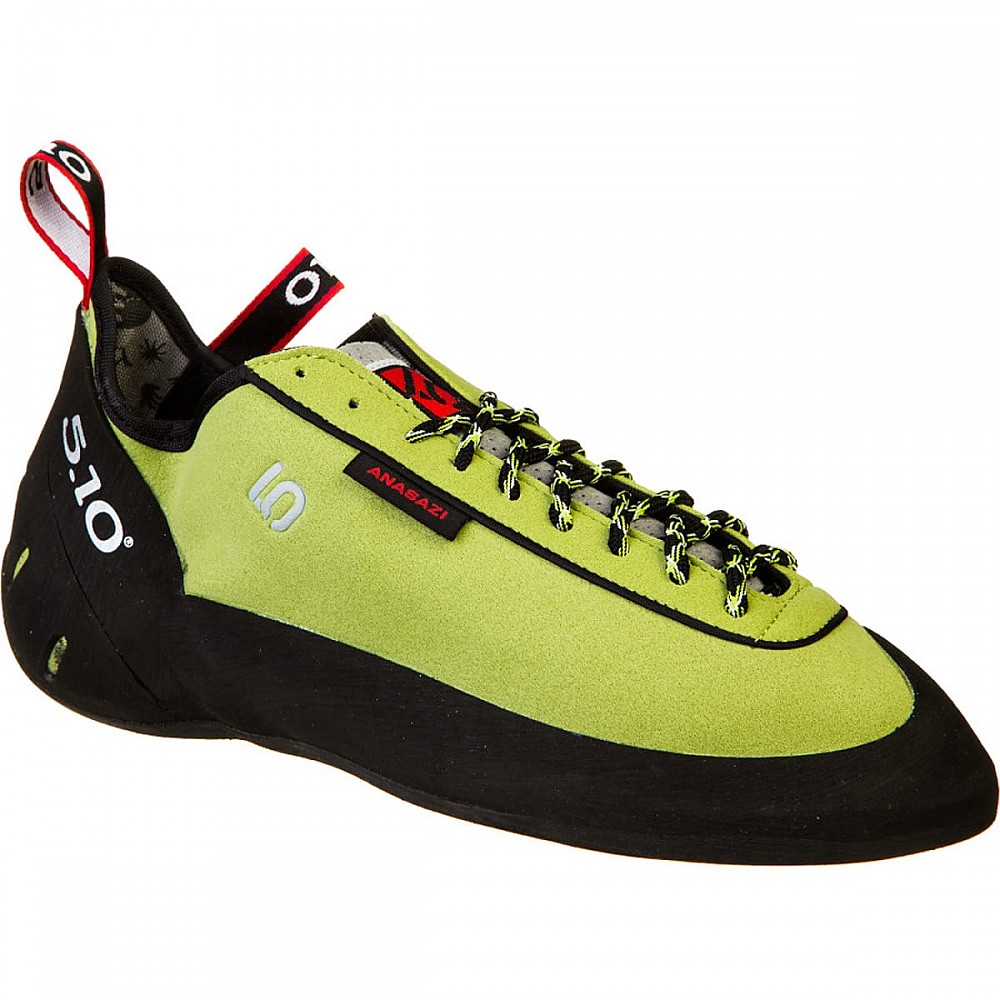 The meat and potatoes from my review on my site:
Oh Anasazi Verde, how do I love thee?  Let me count the ways: 

One - I love thee to the depth and breadth my sole can reach,
And how your laced, synthetic Cowdura uppers comfortably swaddled my wide foot each.

Two - I love thee to climb for eight hour plus days,
Oh, Stealth Onyxx Rubber think of the rocks we'll abrade!

Three - I love thee with the passion to put you to good use,
And how your slingshot heel seeks sketchy hooks to seduce.

And finally, Four - Look how dope that green color is, kid!  So fresh, right!?

Seriously though, I thought these shoes might be a bit much for a beginner climber, but if you're going to the local crag or gym regularly, it's an awesome shoe to grow into.

I sized these for comfort and opted to go with my normal size 10.  With that said, they're tight.  My toes, thanks to the heel design, fill in the toe box nicely and after a few long sessions, I'm not detecting any stretch or dead spaces up front, or out back. 

I'm still developing my feel, but I would say the shoes give me good feedback as to where or what my feet are on or trying to find.  The feel can get a little muted when I try to stand on the very front of the toe box, but I think this issue is a product of the sizing I prefer. 
Edging, both inside and out, on the other hand is nice.  I hear the term "dime" tossed around a lot, and well, I'm not near that type of climbing prowess yet, so I wouldn't know if they can edge on one.  I can tell you they'll edge easily on a, say, pencil eraser?

The back of this shoe is what really gets me all giddy.  As you can probably imagine, my foot work needs work, but I swear, if I can get my heel on it in these pups, the move is going down.  The design of the heel is easily my favorite part of this shoe and if the laces aren't undone, the shoes aren't coming off.

To wrap this up, I'm sure everyone falls in love with their first pair of climbing shoes, and I'm no different, but I really think I made a smart buy. One of the most attractive things about climbing to me is that you seem to get better every time you go and with that in mind, I'm glad I bought a shoe that will keep up with my progress. 
I love you, my little Verdes, let me continue to count the ways...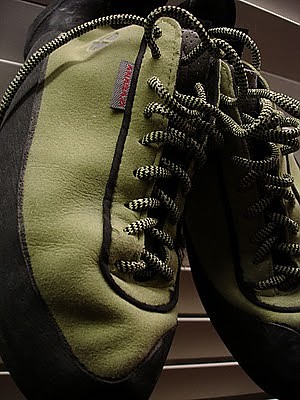 Price Paid: $100

The Five Ten Anasazi Verde is a great precision climbing shoe. This is to say that when sized correctly to the intended fit, the Anasazi Verde is very snug, but definitely not painful nor debilitating by climbing shoe standards. I have no problems staying in them for the 2-3 hours of my usual climbing gym session. That said, the back of my ankle becomes sore from the slingshot heel.
The toebox of the Anasazi Verde is not the same as that of the Five Ten Galileo, my prior pair of high-performance shoes. For me, the Galileo is slightly wider, and has less of a protrusion for the index-toe. I'd say that the Galileo fits my wide (E) forefoot a little better than the Verde, especially being that I do not have a particularly pronounced index toe. The Verde leaves a little more space for my index toe, so I have to make more of an effort to hold a toe-point and when edging on the outside. This is of course all a matter of fit, so YMMV.
However, the Anasazi Verde has an undeniably more solid heel. Whereas I can size a pair of Galileos to the point where I'm hating life, the heel will never feel as secure as the Verde's, even when the latter is sized comfortably (relatively). This shoe is great for high-and-sketchy heel-hooks.
(Ideal fantasy-shoe-that-doesn't-exist-yet for me would be a Galileo toebox mated to an Anasazi Verde mid/heel.)
As always, the Steath Onyxx rubber is terrific. That said, it does have an optimal temperature range. It takes about 10-15 minutes for a pair of cold shoes to come up to the temperature of your feet. When that happens, the Onyxx is great on most stuff. But it seems to me that it's a little soft for Joshua Tree NP (mostly quartz monzonite, a very rough and crystalline granite) on a warm day (mid-80s). I've heard that Mad Rock rubbers work better at those temps.
BTW, me and another user of higher-end Five Ten shoes w/ Onyxx rubber and synthetic "Cowdura" have noticed that aside from not stretching, these shoes actually get a *little* SMALLER over time. However, do not size with this observation in mind as the effect is very minimal, maybe to the tune of a 1/4 size.
If Five Ten would develop an entire line of Anasazis differentiated by different widths and toebox shapes, then I'll erect an altar to them.
Materials: synthetic "cowdura", lined. Stealth Onyxx rubber.
Use: gym climbing, bouldering, sport climbing
Break-in Period: around 20 hours of use, YMMV depending on feet
Price Paid: $120

Probably my favorite climbing shoe. Great for trad, sport, and even bouldering. They do it all.
Pros
High quality sticky rubber
Good fit with improved heel cup
Durable
Cons
Sometimes I wish they were velcro to make them easier and faster.
I bought these shoes about 10 months ago as I was looking something better for long trad routes. I took these out to lone peak on their first day out and the performed flawlessly. Great fit for heel and toes, and the lacing system makes them fit just right.
Then I was surprised to find out that even though I did not size them down and get a super tight fit, they work well for difficult sport routes. They easily handle 5.12 climbing. They tend to do well bouldering in the gym as well. I pull out my five-ten team climbing shoes for any boulder problems that are super thin.
I love five ten rubber. It's the stickiest. I have tried every brand, and I think it's the best.
Get these shoes. They won't disappoint.
Source: bought it new
Price Paid: $135

The Five Ten Anasazi line have always been my favorite climbing shoes, whether it be the velcro, moc or the laceup. In particular I love the laceup, for that extra bit of precision and snug heel fit.
Pros
Great snug fit
Sticky Rubber
Stiff footbed, great for edging
Cons
The laces pulled through the top "lace hole"
Another big pro for me is the stiffness of the footbed, being a bigger guy, the stiff rubber really allows me to bear down on the smallest of edges. I would recommend this shoe to anyone, but remember each foot is different and you may not have the same experience as me!
Source: bought it new
Price Paid: $120

I have been climbing for over 10 years. Most of my climbing style is gym and bouldering/sport climbing. I have owned Five Ten Huecos (the old purple), which are a great, comfortable all-day shoe. I also have the Anasazi velcro style which was my favorite all around shoe. This new Anasazi Verde lace-up is the best of both worlds. It is comfortable and super sticky with the onyx sole. All the "vacant" areas in the heel are gone. I have a terror foot to fit (a width heel, e width front). The tight heel and lace-up closure takes care of both problems. This is the climbing shoe that other companies need to check out.
Thank you, Five Ten.
Price Paid: $139

Your Review
You May Like
Specs
Price
MSRP: $164.95
Historic Range: $69.50-$164.95
Reviewers Paid: $100.00-$139.00

Recently on Trailspace