Fjallraven Keb Gaiter Trousers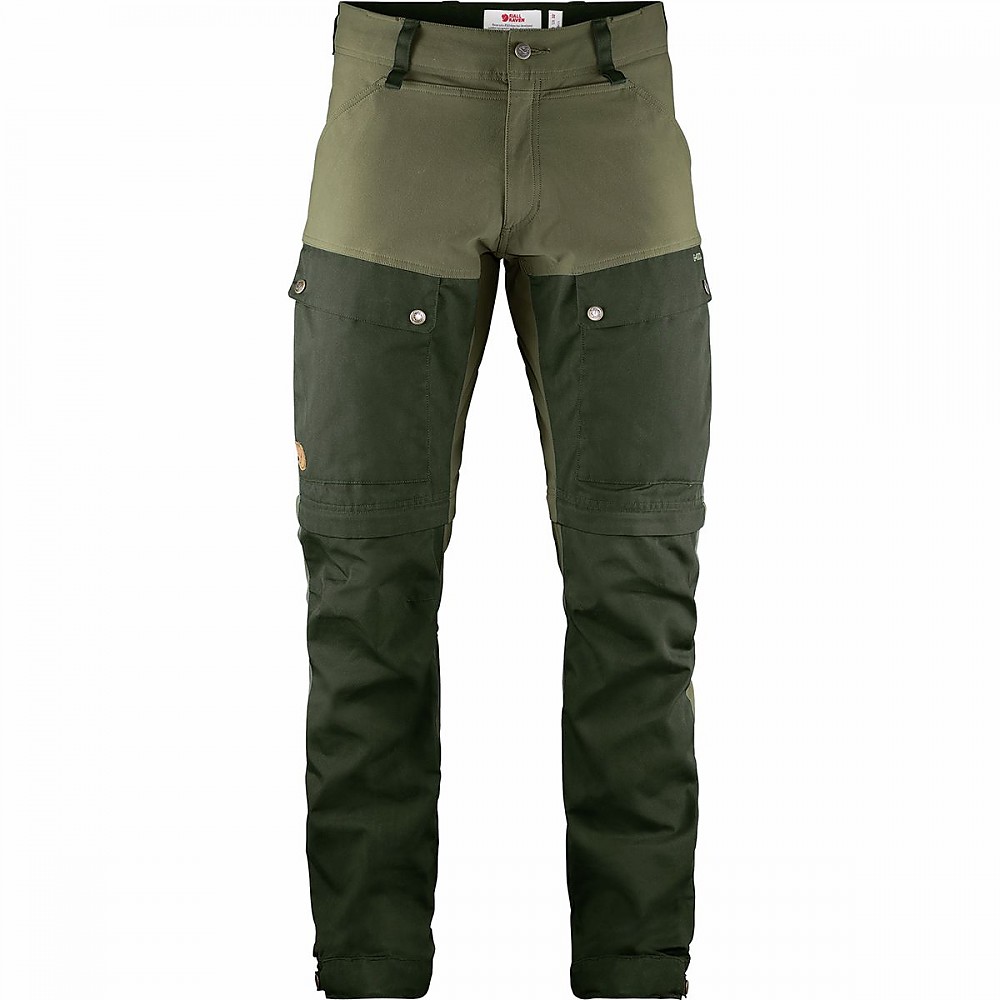 Version reviewed: Long
Zip-off hiking pants that work well in a variety of conditions, both as full-length pants and as shorts. Lots of features and able to withstand a good deal of scuffs and scrapes thanks to its strong materials. The Long version is particularly great for this 6'2" hiker.
Pros
Well-built with strong materials in the right places
Large, secure pockets
Responsive
Articulated knees
Cons
Thigh vents
Runs a smudge large in the waist
Testing Conditions:
I tested the Keb Gaitor Trousers (Long) during the winter, spring, and summer months (February-June) in a wide range of temperatures and conditions due to their use as both pants and shorts. The pants/shorts have been worn during numerous hikes (both overnight and dayhikes), camping adventures, bike rides, and high-ropes belaying in the mountains and valleys of central Pennsylvania (USA). Temperatures ranged from a blustery 15F (-9.4C) while wearing them as full-length pants with a wool baselayer underneath to a muggy 95F (35C) while wearing them as shorts.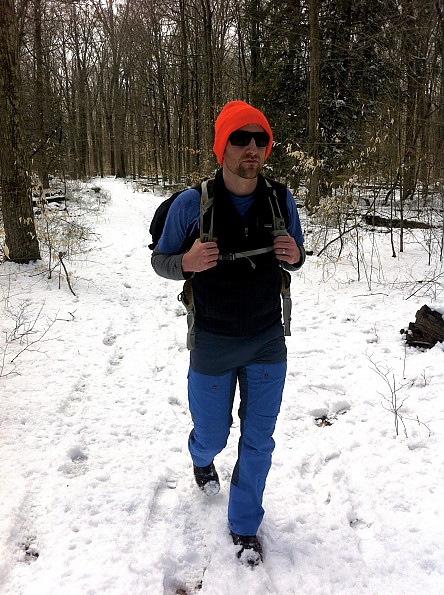 Worn as pants in the late winter.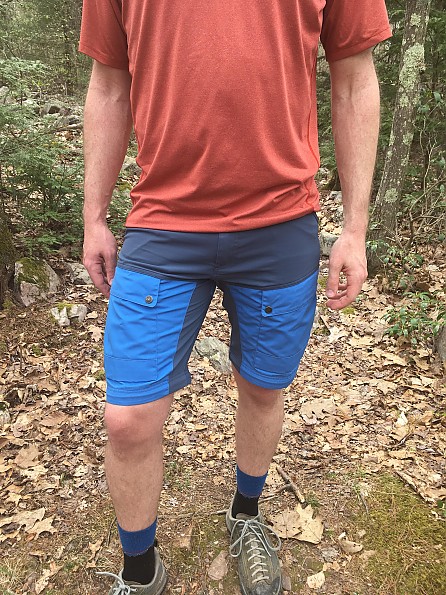 Worn as shorts in the early summer.
Tester Specs:
I am 6'2" (1.88m) and 190 lbs (86.2 kg) My normal pants size is a 31" or 32" waist and a 34" inseam. 

Fit & Comfort:
The Keb Gaitor Trousers are a little larger around the waist than most pants of the same sizing, but with a belt, wear comfortably. Through the thighs, they fit snug but not tight, if that makes sense. The combination of fabrics and styling make for a responsive feel, both as a shorts and pants. I'd call the fit "athletic," but not "slim." There is enough room to move in and nothing feels restricted.
The pant legs seem slightly wide from the knee to ankle, assuming this is to provide adequate room for boots. I'm not personally a fan of the width and would prefer a more tapered leg, but there are adjustable cords around the ankle and behind the knee that suffice.
As shorts, the thighs are a little tighter than normal hiking shorts, but then again, my thighs are a little thicker than normal for my height and weight. If I were able to have the pants custom-fit, I'd personally like to tweak the sizing to be a little slimmer in the waist, a little bit roomier in the thighs, and slightly less roomy below the knee; however, the length and feel of the fabric I would not change whatsoever. 
Using the thigh pocket (i.e. map pocket) to stop and identify which route to take. 
Construction & Durability:  
The trousers are made of a few different materials, each with their own function. The lightest, most breathable areas are found in the front, crotch, wrapped around the upper rear, and behind the knees. These high-mobility areas are made of a stretch polyester/elastane-like material that breath really well. The majority of the pants are made from Fjallraven's G-1000 Eco material, which seems very durable and not overly stiff. A second layer is added to the inside of the legs where boot friction often occurs. This is the stiffest area of the pants, but only extends up the leg a little more than 8.5 inches from the bottom hem.
Features and Functionality:
The features are plentiful with the pants, making them a worthy option for a number of pursuits. The features I personally found the most useful were:
Convertibility—the option to easily zip-off into shorts.

Secure mesh stretch pocket within the thigh pocket hip, perfect for a phone, knife, keys, wallet, etc. (As later mentioned, I'm usually not a big fan of thigh pockets but these ones won me over).

Large front hip pockets—easy to access

Two button front—I tend to pop off buttons somehow, so having a "back-up" is good for me.
Other features that I appreciate but found myself using less frequently were:
Adjustable cords on the ankles and back of knees

Boot hook at the front of the ankle. 

Thigh vents
Six 2-inch belt loops
Behind the knee adjustable cords. Although not shown, similar cords are found on the back of the ankles.
The inside of the waistband. Notice the two buttons. 
Right thigh pocket has a small stretch mesh pocket inside to secure items. 
Left thigh pocket is zipper secure under the buttons.
Zipper for attaching/detaching the legs. 
Handling the Elements (Water): 
While not water-resistant, the pants are sufficient in the rain, snow, and other wet conditions. Water penetrates the more breathable, mesh-like areas in the front and behind the knees first and will eventually penetrate the rest of the pants if given a chance. 
Worn in the winter with the Fjallraven Forest Jacket No. 3.

Handling the Elements (Heat):
Fjallraven has created a convertible pant that has loads of ventilation options (i.e. large vent zippers on both thighs), which in theory is a great idea. The only reservation I have is the amount of zippers this creates on the pants (zippers don't fold or roll easily) and the fact that the ventilation areas have no mesh backing, meaning if opened, bare skin (or baselayer) is completely exposed. This becomes rather interesting when the thigh vents are opened, showing off an area of my legs that is not very sightly.
Most of the time, it's just my wife and I hiking, so I don't worry too much about it. The more bothersome aspect of the zipper vents is when closing them up, leg hairs easily catch in the zipper, causing pulled and tugged thigh hair. Ouch! Of course, this isn't an issue when a baselayer is worn. 
Sorry for blinding you with those pale thighs. 
Handling the Elements (Cold): 
Although I did get questioned if I was wearing snowboarding pants while wearing the trousers in the winter, they are not specifically tailored for winter activities but they are perfectly acceptable for most cool-to-cold weather adventures, provided a good baselayer is worn underneath.
Finishing up a late-winter dayhike with some fresh snow on the ground. 
Handling the Elements (Abrasion):
Because of the reinforced nature of the pants, they are able to withstand a fair amount of abrasion without showing signs of wear or weakness as evidenced by wearing them during a full-day of belaying and also during late spring/early summer hikes on severely overgrown trails. The lighter/stretchier material in the rear of the legs and the front of the hips is more prone to snags, but snags are naturally less likely in those area anyways. Pretty smart design, if you ask me.

Layerability:
A baselayer is very comfortable under the trousers. In most of the winter conditions I tested the pants in, I wore the Ridge Merino Inversion Heavyweight Bottoms as a baselayer and no issues whatsoever. Both pair of pants worked flawlessly together. 

For a variety of reasons (e.g. tough to open, bulky, not secure, uncomfortable, too small) I'm usually not a fan of thigh pockets, due these ones are the best I've ever worn. With a climbing harness on, the pockets remained easily accessible. With a fully fastened hip belt on my hiking pack, I could access all the pockets with ease. 
The grayish fabric (around the hip pockets) has a nice stretch and breathability to it. 
Recommendation:
The Fjallraven Keb Gaitor Trousers (Long) are a great option for long-legged, multi-season, multi-activity adventurers. Just as formidable in a harness, on the trail, or on a bike, these pants offer the advantage of zipping off and becoming shorts.
Acknowledgement: 
Many thanks to both Trailspace and Fjallraven for allowing me the opportunity to test the Keb Gaitor Trousers (Long). 
Source: received for testing via the Trailspace Review Corps (Sample provided by Fjallraven for testing and review)

An incredibly durable pant that converts to shorts, and has adjustable DWR thanks to the wax coating. Ideal for scrambles and bushwalking.
Pros
Durable
Technical pant that converts to shorts
Adjustable DWR
Cons
Heavy
Not flexible for high steps
Chaffing in shorts mode
Seat seam too low
The Keb Gaiter is effectively a creative reimagining of your classic zip off pant-shorts, but using Fjallraven's cult favourite the Keb Trouser. The Gaiter version uses same hybrid G1000 and super light stretch material design. The key difference is that instead of a bottom vent zipper, the fabric beneath the knee bend has a zipper. The bottom sections are designed as gaiters. They have lace hooks, from it for under boot lines, and a bungee fastener on the upper calf.
I used these hiking last fall, and for an alpine climb up the Fuhrmann ledges along Mt. Lefroy above Lake Louise, which involved a blustery day, with spindrift, and light dry snow. I had purchased them for mountaineering trips where I have to approach in weather too hot for alpine pants, but then get onto snow, and rock that requires something solid. I also took them sport climbing a couple of days.
The materials and craftsmanship on these pants are solid as you would expect. They are exceedingly durable. If you aren't familiar with the G1000 it's an interesting idea. It is a one third cotton, and two third polyester. It has a very canvas like feel, and so far is very durable. The material is also designed to be waxed regularity providing it with a customizable water resistance. In the Keb, the back material is a very fine, stretchy summer weight Softshell and it runs behind your knees, up and around the front.
The front of the pant is mostly G1000, from your upper thighs, down to your feet, and around the calves. The idea is with a well waxed trouser the areas most prone to wet are protected, and the areas requiring the most breathability have the light material. With that being said, in my experience after two non-heat-treated coatings of G1000 the DWR was mediocre at best in wet snow. Pretty quickly it soaked in a bit. That being said, I was able to comfortably kneel in the snow for fifteen minutes.
For breathability these pants performed poorly. Little better than a hardshell. They were very heavy and warm, even in cool morning hiking of the fall. Temperatures were in the single digits, and I still found them very warm quite quickly. I suspect their heavy weight had something to do with this. In cold alpine conditions the slower pace made them much more comfortable, and I found merino base layers to be a very comfortable addition. It reduced some of the unpleasant feeling of the burly seams.
The Keb Gaiter has a host of interesting features. Two large cargo pockets on the sides, one of which has a dedicated phone slot. There are two zippers on the side of the thighs to add ventilation. Naturally there is of course the zip offs that double as gaiters, which actually work pretty well once you add bungee to the gromits.
I still have yet to properly test the DWR a to its max, but so far it is not as sufficient as alpine softshell pant. Still the idea of having it being adjustable holds appeal to me. The knees are articulated, and it has gusset end crotch, though I found that they did hold me back from raising my leg sufficiently high enough when I tried them sport climbing.
Regarding the actual fit, I had less success, I found that these didn't fit that well. They are tighter fit compared to most hiking clothes, but similar to most alpine softshells which normally I like. However I had two problems.
The first is that there is a big patch of stiffer G1000 fabric on the seat. It ends towards the top of my bottom. The rather large seam lends the same sensation as your pants falling down. So as you hike I find myself constantly instinctively reaching back to adjust my pants to find they are correctly in place. It ends up being quite distracting.
The second issue was how low the shorts go. Because the knees are articulated like the classic Keb Trouser, the Gaiter has its short cut off beneath the knee fairly tight. I found when I walked that led the zipper to rub against the tendons at the back of my leg leading to some unpleasant chaffing. When worn as a pant this wasn't a problem, and I did like the tighter fit. 
Overall they are great idea. Certainly if you do lots of three-season scrambling the Keb Gaiters would be ideal. I think they'd also make a great climbing pant for summer single and multi pitch trad in the UK. They are durable, comfortable, and adjustable. I think their weight makes them less than ideal for alpine climbing and summer hiking, but well suited to other activities.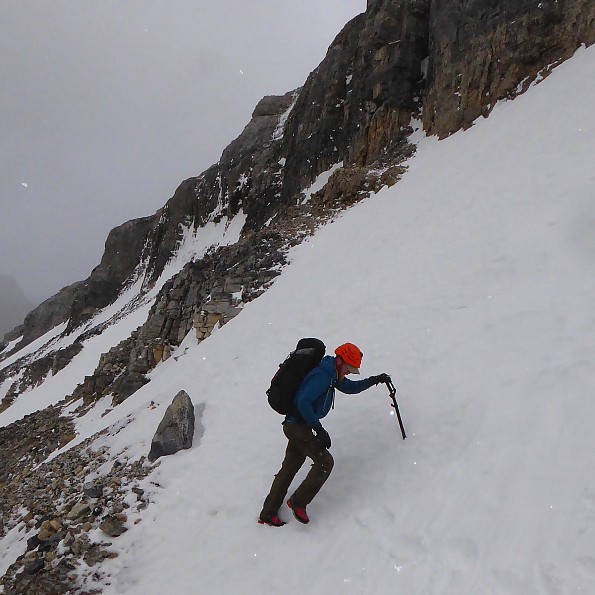 Source: bought via a "pro deal"

I have owned the Keb Gaiter Trousers for 1.5 years. The design of this trousers is the best of all my hiking/trekking trousers. I like the ventilation zippers most. The flexible material provides excellent function.
There is only one drawback of this trousers, its position of tight pockets. The tight pockets are just right on the thigh and even I put a flat stuff, such as wallet, will cause a Hot Spot in just one or two hours walking, don't mention if anything with uneven surface, such as keys, lighter ...etc.
I would like to tell Fjallraven, if they see the review here, please move the two tight pockets aside for just a few centimeters. Then it will be a perfect trouser. Otherwise, I can't use the tight pockets if I plan to take a hike that is longer than two hours. 
Source: bought it new
Price Paid: Roughly US $200

Your Review
Where to Buy
Help support this site by making your next gear purchase through one of the links above. Click a link, buy what you need, and the seller will contribute a portion of the purchase price to support Trailspace's independent gear reviews.
You May Like
Specs
Men's
Price
Current Retail: $160.69-$255.00
Historic Range: $43.98-$255.00

Kids'
Price
Historic Range: $99.99-$149.95