FORLOH AllClima 3L Rain Jacket with RECCO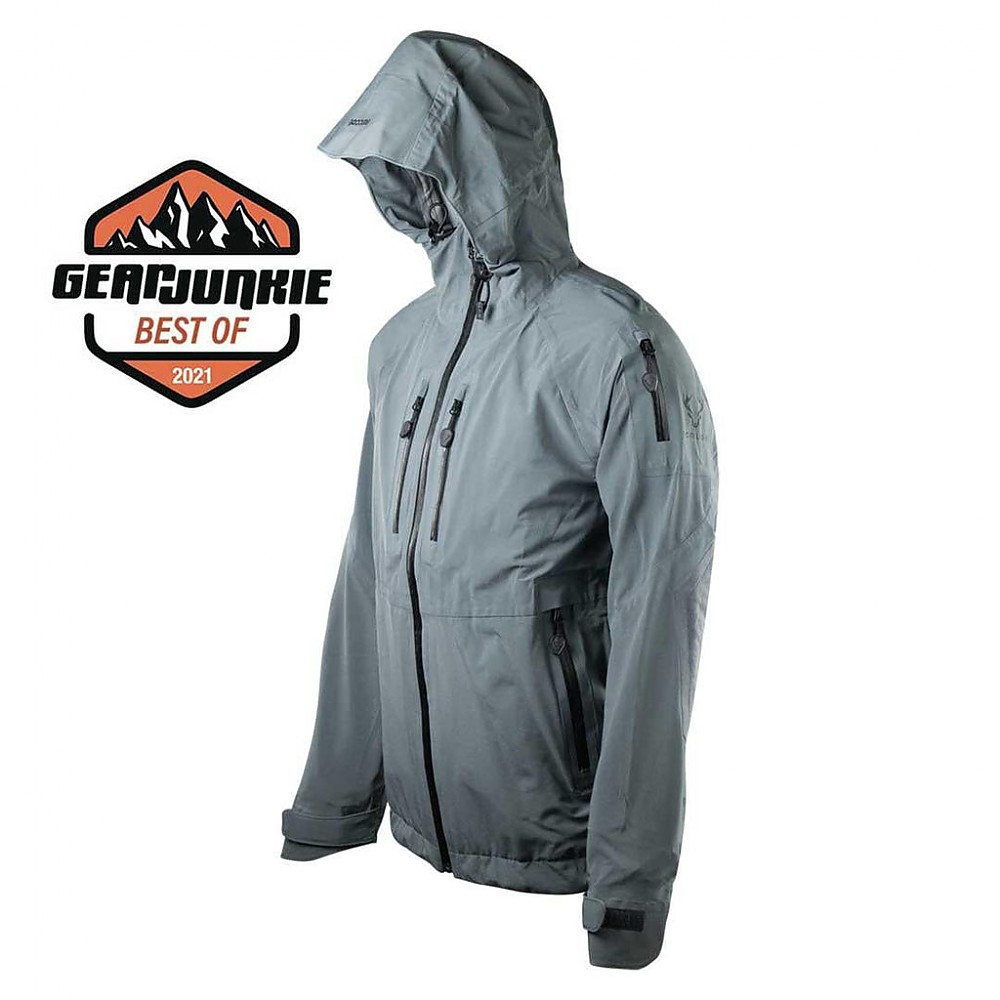 A sturdy rain jacket that isn't going to wear out anytime soon. The AllClima 3L Rain Jacket from FORLOH is not your run-of-the-mill jacket, instead, its durable fabrics breathe well and keep the rain away. Although geared toward hunters, solid color options (green, gray, and black) welcome non-hunters alike to enjoy the benefits of a solid rain jacket.
Pros
Durable
Breathable, particularly for a rain jacket
Embedded RECCO reflector
Made in the USA (fibers and construction)
Cons
Not noticeably quieter than other rain jackets
No use for the bicep pocket
No two-way zipper
Only available in Men's sizing
Conditions: 
The FORLOH Men's AllClima 3L Rain Jacket was tested during the late autumn, winter, and early spring in the hardwood mountains and open field valleys of Central Pennsylvania. It was used for 3.5 months on several hunting and hiking excursions. Some days I was sitting for long periods of time (hunting) and some days I was burning calories galore (hiking in the mountains). Most often, it was worn while carrying a pack, a binocular harness, and sometimes a rifle. 
Testing Specs:
Height: 6'2" (1.88m)

Weight: 200 lbs (90.7kg)

Jacket Size: Men's Large (available only in men's sizes, S-XXL)

Jacket Weight: 28.7oz (813g)

Jacket Color: Deep Cover Camo Pattern (other options include various camo patterns and a few solid colors.)

Location and Terrain: Eastern US, central Pennsylvania, Allegheny mountains (a western subset of the Appalachians), mixed hardwoods, laurel-rich hillsides, rock-strewn ridges.

Seasons Tested: Late autumn, winter, and early spring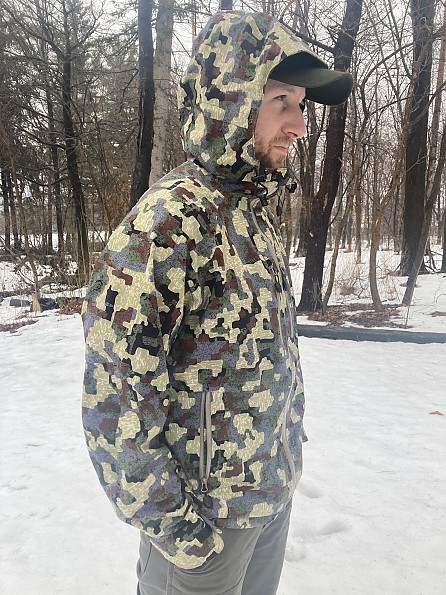 Target Audience:
I've been hiking and hunting for 20+ years and always look for apparel that has dual-purpose use. While FORLOH is primarily targeting the hunting crowd with most of their apparel, they also release solid-color versions of many of their garments, making them potentially more attractive to other outdoors folks, including but not limited to anglers, birders, boaters, hikers, etc.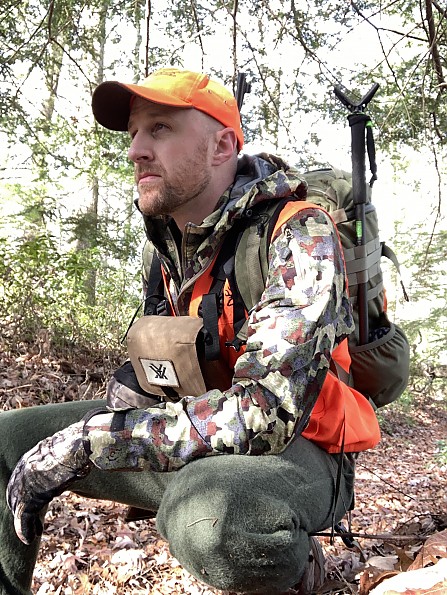 Fit and Comfort: 
In general, I don't particularly enjoy wearing a rain jacket. They tend to be warm, loud, and restrictive, but they certainly have their place and purpose. The FORLOH men's AllClima 3L Rain Jacket ranks among the most comfortable rain jackets I've worn. The cut is fairly generous, but not baggy, meaning that there is room for a few layers underneath without it suffocating me and is long enough to cover my entire torso and most of my backside. The shoulders and arms are loose enough so as not to restrict any movements, and the fabric is soft, particularly at the area around the chin. 
Waterproofness:
The AllClima 3L rain jacket has a "double DWR water-repellent treatment" that apparently coats every fiber of every layer, using something called "pure plasma technology" and it has a "22k+ mm" measure for hydrostatic head (which is well above many, if not most rain jackets on the market). All of this sounds super technical and a little space-agey to me, but whatever the case may be, the jacket has kept the water out in all the testing I've done here on Earth.
It has a membrane and durable water repellant treatment, which appears to be a proprietary solution, not unlike many other waterproof/breathable rain jackets on the market. The pockets all have seamless welds with water-resistant AquaGuard zippers, as does the front zipper, so no water creeps in the zippers either. All seams are fully taped for ensuring water stays out.
The longest amount of time this jacket has been exposed to the threat of water was during a 4-hour morning of sitting still in the woods hunting with steady rain. I experienced no issues with soaking through. The jacket also saw several wet snow/rain mix days and a few hikes in snowstorms.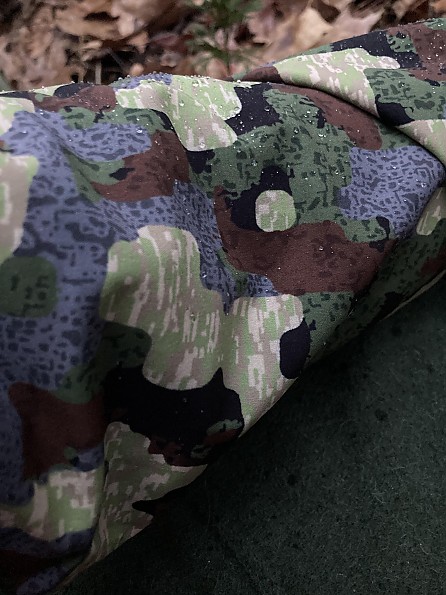 Breathability: 
One of the manufacturer's claims is that this jacket features "unparalleled breathability" thanks to its "first-to-market Airadigm™ Pulse Plasma Technology."
Without getting too sciencey, I tested the breathability in a way most people would understand...hiking uphill with a pack on my back. Questions I tried to answer during and after these hikes included:
Was the breathability better than, worse than, or equal to other rain jackets I own? (Answer: Better);

Could I easily get rid of excess heat when I started to sweat (Answer: Yes, the pit vents work well), and;

How does layering impact the jacket's breathability (Answer: I found the fewer the layers, the better this jacket is during high output movement...sort of obvious).
In general, I don't get as hot and sweaty while wearing this rain jacket as I do in many other rain jackets, even though it is a heavier and thicker material than many others. It's heavy enough that I wouldn't want to pack it on an ultralight where every ounce counts, but if weight isn't an issue, this is a nice three-season jacket, assuming layering is done right underneath.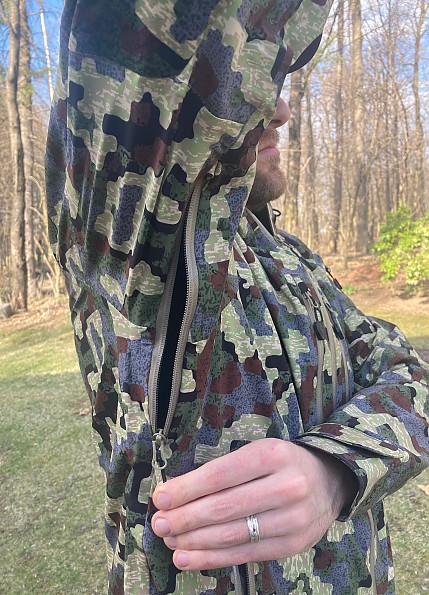 Warmth: 
Because of the thicker-than-usual fabric and relative heft of the jacket, I assumed it would be a bit warmer than it is. However, I have to remind myself that this is a rain jacket after all and isn't really meant to insulate. On a breezy 40°F (4.4°C) day, I mistakenly wore it with just a baselayer and medium-weight fleece, thinking I'd be warm, although I was mostly sitting still in the woods for several consecutive hours with the chance of afternoon showers (ended up never raining that day). I was a bit chilly, but the coat did block the wind well, which kept things manageable.
The next day, with essentially the same weather conditions, I switched over to a warmer winter coat. A few weeks later, I tried the jacket again on a drizzly 40°F day, knowing that I'd be moving much more. This was the right choice and made for a great outing.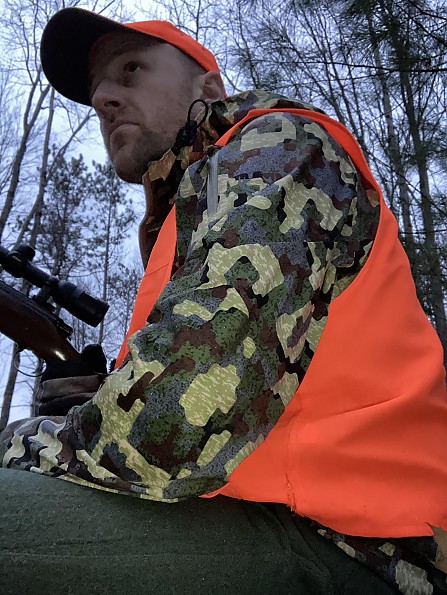 Layering: 
The comfortable sizing of the jacket allows for sufficient layering. Some of the more frequent combos I've worn under the jacket include:
Construction and Durability: 
Perhaps sturdier than any other rain-specific jacket that I've owned, the durable fabric (i.e. bonded interior 7d tricot backer fabric) is made to withstand some serious wear and tear. No signs of wearing out in high-friction areas like the shoulders (pack straps and rifle sling) and not a single snag nor inadvertent rip from many days trudging through mountain laurel and various thicket-type landscapes.
The jacket does feature reinforced double-layering at the elbows, cuffs, and lower back, which I haven't noticed as overly bulky or stiff (sometimes a concern with other jackets with reinforced areas). The front AquaGuard zipper does not have a two-way option, which I would prefer, especially for easier access to layers underneath the jacket or just to make it easier when taking a leak in the woods.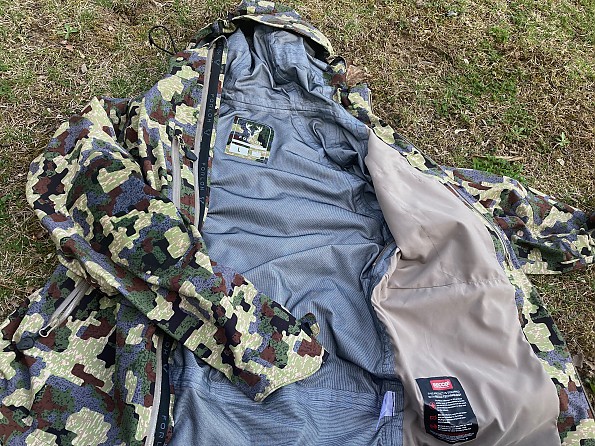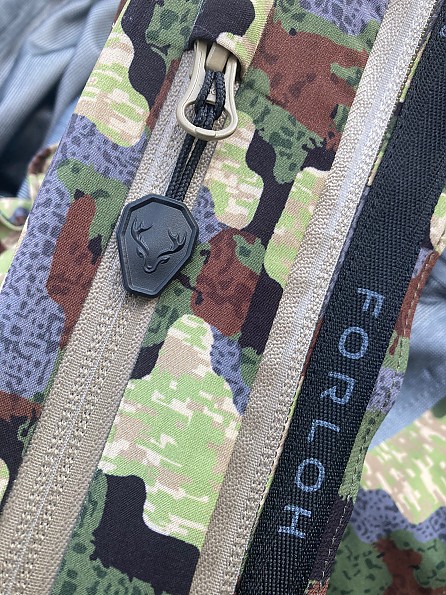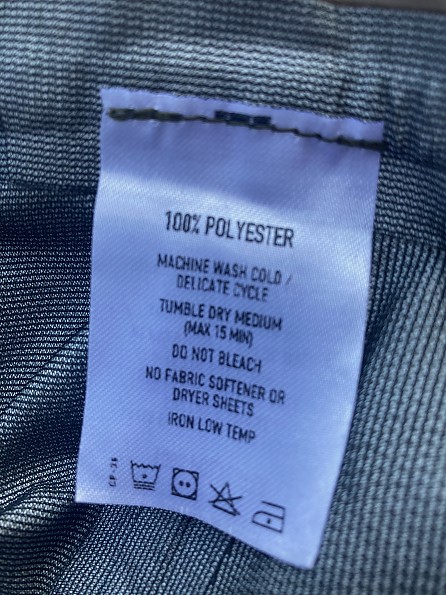 Function: 
Some of the worthwhile features include a brimmed and adjustable hood, hem adjustments, and cuff adjustments (although they are hook and loop, which I don't love). The hood is larger than necessary since I don't assume the manufacturer is targeting helmet-wearers (climbers, cyclists, paddlers, snowboarding/skiing, etc.).
The size is about the same as what I've seen for jackets that market as being "helmet compatible" but I don't exactly see a reason for this jacket to be of that larger size. The jacket contains six total pockets, all of which are zippered—two hand-warming pockets, two chest pockets, one internal pocket, and one "arm patch" pocket located on the left bicep, which I have absolutely no practical use for. Maybe this would be useful for storing a ski pass, but the uses are minimal at best.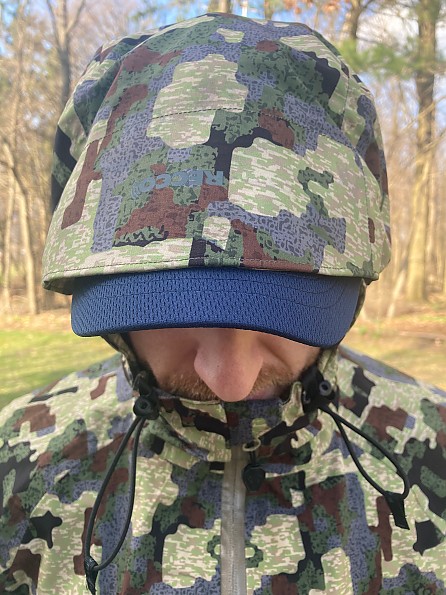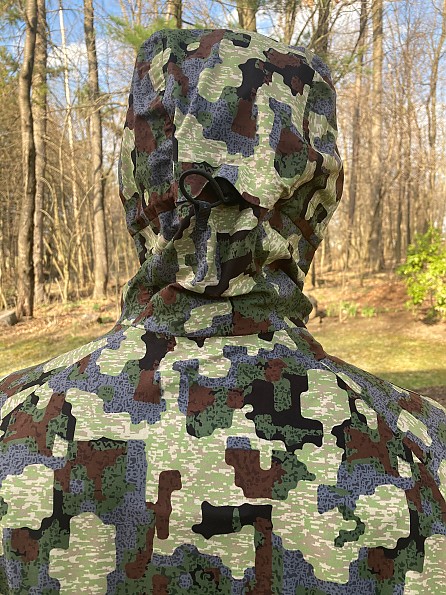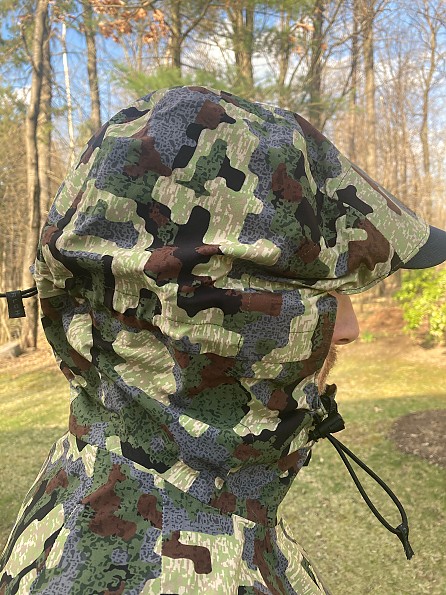 Quietness:
This may not be of any concern for those who don't hunt, but for those who do, a jacket's sound can be an important factor to consider. In terms of noise, this isn't unlike most other rain jackets that I've owned with it making some "swooshing" sounds if you're not careful. Rain jackets are just louder than other outer layers, there's no getting around that.
The manufacturer claims the wrist cuffs have "quiet hook and loop closures'' (i.e. Velcro) but after many attempts, I simply cannot notice any discernible difference between the sound these hook and loop closures make opposed to any other hook and loop closures on a variety of jackets/outerlayers I own.
Color/Camo Pattern:  
Obviously, the camouflage pattern is a dead giveaway that this is primarily a hunting jacket, although FORLOH does offer this jacket in solid color options including green, gray, and black.
The camo pattern for this jacket is what the manufacturer calls Deep Cover. There is an entire webpage dedicated to the science of their camo patterns, so I won't go into too much detail here, aside from the fact that it is a little different than most others I've seen on the market. I've had some positive responses to it, as well as some negative.
My wife (who is a non-hunter), calls it my Lego-camo shirt. Apparently, she thinks it resembles lots of tiny Legos (yes, the children's toy) all stacked together. I've had folks with military backgrounds say it looks like a cross between Canada and Finland's military camouflage. Regardless of its looks, I think it blends in well with where I hunt, particularly the areas rich with mountain laurel, which holds its green leaves year-round.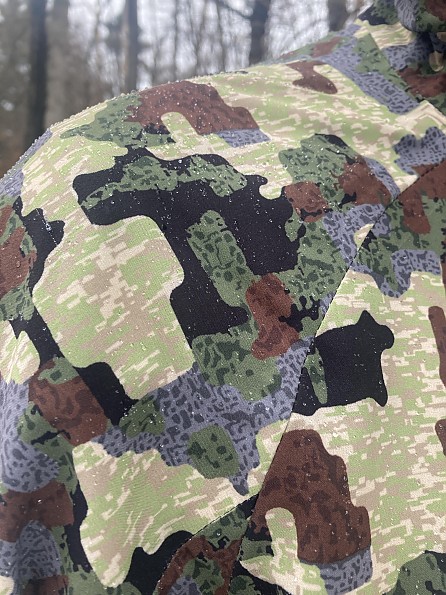 RECCO Feature: 
While the chances (and hopes) are that I'll never need its functionality, it's nice knowing the jacket is fitted with a passive RECCO reflector. These reflectors are more popular in the skiing world, where the need for search and rescue is paramount after avalanches, but FORLOH is the first hunting-specific company to introduce the RECCO technology...and it makes sense, given how utterly remote many hunters end up.
The RECCO reflector does not negate the need for sound decision-making, proper scouting, and reliable communication devices, but it does offer that added layer of protection, should the need ever arise (hopefully it doesn't). However, it should be noted that not all search and rescue crews are equipped with RECCO beacons, so the reflector may be of no practical use depending on who is looking for you.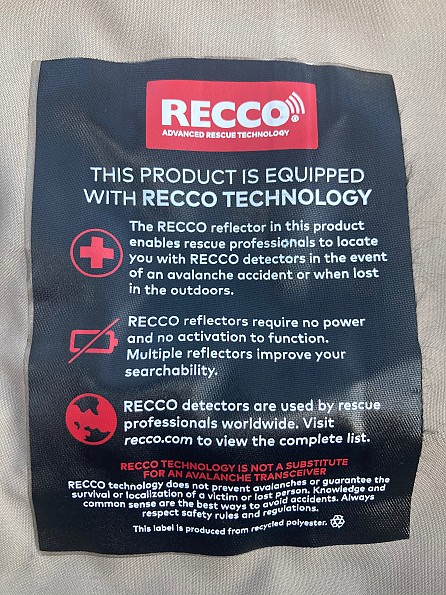 Summary:
While terms like "bomb-proof" and "rock-solid" get tossed around a lot these days, this rain jacket is clearly built to withstand elements, wear, and whatever else may come its way (within reason, of course). The fabric is noticeably thicker and sturdier than most rain jackets on the market, and it comes with features that are more-or-less common with nice jackets, like a brimmed hood, adjustable wrist cuffs, cinch cords at the hem and hood, and pit zips.
The camo pattern is more for the hunting crowd, and it would be good for fishing too, but solid-color options expand the potential user base and should appeal to other outdoor enthusiasts who need to keep the wet weather at bay.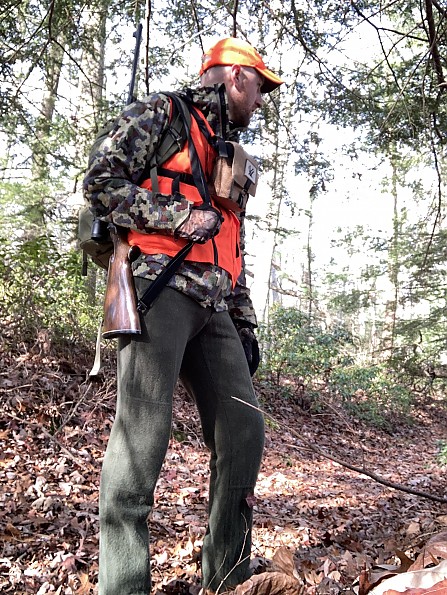 Experience
During the spring, autumn, and winter in the Mid-Atlantic (USA), I regularly layer-up, including a solid outer layer/rain jacket when hiking and hunting. Over the years, I've worn bulky, early-version Gore-Tex jackets; lightweight, breathable jackets; and seemingly everything in between.
Source: received for testing via the Trailspace Review Corps (Sample for testing and review provided by FORLOH)

Your Review
Where to Buy
Help support this site by making your next gear purchase through one of the links above. Click a link, buy what you need, and the seller will contribute a portion of the purchase price to support Trailspace's independent gear reviews.
You May Like
Specs
Price
MSRP: $379.00
Current Retail: $429.00
Historic Range: $429.00

Waterproof
22k+/mm

Air Permeability
.15 CFM

Moisture Vapor Transfer Rate
32kg/mm MVTR

Origin
Made in USA

Recently on Trailspace