FORLOH Deep Space Half Zip Long Sleeve Top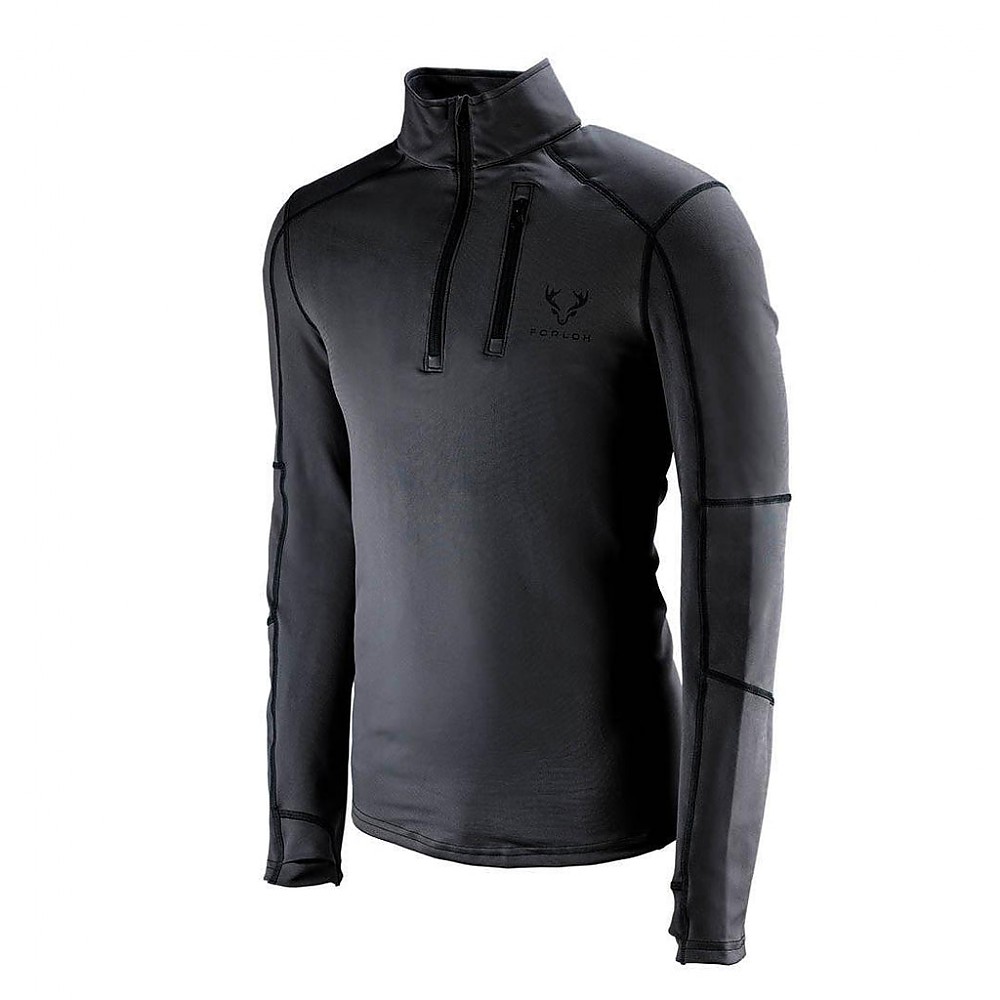 An impressive, USA-made quarter-zip synthetic baselayer that somehow doesn't get stinky, even after sweaty hikes in the mountains. With excellent moisture-wicking properties and an athletic feel, this baselayer is comfortable and ready to go on all-day adventures in the autumn or winter. While the camo-pattern is targeted toward hunters, it appears the company will be releasing solid color options too, making it more appealing to non-hunting pursuits like hiking, backpacking, skiing, snowshoeing, ice fishing, etc.
Pros
Wicks moisture very well and dries quickly
Exceptionally comfortable
Doesn't stink (which is pretty impressive for a polyester/spandex top)
Great movement
50+ UPF rating for sun protection
Made in the USA (fibers and construction)
Cons
Expected it to be warmer
Flimsy collar
Torso could be a little bit longer (but my torso is longer than average)
Conditions:

My initial test of the FORLOH Men's Deep Space Half Zip Long Sleeve Top has included wearing it regularly for 6 weeks, mostly during deer scouting trips and hunting season for whitetail deer. During the 14 days of traditional deer season here in Pennsylvania, I was afield for 10 of them, wearing this baselayer each time. I also wore the layer on two dayhikes during this test and out to shovel snow after a winter storm.
The shirt was worn on long, physically tiring days of traversing rocky ridges and on long, mentally tiring days of sitting still for hours on end in hopes of a deer walking by. The temperatures in which I wore the FORLOH baselayer ranged from 18F to 50F (-7.8C-10C), with a wide variety of late autumn/early winter conditions such as snow, rain, sleet, wind, and (occasionally) sun.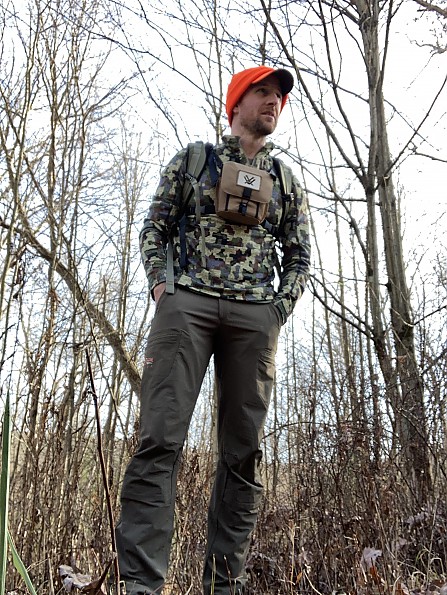 Tester Specs:
Height: 6'2" (1.88m)

Weight: 200 lbs (90.7kg)

Size: Men's Large

Color: Deep Cover Camo Pattern

Location and Terrain: Eastern US, central Pennsylvania, Allegheny mountains (western subset of the Appalachians), mixed hardwoods, laurel-rich hillsides, rock-strewn ridges.

Seasons Tested: Late autumn and early winter

Note: Other options include various camo patterns and a few solid colors. A crew neck version is also available in men's, women's, and youth sizes. Women's and youth sizes for this quarter-zip are not available at the time of this review. 
Target Audience:
I've been hiking and hunting for 20+ years and always look for apparel that has dual-purpose use. While FORLOH is primarily targeting the hunting crowd with their apparel, a baselayer like this is not necessarily limited to hunters. Others who may be looking for the features this baselayer offers may include hikers, snowshoers, ice anglers, skiers, and other cold-season adventurers. 
Features:
I don't mean to simply regurgitate what can be found on FORLOH's website, but this thing has a lot of features for being a baselayer. I'll go into more detail on several of these features as the review unfolds, but here are the highlights: 
Full body 4-way stretch fabric and flatlock seams

Trizar yarn encapsulating technology originally from NASA to captures body heat, regulate temperatures

Double anti-microbial—Trizar's zinc elements built into the fibers and Polygiene treatment to the finished fabric.

Combined Polygiene anti-microbial and Odor Crunch fabric additive blocking the origins of the odor; providing invisibility

Polygiene Odor Crunch and Polygiene Stays Fresh for scent-free for odor-free performance 

50+ UPF

Polyester (87%) and Spandex (13%)
Fully made in the USA (all materials sourced and manufactured) 
Fit and Comfort: 
Fit and comfort of any baselayer are paramount to me. I've worn some that are restrictive, itchy, and become sticky when sweating. I've also worn some that are actually comfortable and it's easy to forget I'm wearing them. Fortunately, the FORLOH baselayer is much closer to the latter than the former.
The fit is slightly different than others that I've worn due to the full side zip seam construction, which puts the seams in places meant to increase mobility. The athletic nature of the baselayer is not unlike baselayers I've worn in the past from Under Armour and other athletic/exercise-focused brands. The fit allows for all-day comfort, regardless of activity. I've worn it while sitting still for several hours on end, and I've worn it hiking through swampy, briar-filled patches of dense woods for hours on end. Regardless of the situation, this baselayer has been comfortable.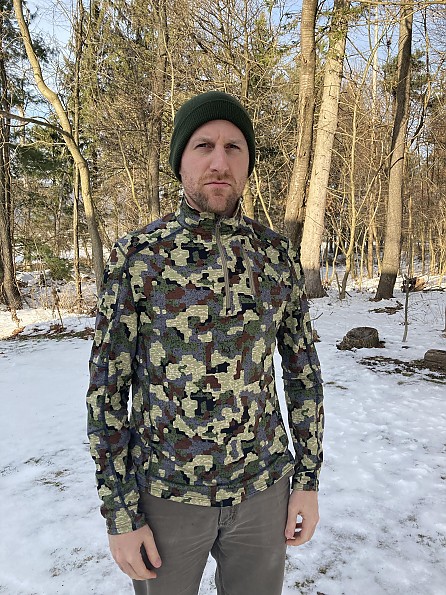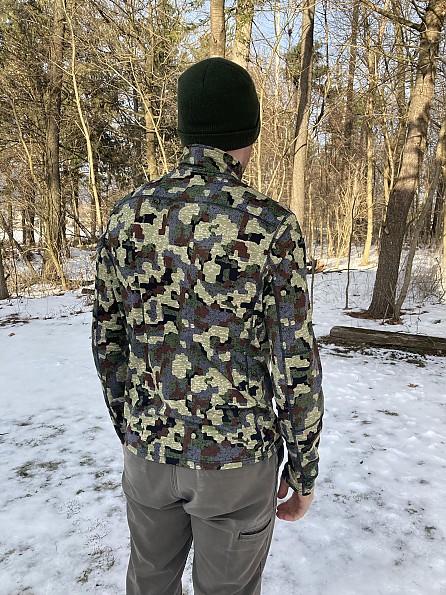 Moisture Wicking and Breathability:
The FORLOH Deep Space baselayer does a really nice job at keeping moisture away from the skin. On grueling days hiking steep, trail-less terrain, I can work up a good sweat, regardless of how cold it is outside. A few times doing just this, I stopped to take off my mid- or outerlayer and kept hiking with just this baselayer on (and a lightweight fluorescent orange vest over top for safety/hunting regulations). The baselayer stayed dry and breathable, and with the quarter-zip opened (although the manufacturer calls it a half-zip), I was able to dump excess heat with ease.
Another test for how it handles sweat was shoveling snow. After getting 20 inches (50.8cm) of snow in less than 24 hours, I went out to shovel with this baselayer. I worked up a nice sweat shoveling but stayed much drier than anticipated thanks to the breathability of the baselayer.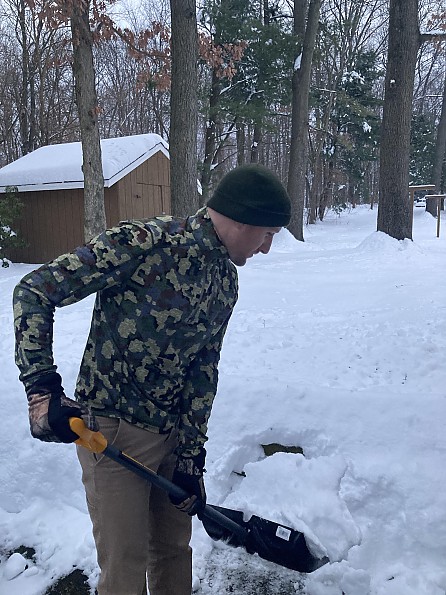 Warmth: 
I was a little let down by the warmth of this layer. Given the manufacturer calls it a "mid-weight winter baselayer" and that it features "Trizar yarn encapsulating technology originally from NASA, which captures body heat, regulates temperature keeping you warmer longer" I expected it to be among the warmest baselayers I've ever worn. But don't lose sight of the fact that it is only a mid-weight baselayer. It's not as warm as heavyweight merino layers that I own. I learned quickly that the layer needs to be paired with adequate mid and outer layers to provide adequate heat retention.
On a 45°F (7.2°C) day in the late autumn, I wore this layer on a two-hour hike through the woods to scout for some hunting locations. It was sunny, with very low wind, and I was on the move with 12 lbs.(5.4kg) of gear in my pack. I knew I'd be chilly at first, but expected my body temp to rise quickly as I started hiking. I stayed fairly chilled, particularly in the arms and side-ribs areas for the whole 2 hours.
A week later, in slightly cooler temps, I hiked the same area again, this time with a light down midlayer and outer shell, and stayed perfectly warm. The midweight nature of the shirt means it's great for mild temps, and needs to be paired in colder temps. The 50+ UPF rating and wicking properties may suggest that it could be a serviceable top in warmer temps.
The baselayer does tend to come untucked fairly easily, which creates drafts, thus leading to being chilled more often. My best guess is that it commonly untucks because of both my longer torso length (i.e. less fabric to tuck) and the fabric is fairly smooth (i.e. easier to slide-up). Still, many baselayer tops on the market account for this and have longer torso lengths to ensure they stay tucked in, however this one seems to be more of a standard cut length.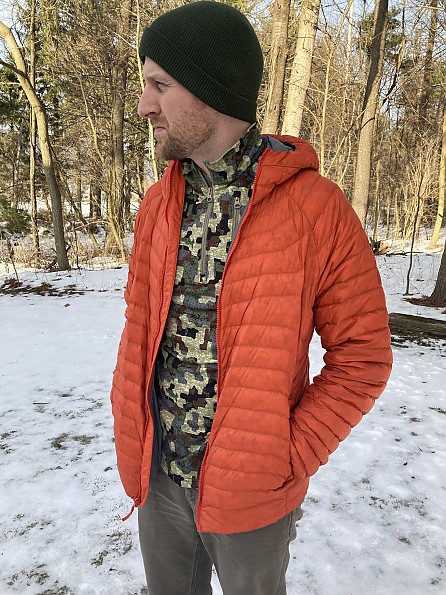 Layering: 

Any baselayer needs to play well with other layers. I've learned this top, although comfortable enough to wear as an outer layer on warmer days, is best utilized when paired with other layers on top. In just 6 weeks' time, I've tested this top with the following combination of layers: 
FORLOH baselayer only

Polyester t-shirt with FORLOH baselayer on top

Merino wool long sleeve baselayer with FORLOH baselayer on top (double baselayers!)

FORLOH baselayer with a fleece zip-up on top

FORLOH baselayer with a down hoody on top

FORLOH baselayer, with a down hoody, with FORLOH hooded rain jacket (review forthcoming) on top 

FORLOH baselayer, with a down hoody, with a wool jacket on top

FORLOH baselayer, with a fleece zip-up, with a wool jacket on top

Merino wool long sleeve baselayer, with FORLOH baselayer, with a down hoody, with a wool jacket on top (it was really cold and I was planning to sit outside all day long).
Also it's worth noting that while the Deep Space Half Zip is currently only available in men's, FORLOH makes other option to complement this layer, including the Deep Space Crew Long Sleeve Top (men's, women's, and youth), the Deep Space Base Layer Bottoms (men's, women's, and youth), plus vest and jacket combinations.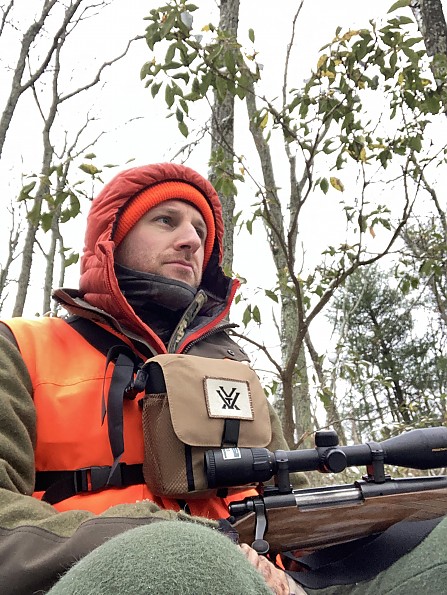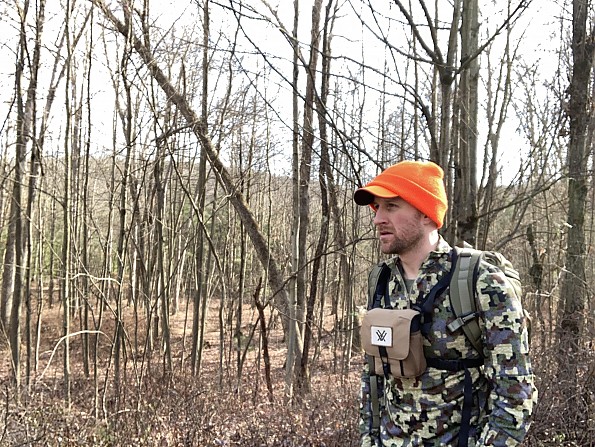 Construction:
All the seams on this baselayer are flatlock seams, meant for comfort next-to-skin and added strength. After 6 weeks of considerable use, I've carefully inspected every single seam and they are all still good as new, which is to say they are super cleanly sewn, with no snags or signs of wear. The same can be said for the fabric itself...no signs of wear and tear.
A couple of construction features that are worth mentioning are the quarter-zip front, which makes dumping excess heat useful when hiking and trying not to sweat. It is a pretty standard length zipper, YKK pull-tab zipper. The term "half zip" in the product's name seems a little odd to me since the zipper is not half the length of the torso (probably an industry-standard term), but regardless, it's a useful zipper to have.
Much more useful, in fact, than the chest zippered pocket that I have not and likely will never use. I'm not a fan of chest zippered pockets on layers that aren't outer layers. In order to use it, I'd have to unzip several layers, losing a lot of heat in the process. No thanks.
The other construction feature I'm not particularly fond of is the collar itself. It's a bit flimsy, which I think may be caused by the weight of the zipper, but I don't know for sure. When using as an outer layer, if it's not zipped up the whole way, the collar tends to roll inwards and is a little annoying. Therefore, if I don't have a layer on over top of this, I learned to just zip it up the whole way and be done with it.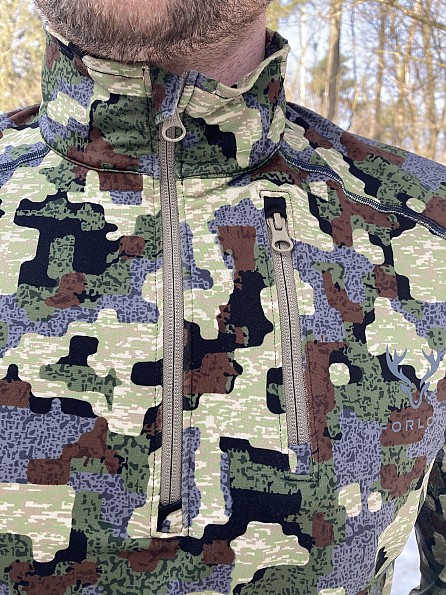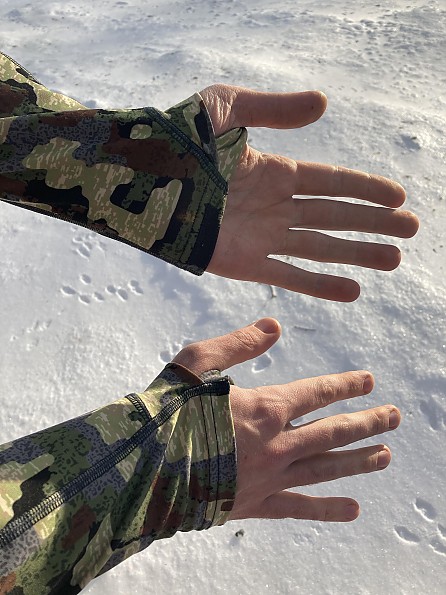 Care: 
I've only washed the garment once (at the 6-week mark) because I wanted to truly test FORLOH's claims of stench resistance (more on that in the next section). As for washing, I did exactly what the tags call for—machine wash cold, delicate cycle, and tumble dry on low temps with no dryer sheet nor fabric softener. All pretty straightforward. 
Odor Control:
Odor control has been at the forefront of hunters' minds for a long time (especially archery hunters), and I see the topic (and thus, new products) gaining more and more traction every year in the general outdoors industry. People want to enjoy themselves, work up a good sweat, and not smell putrid afterward.
That said, FORLOH has taken a two-pronged approach to odor control on this baselayer and based on my testing, had some surprising results. The manufacturer states that "Polygiene Odor Crunch is a revolutionary new technology that eliminates odors from the outside, while Stays Fresh, an existing and proven technology from Polygiene, tackles body odors." 
So does it work? 
I mean, after all, it is a polyester top, so it couldn't possibly work...right?
Wrong! 
It actually works! 
Here's how I know it works. Not counting the first time I tried it on and wore it around the house, I wore this top 13 total times in my initial 6-week testing period, including during multiple sweat-inducing hikes and all-day hunts. Before washing it after that 6-week period, I asked my wife to do me a favor and give it the old smell test. Her sniffer is much better than mine, otherwise, I'd have done it myself (I know, I know, that makes me look bad, but honestly, I have a terrible sense of smell). She smelled and smelled but found no off-odor or body odor whatsoever.
I don't know the complete science behind the technology, but I do know that it works, at least out of the gate. If given the chance to continue testing, I'll provide an update after multiple washes to see if the odor fighting superpowers are still present. 
Color/Camo Pattern:  
Obviously, the camouflage pattern is a dead giveaway that this is primarily a hunting top, although FORLOH does offer this top in solid color options too. Personally, I've always found it somewhat silly to wear a camouflage baselayer when hunting with outer layers on since the baselayer is covered up anyway, but regardless, among some hunters, camo patterning is a topic of much conversation.
The camo pattern for this top is what the manufacturer calls Deep Cover. There is an entire webpage dedicated to the science of their camo patterns, so I won't go into too much detail here, aside from the fact that it is a little different than most others I've seen on the market. I've had some positive responses to it, as well as some negative. My wife (who is a non-hunter), calls it my Lego-camo shirt. Apparently, she thinks it resembles lots of tiny Legos (yes, the children's toy) all stacked together. I've had folks with military backgrounds say it looks like a cross between Canada and Finland's military camouflage.
Regardless of its looks, I think it blends in well with where I hunt, particularly the areas rich with mountain laurel, which holds its green leaves year-round. FORLOH also has a pattern called Exposed, which features more tan and meant for more arid climates, and one called Snowfall, which is obviously more white and meant for snowy climates.
Based on the manufacturer's website, it also appears that they will soon release this top in a few solid colors, which may be more attractive to those who don't hunt or those who don't want a camo baselayer.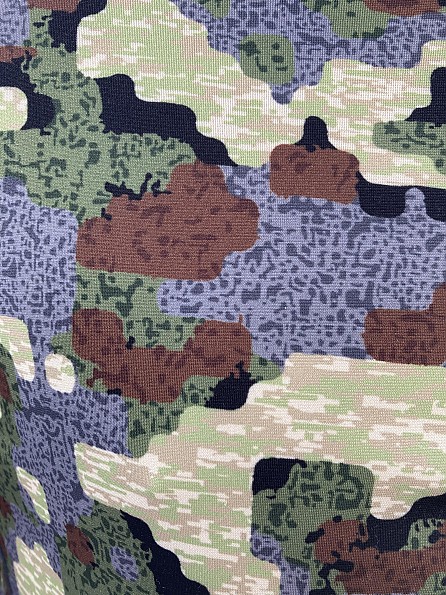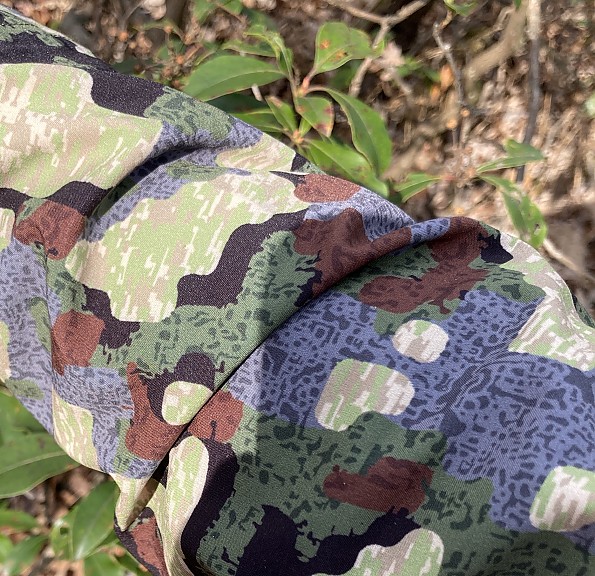 Recommendation:
Based on my 6-week test of the FORLOH baselayer in a variety of temps, conditions, and activities, I'd recommend this top to those (hunters and non-hunters alike) who are looking for a synthetic baselayer that wicks moisture well, allows for an undeterred range of motion, and doesn't get stinky. For hunters, this is a great layer for those who move throughout the day, especially backcountry hunters who would particularly benefit from its quick-drying and moisture-wicking abilities and 50+ UPF rating. But this isn't just for hunters, as the company releases more available colors, this top should also attract those beyond the hunting community including hikers, skiers, ice anglers, snowshoers, and other fall/winter adventurers. 
Background
During the winters of the Mid-Atlantic (USA), I regularly wear some sort of baselayer when winter hiking and hunting. During really cold snaps, I even wear a baselayer around the house. I also tend to wear a lighter baselayer in the fall and spring. Over the years, I've worn baselayers made of cotton, merino wool, and polyester/elastane (or spandex) blends.
Source: received for testing via the Trailspace Review Corps (Sample for testing and review provided by FORLOH)

Your Review
Where to Buy
Help support this site by making your next gear purchase through one of the links above. Click a link, buy what you need, and the seller will contribute a portion of the purchase price to support Trailspace's independent gear reviews.
You May Like
Specs
Price
MSRP: $129.00
Historic Range: $129.00

Material
87% Polyester/ 13% Spandex

Sun Protection
50+ UPF

Origin
Made in USA

Recently on Trailspace